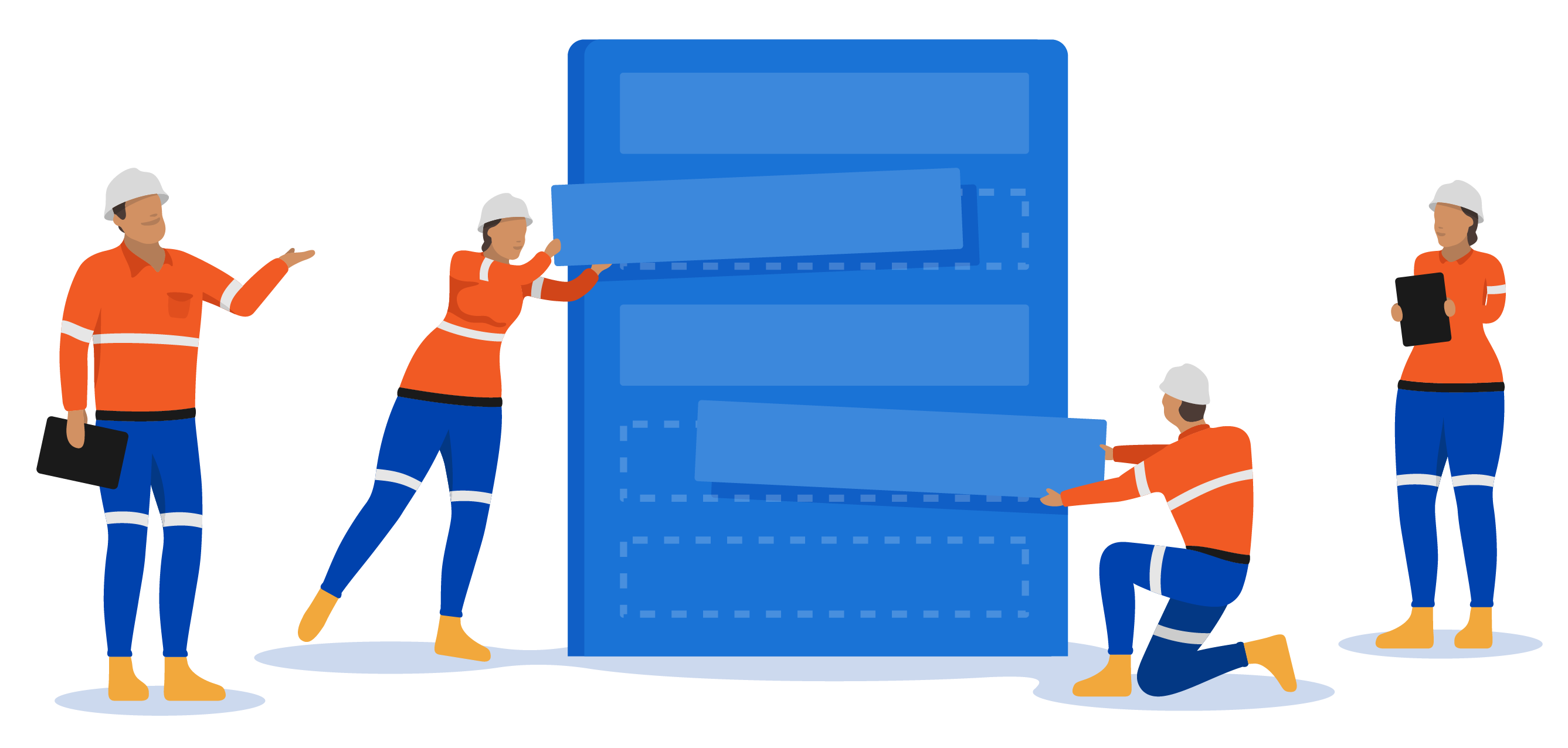 General contractor apps: Here's what to look for in your GC apps
The rise of general contractor apps
Construction technology and general contractor apps have seen a meteoric rise in adoption in the last 5-10 years, and the speed at which these apps continue to be adopted is constantly increasing.
The rise of general contractor apps can thank a few simultaneous forces which have been working in tandem to drive increased usage amongst general contractors of all shapes and sizes:
Lower prices and more try-before-you-buy: The rise of cloud-based apps and softwares has meant GC's can try softwares and apps before they buy them - and pilot and test them on a subscription basis (rather than spending millions in upfront costs).
Increased comfortability with technology amongst administrators, supervisors and engineers - Today, all construction workers from the site and the office are more comfortable using technology than they were 3 or 5 years ago.
More user friendly software and apps - General contractors and other project parties were often blamed for not adopting apps and other tools, but these tools were often just as cumbersome and less useful than the tools they were already using. Luckily, software and apps have come a long way recently, and most GC and construction softwares are now built with user experience in mind.
Increased usage and lower prices of smart phones and tablets - Today, almost everyone on site has a mobile and/or tablet. But this wasn't the case a few years ago. With the rapid adoption of smart phones and tablets, The infrastructure is now in place for these workers and companies to take advantage of the vast array of general contractor apps available.
Because of all of these forces - both internal and external - general contractors now use a number of apps to run their projects and manage their businesses.
Does a general contractor really need an app for that?
Construction companies and workers can often see the standalone value in a general contractor app, whether it be for decreasing site paper work or managing the construction schedule.
But sometimes general contractors, amongst other construction parties, get tired of yet another app and begin to ask the question:
Do we really need another app for that?
And rightfully so, general contractors don't want to get themselves back into the predicament of jumping back and forth between fragmented apps and standalone systems - which they have been managing and struggling with for years (word docs, PDFs, spreadsheets).
And they have a point. The general contractor app and construction app ecosystem is becoming fragmented. Increasingly smart and easier integrations can solve parts of the problem, and the rest comes down to only choosing and using the tools and apps which improve that specific job or function - and fit in with the rest of a company's app or technology 'stack'.
Understanding your company's systems and current pains is the best way to pick great apps for your business. Buying the latest app or investing in blockchain or AI for the sake of technology is not a good system strategy, and it won't improve how you manage your projects every day.
So what are some of the main categories of general contractor apps available today - and which ones are useful for you?
Construction scheduling
Construction scheduling was one of the first general contractor jobs to get digitised. In fact, scheduling and resource planning or 'project management' was one of the first uses of computers and softwares.
Scheduling can be a messy and time-consuming endeavour for general contractors, especially with large-scale projects and teams.
There are usually two-sides to the scheduling equation - the (1) actual scheduling on the general contractors side i.e the distribution of resources and (2) the resources speaking to or connecting to the schedule to acknowledge that they fulfilled their duties.
Because of the work involved in managing these two sides, the job of scheduling is a good candidate for going the way of the general contractor apps - which is showcased by the number of scheduling apps available - some specifically designed for general contractors and other more general scheduling tools.
Construction bidding
Construction bidding is another area of the general contractor workflow which has it's fair share of apps available.
The importance and standardised nature of bidding makes it a good candidate for an app. Being able to deliver professional looking and quick bids can mean the difference between a won and lost job.
Whether or need you need this app as a general contractor will be largely dependent on how often you are bidding for projects, as well as whether or not you need to bid for projects 'on the fly'.
Many of these app features are focused on providing GC's with mobile bidding functionality.
Similar to scheduling, there is also some good generic bidding apps which which can offer most general contractors a good app experience.
Forms, workflows and registers
A big piece of the general contractor app puzzle is forms, workflows and registers. These are the documents with which general contractors manage their work on site and in the office - to capture, organise and track what's happening on projects and jobs.
These day-to-day activities are ripe for the taking, and apps like Dashpivot have automated large parts of the manual processes associated with these documents.
A general contractor app which deals with this document types can usually convert your paper documents to a digital format, automate workflows between people and improve collaboration, and help to enable the smoother flow of information into registers. These same processes and procedures are pretty standard across punch lists and site diaries, as well as a bunch of other regular jobs.
Outside of this, progress photos and other important records can be captured with an app like this, which consolidates all of your important information in one place.
Because of the amount of time it takes for people to manage the movement of information, as well as the number of people this information touches, general contractors apps can really improve this part of a GC's business.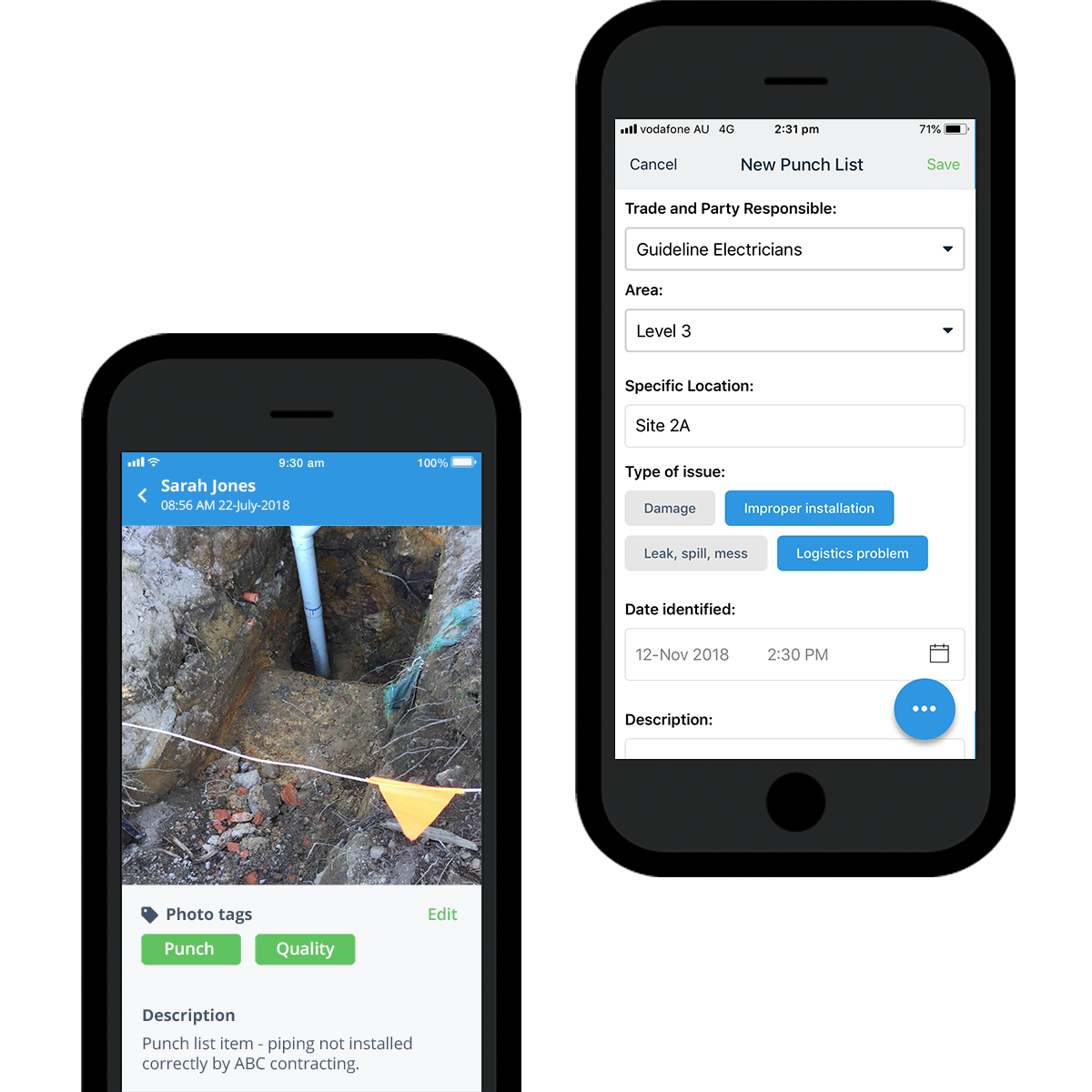 Analytics
Most general contractor apps feature analytics of some sort. The nature of your projects and what you are trying to achieve will dictate the level of sophistication required from your app analytics.
Analytics and project tracking is another activity which is really time-consuming when performed manually, and really simple when automated through an app.
General contractor apps which feature analytics automatically aggregate and organise your information, and then display it in project dashboards and charts. Apps can also do this in real-time, meaning you have access to what's going on as it happens, rather than hours, days or weeks later.
Mobile CAD
CAD or computer aided design is a really important part of the design and planning process for general contractors and planning parties.
Mobile CAD apps enable general contractors to keep designs and plans up-to-date, and can enable the real-time flagging of issues directly from site.
Like many general contractor apps, the purpose of this app is to put some power in the hands of workers on site, who deliver the design and deliver the project.
These apps have really improved project delivery, and any time a general contractor can connect plans and designs to what's actually happening, it's probably a pretty good investment.
Trade-specific apps
Depending on what industry you work in, there may be a number of trade-specific apps which you can use for your business and operations. There are some really great apps for a number of the more prominent trades.
For example, some carpenter apps can help a carpenter calculate roof pitch and rafter lengths, and can become a really valuable tool.
It's pretty easy to understand and evaluate the value of these apps for general contractors and trades, as they usually have a really solid understanding of how much value the app will add.
Calculators
Some general contractor apps are complicated, while others are simple - and some of the best and most useful GC apps are certainly simple.
While you may have a basic calculator by default on your phone, a quick search around the appstore can uncover a number of great general contractor calculator apps. Apps which help you crunch the numbers for roofing, heat safety and other important parts of work.
What to look for in your general contractor apps...
So as you can see, general contractors are spoilt when it comes to app choice. And the number and quality of apps available to GC's will continue to improve and increase.
So aside from having to decide which apps you want to use and which apps can improve your processes, projects and company, what are the universal factors which make up a good general contractor app?
Ease of use
One of the requirements which always makes it to the top of any general contractor app wishlist is ease of use.
While all people like to use things which are friendly and nice to look at, general contractors and their teams typically require and seek an even higher level of ease.
Construction workers on site operate in volatile environments, with loud noises and environmental factors making navigating through an app more complicated than normal. Add to this the time constraints and urgency associated with some construction tasks (along with the amount of paperwork which people already have to do), and general contractors don't have a lot of patience for apps which are hard to use, slow etc.
Cost
Cost is always a consideration when evaluating any product or service. Luckily, cost is becoming less and less of a factor as software becomes easier to install and adopt.
Most of these apps can be tried and tested as free trials, and almost all of them are available as monthly subscriptions or on a relatively cheap per-seat basis.
Some construction companies are still getting used to subscription pricing, and still see software and apps as being pricey, but the productivity gains associated with these tools often more than pay for themselves, quickly.
product alignment and interoperability
One of the reasons that many general contractors sigh when assessing another GC app, is that they don't want to have to manage a bunch of different apps and systems.
To combat this, you should look at how each app fits into your overall tech stack and processes.
Will you still have to move that information from the app into a spreadsheet? Do your apps integrate and talk to each other? (read about interoperability here)
While an app can seem like a great idea, it often needs to make sense in the grand scheme of your business.
Flexibility
How a general contractor app is architected and designed will have a lasting impact on how the app fits into your business.
Many construction workers and parties get frustrated with tools and apps because they don't quite work or fit in with how the company does their work.
The problem with many apps is that they are too rigid, and force the general contractor to adapt their way of work to the app.
You want to find an app which is flexible enough to smooth the transition between old and new, but constrained and smart enough to enforce and automate the best practices you look for in apps and software.
Most apps and systems to provide customisable form builders and frameworks which help you to create processes which you want.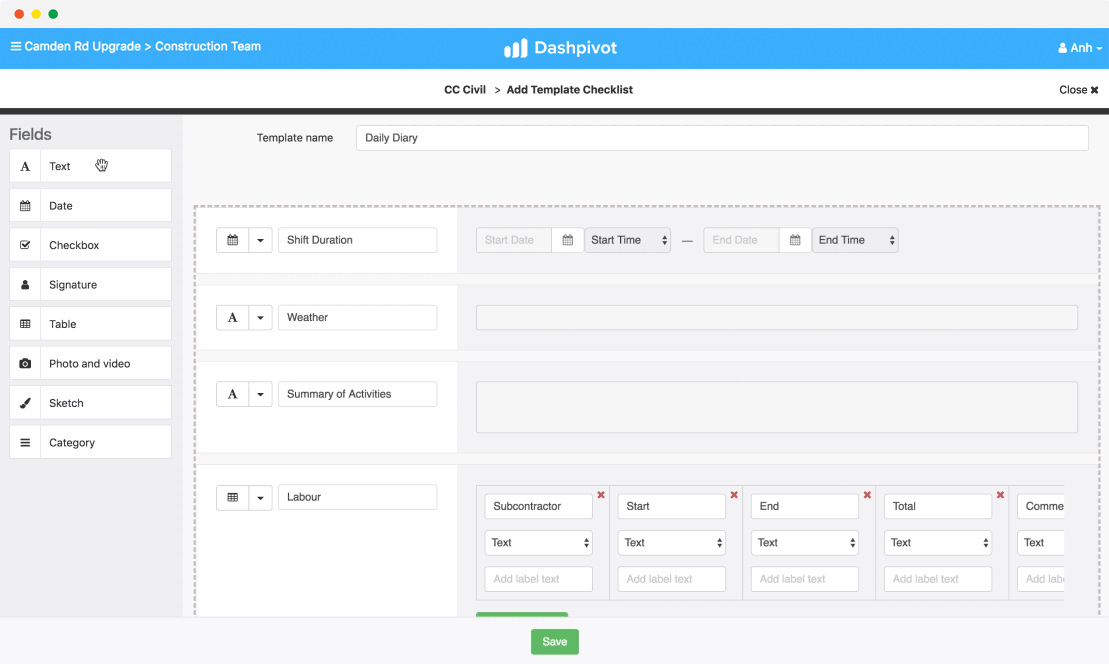 Security
An obvious one but an important one. General contractor information is extremely valuable, and a general contractor needs to be able to trust that the apps and technology which they use is storing and organising their information securely.
Transitioning your systems, people and processes over to apps and softwares
Even though general contractor apps and general contractors have come a long way in recent years, there is always some friction associated with migrating any process over to an app.
There is always a learning curve associated with each app, there can be some training involved for some of your team, some people may complain that they preferred the old way, and a number of other issues can arise.
But what you need to remember is that each app is an opportunity to improve a process or part of your business. Technology, softwares and apps are going to grow in importance for general contractors in the years to come, and the companies who transition their processes well can gain a large competitive advantage over those who continue to manage and deliver projects through time-consuming manual processes.
General contractor apps are part of the future of project management and delivery in the construction industry, along with other exciting technologies and improvements.
People in 80+ countries use this construction project management software - the latest in construction technology.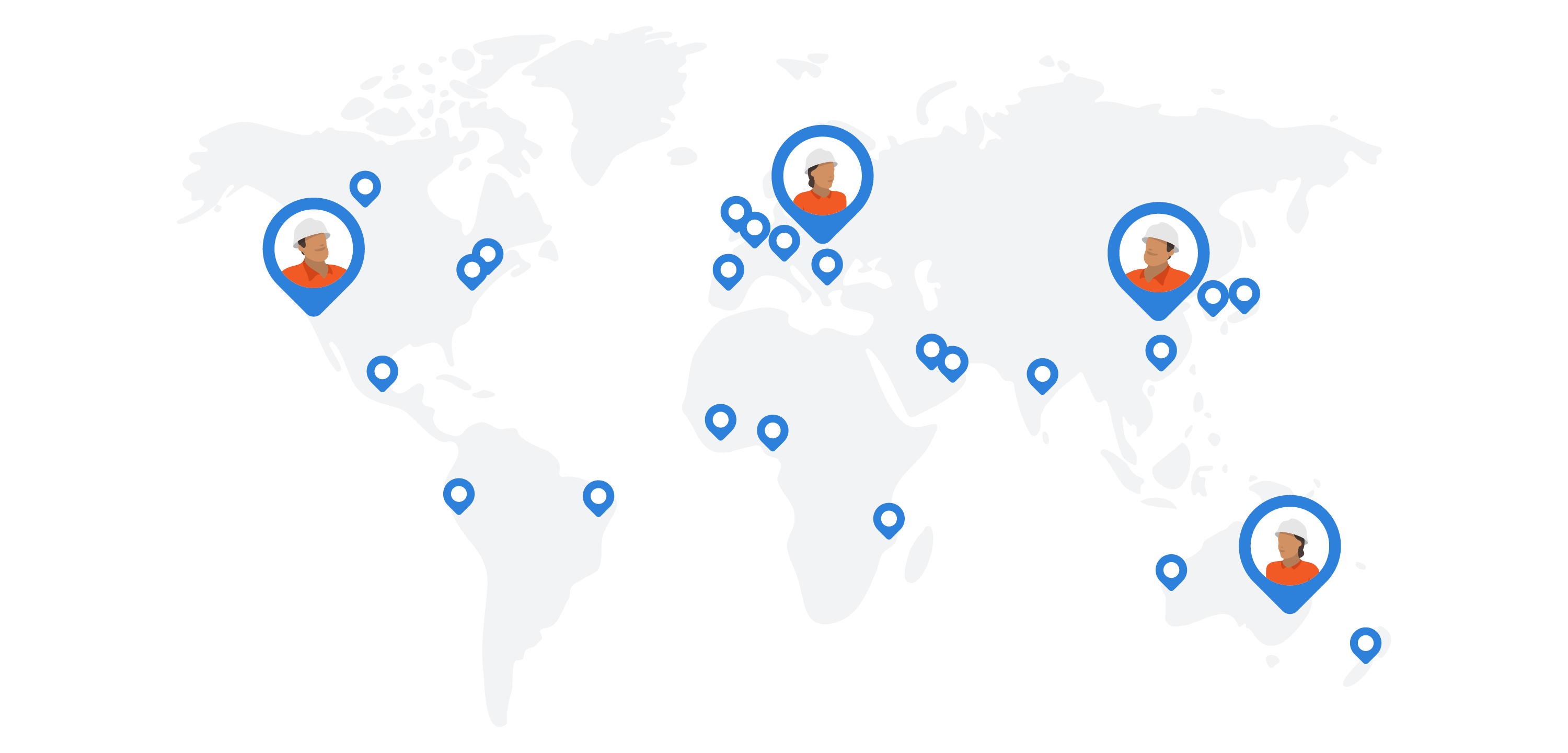 See how you can easily streamline your systems and processes with Sitemate today