Safety – Toolbox talk for working at heights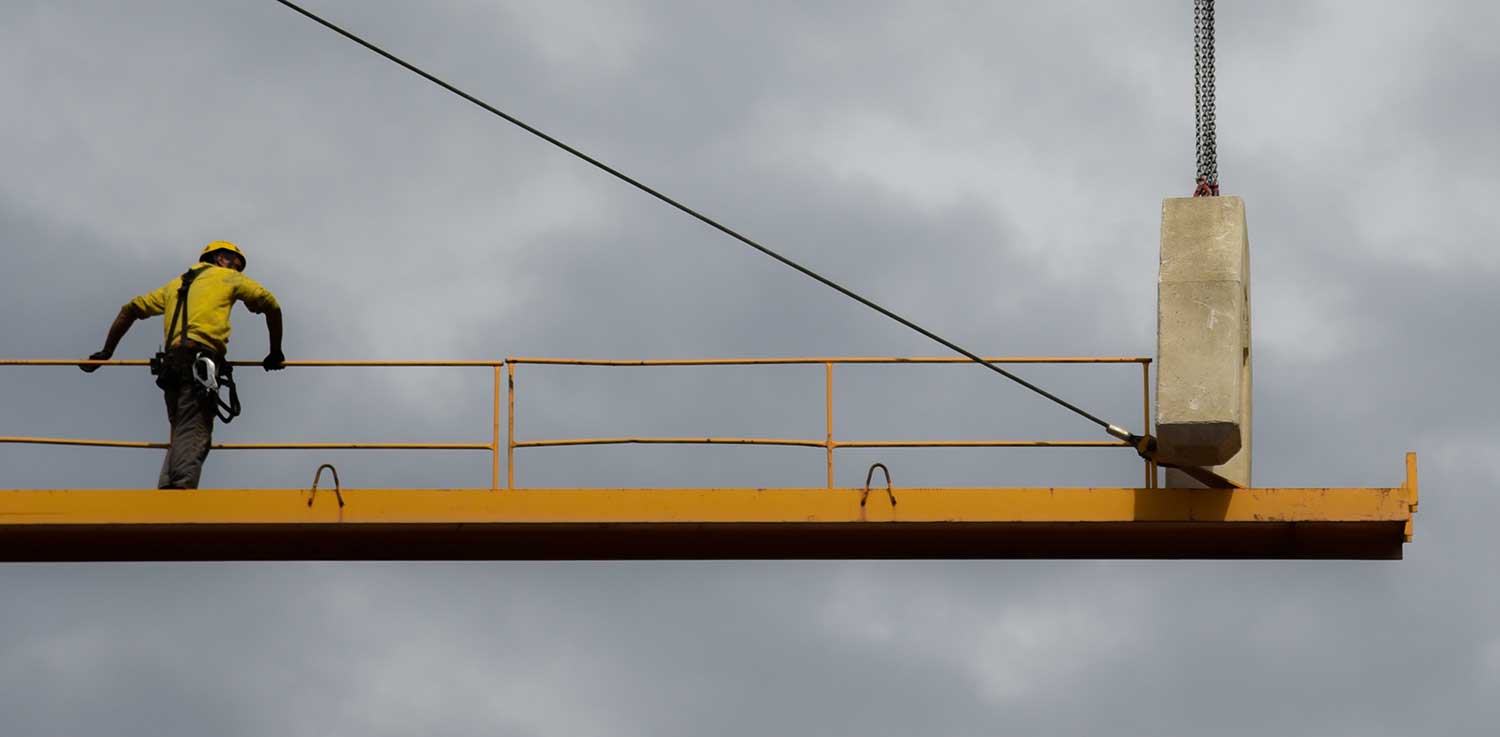 Toolbox talk for working at height
Why do a toolbox talk about working at height?
Working at height remains one of the biggest and most common causes of injuries and fatalities on sites all over the world - which is reason enough to conduct a toolbox talk for working at height.
How are working at height injuries and the act of working at height defined?
Work at height is classified as a person working at a height where they could fall a distance which would be liable to cause person injury - if there were no precautions in place.
Although companies, workers and safety and governmental authorities have put a lot of time and effort into improving working at height and made some good progress in this specific safety area, the fact remains that too many people are still getting injured and still dying from the simple act of working at heights.
Working at heights is a safety topic which needs to be constantly reinforced. It occurs frequently enough and is 'common place' enough that it's easy for people to become complacent about the very real dangers of working at heights.
Most construction, mining, oil and gas and other workers are comfortable with working at height, which creates an even more dangerous beast.
The main accidents which occur from working at height include falling from or falling through:
Ladders
Trestles
Hoists and hoist towers
Scaffolds and scaffold towers
Elevated work platforms
Most construction and industrial sites in the world feature one or more of these working at height apparatus, and many types of workers including labourers, engineers, supervisors and managers have to work in and on these tools and systems, which makes training for and mitigating the dangers even more difficult.
This is where the simple and powerful tool of the toolbox talk comes into play.
Toolbox talk for working at height framework and sample
Before we jump into the do's and don't of working at height safety and toolbox talk discussions, it's often helpful to see an actual working at height toolbox talk example.
The example below was documented on a standardised and reliable toolbox talk framework like this, which can be used and adapted for any toolbox talk.
Aside from some key record keeping components of the toolbox talk including the personnel in attendance and the training officer/precentor, the rest of this toolbox talk is centred around working at heights safety.
You'll notice that for this working at height toolbox talk, the precentor chose to focus on 5 key areas:
Falling
Dropping objects onto people below
Not climbing on (1) machines and (2) plant structures
Not working at height around overhead electricity cables
One of the great things about toolbox talks is that they are quick and succinct - so covering a few key areas or topics is the way to approach this type of toolbox talk. You'll probably need to and want to spend a few toolbox talks (potentially broken up by other talks) discussing working at heights, as it's such a broad and important topic to everyone on site.
You'll also see that each of the topics covered has an additional column for actions to be taken and who is responsible for those actions.
It's important to make toolbox talks engaging and informative, but also to make them actionable. If there are certain areas of working at height safety which could be improved in any way, then that should become a key takeaway and action item for someone at your company or on site.
For example, of working at height permitting has been lacklustre or slow or anything other than working well, then you may create an action item for the safety manager to improve those workflows, to improve safety and reduce delays through smart safety workflows like this.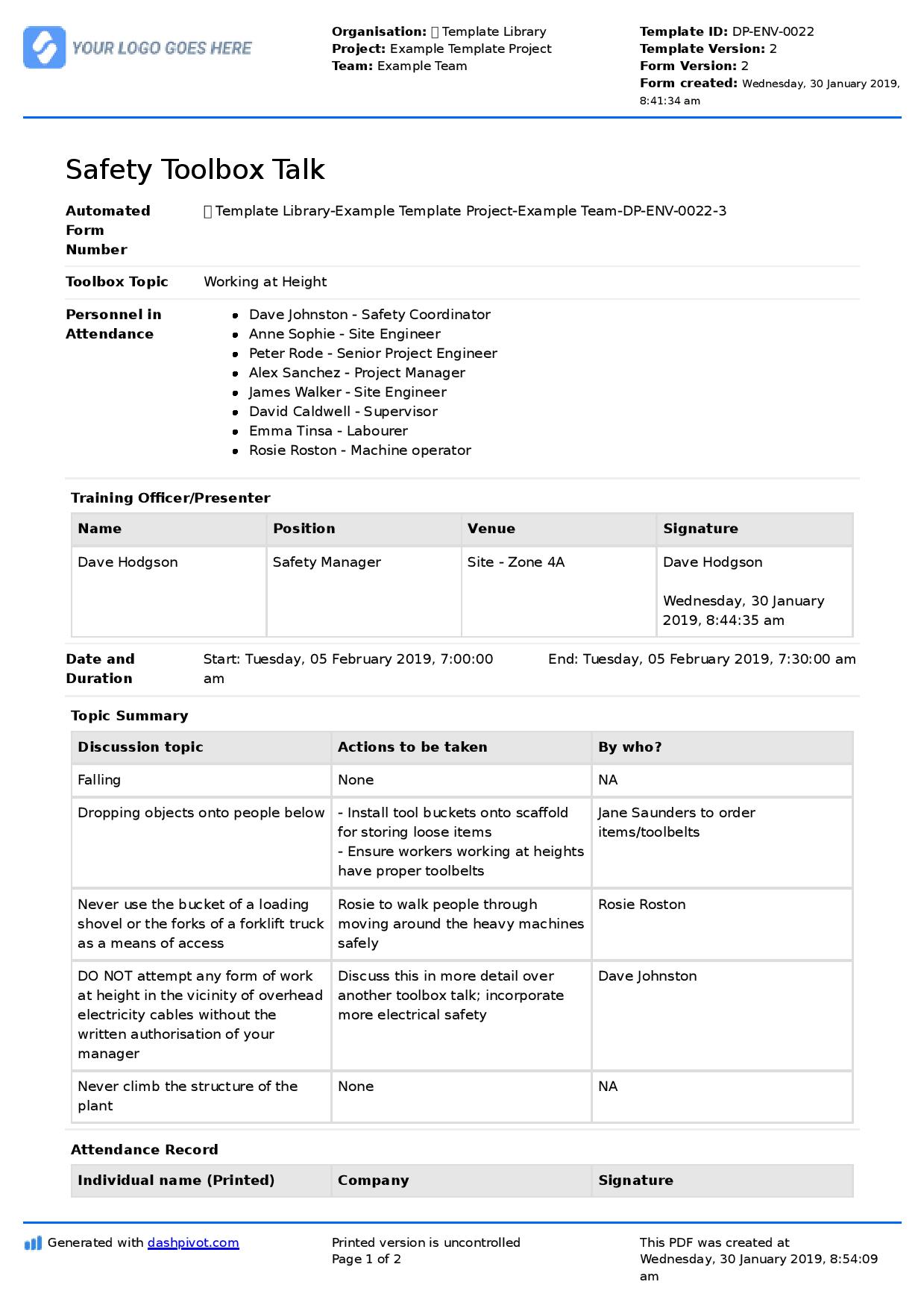 Use this proven toolbox talk for working at height framework, for free.
Approaching working at height safety and working at height toolbox talks in the right way
One of the most difficult things about discussing working at height safety and conducting working at height toolbox talks is to find the right balance between ensuring that safety is top of mind and that workers are taking the necessary safety precautions, but also that common sense and their intelligence is not undermined.
The purpose of any toolbox talk, just like risk assessments and other safety tools is to make people aware of the hazards and dangers, and to ensure they take smart precautions which are well aligned to these hazards and dangers in terms of cost and effort.
While stepladders are one of the most common causes of working at height injuries, it's unreasonable to enforce people to take extreme precautions in order to scale a ladder. It's also not feasible for your projects and bottom line.
In your toolbox talk, you want to take a sensible approach, encouraging and discussing how work can be properly planned, supervised, conducted with the right equipment and carried out by competent people in order to create the safest working environment for all.
The key to useful toolbox talks for working at heights
Getting as much engagement out of your toolbox talk attendees and site workers as possible will create a more relevant and fruitful 5 or so minutes. Workers have seen and understand the nuances of individual sites, such as:
Where there have been problems for workers getting safely to and from working at height areas
Where workers have been forced to work at heights instead of staying on the ground
Where the right safety equipment hasn't been available or fit for the job
Where surfaces feel fragile or inadequate
Where workers have felt there was a higher risk of falling from height or having objects fall from height
Where surfaces haven't been suitable for step ladders
Getting feedback from the site workers and teams about specific working at height issues associated with this particular site is more useful than talking about generic working at height safety statistics and practices.
Getting this type of information also provides you with those actionable takeaways which can be implemented to improve how the site and working at heights situations are managed.
Keeping your working at height toolbox talks grounded in the context of the current project and site will make it more interesting and engaging for workers, and a more powerful tool for keeping people safe. If you can repeat this across all of your projects and sites, then each project and site will become safer and safer - and we will all see less working at height injuries and fatalities.
People in 80+ countries use this safety management system to improve their safety processes and outcomes.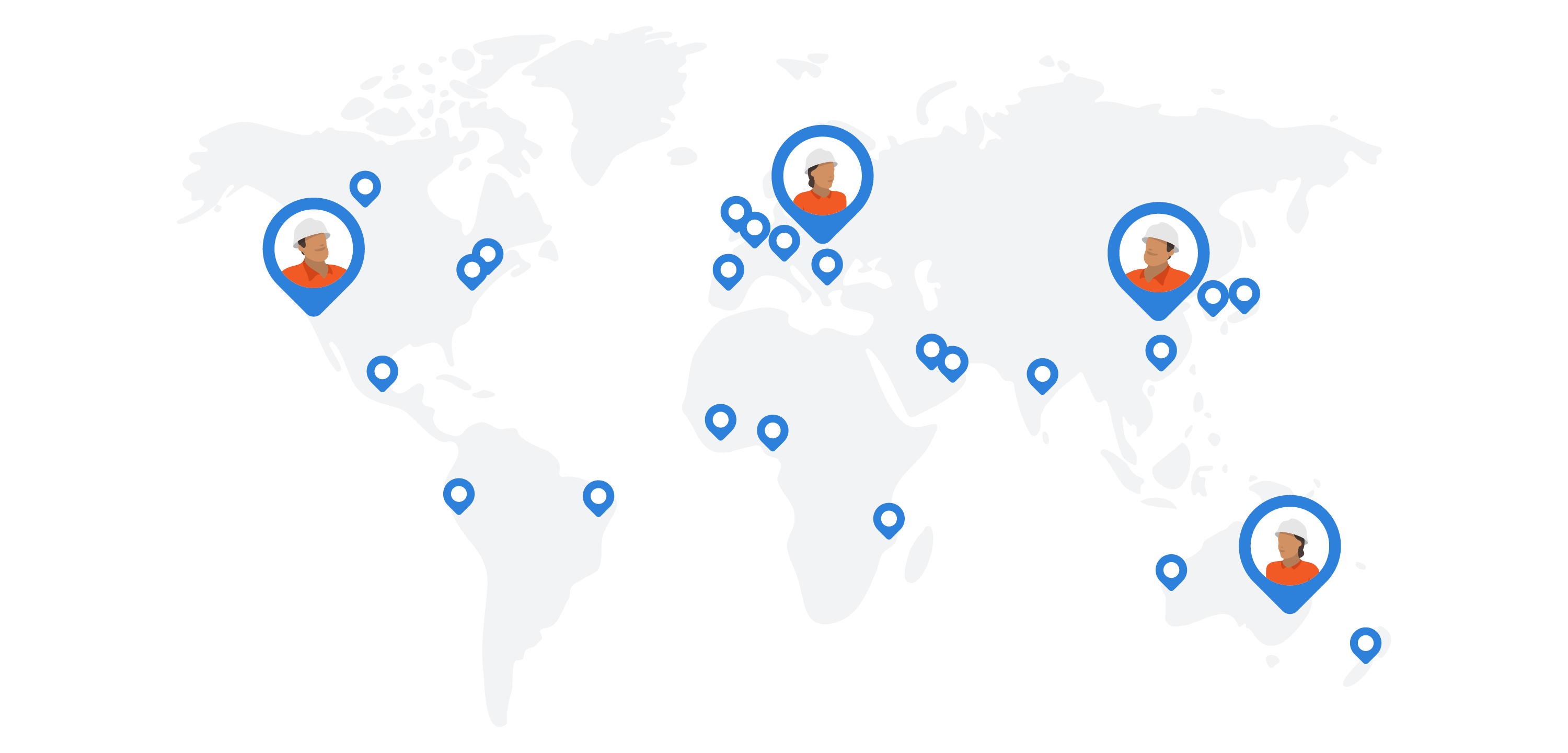 See how you can easily streamline your systems and processes with Sitemate today