Customer
Fredon - Infrastructure

Industry
Infrastructure: Tunnel Fit Out
Role
Major Subcontractor - Electrical
About Fredon
Fredon specializes in managing large-scale multidisciplinary projects, particularly those where the continued operations of facilities is a critical component of the project. Fredon's Management provides operational support to the project supervisors and the workforce, fostering collaboration between client, consultants and operational personnel.
Management plays particular attention to client liaison and ensures the client receives their desired outcomes. Safety is Fredon's utmost priority, for the sake of not only the workforce and their wellbeing but also because of the potential impacts it has on projects. Fredon pays particular attention towards safety and insists everybody buys into the safety culture to look out for one another.
Fredon offers road network infrastructure management and maintenance solutions that adhere to our clients' business needs. Our expert team delivers effective design, installation and services from project conception to completion.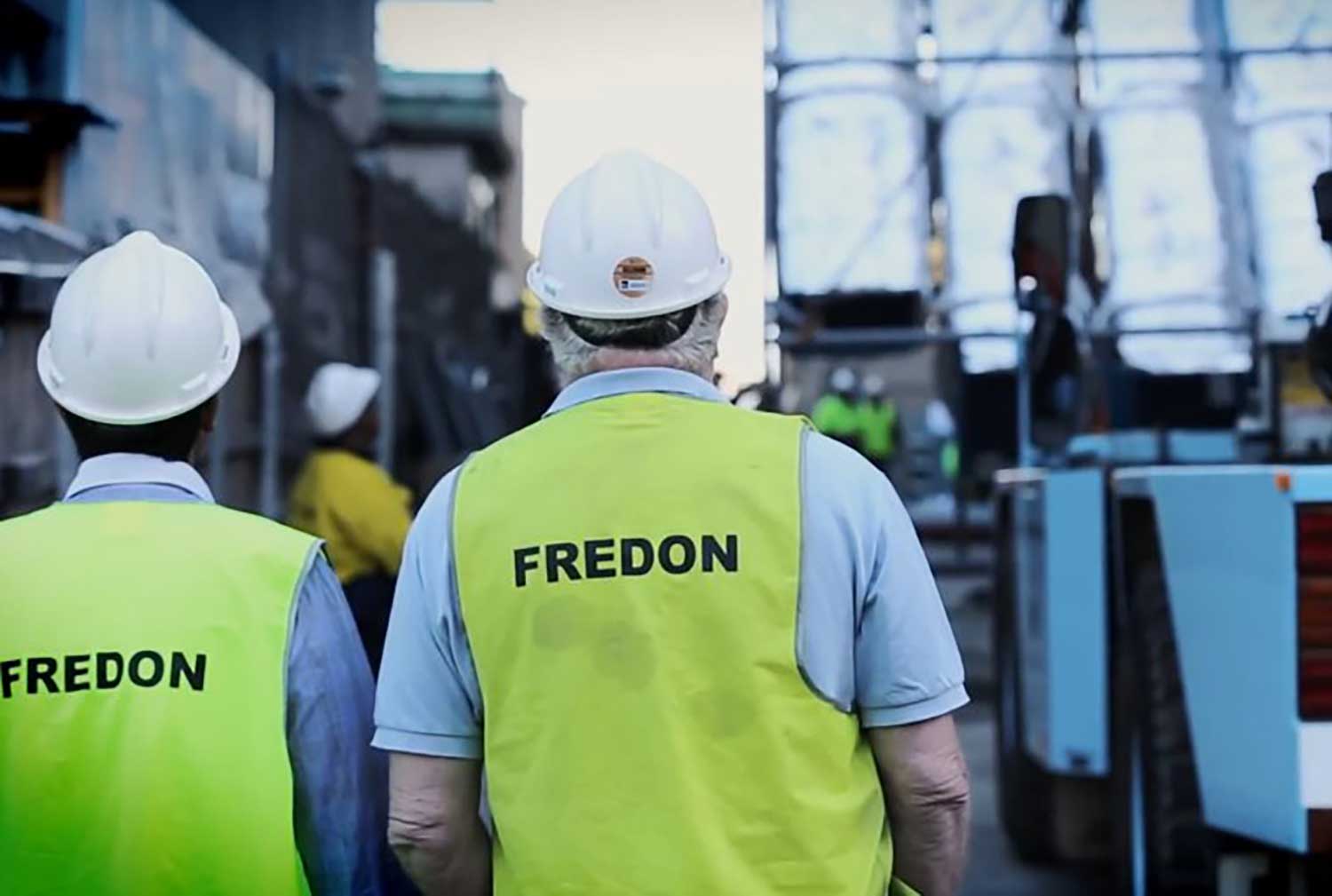 What is Dashpivot used for at Fredon?
Use cases
Division-wide (electrical) safety record keeping and compliance
Functions
Safety and commercial
Division-wide safety record keeping with Dashpivot
Safety templates and forms
Dashpivot has helped Fredon to consolidate and standardise it's safety forms into one centralised and single source of truth.
Fredon's project controller (Dashpivot admin) has setup a number of organisational templates which replace clunky word and excel templates of hazardous registers, hot works permits, dockets and diaries with streamlined and digital templates which have greater control and can be accessed from anywhere.
These master templates have then been deployed across multiple teams so that Fredon knows that every time someone fills in a daily pre-start, hazard report form or toolbox talk meeting, the exact same template is used and therefore the data and information captured is standardised.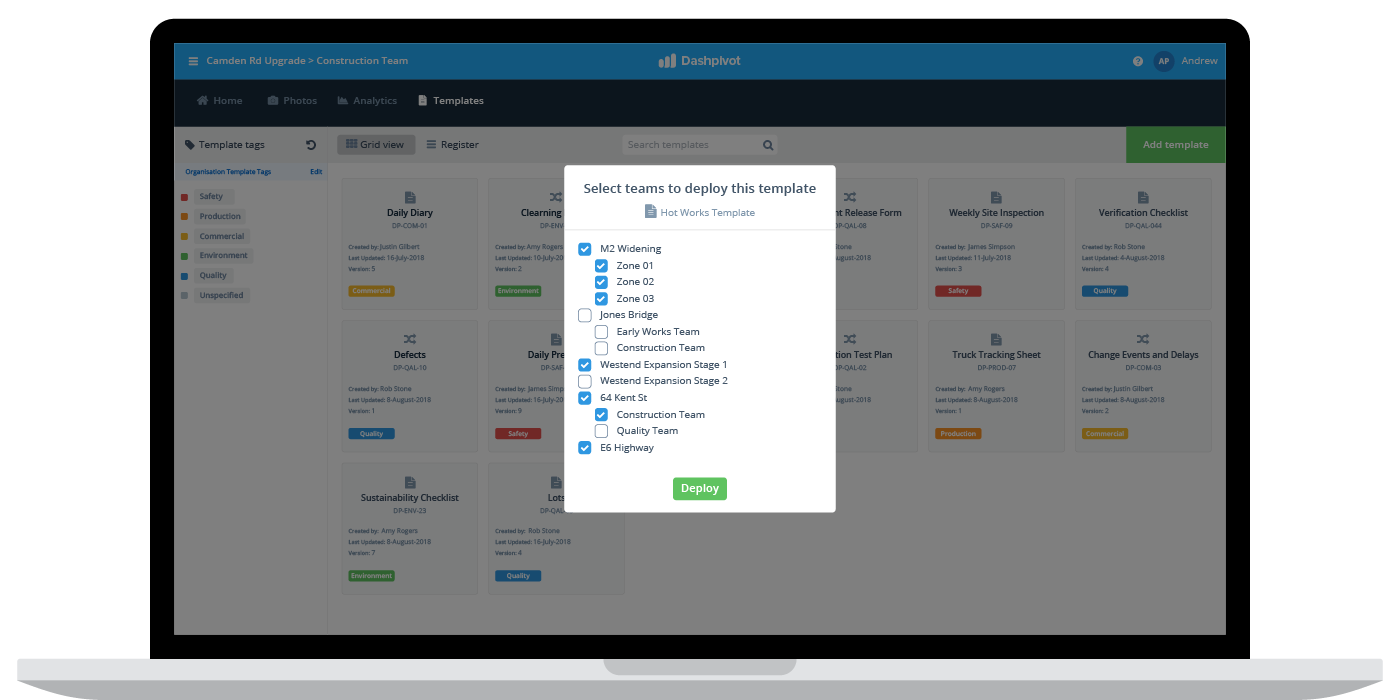 Fredon can set permissions for the templates so that they are only editable by certain people to ensure nothing gets butchered, and simply update the forms and form fields based on feedback from the field - constantly improving their data capture processes and increasing worker satisfcation on site.
At the site level, engineers and Fredon employees open these 'templates' as forms on their computer, tablet or phone. They can quickly select to open the form template applicable to the job they are doing (pictured on the phone below) and then go ahead and fill in the form fields. Forms such as pre-starts feature digital signoff and clone functionality so that work isn't duplicated and people are spending time doing the things they want to be (and should) be doing.
Using Dashpivot, Fredon has been able to create a smart document management system which is organised and stored securely in the cloud.
Instead of having to jump back and forth between arbitrary folder structures and fragmented tools like excel and word, Fredon can house their electrical safety forms in Dashpivot, as illustrated below.
(Not Fredon pictured)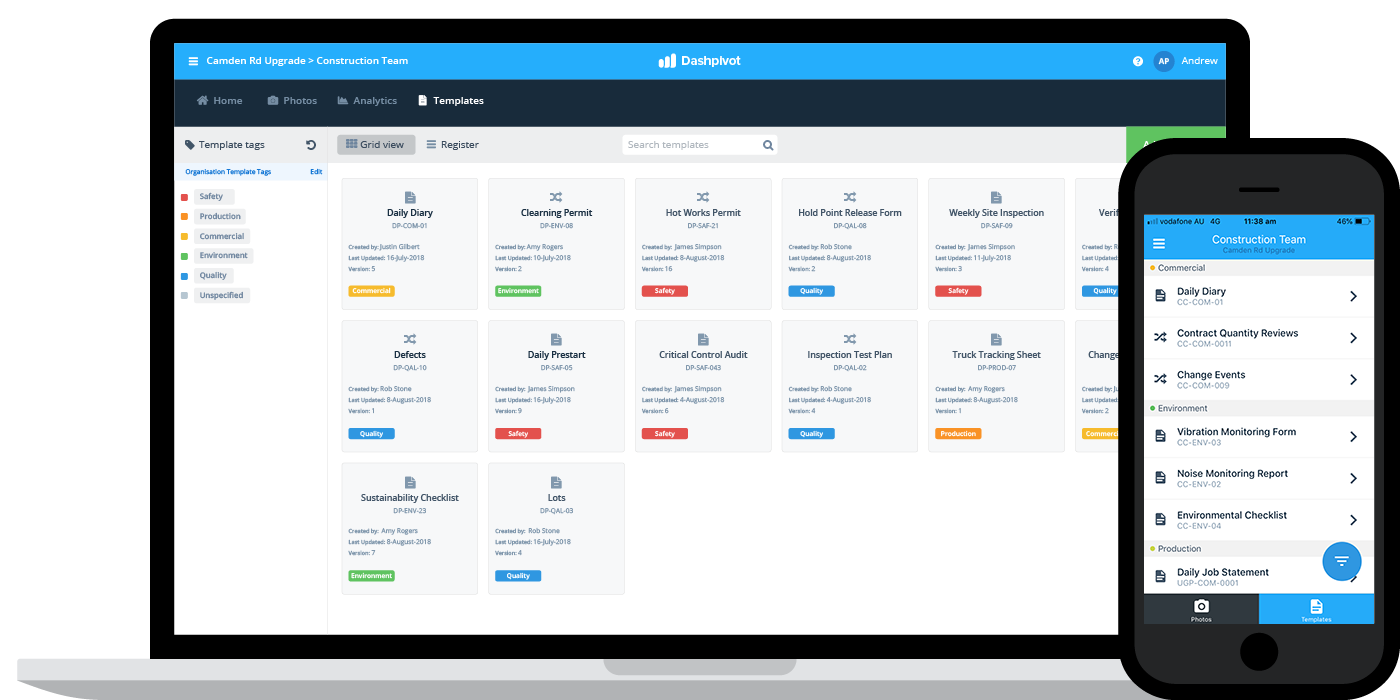 Electrical and safety photos
The other critical component of Fredon's improved safety record keeping is Dashpivot's photos section. Dashpivot has a designated photos component which streamlines photo and video capture on site and improves the organisation and traceability of those photos at all times.
Instead of having to search high and wide for photos stored in arbitrary folders or emailing a worker for a photo or photos inevitably stored on their hard-drive, Dashpivot aggregates all of the photos and videos which have been captured on site and makes them easily searchable via filters and tags - and always accessible by everyone with access to the platform.
In addition, the act of capturing and documenting what is happening on site via photos and videos has been made easier by the Dashpivot app. The engineers and workers on site can simply pull out their tablet or phone, open the Dashpivot app, and take a photo or video. Once captured, the employee is prompted to make comments on the photo so that they remember why they took it and other people have context, as well as prompted to tag the photo asa safety photo, tagging photo etc. so that they can be more easily found later on via those tags.
On top of that, photos and videos taken automatically include GPS location, which is important and valuable for a company who values the integrity of their records.
With Dashpivot, hundreds of photos and videos which may have otherwise been floating around folders and individual hard drives are now consolidated in Dashpivot, improving their safety record keeping.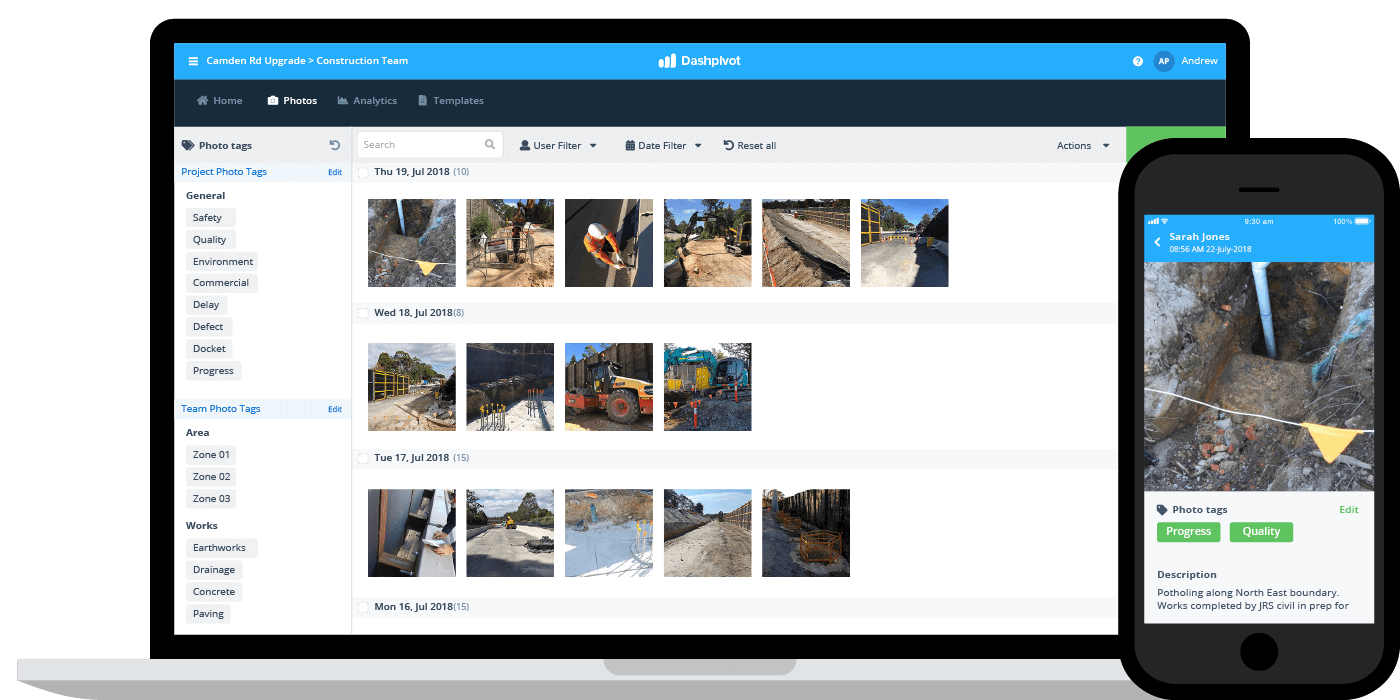 See the software for yourself.
Ensuring compliance every day, and at every stage of the project
For a reputable company like Fredon, safety management and their own ethics are a big enough incentive for them to constantly seek to improve their safety record and safety standing. But it's a big bonus that using a better record keeping and IMS solution like Dashpivot creates a more compliant unit and project which is always prepared for an audit.
As mentioned earlier, Dashpivot has given Fredon stricter controls over who and when forms and other important compliance records are altered, changed, edited etc.
In addition, Dashpivot gives management and anyone else the ability to see a real-time activity feed of every template and document. This ensures a bulletproof 'paper' trail is kept at all times.
We have already spoke to the power of centralised record keeping, but another positive effect of centralisation is integration. Within Dashpivot, records (such as photos and forms) are always attached to one another - meaning that proof of work and correct safety etiquitte is always just a click away.
Fredon can rest easier knowing that its safety records are in one place, captured with all the right information thanks to tighter standardisation, and come attached and connected with proof of compliance.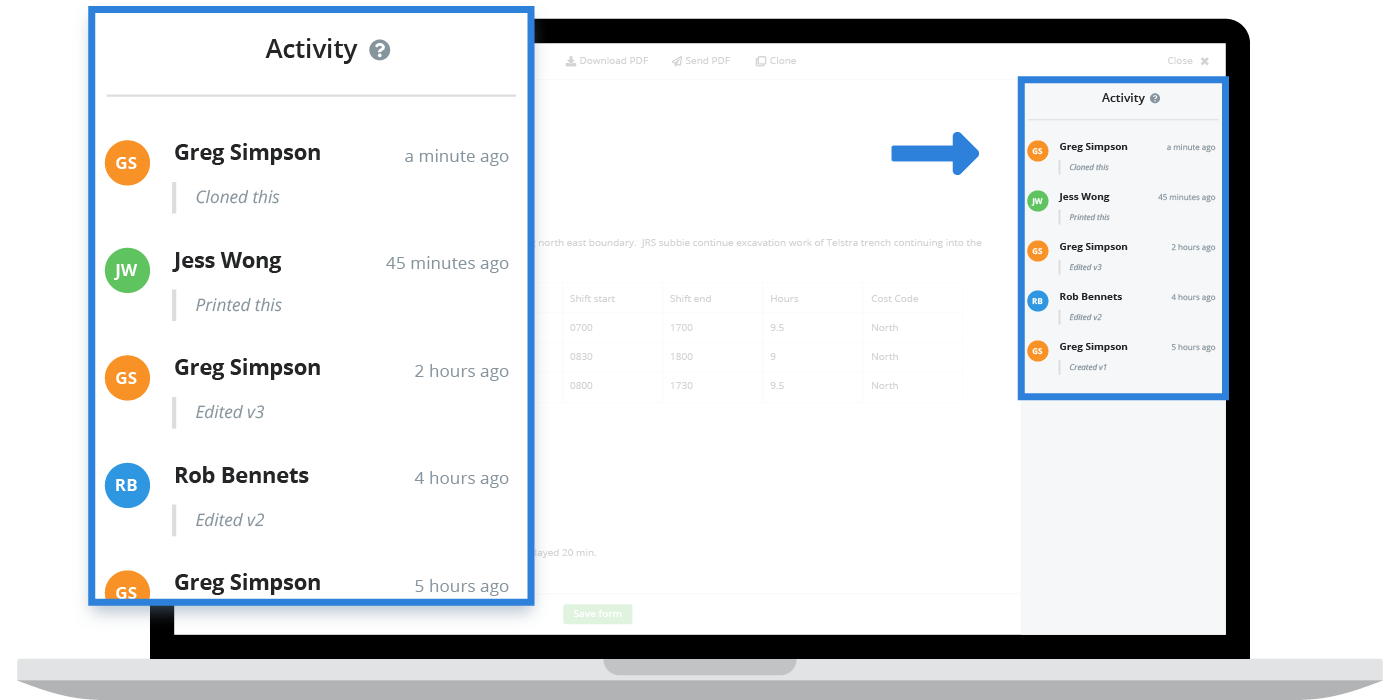 Fredon's safety culture keeps getting safer
Dashpivot has given Fredon's project controllers and teams tighter control of their safety records and compliance efforts. The safety management platform has also made it easier for the engineers and employees on site to capture the information, photos and video necessary to maintain great safety records.
Fredon prides itself on its particular attention to detail and insists everyone buys into the safety culture.
Dashpivot has fit snuggly into this safety culture.
See how Dashpivot can work for you too. Get a custom demo specific to your projects, teams and use case - or try the software for free.