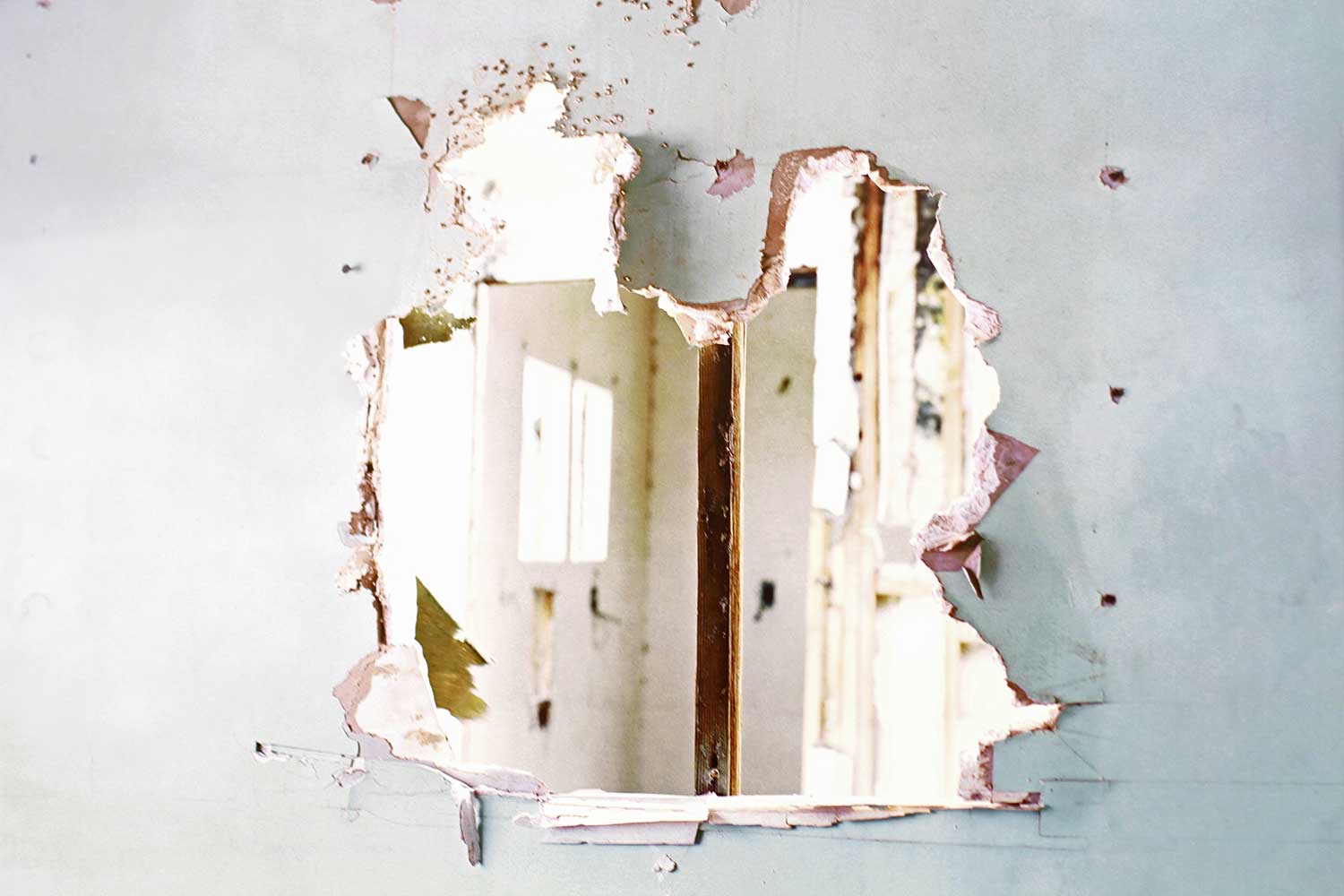 What is a construction punch list?
The construction punch list is one of the most common and powerful collaboration tools which contractors, subcontractors, owners and architects use to ensure that the quality of work meets the required specifications and expectations.
A punch list is a document, form or list of items [defects] which defines the outstanding project work which does not conform to contract specifications (or expectations), and is sent to a specific project party in order for them to rectify these defects before their work (or phase of work) can be considered 'complete.'
The items included in punch lists typically include incomplete or incorrect installations, as well as incidental damage to finishes, materials and structures.
Another good way to look at punch lists is to see them as a liability grace period. Punch lists are usually sent or shared towards the end of a project - because why fix issues during the middle of a project when incidents are still liable to happen - which gives subcontractors, workers and teams a period of time to 'fix' the issues which have arisen and been exposed during the course of work.
Instead of punishing or penalising a subcontractor for minor or incidental damages, punch lists extend a mutually beneficial olive branch which enable the issues to get fixed and the parties to cooperate, meaning everyone 'wins'.
Why do we need punch lists?
Like many of the construction and industrial documents, punch lists are essential elements to the smooth functioning of a project and smooth interactions between parties.
Punch lists serve as the official middle man between a contractor or client who wants their work to be 'complete', and a subcontractor who needs to get paid for their work.
The execution of a punch list is often the trigger for payment, making it an extremely important document and step in the project work process.
Without punch lists, it would be 'my word against yours' and it wouldn't be clear to subcontractors why they aren't getting paid and what they need to do to get paid; and it wouldn't be clear to contractors why subcontractors are demanding payment when there is outstanding work yet to be completed.
While some parties don't necessarily 'like' the issuing of punch lists as it requires more resources and a second-go-round, it is a necessary document which makes the complex network and interactions of stakeholders possible at a large and frequent scale.
Punch list example
The great thing about punch lists is that they are simple documents which are easy to create and complete. Most punch lists look very similar, and are formatted in the same vein.
A good punch list will outline the item or items which need rectification or re-working, include a series of record keeping fields which 'stamp' that particular punch list with the details it needs, some supporting evidence and the current status of that particular defect.
You want your punch list to serve as an official record of the outstanding item, when and where it was identified, and what needs to be done.
If you're the punch list issuer, this ensures that your instructions are clear and helps you keep bulletproof records which can't be unfairly disputed and also helps to show clients and owners that you are managing the quality of their asset properly.
As a subcontractor or defect rectifier, you want to be able to see and understand the defect and understand what needs to be done. Your goals and intentions are obvious and you just need the necessary direction to move forward with the work.
The only other piece which you'll definitely want to include in your punch list is a signoff (ideally digital signoff for on-site inspection). This closes out the punch list item or punch list.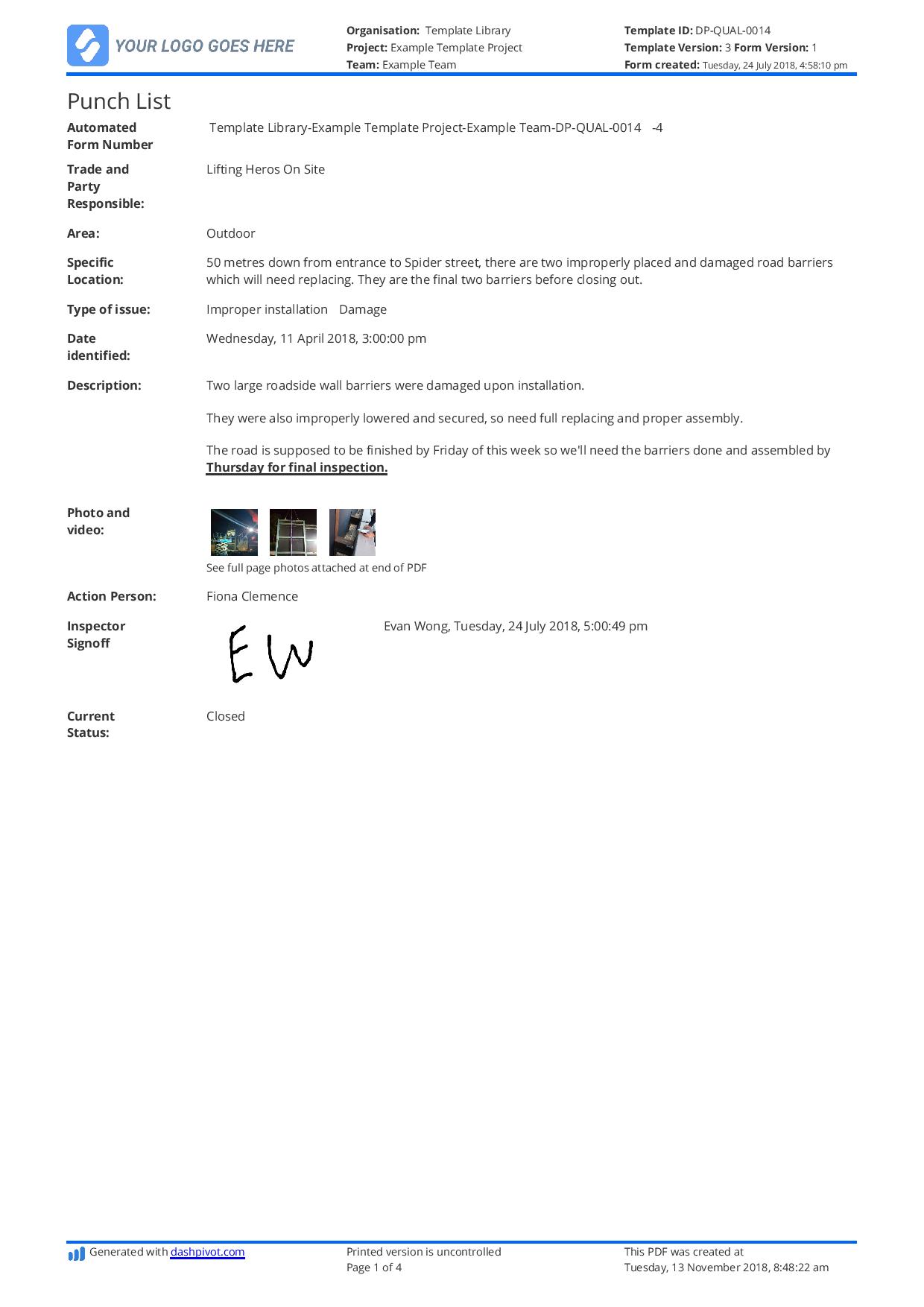 Use and customise this punch list example for your own construction projects.
How you can better manage punch list completion and organisation
As was mentioned above, creating a word, excel or PDF punch list document and then completing it is the easy part of the punch list and quality management process.
The tricky part of managing punch lists is organising them, sharing them, collaborating on them and gleaming insights about your quality outcomes from them.
Using paper-based or rigid documents and fragmented tools to manage your punch lists means organising, aggregating and actioning your punch list data is at the very least extremely time-consuming and often impossible.
You can solve this problem by using a consolidated quality management system or a dedicated punch list app.
Platforms like Dashpivot help you create a standardised and streamline punch list process from document creation to quality tracking. Instead of jumping back and forth between different systems and converting documents multiple times, you can create one document of truth which stays the same from start to finish.
Create a standardised punch list template which you can deploy to your projects and teams
Make it easy for workers to document punch list items or complete punch lists with an easy-to-use app which enables form completion, photo and video capture and digital signoff
All of your completed punch lists are then sent to the secure cloud, where all of your standardised data can be managed and converted into different formats such as CSV or PDF
Download, print and/or share any of your punch lists with your company logo and branding, keeping your documents professional
Display the results of your punch lists in dashboards and charts, seeing new insights like the number of punch list items per contractor and more
If replacing your entire current punch list process seems like too much - although pretty easy - you can get started with a free digital punch list example form below.
You can use this punch list to digitise and simplify how you capture, organise and track your punch lists.
See how you can easily streamline your systems and processes with Sitemate today