Customer
APP Corporation

Industry
Infrastructure: Infrastructure, development
Role
Independent certifier
About APP
APP is an integrated property and infrastructure consultancy offering services across all phases of the capital investment lifecycle - Strategy, Definition, Delivery and Transition.
Today APP's national business works on $24B of capital value for over 500 clients across more than 800 projects annually. Their engagements range from providing advice on small, niche assignments to the full spectrum of end-to-end services on major landmark projects, and everything in between.
How does APP use Dashpivot?
Use cases
Real-time site surveillance, photo management, site reports, defect management, issue tracking
Functions
Safety, quality, environmental and commercial
Watch what APP's project engineers say about using Dashpivot
How APP digitised its information management system to streamline site management and site records
The old way
Like many companies, APP used to rely on word documents and computer folders to manage project information.
There were a few major problems with this approach:
Project engineers and site-based surveillance officers would take their photos on site using their mobile device, and then still have to go back to the office, connect their phone to their computer, upload the photos, and store them on their hard drive or in shared folders
Project engineers would need to then add these photos into their word reports, struggling to format them well, not being able to add the necessary detail to the photo and report
Storing and finding project records which can date back months or years on a project was hard and almost impossible when stored in standard computer folders
Using manual processes to conduct and manage site surveillance and records was inefficient for many members of the team, and resulted in less quality records which the team could use and rely on at any point in the project:
"Not only is it inefficient for the guys on site, it's also inefficient to find information dated back over months and years"
The new way: real-time site surveillance and records
Because of the challenges associated with monitoring projects and managing site records with word docs and computer folders, APP went searching for a smarter solution.
"APP was looking to digitise the information management system that we used to record all our information and we came across Dashpivot. We found that Dashpivot ticked lot of the boxes we were looking for."
For APP, their information management system mostly consisted of photos and site reports, as well as issue trackers.
Dashpivot's photo functionality had an immediate impact on the site team, enabling them to document exactly what was happening directly on site.
"What I like about Dashpivot is project engineers can take the photos from the site and upload them right away and sometimes we have conversations with surveillance officers immediately after that so we can follow up on issues"
When a project engineer takes a picture with Dashpivot, they can add comments to the photo, tag the location of the issue or progress photo, so that everyone always has the context they need to make informed decisions.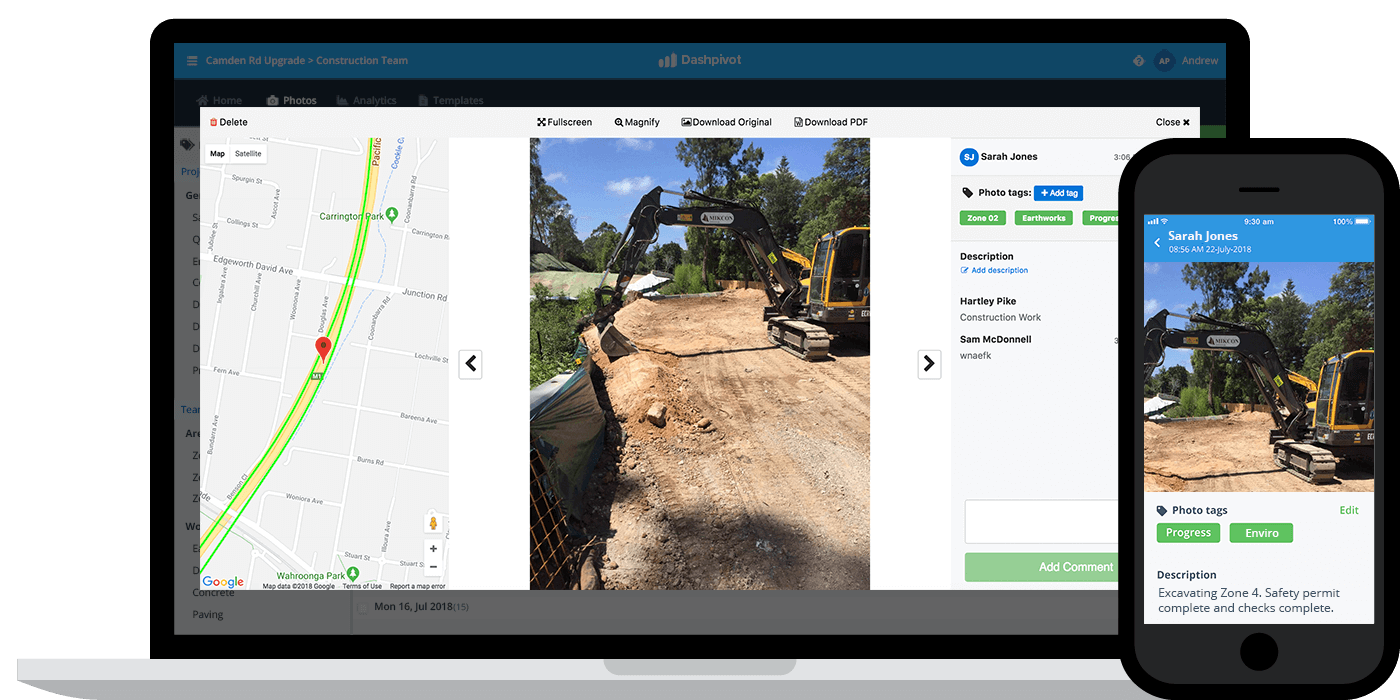 On top of thousands of photos, the project engineers can also complete their site reports directly from site.
They are able to access and open the standardised report template from any device, add in details, checkboxes, add photo and video proof and then generate professionally branded PDF reports in a single click.
No going back to the office to enter information later or add photos - it can all be done directly from site, and edited and tweaked later in the office where required.
Because the system serves as a true information management system and database, all of these records are also stored in the right place automatically. A project engineer or project manager can easily filter and find specific records which could date back years in a few clicks.
Collaborative defect management
The role of the independent certifier or assurer on a project is to ensure that the project is delivered as per design, specifications and as per drawings.
Ensuring this is the case involves a lot of coordination with the contractor and other construction parties.
Using Dashpivot, APP is able to monitor the defects and defect management process of the contractor in real-time. They are able to be notified when specific defects are closed out, and to escalate more serious issues in a collaborative environment.
This ensures that issues and defects are transparent, and that they are actioned and rectified quickly.
"We also use Dashpivot for monitoring the contractors defect management process, this allows the management of defects to be monitored collaboratively with the client and contractors. With real-time access, this allows us to process the issue faster."
For APP, Dashpivot streamlines all of their internal record keeping, and creates a single source of truth platform whereby the client, the independent certifier and the contractor can work together and comunnicate more effectively to deliver a better asset.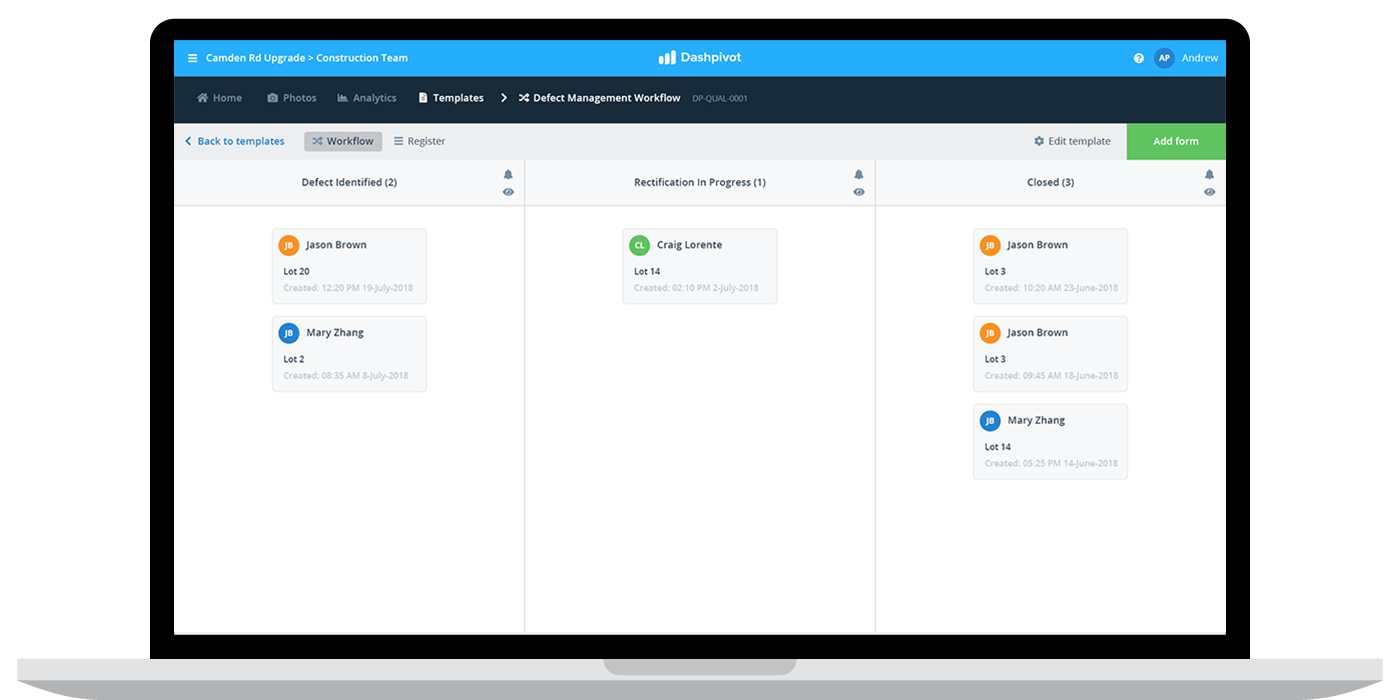 What we can learn from APP's smooth transition from word docs to an integrated management system
APP is a great example of an organisation who had professional procedures built into their systems and processes - but who could make those processes more efficient and streamlined using a digital IMS.
APP project engineers were doing the right activities and capturing the right information, but they were having to do it in formats which were not designed for field-based workers or site-based records.
By digitising their IMS, project engineers were able to do their jobs more effectively. Many of them visit construction sites every day, and a digital tool they can use to take photos, fill out site reports and manage defects enabled them to better manage information.
The role of the independent certifier is to perform site surveillance and monitor site works, and real-time records boost their ability to conduct these operations, while also benefitting the contractors and client too.
"I would recommend Dashpivot to any companies who are looking to monitor and capture their records in real time."
For any company with an existing management system made up of traditional document formats, computer folders or other standalone apps, moving to a digital integrated management system is extremely easy and painless.
You can move your existing documents and processes into a digital format in a matter of days - almost instantly streamlining their works and building bulletproof records moving forward.
See how Dashpivot can work for you too. Get a custom demo specific to your teams or try the software for free.