Quick and easy site induction app
Use this site induction app to streamline your site inductions, improve site safety and ensure compliance.
Powering efficient and compliant inductions on sites of every size
Access and complete site inductions from anywhere, using any device
Enable everyone to have constant and instant access to your standardised site induction documents no matter where they are.
No one can modify or use an old version of your site induction form, which means every site induction is documented properly and is fully compliant with your safety requirements and standards.
Convert your existing induction forms into the digital format, or build and customise your forms inside of the software.
Send induction forms to people before they even arrive on site
Create an easier and more professional induction process by sending your digital induction form to people so they can be completed and submitted before or when they arrive on site.
Once a person completes and submits the induction form, it is automatically stored in the database and induction register in real-time.
People who fill out an induction form are all free users, so you can send out as many induction forms as you want for free.
Place a QR code on site so anyone can easily scan and complete an induction form
Replace messy paper forms and clipboards with a QR code poster which can scanned with any mobile device.
Any person or worker can simply scan the QR code and fill out and submit the induction form for free, and all submissions are automatically stored and organised for you based on the specific induction form and site.
Each QR code generates a specific customisable induction form, which can be updated and changed as required, with each new scan opening the latest version of the form.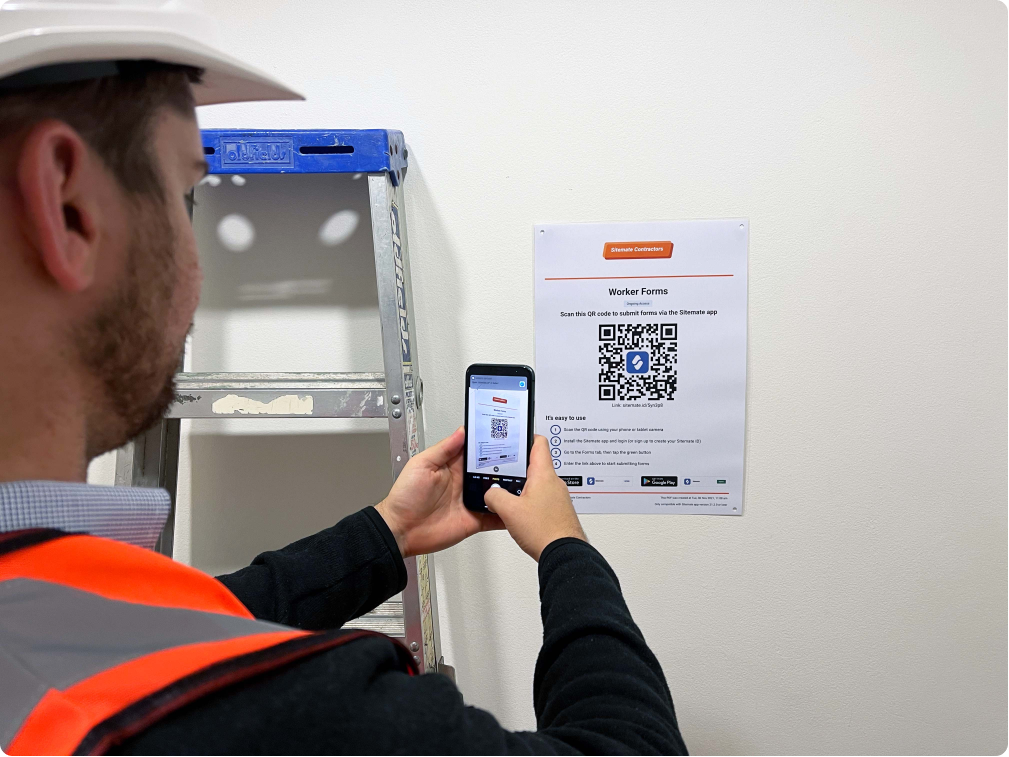 Scan people onto your forms and sites instantly
Contactless scan and sign enables employees and other 3rd parties to be scanned onto any induction form to improve site hygiene and induction speed.
When scanned, the form is instantly populated with the persons name, signature, date and time of the signature and GPS location.
Completely free for all 3rd parties including subcontractors, clients and suppliers
Consolidate all of your site inductions into one app, with external parties being completely free.
Send as many induction forms as you like or erect as many induction posters as you need for no cost.
Automatically organised induction records.
Timeline view
The site induction app organises all of your site inductions into timeline format automatically, and you can view these timelines by specific projects and teams.
Register view
Convert any or all of your site induction records into a register style view in a single click. It's just like your excel spreadsheet, without any data entry or formatting.
Share site induction records from the app in one click.
Any of the site induction records or documentation captured inside of the site induction app can be downloaded, printed and shared in one click.
Every export is professionally formatted and comes stamped with your company logo and colours.
Automate critical or repetitive processes.
Setup automated workflows for critical site inductions or induction processes. Hard signature restrictions and automatic notifications ensures every induction follows the same procedure whilst also being actioned and approved quickly.
Get new real-time insights about your site inductions.
The site induction app aggregates all of your induction data in real-time, which you can then display in custom dashboards and charts.
See things like how many inductions have been completed, which projects have the most or least inductions and more - all updated automatically as data is inputted from the field.
Award winning app, as voted by people like you.
Best Value – EHS Management
Best Ease of Use – EHS Management
Best Ease of Use – Project Management
---
Source: Capterra software reviews
Try this site induction app for yourself for free now