Safety – Hazardous chemicals examples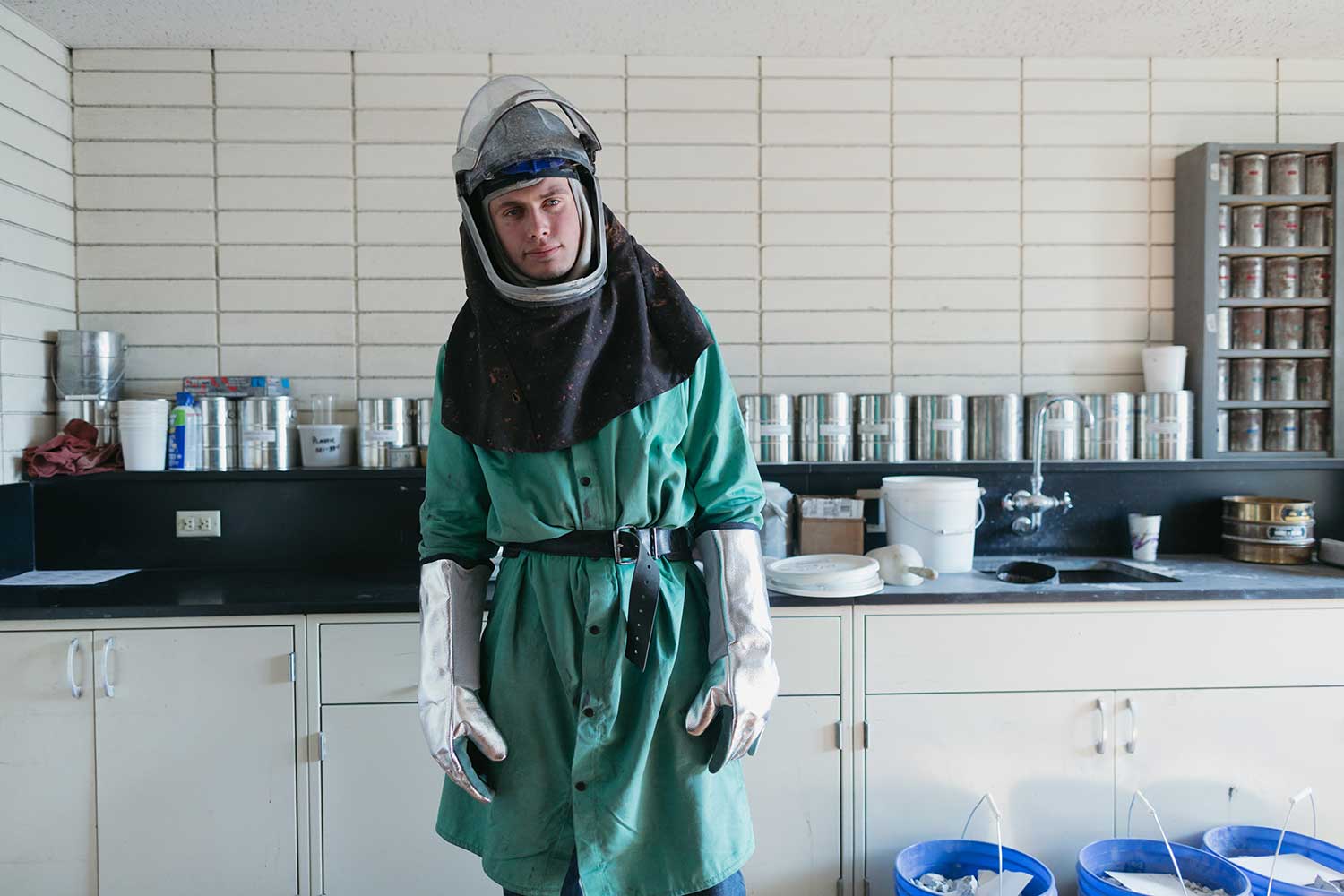 Hazardous chemicals examples
What is a hazardous chemical?
It can sometimes be tricky to know exactly what a hazardous chemical is, because there is no exact formula or science.
At a high level, hazardous chemicals are substances which can cause adverse health effects such as poisoning, skin rashes, nausea and vomiting, allergic reactions, cancer, birth defects and other health problems.
In terms of assessing whether the chemicals you have delivered or are handling are hazardous in nature, you can look out for some reliable signs which are centered on the product labelling:
There are diamond-shaped warning pictograms
Danger or warning is written explicitly on the label
Hazard or precautionary statements are visible on the label, usually around wearing protective equipment or what to do if the chemical is swallowed
General risk or safety phrases on the label
It's obvious with many chemicals that they are classified as hazardous, and less obvious with others.
When in doubt about wheather a chemical is classified as being hazardous, contact the manufacturer or chemical supplier for details or a copy of the chemicals SDS (safety data sheet) - which they are required tomake available (in physical copy or online).
Hazardous chemicals examples...
Some concrete examples of hazardous chemicals include:
Acids
Glues
Heavy metals
Paints
Drugs
Cleaning chemicals
Degreasers
Detergents
Pesticides
Herbicides
Petrol/fuel
Asbestos
Gases
Corrosives
This is not an exhaustive list, and as you can see, each 'chemical' above will have a number of chemicals in its category.
Examples of specific hazardous chemicals
There are a lot of hazardous chemicals, but I have summarised a few - along the important details about each one below.
Kerosene
Kerosene is a combustible liquid derived from petroleum. It is used as a fuel in industry as well as a cleaning agent.
Purpose - Cleaning agent/Fuel
Dangerous goods - Class 3 flammable liquid
See below for an example of how Kerosene would be documented in a hazardous chemicals register.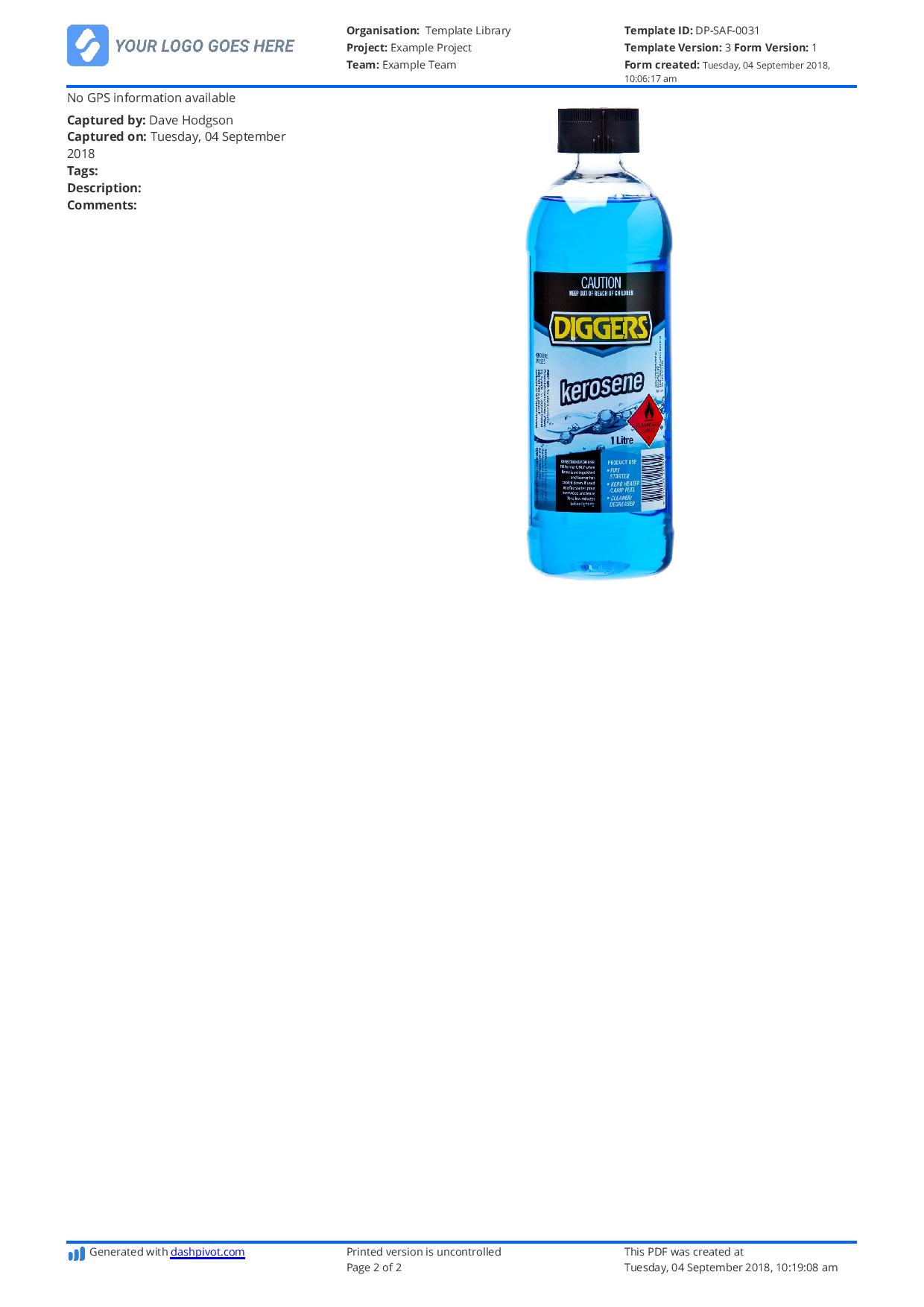 Use and customise a hazardous chemicals register template for free now.
Petroleum
Something we see and use every day, petroleum is used in workplaces and sites around the world as a source of fuel.
Purpose - Fuel
Dangerous goods - Class 3 flammable liquid
See below for an example of how petroleum would be documented in a hazardous chemicals register.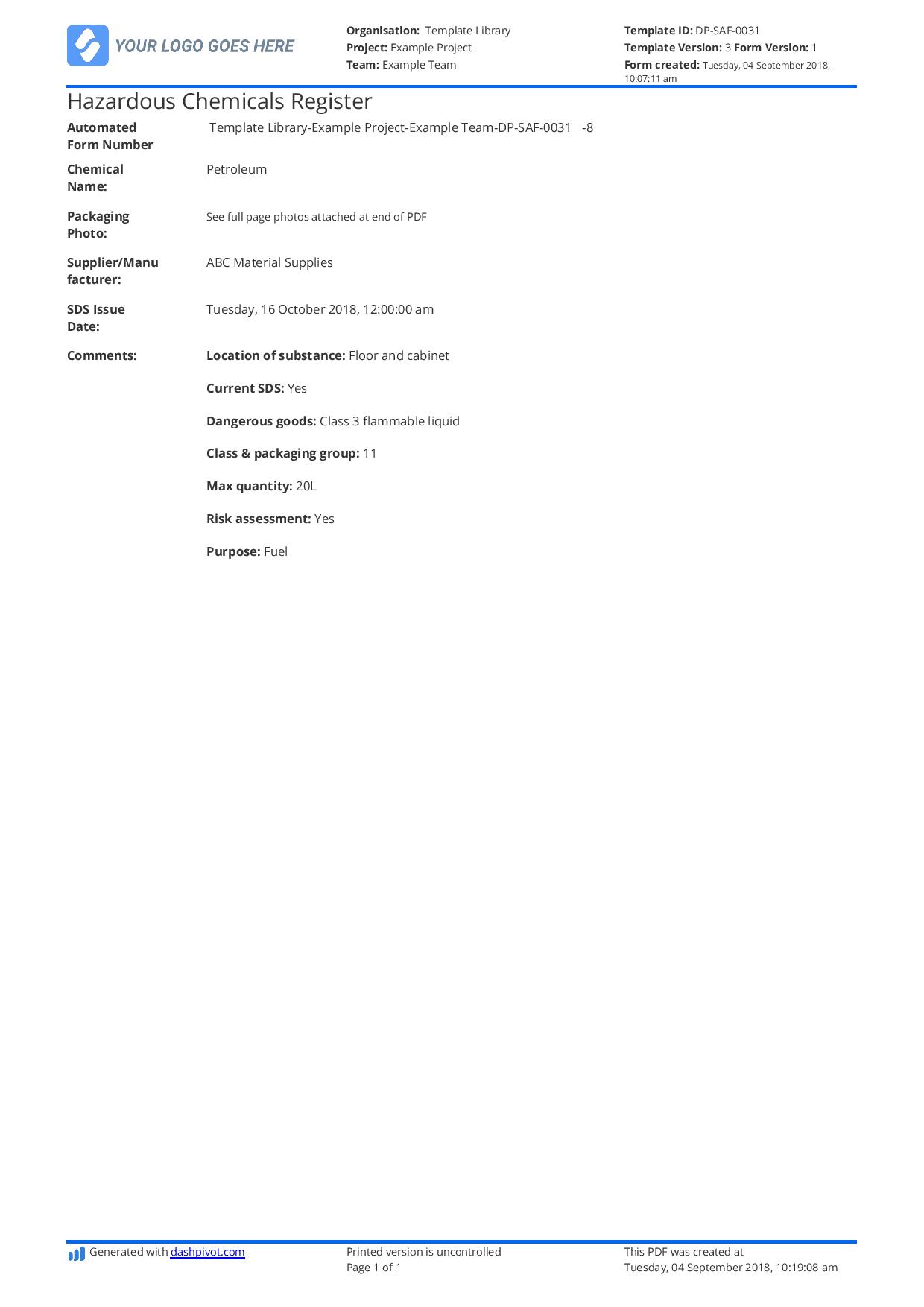 WD-40
WD-40 is a highly versatile product used the world over. It's main purpose and function is to lubricate (check out some of these bizzare and awesome WD-40 use cases)
Purpose - Lubricant
Dangerous goods - Class 2.1 Gases
See below for an example of how WD-40 would be documented in a hazardous chemicals register.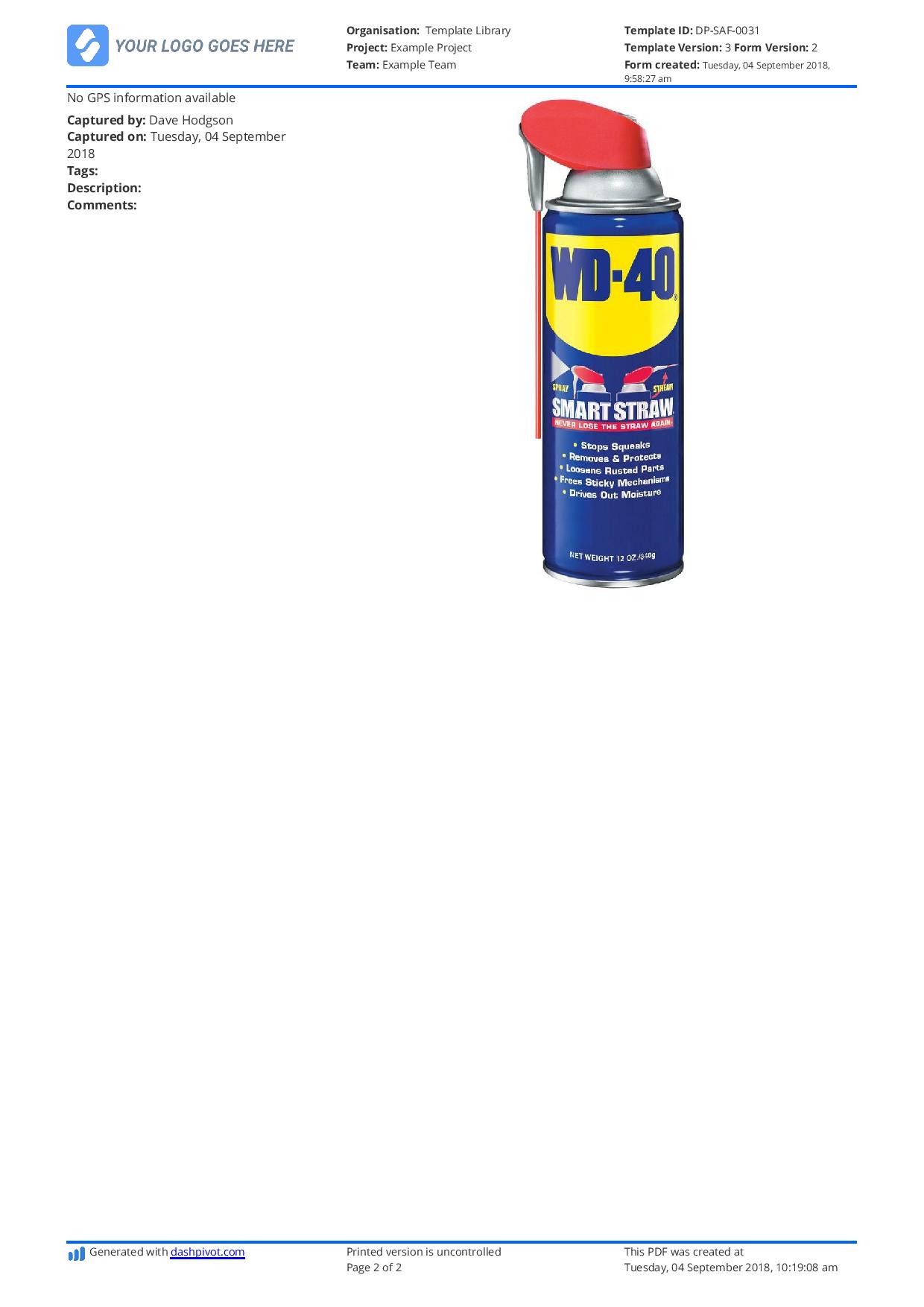 Are you documenting and managing your hazardous chemicals properly and safely?
Employers must ensure that the material safety data sheet (MSDS) for each hazardous chemical is available to employees, and that a central hazardous chemical register is established to monitor the hazardous chemicals in that specific workplace.
The material safety data sheet provides employees and management with critical information about the handling and storage of a specific hazardous chemical including:
The potential harmful health effects
Precautions which should be taken before, during and after use
Safe storage suggestions
Contact numbers for people in emergencies or people seeking further information
The hazardous chemical register on the other hand, is the single source of truth for all of the chemicals that a company uses and has on site. The register will contain the name of the chemical, along with supporting information and detail about that chemical including:
The supplier/manufacturer
Packaging photo
SDS issue date
Dangerous goods classification
Location of substance
Purpose of chemical
If you are looking to improve the way you or your company handles hazardous, treats and documents hazardous chemicals, take a look at our free templates below.
The templates are smarter than excel or word, and enable you to manage work in the cloud, where it is always accessible, secure and more efficient.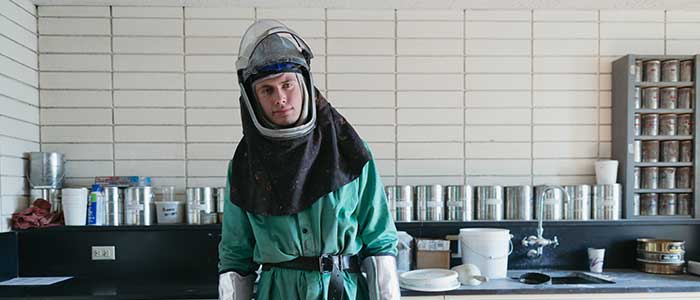 Hazardous Chemicals Register template
Monitor and handle your hazardous chemicals properly with this always accessible register.
See the template →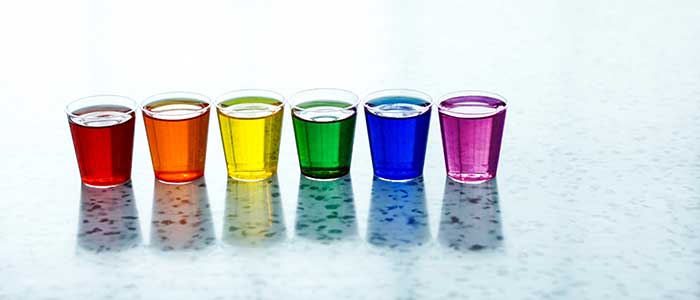 Material Safety Data Sheet template
Document chemicals and hazardous materials with this comprehensive safety data sheet.
See the template →
See how you can easily streamline your systems and processes with Sitemate today