Safety – Safety management in construction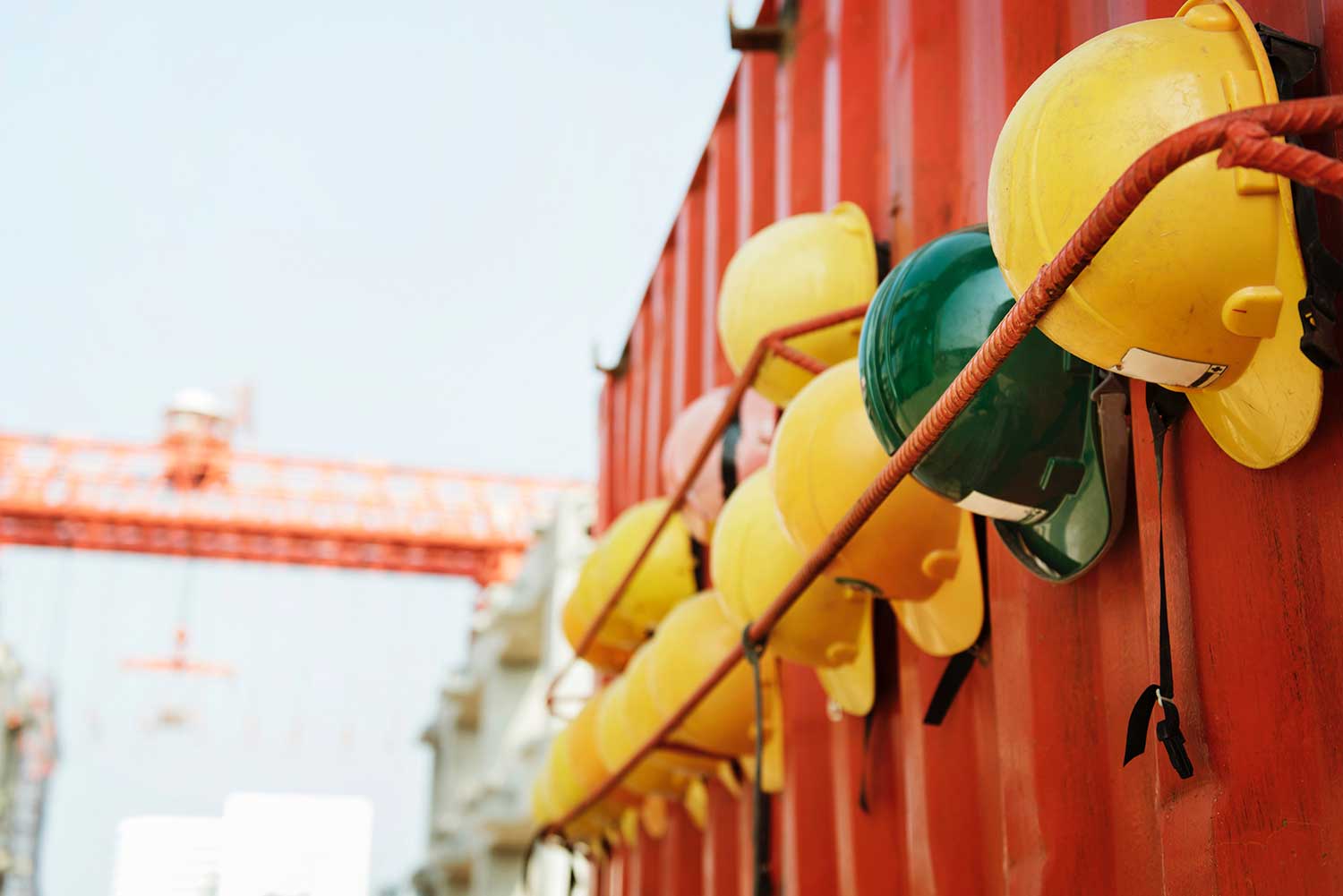 Safety management in construction
What is safety management in construction?
The construction industry and construction projects are inherently dangerous - from the people conducting work to people in the vicinity and surrounding environment. Some of the safety issues in construction arise from obvious high risk activities like:
The risk of a person falling from a height over 2 metres
Work involving the use of explosives
Work carried out near highly pressurised utility pipes
Work carried out near oncoming traffic
Works involving asbestos contact or interaction
Any type of hot works involving sparks or flame
Many more
While other safety management issues can arise from every day work-related tasks like:
Moving around a site littered with supplies, materials and uneven ground
Lifting and manual handling materials and supplies
Noise and vibration injuries and damage stemming from frequent or high intensity noise and vibrations
And these are obviously just a few of the ever-present dangers which are present on almost any industrial or construction site.
So to manage all of these risks in the best way possible, construction companies practice safety management.
Safety management is a construction company and organisational function which seeks to ensure that potential safety risks and hazards have been identified, assessed and analysed in order to mitigate the chance of safety near misses, incidents, injuries and fatalities to all stakeholders. 
Safety management is a constant struggle and endless endeavour for all construction companies. While safety outcomes have drastically improved in construction over the years, there is still major room for improvement. And as you can see from some of the data:
31% of injuries were from being hit by an object
30% of injuries were sustained by lifting, pulling and pushing objects
15% were from falls from heights
16% of deaths were from vehicle collisions
15% were from electrocution
While some of these issues are inevitable when you have millions of people performing millions of tasks, it's also easy to see how these numbers could be reduced through better risk assessment and better safety procedures.
Creating a safety management plan for construction projects
In order to build and maintain better safety processes, construction companies create and maintain safety management plans. These plans are intended to outline the specifics of how safety will be managed by the company and on specific projects.
The key components of a safety management plan include:
People - The specific positions and roles of people who are in charge of thinking about, implementing and monitoring safety. At small companies, this may be people who have other primary jobs and who spend a portion of their time managing safety inputs and outcomes, while at large contractors and subcontractors they often have dedicated safety teams.
Communication and collaboration plans - In construction, safety is never an individual or exclusive effort. Almost every project involves a number of interdependent parties who must work together to bring a project to completion. A safety plan in construction should outline how safety will be managed across and between parties including:
Establishing agreed to safety practices
Discussing safety issues and outcomes on meetings or toolbox talks
Establishing a safety committee
Incident management - The safety management plan should clearly identify and specific how incidents will be managed including:
The notification of emergency services as necessary
How to isolate the incident scene
Arrangements for how a safety incident will be investigated
Emergency situations such as evacuations
First aid equipment and training
Site specific health and safety rules - Every site is a little different in how it is setup, its geography and proximity to services etc. A safety management plan needs to include site specific safety details which can be managed and implemented by:
Toolbox talks
Posting rules on posters and other collateral in prominent areas around site
Tracking and assessing safety outcomes - While it's best when safety management is proactive, it's always crucial to track and monitor safety outcomes - either through looking back through incidents or by using. This enables companies and teams to understand how they are performing in terms of safety, and course correct and make changes to avoid other safety issues arising. The role of safety management software is critical here as humans and manual entry can not crunch the data well enough or fast enough to do this effectively.
Establishing good and reliable safety procedures
Once your safety management plan is understood and 'set', the next phase of project specific or company wide implementation is to create safety processes and structure which enables you to adequately fulfil this plan and achieve your safety objectives.
This phase of safety management is a bottleneck for many construction companies, as getting tens or hundreds of employees to maintain strict safety practices can be 'easier said than done'.
Even so, there are some areas of safety management which when implemented effectively can improve safety outcomes while making it quicker and easier for workers on site to work safely.
The core pillars of establishing good and reliable safety procedures are:
Processes and practices to assess risks effectively
Safety forms and documentation for capturing the risks which are present on site
Escalating hazards and near misses and creating a streamlined notification system so that these hazards don't turn into incidents
Tracking safety issues to monitor what's happening and make informed decisions about what to improve
Implementing corrective safety actions and conducting investigations when required
Safety management forms and workflows
The problem with safety management in the past - and sometimes today - is that there has been a perceived (and sometimes real) trade-off between managing safety more effectively and moving projects forward.
Workers have felt that if they pay too much attention to safety and report too many near misses or hazards, their work and projects will suffer - jeopardising their and their company's performance.
The holy grail for construction companies is to improve safety outcomes while also minimising the time and effort spent on safety administration. While not easy, the right processes can reduce the time which workers spend on capturing, organising and tracking safety - while also reducing safety issues.
And most of this lies with your safety forms and workflows.
How do people report an incident?
How do people inform their project manager of a near miss?
What does the investigation process look like?
These questions can be answered by the forms and workflows you establish as the guidelines for your safety management plan.
During the first phase of projects, assessing risk with standardised risk and safety registers is paramount - whilst these registers and risk assessments most be continually updated and maintained throughout the project.
During project delivery, safety forms, of which there can be hundreds including hazard report forms, incident notification forms, la should be standardised into templates which can be deployed to people on site or 'on the ground'.
You can make these forms quicker and easier to fill out by using dedicated safety apps and by being smart and strategic about what you do (and don't) include in safety forms. Making forms quick and easy to fill out increases safety task completion.
And finally, once these forms are filled out, what happens to them? How are these form findings fed back into your safety registers? How are they organised and where can they be found when an incident, investigation or audit occurs. These are the questions which construction companies must answer in order to maintain good safety management. It's also when technology and software becomes so applicable for safety management - which is where and why we have seen so much improvement in recent years.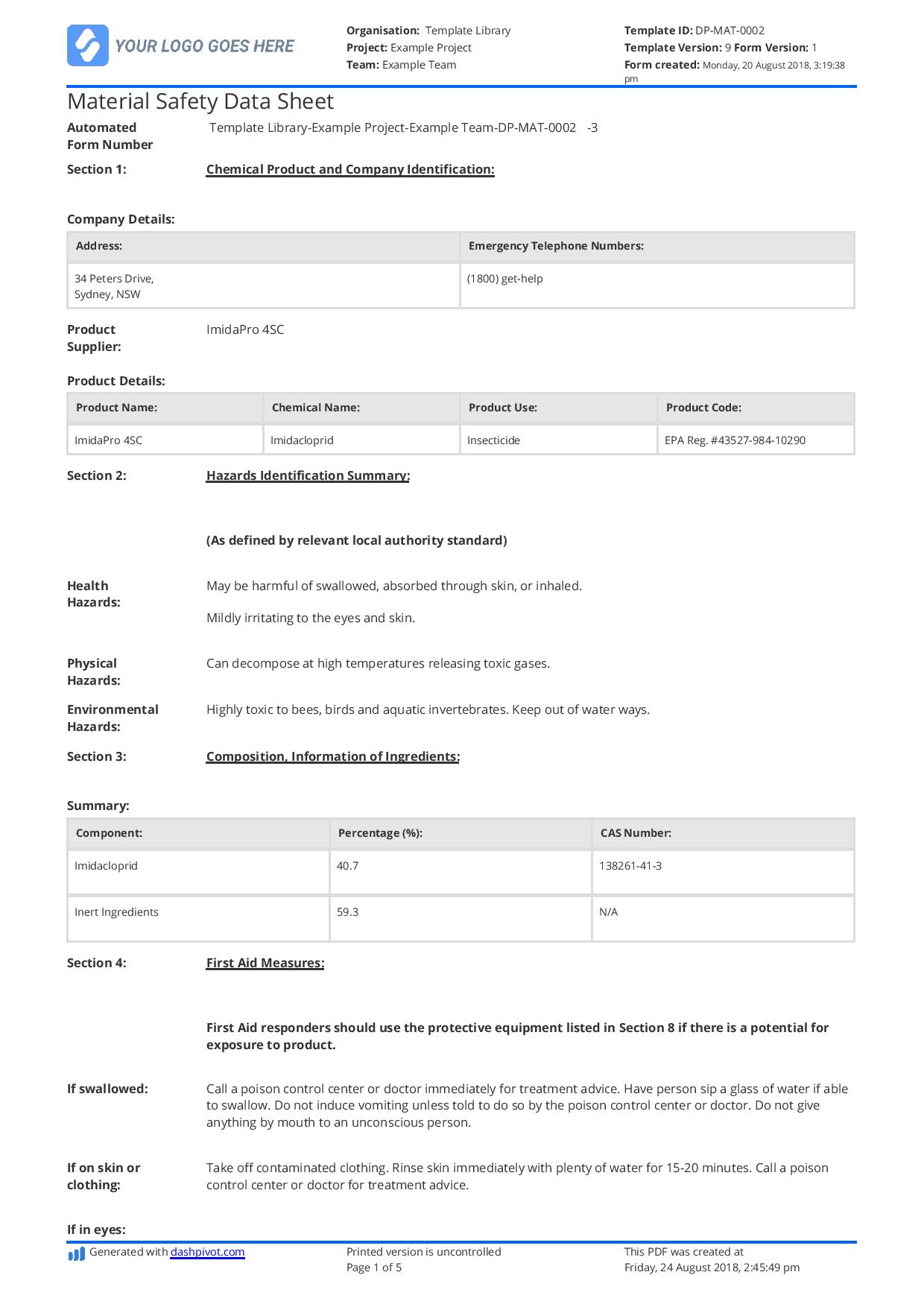 See the Sitemate safety template library for free safety templates.
The role of technology in streamlining safety management
Like many jobs and industries in the world, safety management in construction is beginning to lean on and rely on software and technology more and more.
This is because software is becoming more ubiquitous and commonplace on construction sites all over the world, and because software is now able to better handle the intricacies of safety management in construction.
Safety softwares and technologies streamline and simplify how companies manage safety by digitising and automating much of the manual work required to capture, organise and track safety activities.
While this may seem like the typical software 'play' where safety teams can now spend less of their time doing manual data entry, it's more than that.
Technology eliminates inevitable human error.
For pre-starts and inductions, technology can capture who came on site and when.
Software can standardise forms and documents so that people are always working on the same latest version and completing forms digitally and directly on site
Software can automate the safety permit approval process through simple workflows which automatically notify the right party so that nothing gets missed or forgotten.
Safety software can automatically track all of the data being collected on site through real-time analytics which display what's happening in real-time and enable companies to make smarter decisions.
Software can keep all of your records stored and recorded accurately, so that people can look back on and find data in the event of an incident or issue.
New safety technologies, safety apps and safety softwares will continue to develop in the years to come and will continue to streamline and improve how safety is managed - which will improve safety outcomes for all.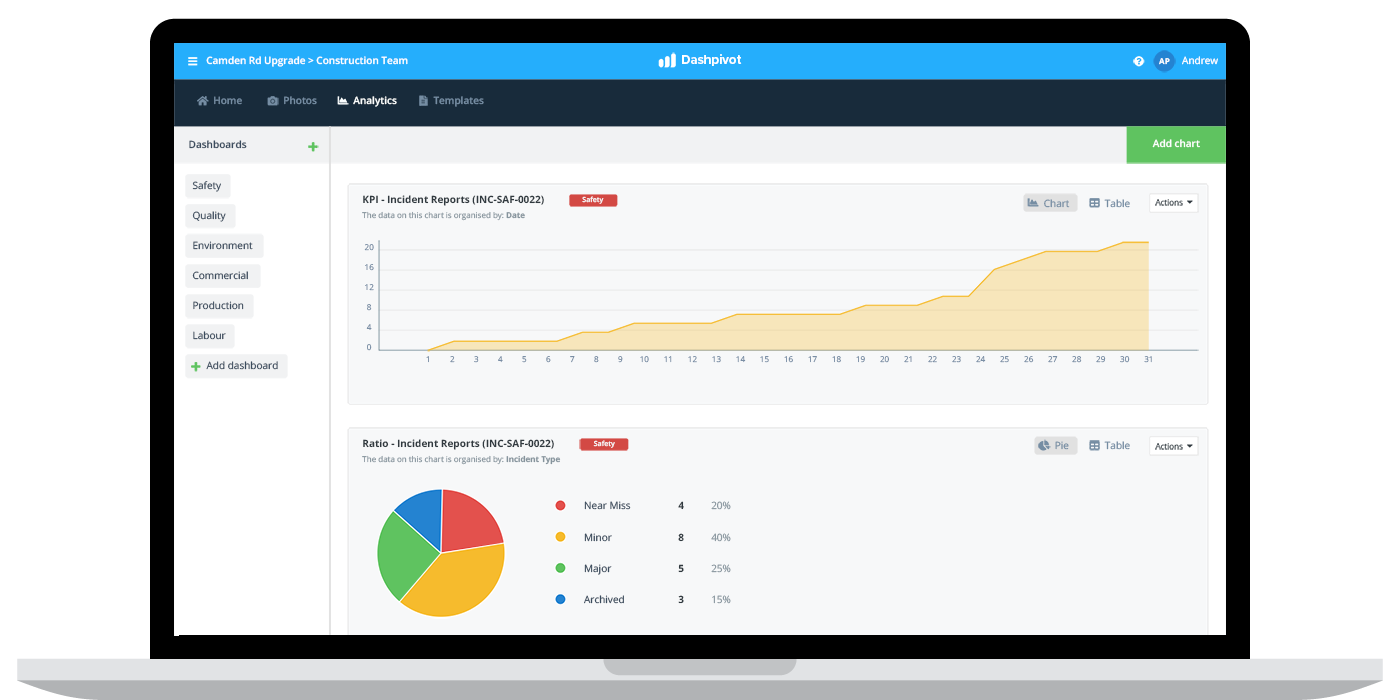 How to properly promote safety on your jobs
All of these safety management plans and softwares and processes fall short if they are not adopted by workers on site - who are the people which carry the main burden of safety implementation - and also the people who are at risk of being most effected by poor safety management.
Construction companies continue to work hard on safety promotion, and on reducing some of the biases which stem from outdated ways of thinking about being safe on site.
As was mentioned above, part of increasing safety participation is by lowering the friction and time it takes to perform basic safety functions and tasks through smarter processes and technologies. But other influencers include building a culture of safety and implementing programs and events which encourage people to look at and think about safety differently.
Many companies today include jobsite workers in the safety processes (~71%) - which has a big impact on the psychology of safety, with people feeling more responsible for achieving the objects they were a part of setting and being generally more cognisant of safety.
More and more companies are being more proactive in hazard and safety identification and assessment in the pre-construction phase which sets themselves up for success during the construction phase.
Companies are establishing open door policies and conducting more safety talks to encourage people to talk about safety and by removing that old devil that told them to just ignore the issue.
Conduct safety audits with workers and foremen to bring safety top of mind and keep them on their toes
Develop more site specific plans and conduct more site specific training than in previous years, when it was more so assumed that a safety course was sufficient training for adapting to thousands of different use cases
Safety management in construction will always be a work in progress. And while we have come a long way since the days of multiple deaths on every project and serious life threatening injuries and ailments, there is still some work to do.
But smart and thoughtful safety management will get us there - likely along with improvements in technologies, softwares and other inputs.
People in 80+ countries use this safety management system to improve their safety processes and outcomes.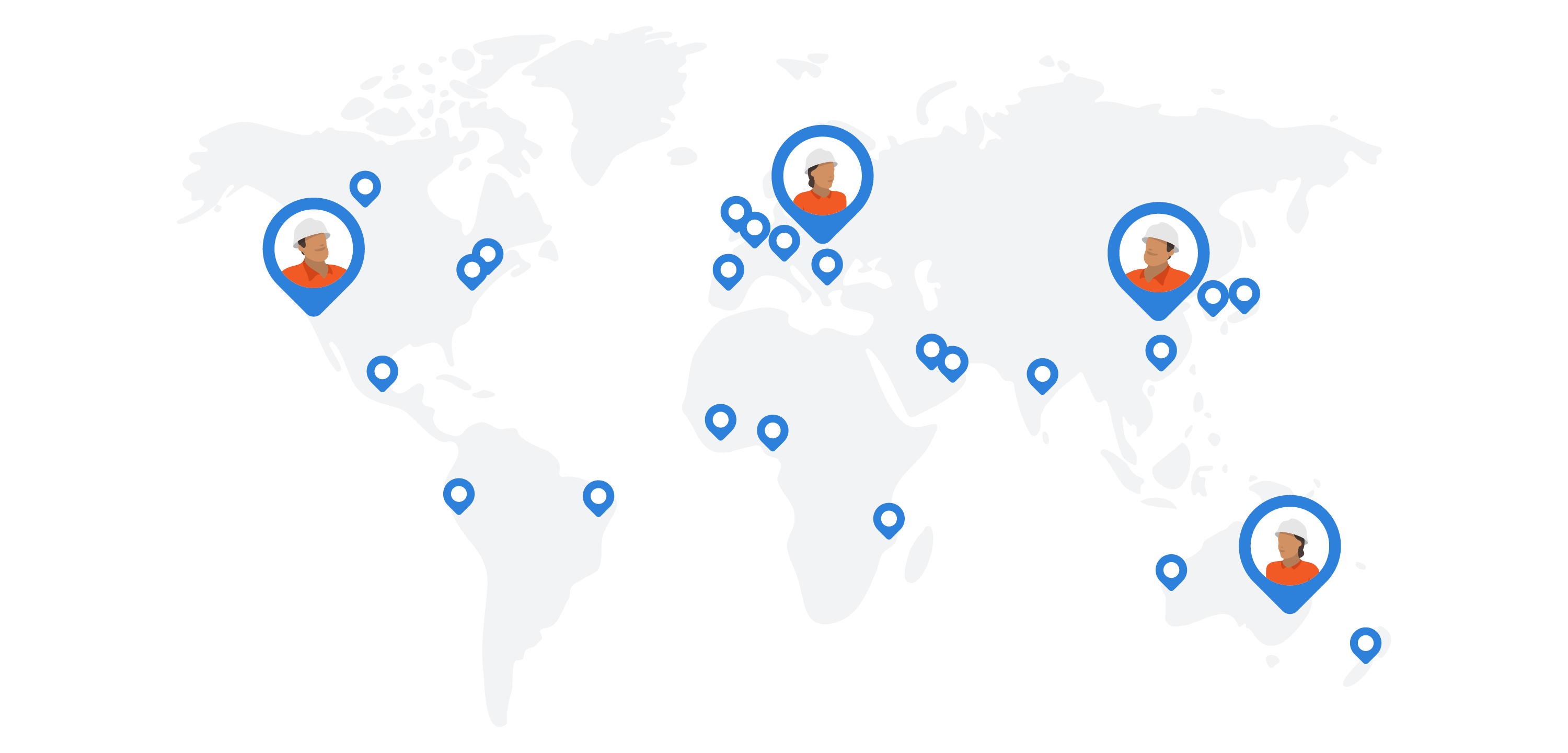 See how you can easily streamline your systems and processes with Sitemate today