Software – What is EHS software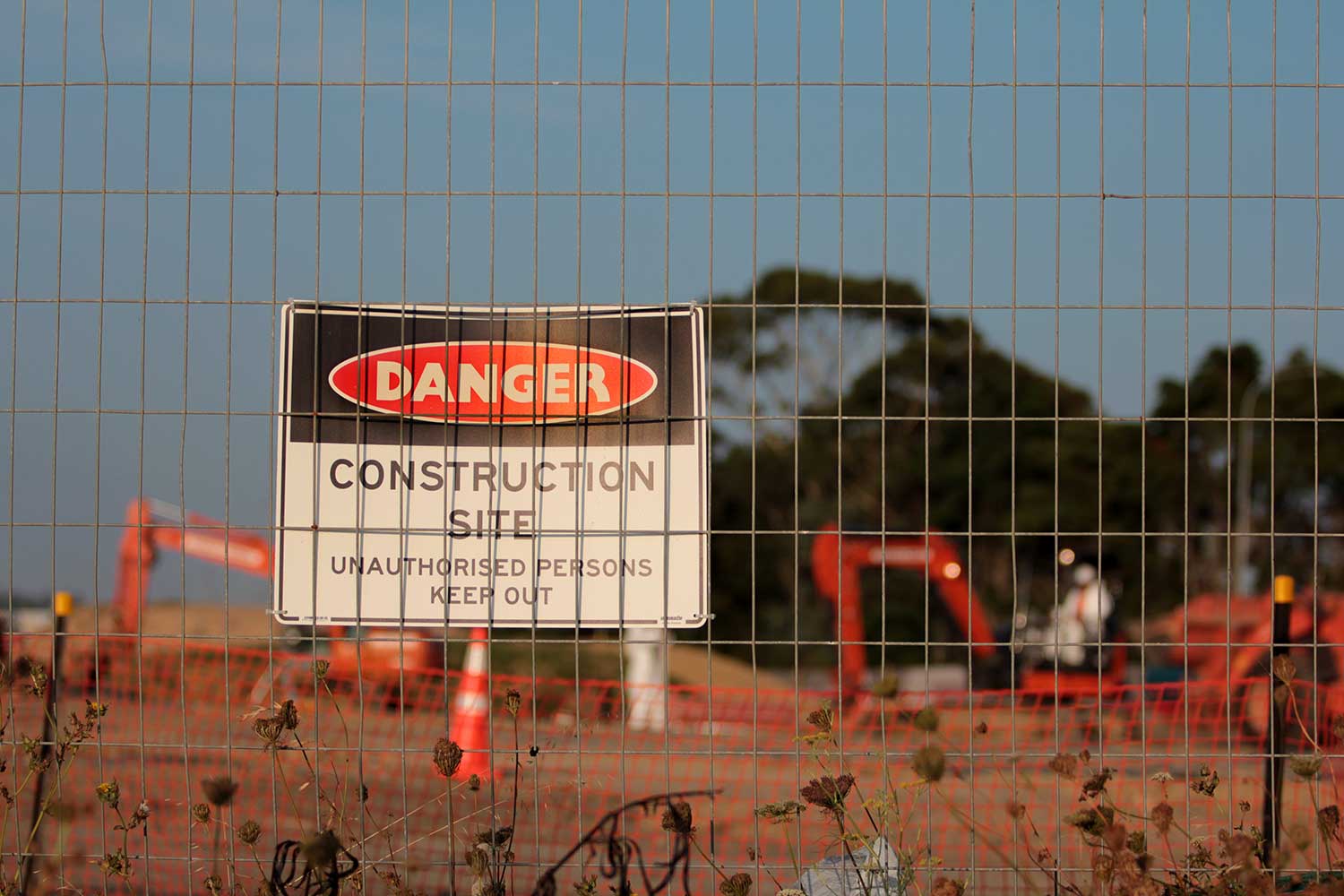 What is EHS software? A quick guide to what you need to know
So what is EHS software?
EHS software is the software which companies use to manage environmental, health and safety processes and information. Some companies rely heavily on EHS software, others only use actual EHS software for small elements of their EHS activities, while some companies still conduct all of their EHS activities manually.
The main purpose and value proposition of EHS software is to bring all of the data associated with these functions and activities into one place or database, where insights about performance and risk can be properly assessed.
If this EHS activity data is not piped into a centralised hub, then an EHS manager or similar needs to spend copious amounts of time reconciling all of the data from site activities, compiling it, and then turning it into tangible insights. This can be hard in small business and on small projects and virtually impossible at a medium or large scale.
But this still doesn't fully answer the question of what is EHS software. It helps to summarise what the software does, but it's more helpful to look at the features and functions of the system to understand what it actually does.
Most workers in construction and heavy industries fully understand what environmental, health and safety management is and involved, but not many understand how software fits into the equation and how it can improve EHS management.
What features does EHS software usually have?
At a high level, EHS software gives companies the ability to better understand trends and mitigate risk across environmental, health and safety.
So how does EHS software help here.
We are going to cover a few of the most important and standard features found on EHS softwares below, starting with audit management.
Audit management
One of the most difficult parts of EHS management for companies is maintaining compliance. There are a lot of rules and guidelines around EHS management which companies need to follow and abide by, and many of these can be difficult, even for the most organised companies.
In order to ensure compliance, companies can obviously have their EHS records and processes audited, in addition to companies often conducting their own audits.
EHS software can really help companies in this department, by taking care of the audit management in the background through version control, audit trails, template management and more.
This ensures that EHS documents, records and procedures remain compliant.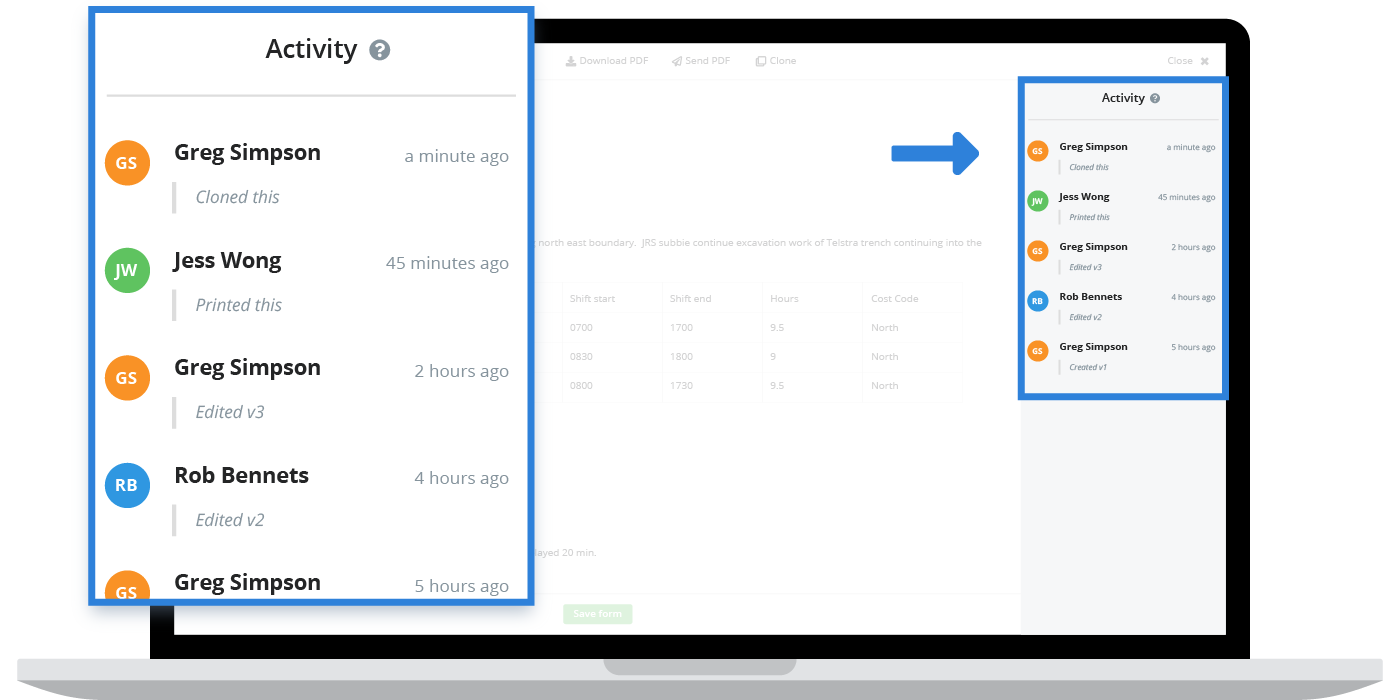 Forms management
There is a lot of forms and documentation across environmental, health and safety management. In fact, even a medium sized project could involve tens of different forms which are completed at different times during a project.
EHS softwares help companies to manage all of these forms in different ways. In a prefect world, you will have one system which can manage your forms across all of these functions from start to finish - including form creation and workflow automation (similar to Dashpivot below).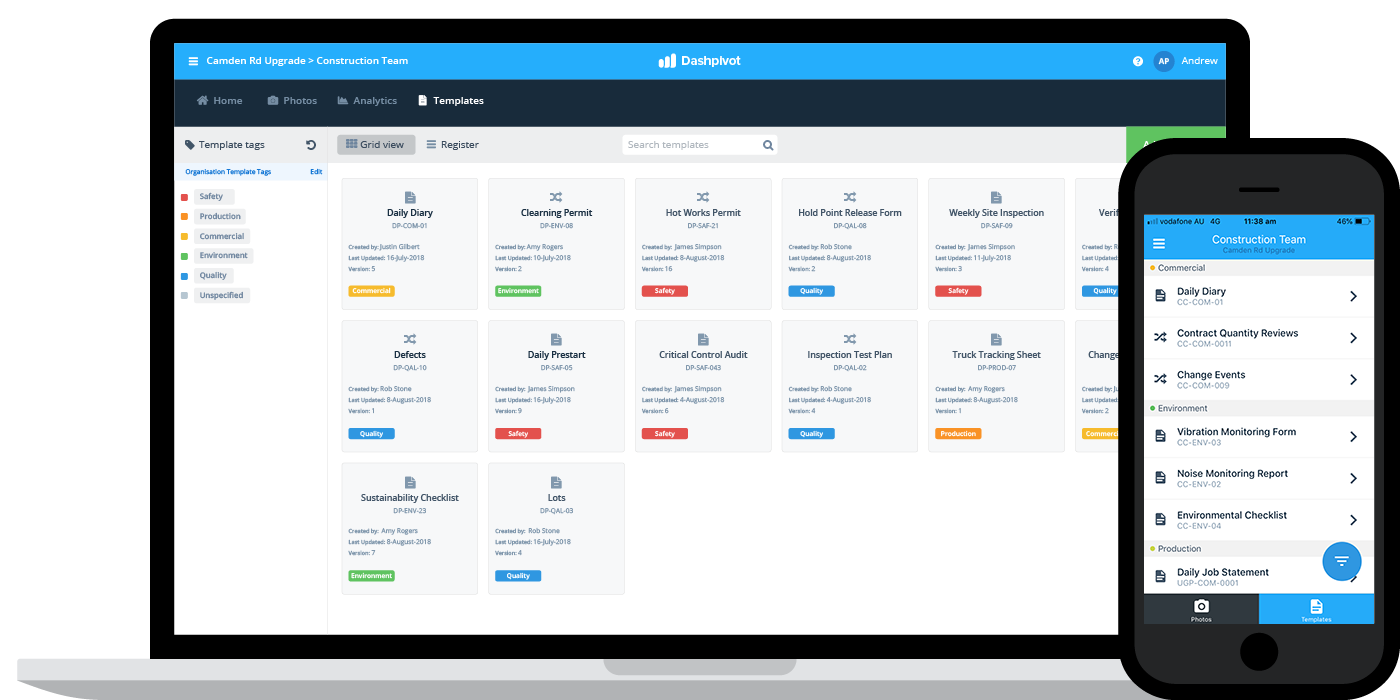 Environmental management
There are a bunch of different environmental management activities which companies running projects and sites need to coordinate and capture, from noise monitoring to getting environmental clearing permits, to waste management.
A good EHS management system can take care of the processes behind many of these activities.
Some system may only take care of environmental checklists for example, while some may be flexible enough to handle other use cases as well.
You do want the environmental management aspect of EHS to be fully integrated, in that you want the information being captured and sent into the system to get crunched and organised into digestible dashboards and charts which can show you environmental performance.
Safety management
Health and safety is generally bucketed into the safety management category for most construction and industrial companies.
Safety, like environmental, covers a number of different use cases and activities for most companies operating in these dangerous industries. But some of the main ones which you want your EHS system to include are:
Incident management
Injury reporting
Safety inspections
Safety training management
Different EHS softwares tackle these activities in different ways, but the system should make the process of conducting these activities easier - or at the very least - enable you to get holistic safety insights from them.
Risk assessments
One of the main purposes of EHS is to reduce risk. One of the most reliable ways that companies mitigate risk is by conducting risk assessments across specific projects, sites and activities.
But risk assessments can be time-consuming, and when people don't have an efficient way of conducting them, they can easily be overlooked or ignored as part of a procedure.
A good EHS software will likely include a risk assessment app component, which puts the power of quick and easier risk assessments into the hands of people on site.
Workers can access and complete risk assessments on site, and all of this data is piped back through the EHS system and consolidated for analysis and record keeping.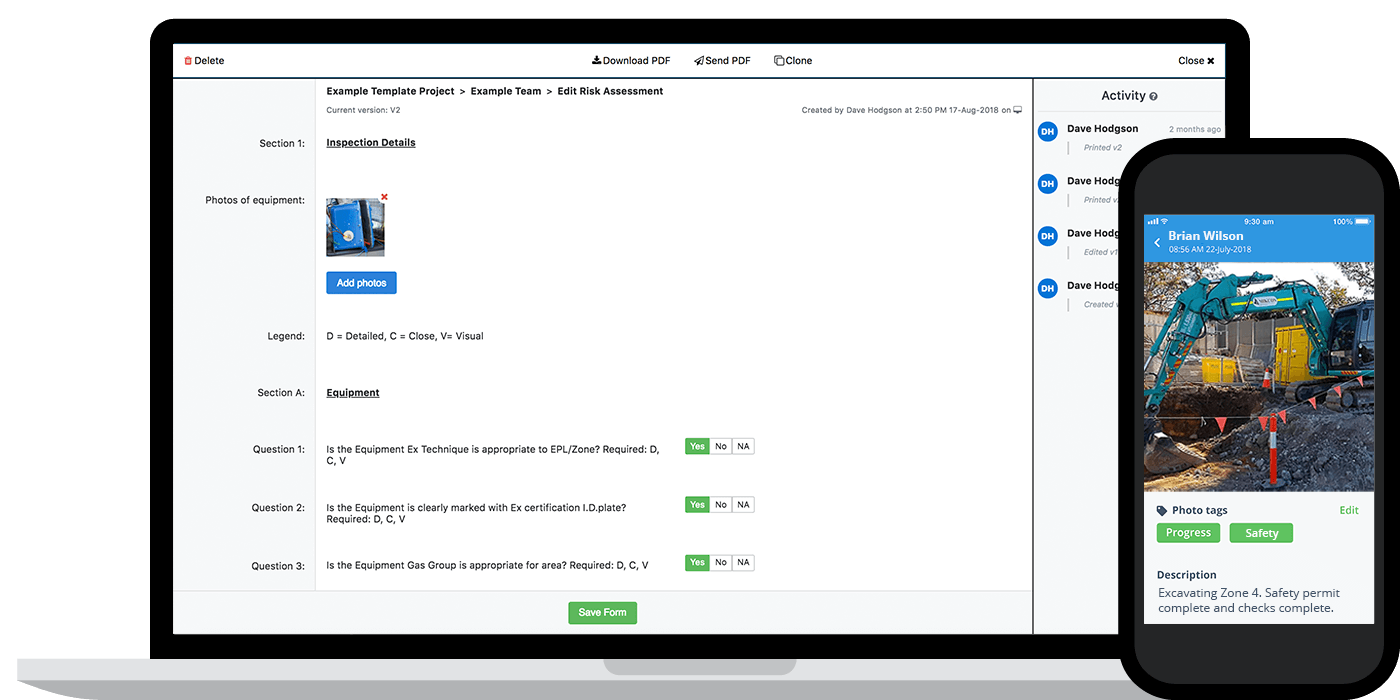 Reporting
Many of the forms and findings captured during EHS inspections and other activities need to be shared with other people or companies.
Your EHS software is going to be digital (and likely cloud-based), but you should be able to easy convert any of the data inside of the system into a hard copy or report.
While creating reports used to take hours, with a EHS software, generating a report from your data can be done with a single click.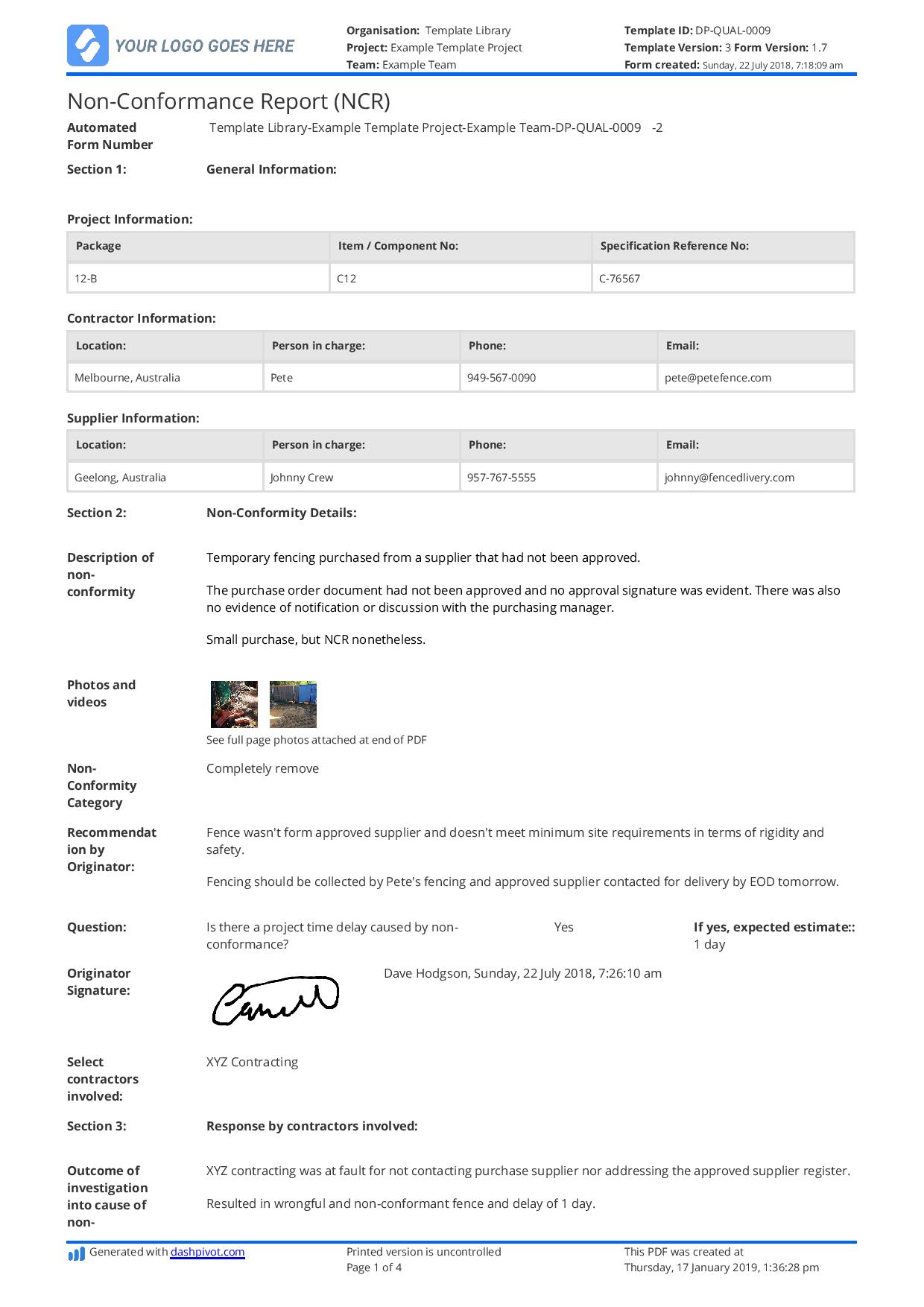 OSHA record keeping
And finally, you don't want to have to move all of this information and all of these records into a different system.
The EHS software should serve as a database and source of truth for all of your EHS and OSHA record keeping.
When you need to access a specific incident or injury report, you should be able to hop into your system and quickly search for it - and find photos and other records which are connected to that specific record.
Aggregation and organisation is a big part of the value prop of EHS software - and one of the reasons that people quickly stop asking "what is EHS software" when they start using it.
Try the software for yourself.
EHS software pricing and implementation
EHS software pricing can differ quite greatly from vendor to vendor, and how they are implemented will too.
Some EHS softwares are cloud-based and available on a subscription basis while others will require some actual installation and bigger upfront fees.
No matter which vendor you choose, there are some pretty fundamental steps which ensure a smooth EHS system implementation including:
Some preparation around what you need and want (potentially some consultation here)
Installation and configuration where required
Legacy data transfer between your old EHS system and the new system (some companies retain their old records in that database and start afresh with the new system)
Training and startup (the software should be easy to use)
A period of assessment whereby the business case is validated
You can see what Sitemate's EHS software costs here for example, and a modern system like this doesn't involve any time on implementation and configuration, and a negligible amount of time on training.
Many companies operating in construction and industrial verticals find EHS software to be a good investment, which is why it has become so popular.
Where companies used to spend massive amounts of time and resources on managing EHS, they can now offload much of the heavy lifting onto softwares and apps - which enable workers and companies to spend more time on managing risk and delivering projects well.
People in 80+ countries use this software to better manage EHS from a single system.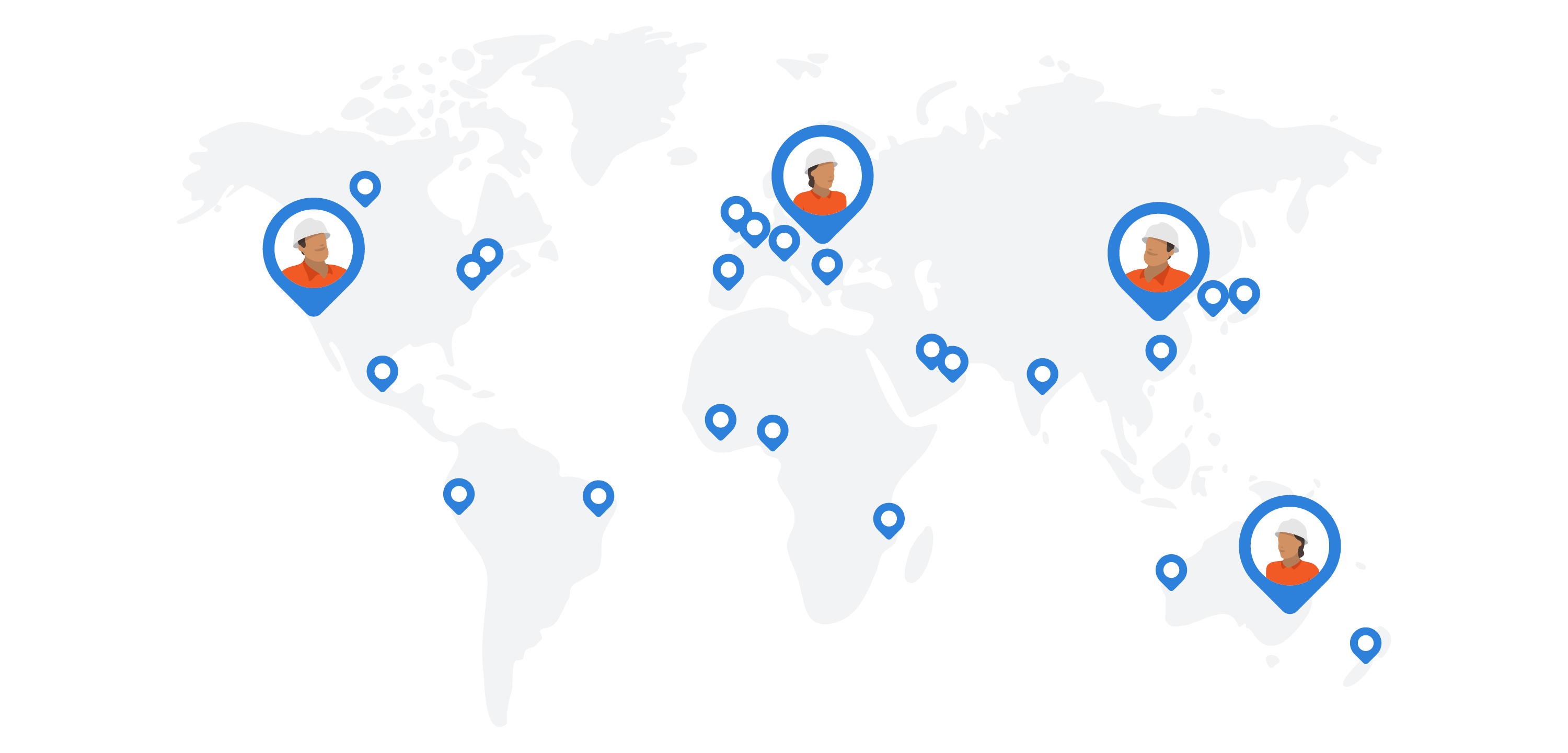 See how you can easily streamline your systems and processes with Sitemate today