Quality – Snag list example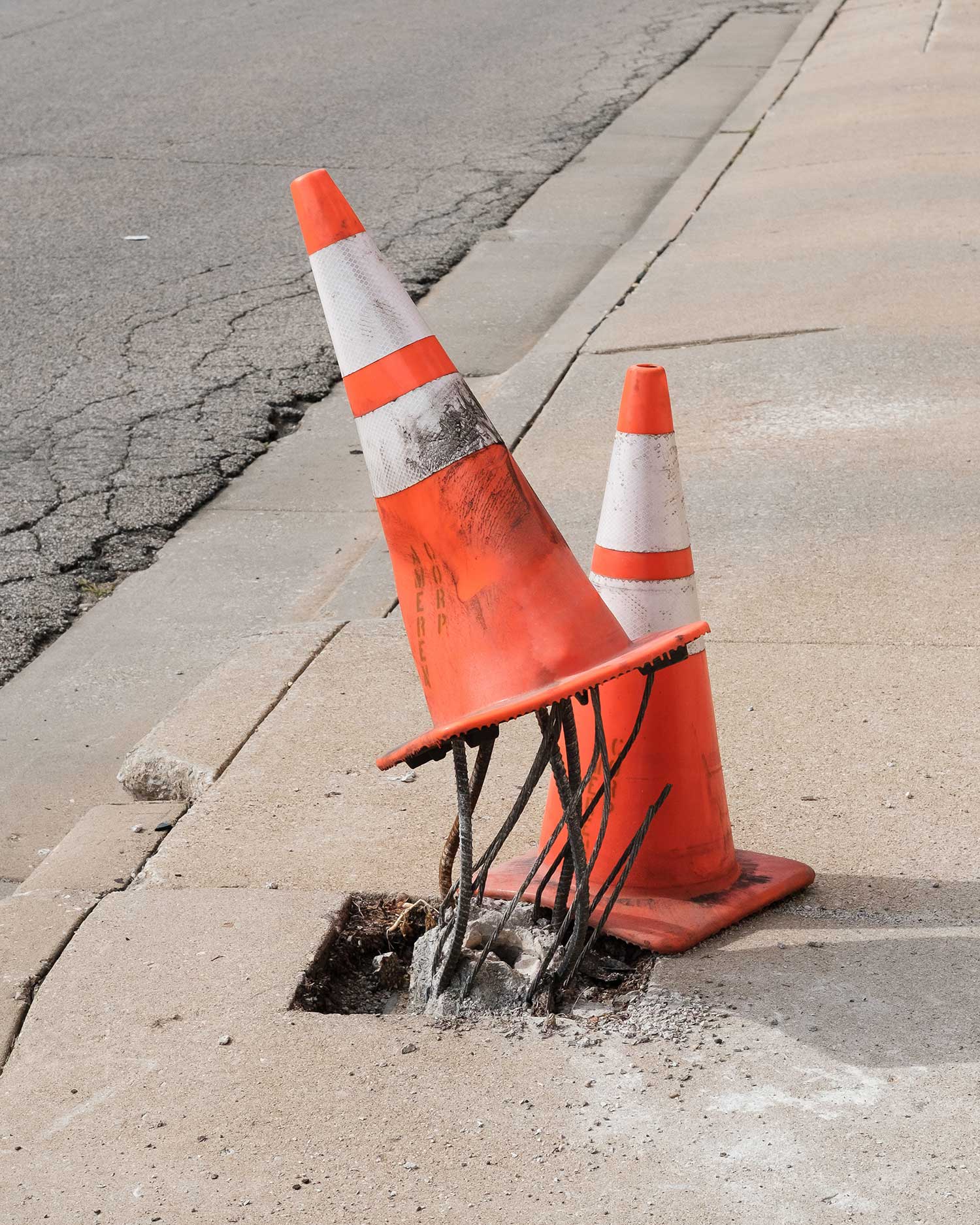 Snag list example - A professional example of a snag list
What is a snag list used for?
The snag list is a document or form issued to contractors and subcontractors towards the end of their project or phase of work (usually a couple of weeks depending on the scale and scope of the works) which outlines and describes the minor defects or omissions which arose during the course of work, and which need to be rectified before that party can consider their work complete.
Although similar and somewhat interchangeable, snagging and snag lists have a less formal and less contractual bearing on works than the punch list.
Even though snagging is more of a 'slang' term, many contractors and subcontractors still refer to this important period of inspection as snagging - and so it has collective and important meaning in the industries.
The snag list is used to give project parties a reasonable period of time to rectify the minor yet tangible defects which have naturally occurred over the course of the project.
Most of the time, the items on these snag lists are minor surface issues or defects such as marks, peeling and scuffs - but they can also be tangible omissions or installation issues.
Why are snag lists important?
Snag lists are very important for construction projects. They are the middle man between the snag list issuing party which is normally the certifying authority such as the architect or contract administrator and the subcontractors who want to get their work done and finished - and ultimately get paid.
This middle man position is vital to the normal functioning of such a complicated project ecosystem where tens or hundreds of parties must work together to create and deliver a quality asset.
Snag lists serve as a dispute mediation and regulation mechanism. Contractors and architects understand the nature of the work being completed - in which defects and imperfections are inevitable - and subcontractors understand and set aside some time for completing and rectifying the issues which they have come to expect on snag lists.
Snag lists are also important because the natural grace period they establish ensures that phases of work are completed properly. Once contractors or subcontractors move on from a project, it's hard to 'get them back'. But because snagging occurs a few weeks or months before completion, the parties have a period of time where they can schedule in and account for the changes which need to be made.
The only other thing to consider when issuing snag lists further and further from project completion is that inspections should not take place without the removal of protective material and the operation of permanent lighting. And even after the snag list has been completed, it will be necessary to perform final checks before the actual client handover.
A professional snag list example
So what does a snag list look and function like?
Below you will find a professional example of a snag list being used by hundreds of companies.
The great thing about snag lists (unlike some other construction and industrial forms and documents) is that they are a simple form which is easy to templatise and deploy across your projects for standardised information collection.
There are a few key components to your snag list:
Record keeping information - The information required to build an audit proof and reliable internal management system including automated metadata like form numbers and date created.
Clarifying and accountability information - Information which established who was responsible for the defect or omission, and when and where it was spotted or found. It's also great to provide both parties with a more detailed description of the snag.
Proof - Most disputes and issues arise on projects because of a lack of proof in the form of photos and videos. It's absolutely necessary to include this information. It makes it easy for the completing party to understand what's wrong and what needs to be done - and provides the issuing party with proof of the current status of the object or defect.
Signoff and closure - Make sure all of your snag lists and snag items are either classified as open or closed and signed off so that if issues do arise in a final inspection, no one is disputing if the initial snag list item was fixed or not.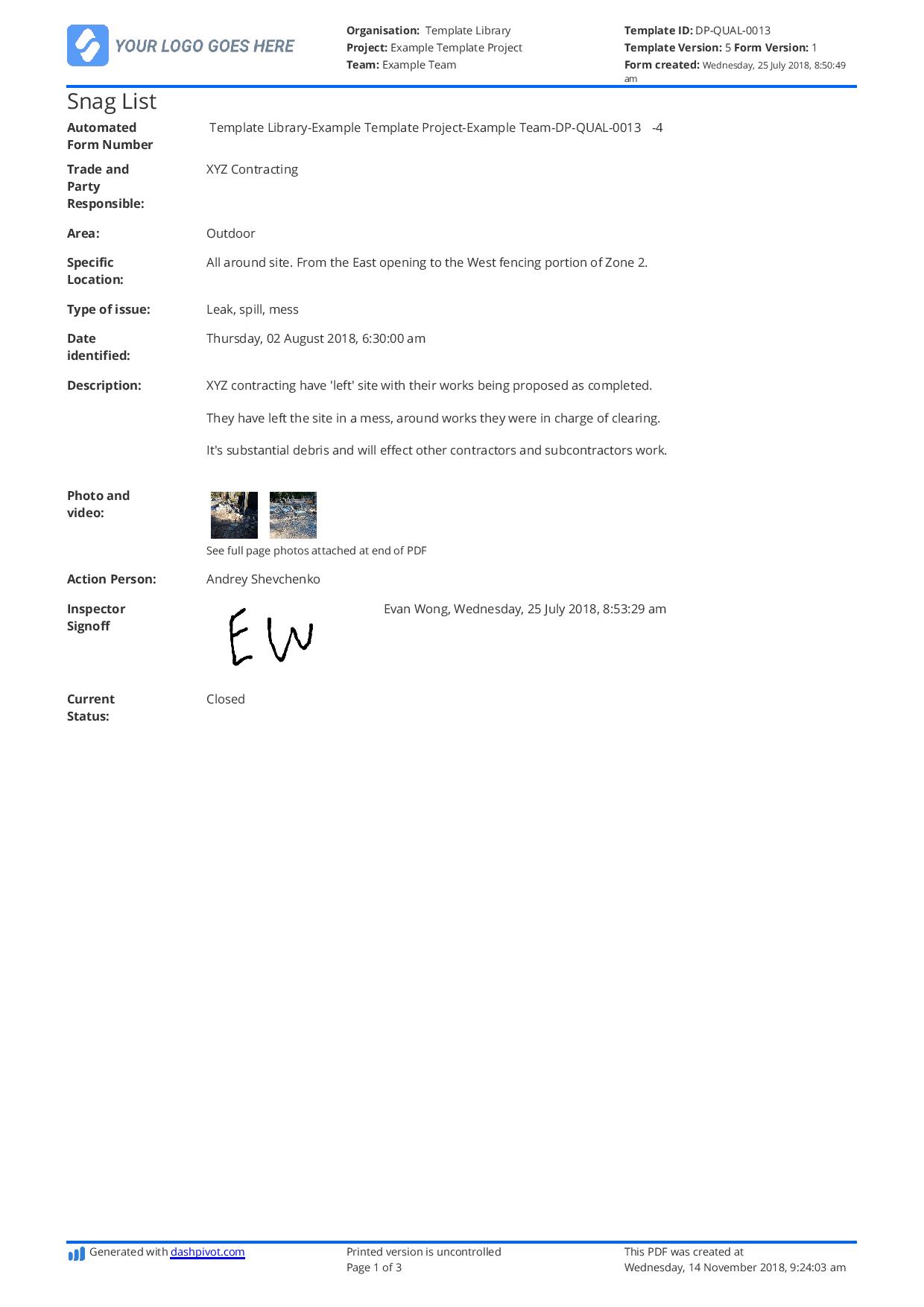 Use, edit, download and print this snag list example for yourself.
Improving how you complete, manage and track snag lists
Quality management is one of the core functions of project management - and it should be an integral and streamline part of your processes.
But even managing simple forms like snag lists with systems like word, excel, PDF and standalone tools makes quality management extremely difficult.
The key to being able to capture, organise and track your snagging and quality efforts properly lie in integrating your management system. You need to connect your snag lists with the rest of your system, and that starts with the source document.
To improve how this information is collected, try use a snag list like the example you see above. Being entirely digital, they enable quick site capture on mobile or tablet as a snag list app. But the real secret lies in how this information then flows into your management system. Using a digital form, standardised snag list data is piped into your management system (Dashpivot) where it can be converted, displayed and manipulated in registers, timelines and dashboards.
This way you can pull information and understanding out of those snag lists, while also maintaining secure and organised records of everything captured on site.
If you have been looking for a better system for managing your quality jobs - have a browse here - otherwise try streamlining your snag or punch list with the free forms below.
See how you can easily streamline your systems and processes with Sitemate today