Commercial – Simple scope of work example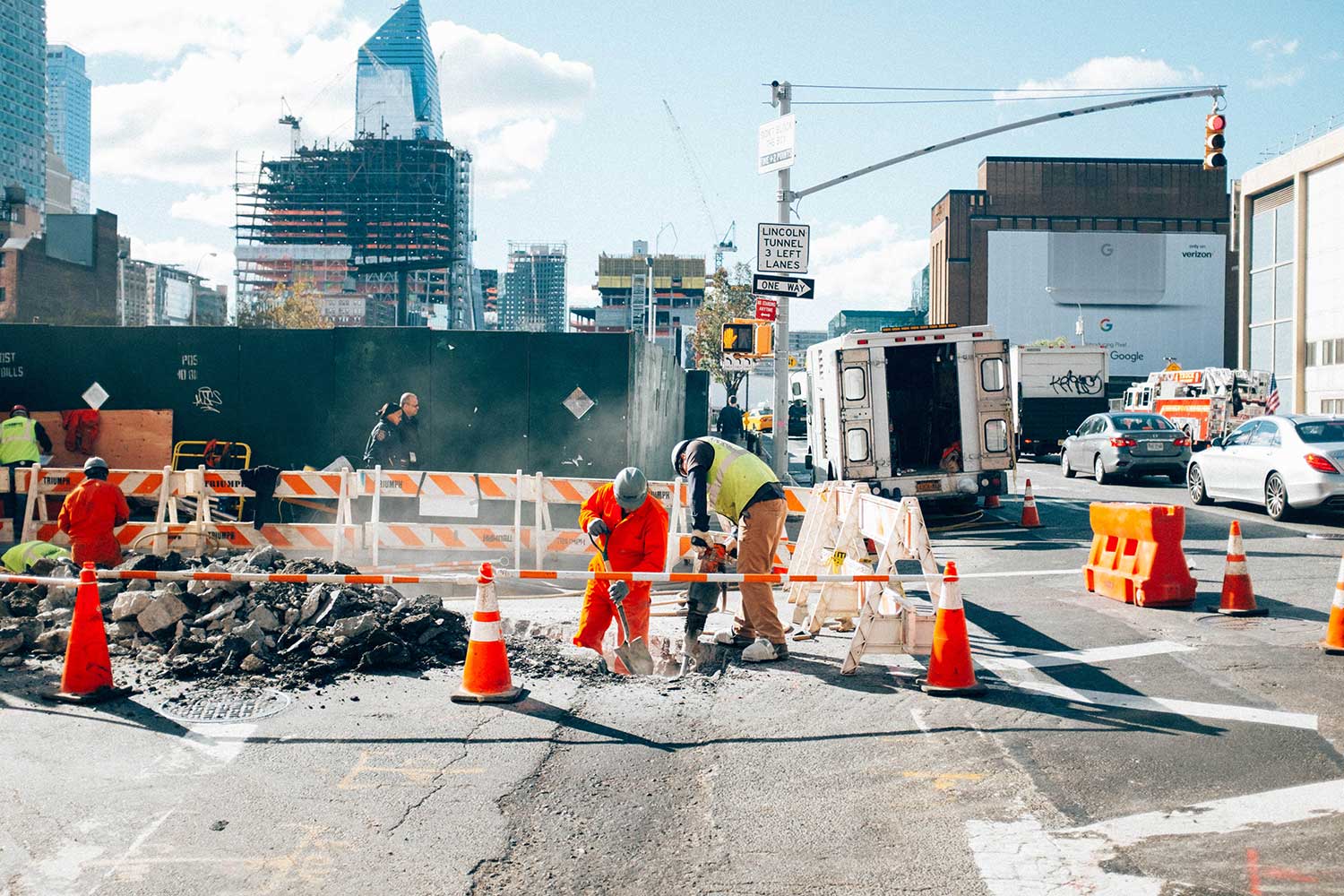 Simple scope of work example
What is a scope of work?
A scope of work (SOW) is a commonly used document by many project focused companies including construction companies, oil and gas companies, mining companies, IT companies, consultants and more.
For our purposes today, we are going to be looking at a simple scope of work example for construction and industrial companies. These industries work on a project basis with multiple parties - clients, contractors, subcontractors and more - to define the scope of which which will enable them to deliver a project or asset.
But what is a scope of work exactly?
A scope of work is a broad and relatively ambiguous term which can mean a number of things, but at its core, a scope of work is a document which outlines and describes the work and 'scope' of work to be performed under a contract.
A scope of work is often issued by a client, consultant or contractor as part of the tendering process as a 'proposal' of sorts, which companies can then use to decide whether or not to engage in the project.
In essence, a scope of work is simply an agreement between two or more parties on the work you're going to perform on the project.
Without scope of works and statement of works, it would be unclear as to what was required and expected of project parties before and while they make million and billion dollar decisions about how to best move forward.
Once the scope of works has been agreed to and signed off, it is often revised for accuracy to take into account new developments, external factors and discrepancies.
Scope of works are important documents, and they need to be treated accordingly. A scope of work should be a formal document which you and your company take seriously and prepare thoroughly.
How to write a scope of work?
The best way to write a scope of work is to create a standardised scope of work framework which you can use and learn from on all of your projects, and improve it over time.
At first, you can take advantage of a scope of work template, and then make sure to adapt and customise that framework and example to suit your needs - and improve it over time.
The best practices for preparing a scope of work is similar to almost every form or document type in the industries: be specific, use visuals and proof, and get signatures and important record keeping information right.
Not being specific about project descriptions, milestones and particularly timelines and budgets can cause a lot of confusion and miscommunication, and ultimately result in disputes, issues and potential litigation further down the line.
Not providing visuals and proof in the form of photos, drawings, PDFs also leaves room for interpretation, which can increase the likelihood of the same types of issues.
And not getting signoffs from all parties is an accident and issue just waiting to happen; it's critical for your own records and your own solvency that you cover your back by getting all of the necessary approvals formally agreed to in writing.
You can see the common thread here. The most important part of your SOW is to make everything as explicit as possible at the time of writing.
How you write a scope of work in terms of the medium you choose is up to you. Some companies and projects use PDFs and word docs, while other companies have digitised the process using document and commercial management software.
The method you choose should enable you to complete, store and manage your scope of work documents easily, so that they can be revised, sent around and quickly found in the event of an issue arising.
A simple scope of work example
Below you will find a scope of work example which was used for an infrastructure project and issued by the client to a contractor. This simple scope of work example comes pre-built with form fields which are tried and trusted across thousands of scope of work documents, and frameworks like this can be easily customised and adapted for your specific wants and needs.
The first thing you will notice about this SOW example is that it features the client and project information upfront, and that all of the important record keeping information.
The next section of this scope of work example is focused on defining and describing the project who's scope will be outlined.
In the example, you'll see there are sections about the project location, architect selection process and pre-design work completed to date, and of course the timeline of the project.
In order for any company to understand the project, they need to have this information. Timelines are an essential component of the SOW, because companies can then see the timeframes they are up against, and whether or not they can be adequately resourced during this time.
The next section of the SOW builds upon the previous section and dives into the details of deliverables and the actual scope of work. This section should feature milestone dates, as well as cost estimates and cost totals - which can quickly mean the difference between yes or no for a contractor or subcontractor.
Reinforcing the point above, it's critical that you are as explicit as possible with the details around the timeline and cost estimates. Companies understand that these things are somewhat flexible and variable, but the more detailed the better.
This simple scope of work example also covers some important objectives (which get all parties aligned) and some assumptions which help inform the discrepancy and risk associated with the project.
Some additional sections included in this SOW example include a stakeholder analysis which helps people understand who's involved and what they are responsible for. This enables companies to get a broader view of the project as a whole.
And finally, somewhere on your SOW you'll want to include some form of versioning or version control, so that changes can be made and agreed to or approved with a signature (or multiple signatures).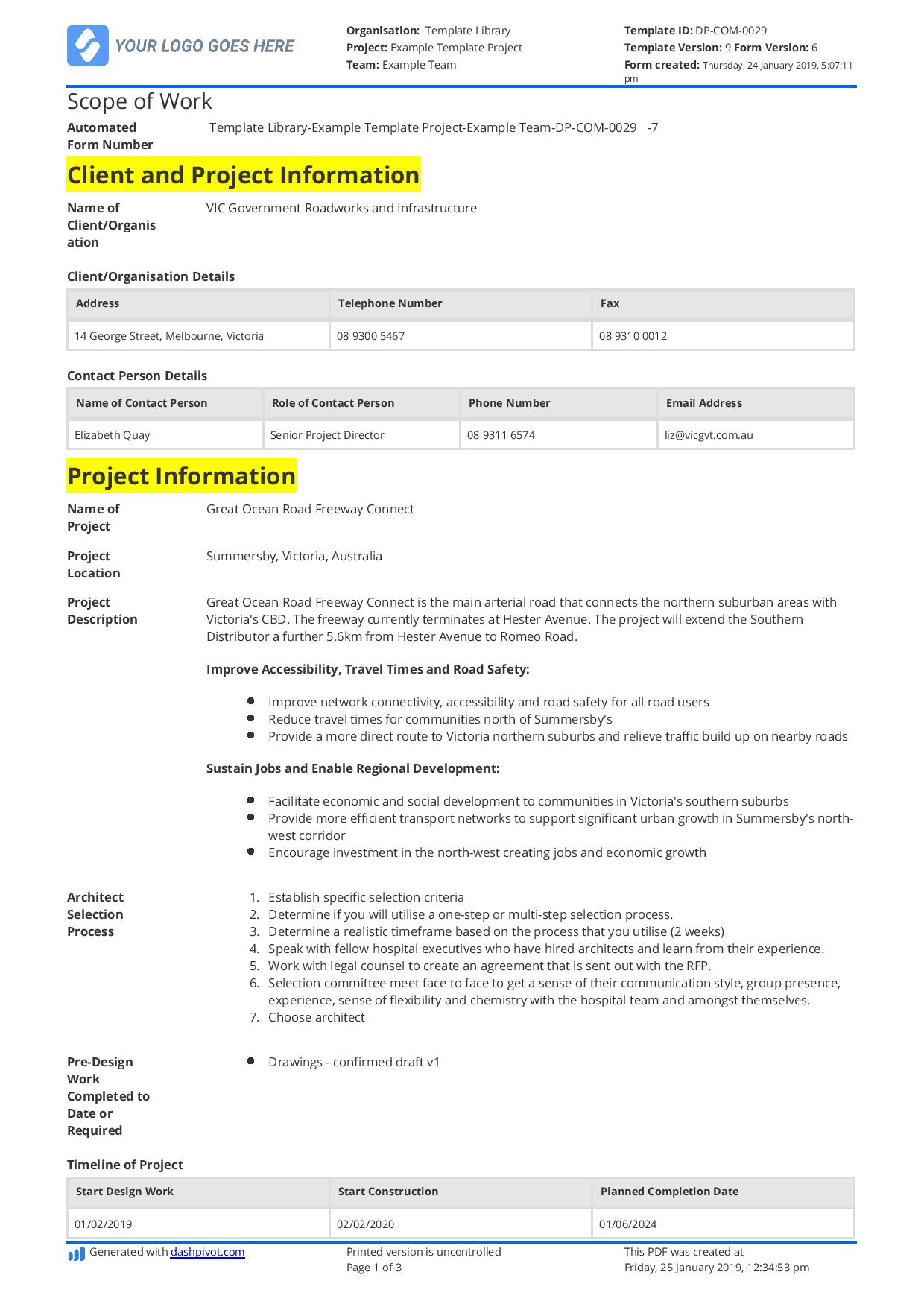 Use and customise this scope of work example for free.
What's the best way to create, manage and share scope of work documents?
How documents and other important contractual information has changed a lot in recent years.
The days of writing letters and sending hundreds of emails back and forth are mostly behind us - and the days of uploading, downloading, and emailing a PDF or Word doc back and forth are also numbered.
Today, there are more efficient ways to create, manage and collaborate on scope of work documents - and most have something to do with technology and software.
These systems enable companies to eliminate the jumping back and forth between systems and asynchronous communication methods like phone and email. In their place, smarter systems enable real-time collaboration, automation and standardisation. The tangible outcomes of this transition for your company and specifically for your scope of works are:
You can create a standardised version of the SOW and then easily adapt it and deploy it to specific projects
You can store and access your SOW's in the cloud (on the internet), so they can be accessed and quickly found at anytime on any device
None of your scope of works are at risk of being lost, forgotten, or having signatures omitted
Everyone is always looking at the same latest version of the document because only one up-to-date version exists
It's quick and easy to convert and export digital forms into PDF versions which can be printed and shared with other parties
You don't have as much paperwork or as many clunky files and folders to deal with
Digital methods allow you to streamline the SOW process, as well as improve your records and collaboration.
You can learn more about this type of scope of works app here, or use the free example you saw above to complete and manage your scope of works easily and professionally - on every project.
See how you can easily streamline your systems and processes with Sitemate today