Quality – Quality report format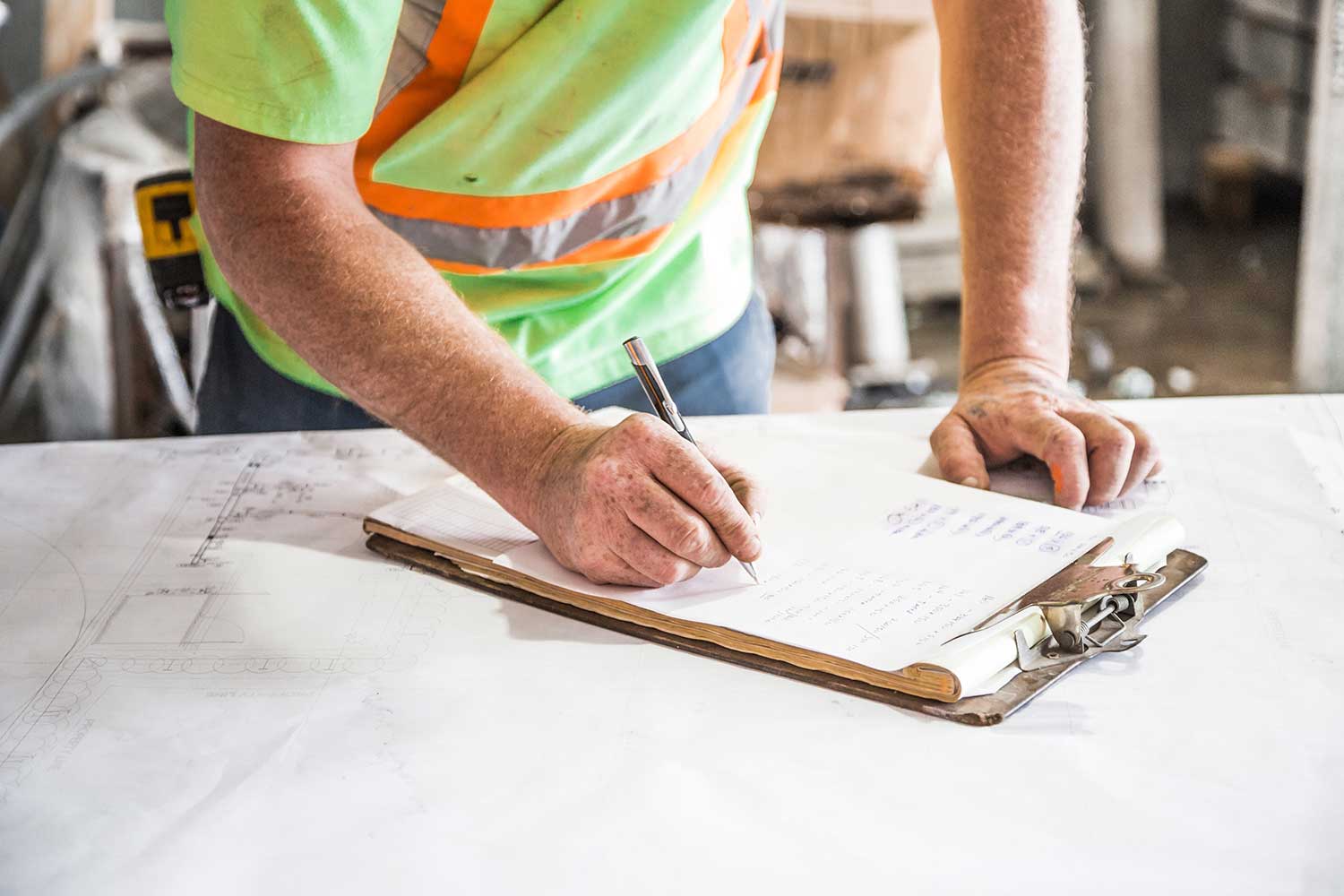 Here's the right quality report format for your projects
What is a quality report?
Quality is a central function to all construction and industrial projects. While many professional services and product companies in the world have version of quality control in the form of management and checks and balances, the industries (amongst other industries including manufacturing, aerospace etc.) really do stand alone when it comes to quality.
A large part of maintaining quality control and building quality into your every day processes is the quality report.
A quality report is a report which documents a specific quality process or outcome (or both), such as and inspection test plan, quality communications plan or non-conformance report.
The purpose of these reports is to make your quality management process and quality control procedures concrete - and to make sure you are measuring - both quantitatively and qualitatively - the outputs of these processes so as to ensure that your project is maintaining the quality standards set out in officel quality assurance and quality control guidelines, as well as the specifications set out by the client and/or contarctor.
Why is the format of my quality reports important anyway?
Because quality reports are important to the functioning and overall success of your projects; naturally, the format of your quality reports is important too. Your quality reports will be touching the hands and attracting the eyes of a number of important stakeholders, who are associating your quality reports (and their formatting) with the quality of your work and the likely outcome of their asset or project.
Messy and poorly formatted quality reports indicate to other parties that your quality processes and controls will be sloppy - even if they are not.
Outside of the poor impression your quality reports may set, properly reporting on quality inputs and outputs are to be reported on in accordance with the quality standards you have agreed to, such as the ISO9000 and it's variations. The type and extensiveness of your quality reports will depend upon which guidelines you have agreed to follow, as well as the strictness and processes of the other parties involved in your project.
These parameters, as well as your own internal tools like the quality management system you use or the size of your quality teams will also effect what and how extensive your quality reports are.
Ultimately, the 'quality' of your quality reporting and work will impact how much work you get and what your reputation is. If you maintain high quality project delivery with high quality reporting, then you can always point to your records in the case of unfair disputes or claims, as well as lean on the objective data such as the number of defects on your jobs or speed to corrective actions. This protects your reputation, and protects you bank account as well. A quality reporting app can help streamline processes to keep track of submitted reports and detailed analytics to improve performance.
All of these reports and clean data will help you improve the quality of your work and over time, help you win more work too.
The different types of quality report formats
As mentioned, the quality guidelines set out prior to the project commencing will impact the types and frequency of quality reporting you conduct, as will what you communicate to and agree with your other parties.
We'll outline some of the more popular quality reports below, along with some proven formatting tips and guidelines to help you steer your quality reports into the clear.
Defect report format
The defect report is a staple quality report. Defects occur regularly on projects, with heavy machinery, lots of transportation and moving parts resulting in a lot of surface imperfections and 'defects'.
Your defect report should follow this simple format:
An automated form ID or number for record keeping purposes and audit control
The date the defect was identified
A lot reference (which is typically how jobs are organised for the purposes of breaking down an asset into digestible lots)
Select the party or parties involved (the subcontractor, supplier etc.)
Give a defect description and attach the proof of defect
Sketch (if applicable)
Proposed action/rectification
Signoff when the rectification or corrective action is scheduled and finally, a reference photo once the defect is resolved
This is the type of formatting very common amongst quality reports. You outline the defect and who or more importantly what was responsible for the defect; you document and describe the defect with supporting evidence; then you draft or create an action for resolving this defect.
As you can derive from this report, the better contractors and subcontractors are at following this format and communicating the format fields, the faster defects move from defect to resolved.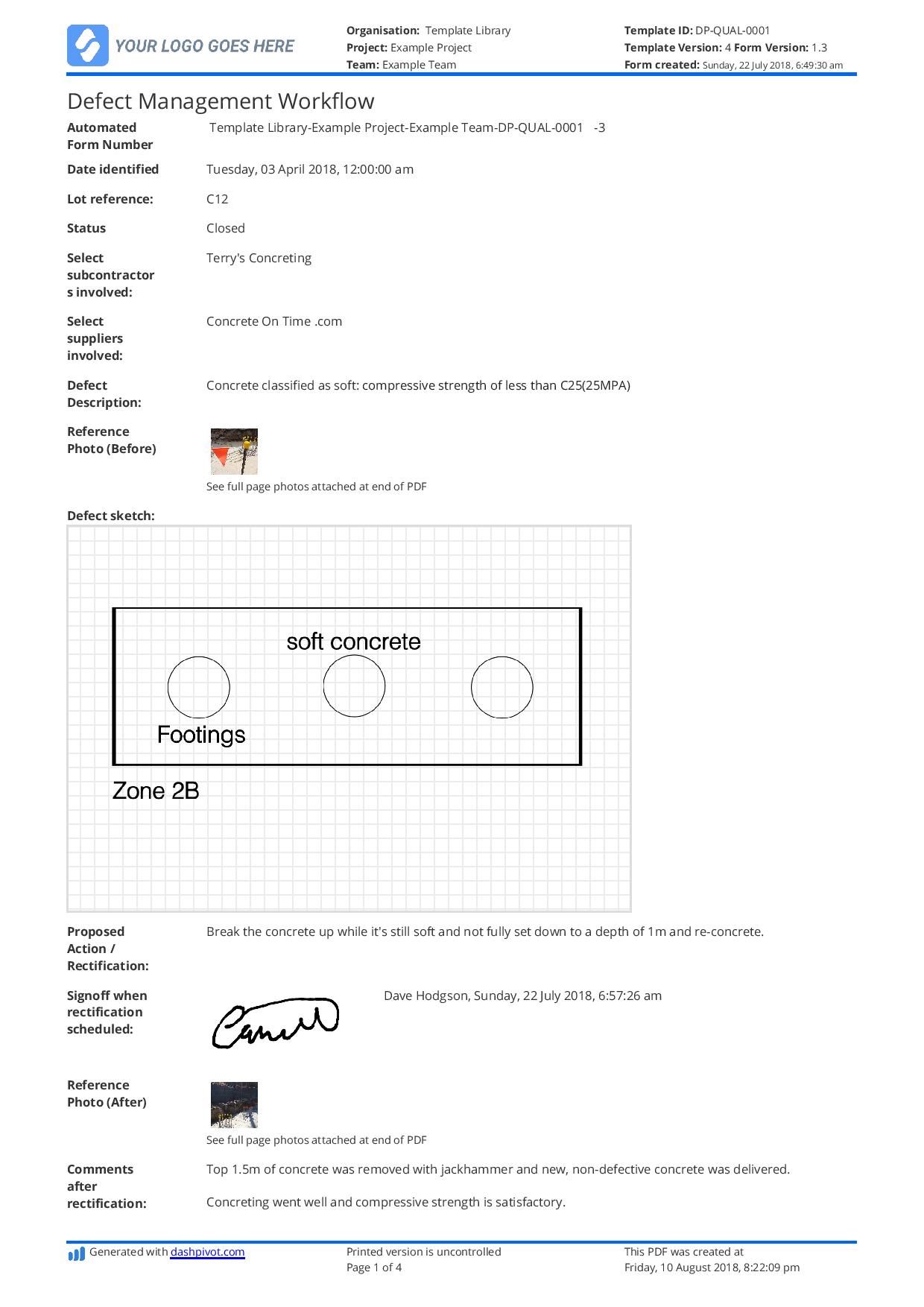 Use and edit this defect report.
Non-conformance report format
A non-conformance report is another mainstay in the quality reporting space, and will deployed across any and every project when there is a non-conformance.
You can see the correct formatting for your non-conformance report below, which looks very similar in format to the defect report:
Project information (for record keeping)
Contractor and supplier information (who and what did the non conformance arise from)
Description and photos/videos of the non-conformance
Recommendation for the nonconformance
Delay information and causes associated with the non conformance
As you can see, the format is very similar. The major difference between the two is that the non conformance can often have greater impacts on the project in terms of delays and issues. Defects are typically surface level problems, which means you non conformance report format will have space for documenting delays and other financial and project level information.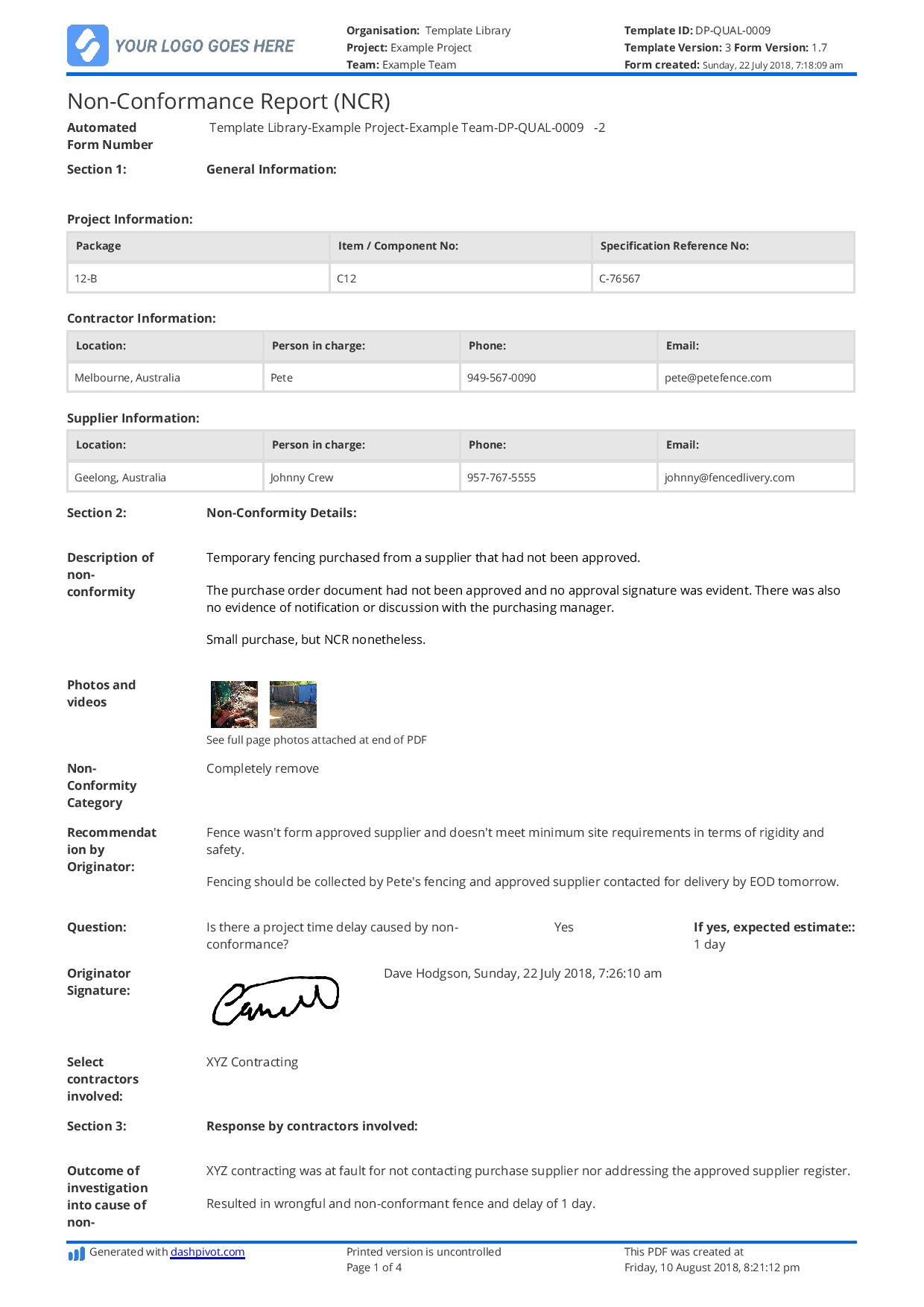 Use and edit this non-conformance report.
Snag list or construction punch list formatting
Punch lists and snag lists are the result of defect and in some cases non conformances (although mostly defects).
On a number of projects, defects arise as the project progresses, or some defects are missed while the subcontractor or team is conducting work. At the end of a project or often before a client walk-through, a quality team or engineer will walk through and document a number of outstanding defects which form a lunch list or snag list for a specific subcontractor. This list is an itemised list which the subcontractor must get through and tick-off in order for their work to be considered complete.
As you can imagine, the format for a snag or punch list is quite straightforward, as are a number of quality checklists you will see and use while conducting your quality jobs.
See below for an example snag list.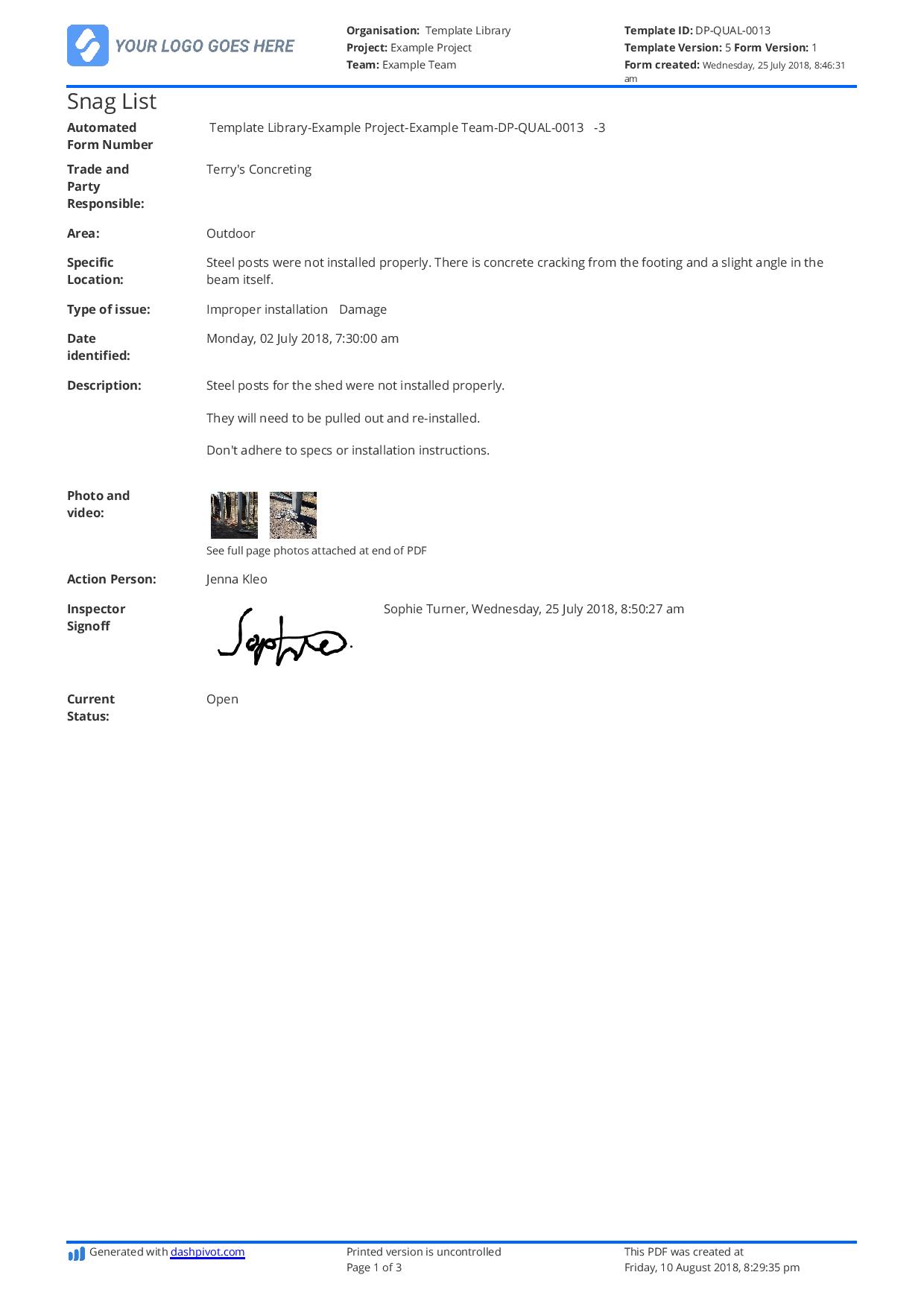 Use and customise this snag list report.
Get started with the right quality format for your job
Working in the industries comes with a lot of reporting, data entry, communicating changes and general admin.
How they are created - the source of the document)
How they are completed - are they paper, excel, word doc, app based etc.
How they are organised - what happens when a document is filled in i.e does it go into the cloud or does it stay on paper
How they are analysed - how is the data from your quality reports aggregated and understood so to be able to draw conclusions from your data
While there platforms to deal with these problems and give you full document assembly, automation and analytics controls - such as Sitemate's Dashpivot - getting your quality reporting right can start with single documents.
If you are looking for any of the above quality reports such as a snag or construction punch list, inspection or ITP or quality management plan, take a look at the templates below.
These templates are entirely digital, meaning you can edit and customise them online, as well as complete them on computer, tablet or mobile.
Once completed, your completed quality reports are stored in the cloud, where they can be accessed and collaborated on in real-time - and then downloaded, printed or shared in the perfect PDF or excel format, making all of your quality reports and work look and feel more professional.
Improving your quality reports starts with the right format, and we've built that format for you below.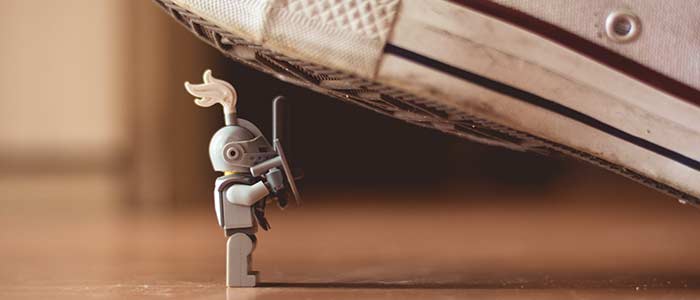 Non-conformance report (NCR) template
Document those painful non conformances with this powerful template.
See the template →
See how you can easily streamline your systems and processes with Sitemate today