The flexible heavy vehicle log book app
Streamline how you document, organise and track your heavy vehicle logs to save time and improve your asset management.
Streamlining companies, projects and teams of every size
Replace manual and time-consuming log books with a single easy to use log book app.
Create or choose the best heavy vehicle log book structure for you
Don't waste your time with physical log books and tired formats like PDF and excel.
Create the perfect log book structure with an easy drag-and-drop form builder, or choose from our free templates to get going right away.
Include text fields, photo fields, dropdowns, digital signatures and more - to make your log entries easier to fill out.
Fill out log book entries on any device from anywhere
A heavy vehicle log book app enables you to access and complete your log entries on any device including mobiles, tablets or computers.
Fill out your log entries at any time on any device, and all of the records will be instantly synced to the app in real-time so nothing can ever get lost or misplaced.
The app is designed to be simple and easy to use so everyone can easily pick it up and use it right away.
Store all of your log entries and information in one place
Take photos and fill out forms using the app, and all of your records will be automatically organised and securely stored for you.
Structure your data the way you want, including for different sites, projects or asset classes.
Each record also comes stamped with crucial data like who captured it, when it was captured and any comments or tags which were added so you can quickly find any record at any time and use it as undeniable proof.
QR code posters on equipment can take you straight to log book forms
Ensure that log books are always submitted on time by printing QR code posters and posting them on equipment.
Scanning the QR code takes you directly to the log book template and can be a visual reminder that the log book needs to be done.
Download, print or share log book records from the app in one click
You want to use a heavy vehicle log book app to become more paperless, but sometimes you still need paper and traditional formats.
For those times, you can export any record or log entry from the app in a single click, with the ability to download, print or send records as professionally formatted PDF or CSV documents.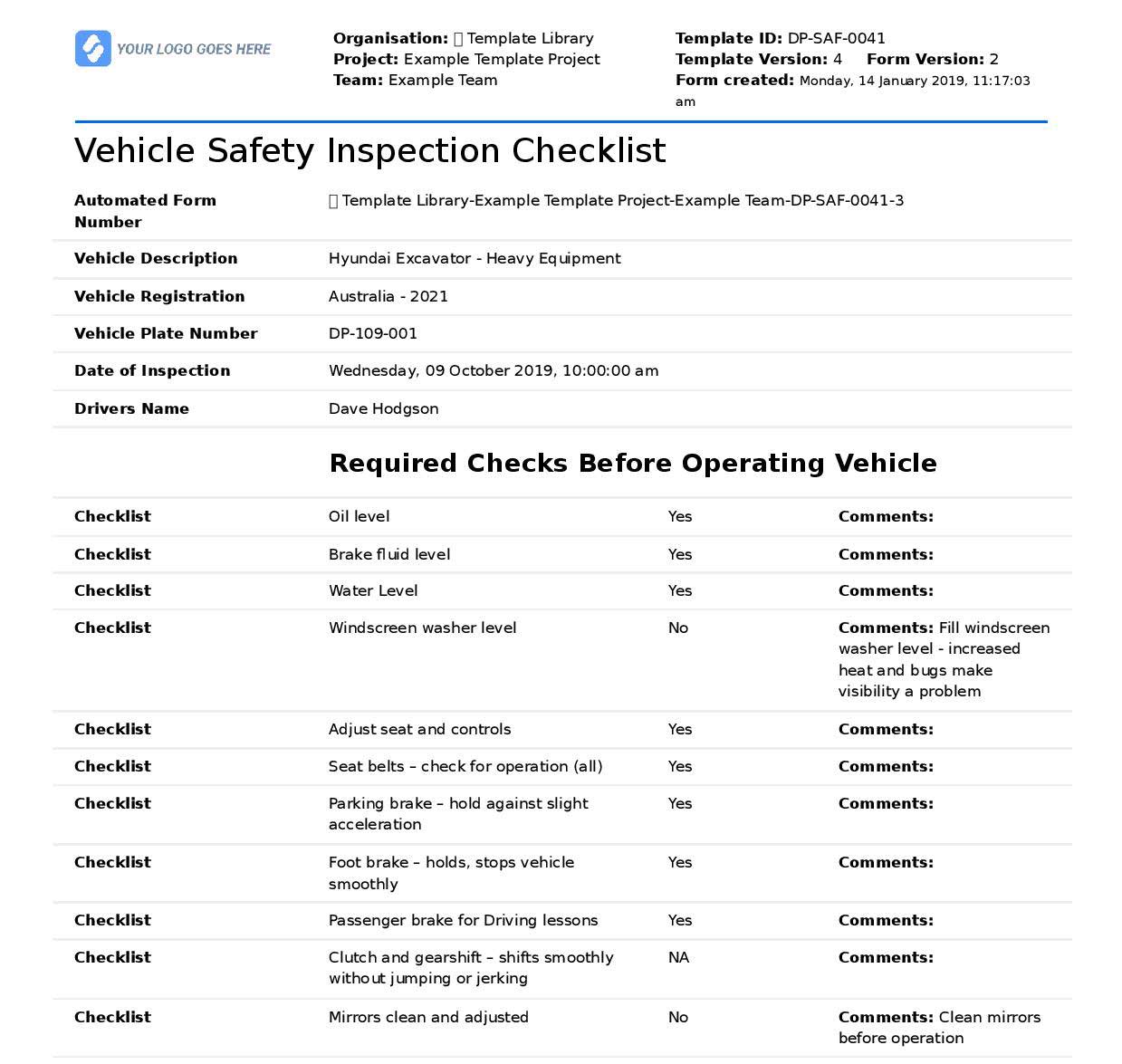 Try this heavy vehicle log book app for free now.
Eliminate manual data entry and time-consuming formatting with multiple ways to view your log book entries.
Timeline view
All of your vehicle log entries are automatically synced and organised into chronological order so they stay organised and traceable.
Register view
Convert any or all of your vehicle log entries into a register style view in a single click. This way, you can filter and find records just like in excel - but with no data entry or formatting.
Streamline communication and issue escalation, automatically
Want to streamline your vehicle log management even more?
Setup simple and powerful automated workflows so that certain log entries or issues get automatically sent and escalated to a manager or supervisor to be actioned, approved or signed off.
This reduces delays and ensures nothing important gets missed.
Track and understand your heavy vehicle management better than ever before
The heavy vehicle log book app aggregates all of your log entries for you, so that you can display them in visual charts and dashboards.
Get real-time information on the number of log entries being created, the number of maintenance issues arising and more.
Once setup, these dashboards are updated with fresh data all the time, so you always have the information you need to make good decisions.
More than 'just' a heavy vehicle log book app...
Why use a different app or system for every job or activity?
Consolidate more of your processes into a paperless and efficient system including inspections, diaries, safety management and more.
Streamline and improve your heavy vehicle management with this log book app.