The best site sign in app for construction and industrial sites
Use this site sign in app to make sign ins incredibly quick and easy for workers and visitors, while ensuring your sign in processes is professional and compliant.
Streamlining companies, projects and teams of every size
A flexible site sign in app which enables you to build the sign in process you and your site visitors want
Setup a static site sign in tablet for digital sign offs
Setup a static site sign in tablet or phone for capturing electronic sign ins in seconds.
Workers and site visit can use their free and unique digital ID card and QR code to be scanned onto the tablet and sign in sheet.
Once scanned, the sign in sheet captures and instantly stamps their name, company, location and more.
Some locations work better for a mounted tablet, and other locations work better when a person or supervisor scans visitors on using their mobile or tablet device camera.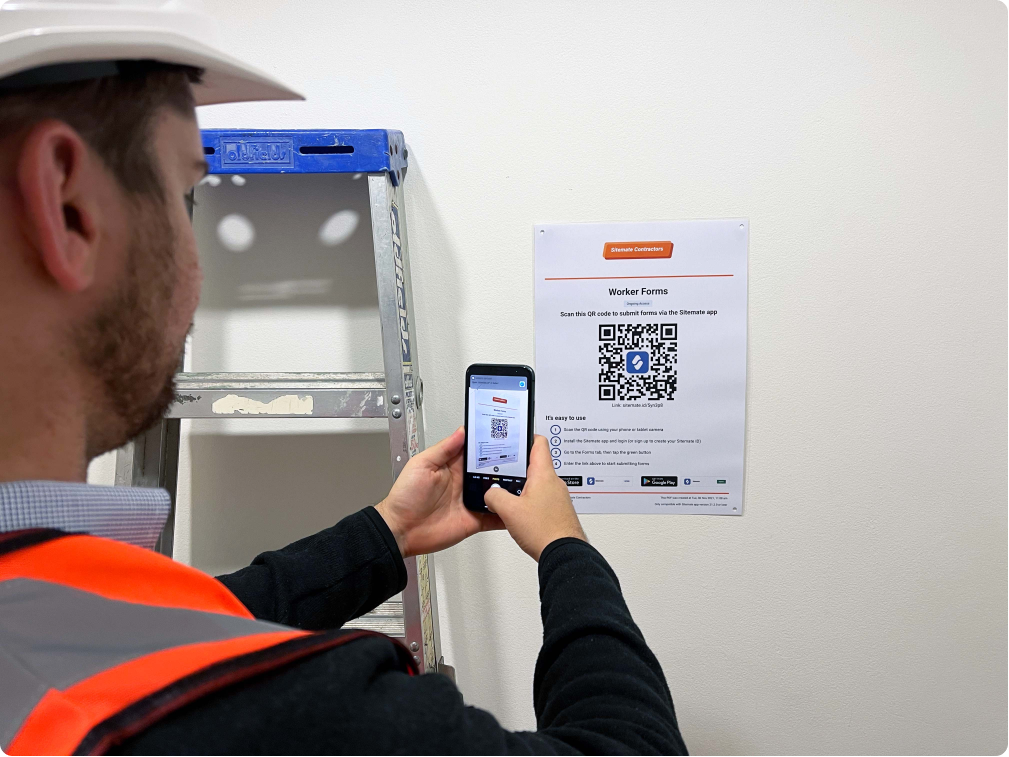 Setup QR code posters for more customised site sign ins
Some site sign in sheets, especially on specific construction and industrial sites require a few more details than a simple signature.
In this case, the best way to setup the sign in app is to download, print and put up QR code posters, which people can scan on their mobile devices to access, open and submit your site sign on.
Make and print as many QR code posters as you like for different sites to cater to specific site or client requirements.
If you update the structure or contents of the form, that'll automatically be picked up in the QR code posters to ensure everyone is always completing the right form.
Send site sign in or inductions forms before workers or visitors even arrive on site
If you know who is coming to your site ahead of time, you can even send workers and visitors your sign in sheet or induction form before they arrive on site via a single weblink.
They simply click the link on their mobile device to open, sign and submit, and that form submission goes straight into the digital database in real-time.
This saves everyone time on site, and makes everything look and feel very professional.
Completely free for all site visitor and internal worker sign ins
The Sitemate app is completely free to download for any site visitor or internal worker, and enables electronic sign off using a digital ID card and the submission of electronic forms including sign in sheets.
The Dashpivot platform is the database and control centre behind the digital documents, and paid Dashpivot users typically only include office administrators, managers and supervisors - making going paperless on site sign ins a no brainer in terms of efficiency and cost.
Easy electronic site sign in sheets
There are multiple ways to setup electronic sign in sheets on the app.
You can convert your existing docs from word, excel or PDF straight into the system, or create a form from scratch with drag-and-drop, or you can choose our template and then customise it to suit your sites.
Once setup, customising the forms with drag-and-drop is incredibly easy, and all of the document and version control is taken care of automatically by the app.
A single site sign in app with multiple one click formats
Timeline view
A chronological list of every site sign in which can be viewed at the individual site level or across all locations.
Workflow view
If any of your sign in processes require approval or notifications, simple workflows can show you status and progress.
Register view
Incredibly powerful for sign in records, toggle to the register view in one click to filter, find and export specific sign in records.
Track and monitor site sign ins in real-time
Using a site sign in app gives you digital records, which can then be organised and analysed in real-time.
Keep track of the frequency and type of sign ins being conducted at your construction sites or industrial locations.
Compliant systems, compliant procedures
Keeping good site sign in records is an important part of managing high risk environments, and using the right tools and systems can ensure your processes are professional, accredited - and ultimately keeping people safer.
Are you a construction or industrial company looking to streamline site sign ins? Try the app for free