Project management – The features GC's want from project management software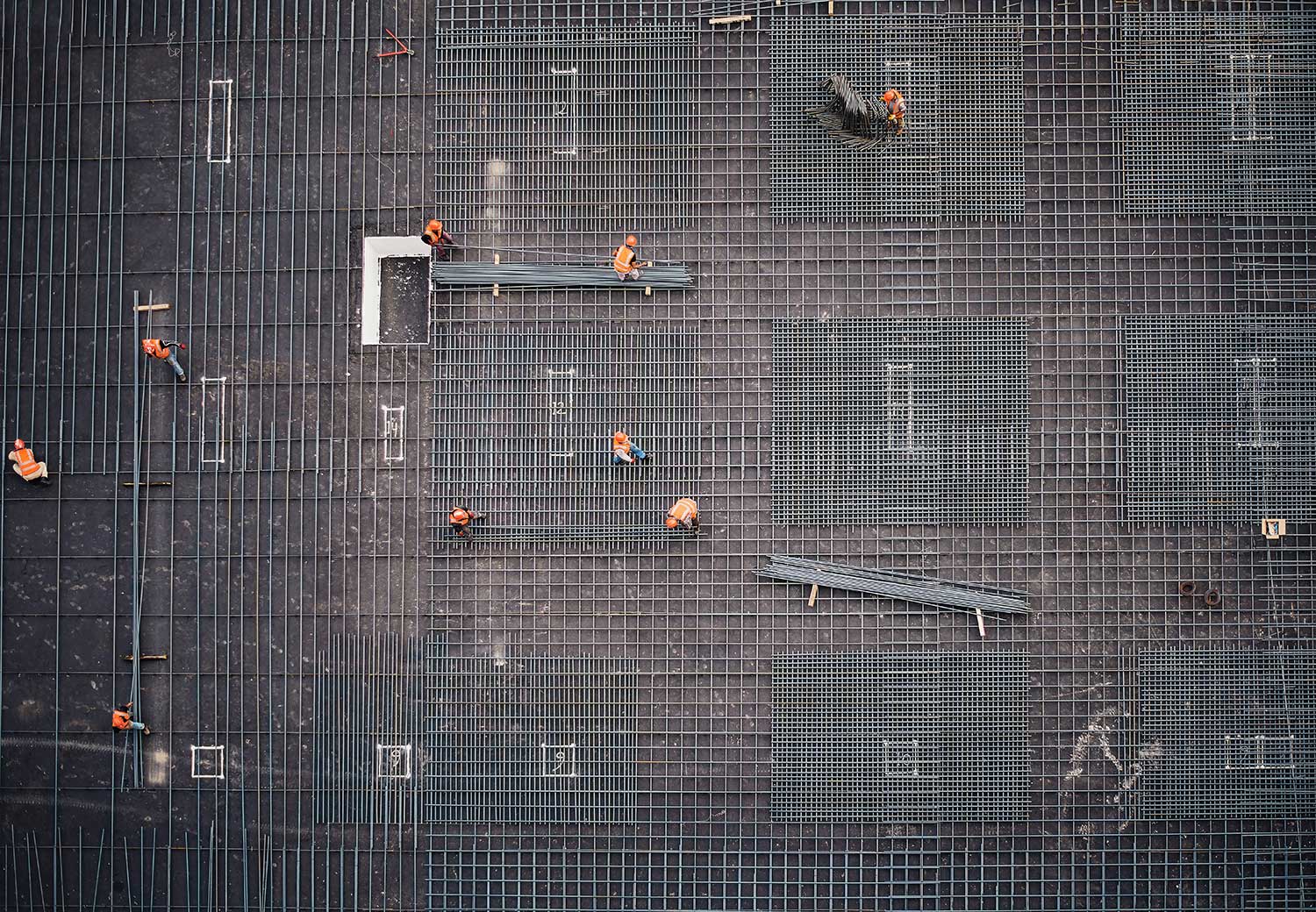 Project management software for general contractors: What features do you need?
Why do general contractors need project management software?
Project management has been a double edged sword for general contractors over the years. General contractors have grown their revenues, workforces and project sizes; and they have also suffered some hefty project losses. Some of this comes down to external forces, while some of it is based on less than perfect project management and delivery.
Project management at the general contractor level is incredibly complicated. Thousands and thousands of moving parts, parties and supplies, long planning timeframes and schedules, thousands of disparate records and more make simply delivering an asset or project on time and on budget a major effort and impressive feat of work.
Project management software enables general contractors to streamline their daily processes, digitise many of their documents and forms, consolidate their data, collaborate with other parties in real-time.
The rise of project management software also rose in parallel with new and increasing legislative requirements, increased levels of subcontracting, and increased project complexity, which together have drastically changed the amount of work and coordination required to plan, deliver and handover a new asset.
While in the past it may have been possible for companies to manage projects with paper, folders and emails, today it's simply too complicated - and the bar is set so high and the bids so low that general contractors have been forced to become more efficient through technology and other means.
So today more than ever, especially given the improvements in project management software in the last few years, it simply doesn't make sense for general contractors to run their projects without taking advantage of the large scale benefits they can attain from purchasing or subscribing to project management software.
If anyone 'needs' project management software, it's general contractors. Not because they can't manage their work well, but because they have an incredible amount of efficiencies and improvement to garner from leveraging software.
Is there project management software designed specifically for general contractors?
Kind of. There is softwares which are designed with general contractors in mind; there is softwares which were architected for the general contractor; there are flexible systems which are perfectly adaptable for general contractors; and there are project management softwares which have become comprehensive enough to offer general contractors a designated set of solutions and features.
In general, the project management software landscape is difficult to navigate for everyone. It's often hard to decipher what is for who and who is for what. This is partly because software vendors like to appeal to as many different use cases and parties as possible, and partially because there is a lot of overlap between the features which make sense for subcontractors, SMB's, mid-market construction companies and the general contractors.
The scope and use cases for general contractors is usually wide enough and big enough that combining multiple softwares into a project management stack is necessary and beneficial.
As a general contractor, I'm sure you understand what you want from project management software, and what features are most valuable to you, but we are still going to dive into some of the essential project management software features for general contractors - and how they are packaged, explained and marketed.
The features general contractors need in their project management software
Project delivery
Project delivery covers a lot of use cases and a big portion of 'project management' for general contractors as this is where the rubber meets the road.
This is also typically one of the hardest areas of project management to manage on a day-to-day basis because planning, scheduling, finances and other areas of project management take place in a stable and planned environment - whereas project delivery has the moving parts, unexpected changes and variations (from internal and external forces), and a bit of chaos.
The project delivery software segment of project management software can sometimes be taken care of as part of a general project management solution, or it can be a standalone solution.
This software is dealing with the capturing, organising and tracking daily work at the execution level.
You'll want this part of your project management solution to enable workers on site to capture what's happening through digital forms being accessed and completed on mobile or tablet, capture and record proof of work being done through photos and videos which can be seen and accessed via a real-time central repository, and ideally you'll want to be able to track project delivery progress through analytics so that you can compare actual project delivery to your planned milestones and schedules.
General contractors need a control centre and a project 'dashboard' for all of the things happening on their projects.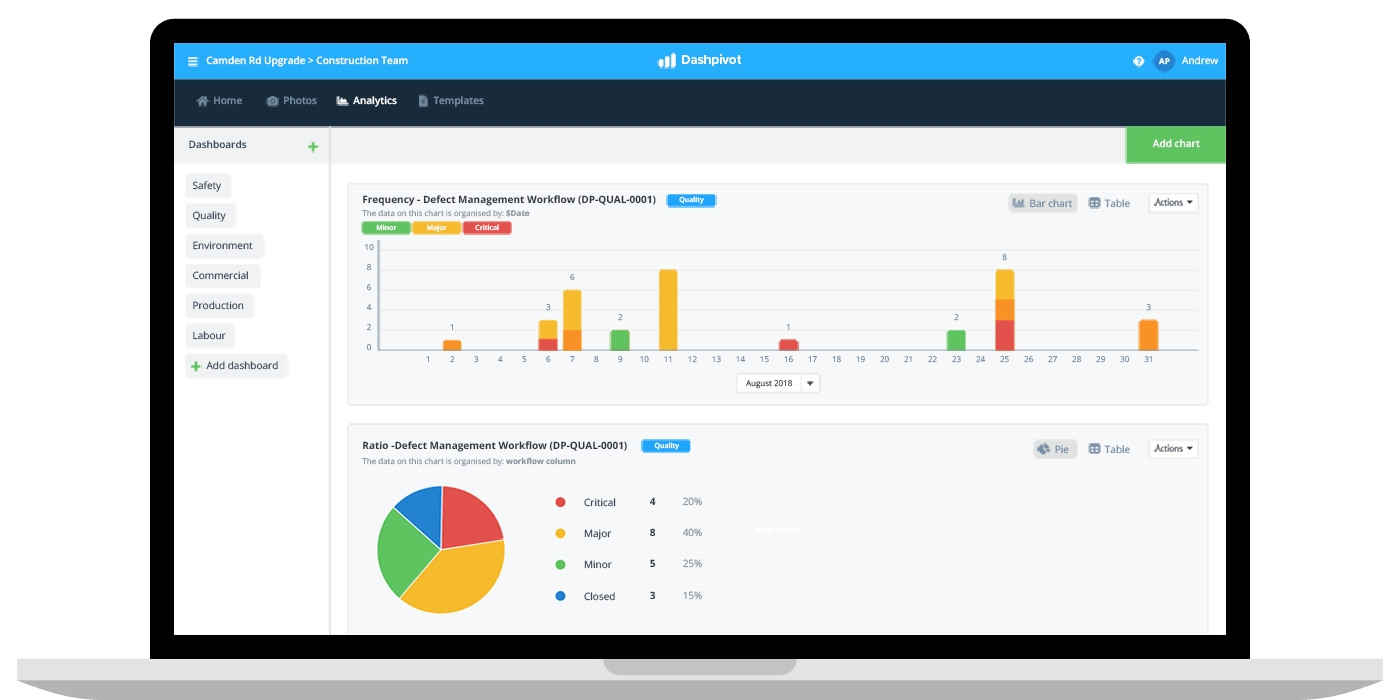 Record and audit control
The above 'component' of your project management system will likely take care of record and audit control - if it serves as your information management system.
But you need your project management software to control and store your project records - and give you powerful audit controls over what is being captured and documented.
Historically, many general contractors used word, excel and PDFs to manage their processes and documentation. These systems made it hard and almost impossible to keep people working off the same latest version of forms and documents, to keep data standardised and to be able to see changes, edits and updates to these important information carrying devices.
Your project management software should take care of this for you. It should provide you with a way to standardise all of your project forms and documentation so that your records are standardised, that your data is reliable, that everyone is completing the right accredited and approved forms.
Your software should also automatically track and update versions of policies, procedures and documents as well as leave an audit trail of any changes. This ensures that there is transparency and accountable around all of your project work and that any internal or external audits will be passed with flying colours.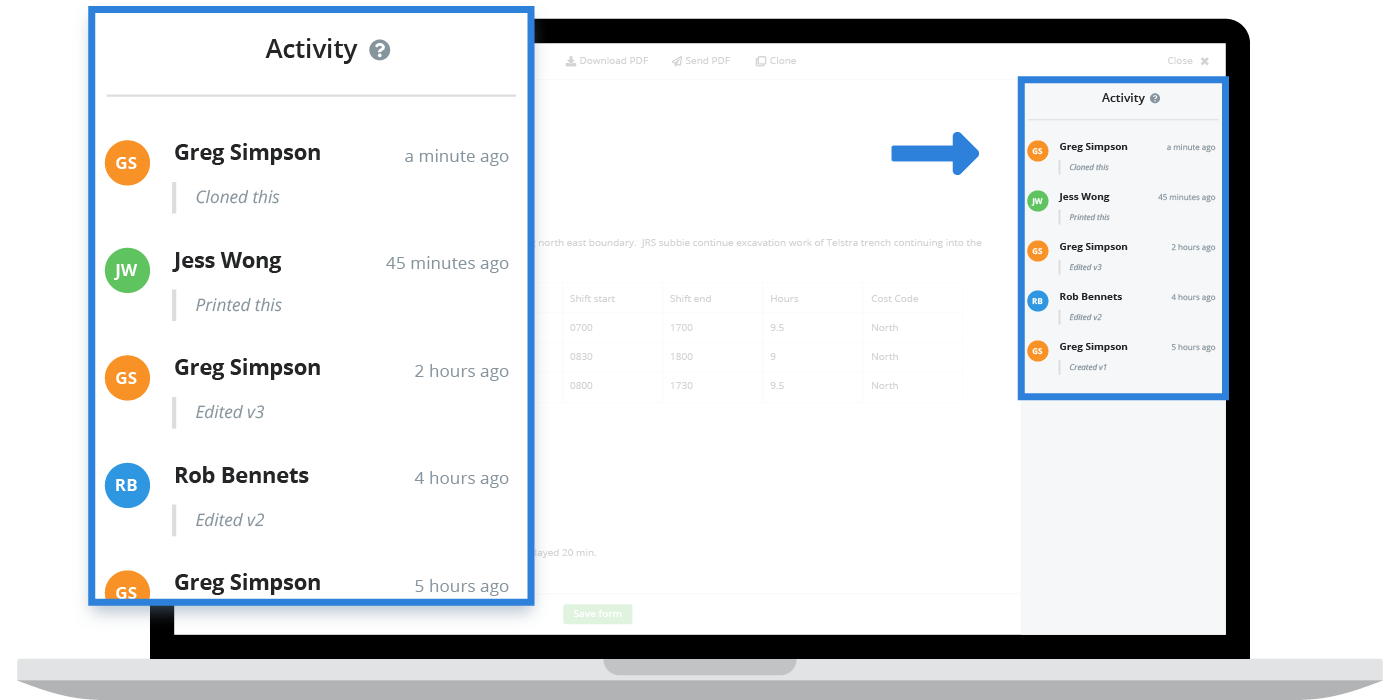 Workflows and collaboration
The main reasons general contractors invest in project management software is to streamline their project management, save time and reduce costs.
One of the features which general contractors need in their project management software is workflows.
Software workflows enable general contractors to automate many of the time-consuming processes, communication and back and forth which takes up so much project time.
Many of the processes on construction and industrial projects are formulaic. Every variation goes through the same process, as do hold points, witness points and permits. Project management software will enable you tp setup flexible workflows so you can automate the approval and coordination processes which used to cause disputes and project headaches.
The other major impact these workflows have on your projects is that they reduce project delays - which has a direct impact on delivering on time and in budget. In the past, variations, change orders and other inevitable shifts away from the initial plan would involve sending emails back and forth, signing paper forms and trying to figure out what's going on and who's responsible.
Good project management software enables these collaborations to take place in real-time in a coordinate fashion. When a contractor issues a site instruction, the subcontractor automatically gets notified, and can then sign off and begin work.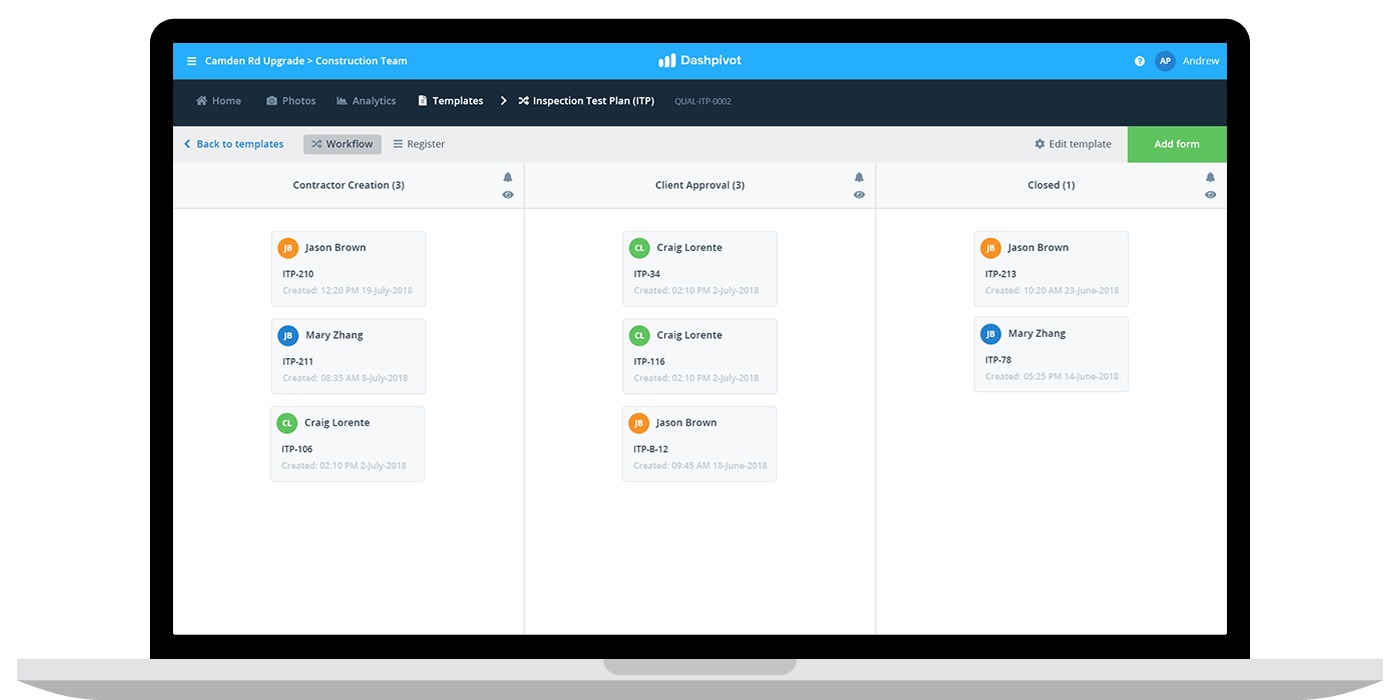 Program, schedule, gantt charts
Project scheduling is at the heart of project management, as it informs what happens over the course of the project, the schedule of work, and how quickly or slowly parts of the project get delivered.
As part of your project management stack, you will want to have a feature set or specific software which enables you to create digital schedules and gantt charts which can be updated in real-time, which internal and external parties can collaborate on, and which everyone can trust as the source of project truth.
There are ways to manage your gantt charts and project schedules manually, but it results in large discrepancies between different levels of project management (upper management vs. project managers vs. site level workers) which result in delays, internal issues and end of project surprises and headaches which weren't accounted for and known.
Ideally, you have a tool which can speak to and connect with the project delivery aspect of project management so that the site and the office are always in sync.
Financials
For general contractors, projects carry a large amount of financial risk. Because of the nature of construction and industrial project bidding and delivery, general contractors must carefully schedule, track and control their costs to make money.
What looks like a good project can quickly become a massive money losing scheme if project financials are not managed properly.
Part of your project management stack will need to include a financial component which enables general contractors to understand full progress, performance tracking after integrating costs across their entire project and team portfolios.
If certain projects are performing poorly, management needs to make changes; if teams are spending too much money to get their phase of works completed, something will need to be done; if actual project costs are tracking way above planned expenses, then the general contractor needs to know.
All of this financial information is needed in real-time in order for general contractors to be able to course correct and stop projects from going late and over budget.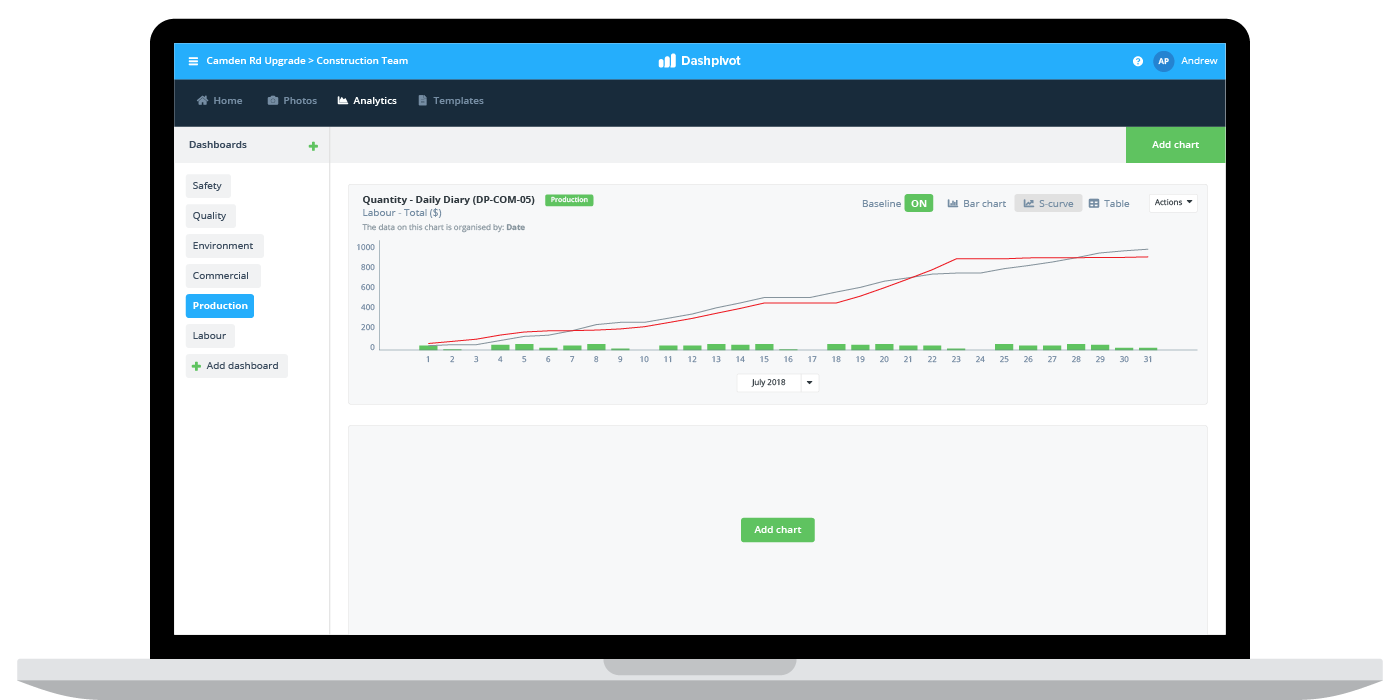 Document and drawings management
On top of the executional layer of forms and documentation covered on project delivery, general contractors organise and plan a lot of the project with both the project delivery subcontractors and teams as well as the planning stage with the clients, owners and architects.
On this planning side, it's critical that general contractor project management software includes some document and drawing management functionality.
General contractors need to be able to coordinate with the architect and client on the plans, site drawings, updates and changes made during the course of the project - and a centralised repository for all of this documentation enables them to come together in one place, collaborate and make agreed upon decisions which are always recorded and traceable.
What does the future look like for general contractor project management?
To date, general contractors have relied on project management software to streamline their project documentation, delivery, records and collaboration.
So far, the project management software 'play' from vendors has been the traditional software play: to replace paper-based documents and manual processes with the power of software which can automate and speed up this processes and tasks while taking care of record keeping and controls in the background.
The future of project management software for general contractors is bright. There is still a lot of improvements to be made in data interoperability (how different software and systems speak to one another to reduce manual data entry), aligning project planning and scheduling with what's happening on site, and likely some consolidation between tools and systems.
And there is still some very manual and time-consuming processes which will take time to weed out, as more and more people become comfortable shifting to software.
Other new construction technologies will include IoT (the internet of things), whereby machines, equipment and people are connected to project management softwares and systems to give general contractors even more insight into what's happening on a commercial, safety, environmental etc. level; machine learning and AI will improve how data is crunched and manipulated by general contractors on projects; and other technologies like modular construction and drones will continue to shape the cost of projects and how projects are managed.
Project management software still has a long way to go, and general contractors will be at the forefront of those developments and one of the most benefitted parties.
General contractors like Lendlease and Bouygues use this  construction project management and delivery software.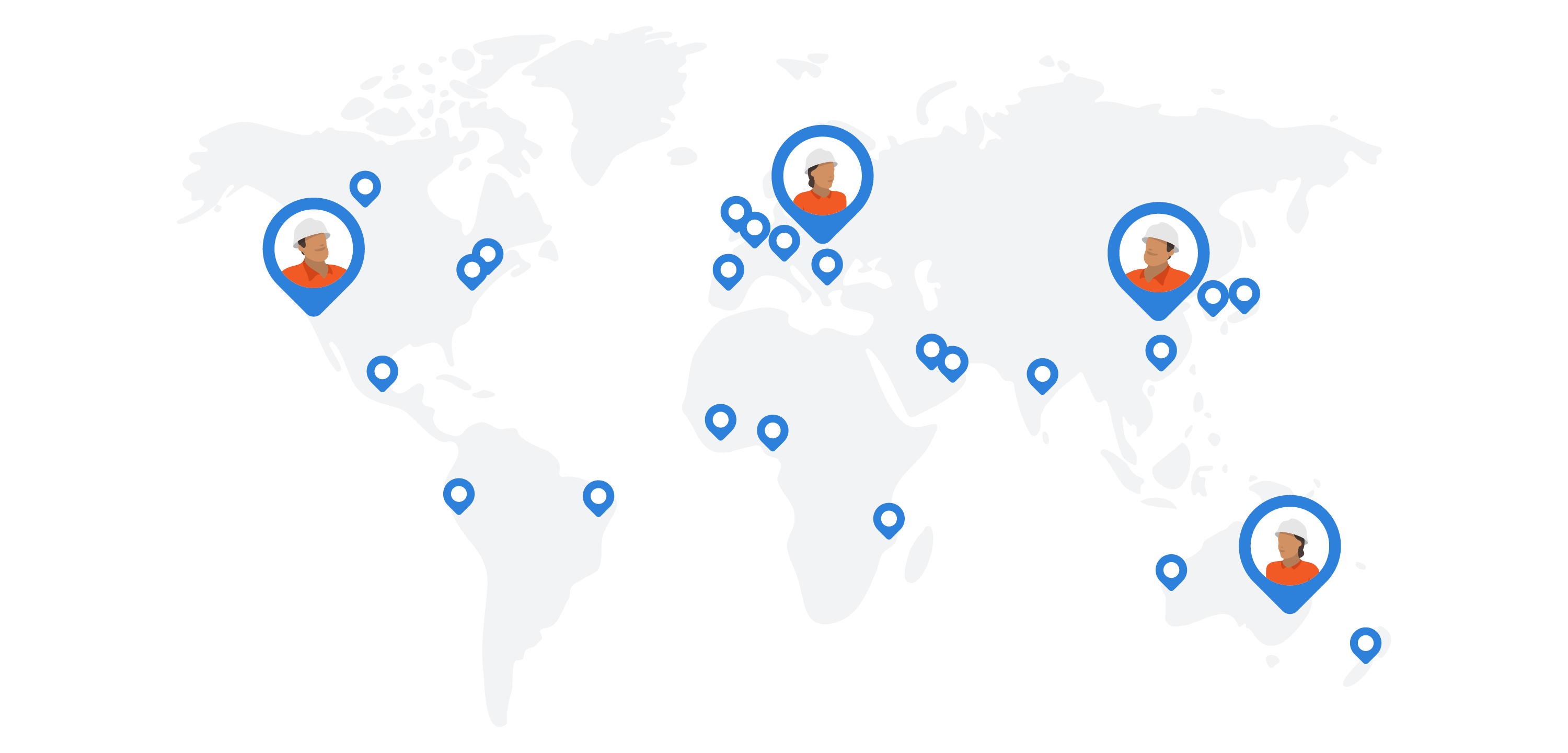 See how you can easily streamline your systems and processes with Sitemate today