Safety – Safety work permits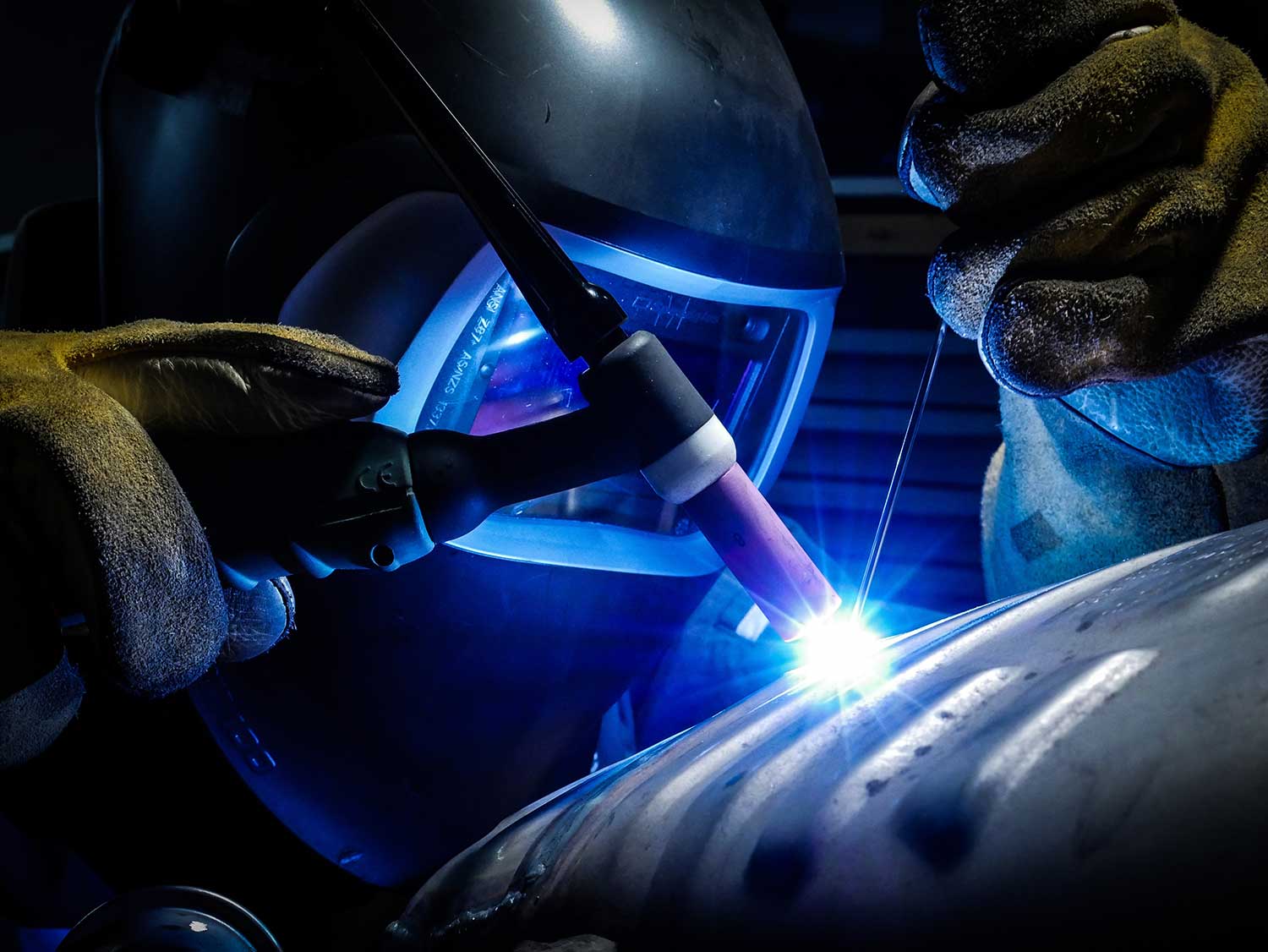 Safe work permits: Types, examples, procedure and systems you should know
What is a safe work permit?
A safe work permit is a 'form' or permit which is used to evaluate and identify hazards associated with dangerous and non-routine jobs in order to mitigate the chance of those hazards turning into issues, incidents, injuries or fatalities.
The job of a safe work permit is not to be ticked and flicked. The purpose of a safe work permit is to take the necessary precautions required to control the hazards involved in dangerous site and project activities.
Safe work permits are one of the first and lines of safety defence for industrial companies and workers. They are great for brainstorming hazards, improving communication and transparency between site workers and project managers, safety teams and management, and ensure that people are being aware, smart and safe in their approach to getting their jobs done.
Depending on where in the world you are performing your jobs, there are a number of activities which always require safe work permits, which we will delve into below; while there are some other jobs or functions where safe work permits are required or recommended as a safety tool - which is usually at the discretion of the contractor, project manager or safety representative responsible for establishing safety practices and procedures.
Types of safe work permits
There are a number of different safe work permit types. Which types you use on a regular basis (or at all) will depend on the nature and 'type' of your work.
Some of the most common safe work permits which are frequently used on industrial sites all over the world include:
Hot work permits - A hot work permit is used for any type of work or activity which produces a spark, flame or heat - and therefore has the chance to cause a fire or other injuries.
Confined space entry permits - A confined space permit is used for you guessed it, working in confined spaces, which comes with a plethora of omnipresent dangers which must be catered for.
Excavation permits - Excavation permits are used for excavations, which can have tragic and catastrophic consequences when utilities and other hazards are not managed properly
Working at heights permits - Working at heights is the most common source of injury and fatality on construction and industrial sites. Opening a working at heights safety permit slows people down and reduces the chance of silly accidents and falls.
Lift permits - Crane lifts come with their own unique set of hazards and dangers. Not all lifts require a permit, but many critical lifts which are close to pedestrians or involve other hazards do.
The procedure and protocol around the above safety work permits will differ from permit to permit, as well as across companies and projects.
At Sitemate, we recommend keeping a set of standardised digital safe work permits in your IMS so that everyone has access to the same latest version of the work permits, and so that everyone is following the same approved process.
Leaving your safe work permits and templates in the hands of your employees can be risky business, with variations and different creating havov for workers, record keeping and internal and external audits.
Real examples of safety work permits
Once you know and understand the different types of safe work permits, it's helpful to see some safe work permit examples.
Below, you will find two of the most common safe work permits around, starting with a hot works permit.
As explained above, hot works permits are required when a task or activity involves continuous flame, spark or heat (and in some other more nuanced 'hot works' situations).
So a hot works permit can be opened, issued and approved for anything from welding, to using a camera in a hazardous area or area filled with hazardous energy (natural gas pipelines etc.)
What you'll notice in the two safety work permit examples below, and many other versions of these permits you see, is that they all follow a similar and simple structure. Each safe work permit features some instructions,  a number of critical record keeping pieces of information, followed by a risk assessment, sign off and approval signature to begin work.
This safe work permit format and structure links back to the purpose of every safety work permit, to (1) ensure that everyone performing that activity follow the right steps, (2) identify and develop precautions for the hazards involved with that activity through a thorough risk assessment, and to (3) ensure that every activity involving obvious dangers and hazards are approved by a responsible and authorised party.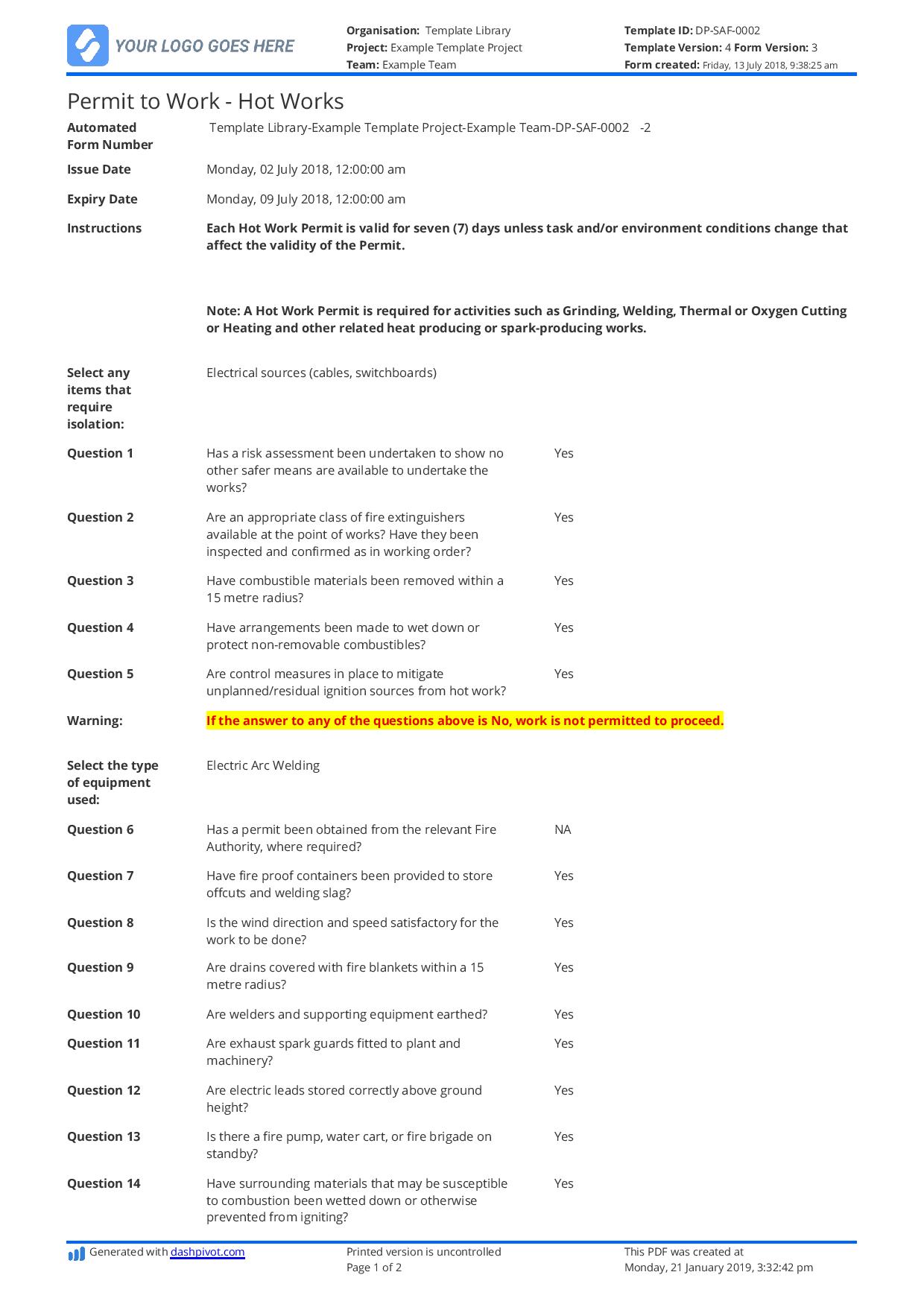 Use this hot works safety permit for free now.
Another safe work permit example
The second safe work permit example you'll see below is for working at heights. AS was mentioned, working at heights is the most common cause of site injury. Part of this stems from the inherent danger of working at heights and how frequently it occurs, but another part of it is based on the fact that working at heights is often perceived as being more 'normal' than many other dangerous activities.
Working at heights safety work permits ensure that people do take the activity seriously and that they have thought about and surfaced the potential hazards involved. It also means that people can't 'rush' any working at heights.
You'll see the full working at height permit below, which looks very similar to the above safe work permit for hot works.
A couple of core differences in this permit are:
Standby persons - some work activities like working at heights can benefit from involving other people who can help and watch the person perform their duties, spotting any issues and ensuring work is performed correctly
Rescue method sketch - Not all permits require rescue methods, but some do, and many can benefit from them
Photos of planned work areas can provide valuable proof that precautions have been taken and serve as proof of correct safety practices should an incident still occur
Once again, once this permit is completed by the workers who will be performing the work, while it needs to be signed off by the permit approver in order for the task or job to begin.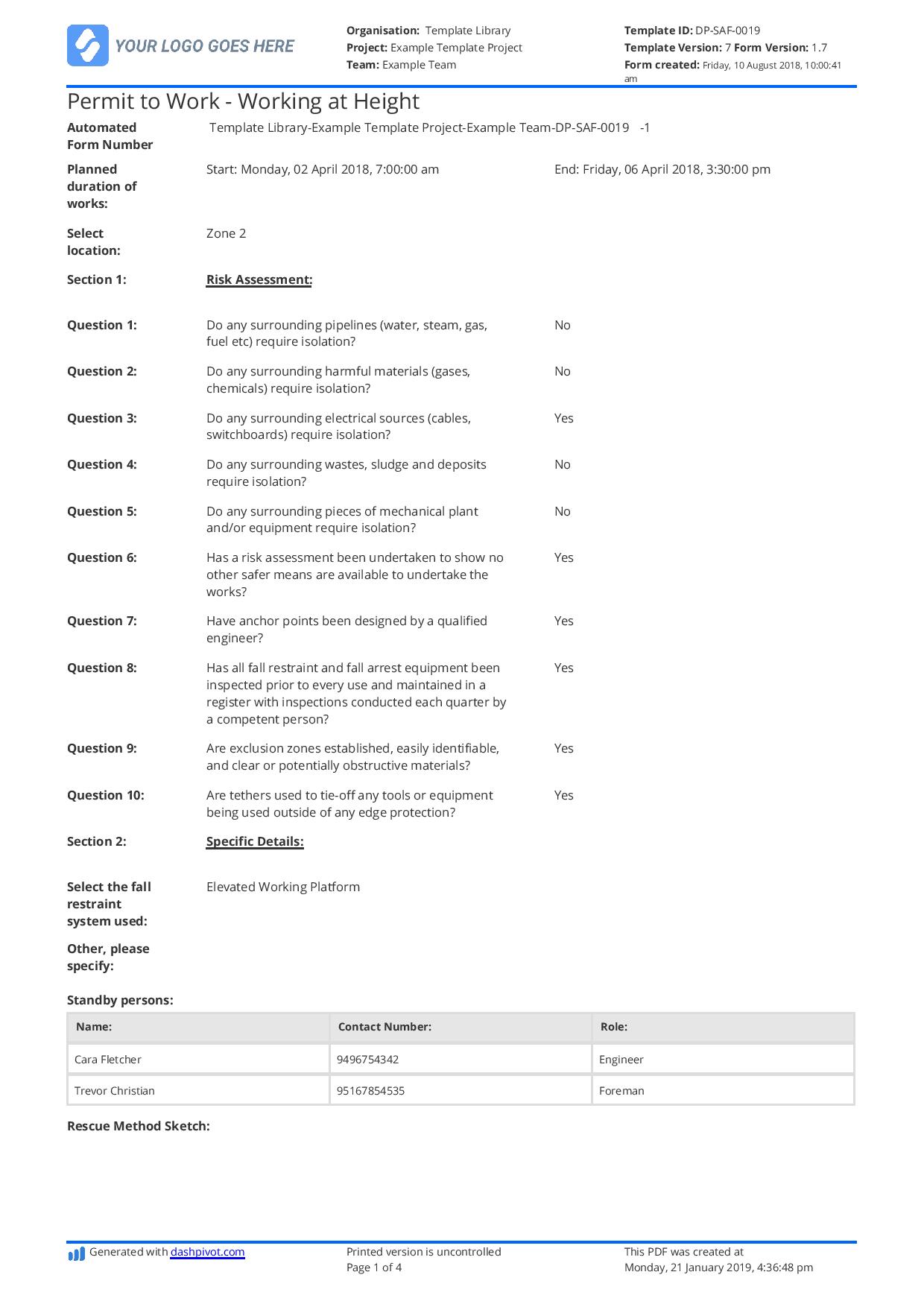 Use this confined space permit for free.
Safe work permit procedures
How you manage your safe work permit procedures will depend on a number of factors including:
If you have a dedicated safety team
How big your company is and how many resources you have
How you manage your forms, permits and systems in general
How well you setup and manage your safety procedures and processes will directly impact your company safety record and reputation.
But managing these safety work permits and other processes can be time-consuming and difficult. There are hundreds of activities and variables which you need to take care of everyday, in addition to all of the financial, environmental, commercial and quality issues which are also a priority.
The most important part of your safe work permit procedure in particular is that it is understood, and executed in a formalised and standardised manner.
Workers should understand what activities require safety work permits (and which ones don't), as well as who to escalate safe work permits to in order to get work approved.
If workers don't understand these things, they will get frustrated, begin work when they shouldn't, or omit the process entirely.
The other danger of not having a smooth and reliable safe work permit procedure is that your safe work permits will get hung-up. A worker will issue an excavation or hot works permit, it will get stuck in an inbox or missed entirely, and then work and your project won't continue to move forward - which costs you time and money.
You can solve a few of these issues by using a safe work permit system or safety management software - which takes care of a lot of this manual and time-consuming work automatically.
Safety work permit systems
Safety work permit systems and construction safety software can really take your safety work permitting procedures and processes to the next level. These systems enable you to streamline and automate permitting (as well as other tasks) from beginning to end.
They start by digitising and standardising your actual permits into a neat and tidy digital form. This form can then be accessed and completed via the cloud on any device - so that workers can fill out safe work permits directly on site with their phone or tablet.
Once a worker completes the permit, the system or software automatically sends a notification to the agreed to approver, who can then open the permit and sign it off digitally. Once approved, the worker then gets a notification that they can begin work. These simple workflows save massive amounts of time and guarantee that nothing ever gets missed or forgotten.
The benefits of this type of automation and smarts are even more multifaceted: it speeds up the permit and approval process so people can focus on doing work while maintaining high safety standards and it keeps all of your important safety records stored in once consolidated information system.
This is extremely helpful for internal and external checks and audits, and enables teams and companies to constantly improve (and seek improvement) in their safety processes.
You can get started with a digital safe work permit below. Improving how you complete and manage your safe work permits can have a significant impact on your safety record - and how smoothly your projects and activities run every day.
See some free safe work permit templates.
People in 80+ countries use this safety management system to improve their safety processes and outcomes.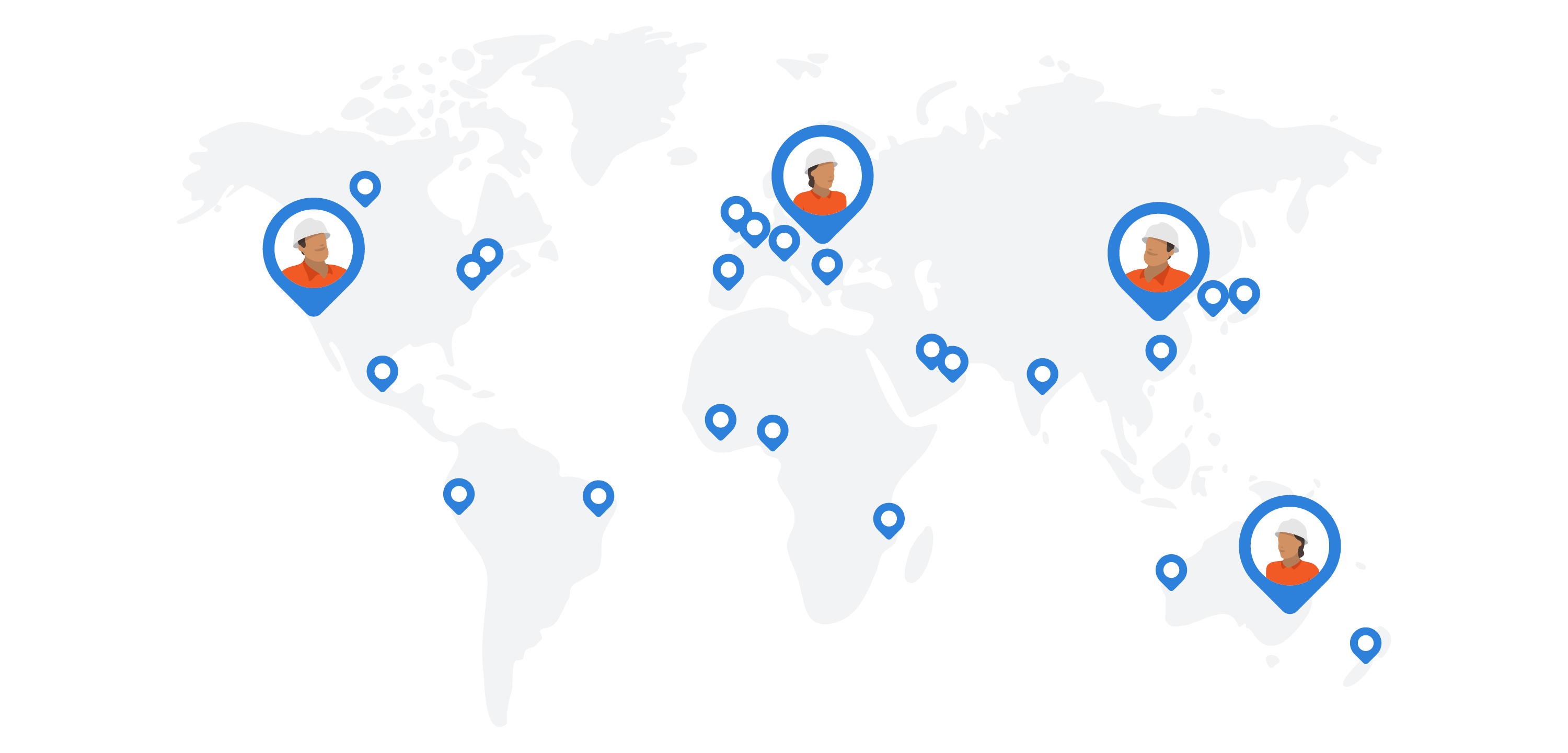 See how you can easily streamline your systems and processes with Sitemate today