Construction – Construction documents checklist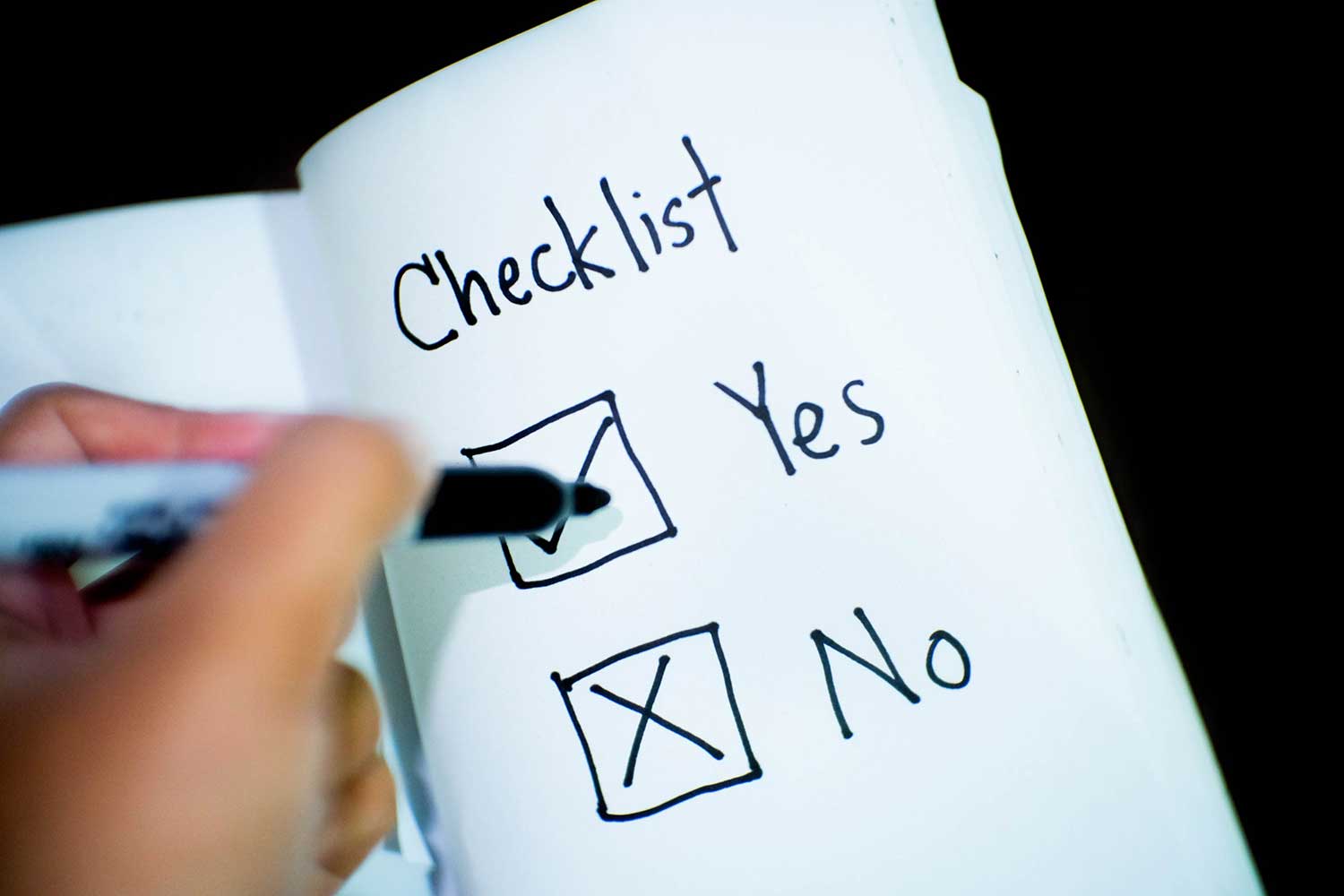 Construction documents checklist
What is a construction documents checklist?
A construction documents checklist is used by construction companies to ensure that they have all of their project documentation in place.
A construction documents checklist is typically used and completed before a project begins, but can be useful as a 'sanity' check at any stage of a project or any stage of the company lifecycle.
While the premise of a construction document checklist is always the same - to check off documents on a predefined list of required documents - the length and content of a construction document checklist will vary from company to company and project to project.
A company running a megaproject will need a lot more documentation than a company running a small 3 or 4 week project.
Nevertheless, the document checklist can be an equally powerful tool for any project size, as the impact of forgetting or omitting a project document is all relative and potentially impactful for companies big and small.
Do you need a construction documents checklist?
The easy answer to this question is that it depends.
Some of the companies who have smart systems and strict document controls  in place can get away with following their normal policies and procedures, while companies who manage their documents in a more dynamic fashion benefit with performing a document checklist for every project.
No matter how good and reliable your document controls are, it pays to have some form of a check and/or balance on most processes and procedures.
The time it takes to perform and complete a quick document checklist is a small price to pay for giving yourself another chance to ensure all of your critical project information is in place.
The two critical components of any construction document checklist
There are a couple of critical 'types' of documentation which need to be catered for on every project:
Site documentation which forms your project information management system
Project documentation which forms the planning, contractual and legal documents required to conduct the project
While these documents are inextricably linked, they often serve different purposes on a project, and it helps to segment them into their own construction documents checklist.
So first, we'll take a look at the information management system or IMS - the document checklist which covers the information being captured on site most days.
The information management system checklist
Your information management system needs to cover all of your core project and business functions, which means your construction documents checklist needs to cover these functions too.
Most of the important documents you'll need on 'every' project are summarised in the document checklist below.
SAFETY DOCUMENTS
 Applicable safety permits
 Safe work method statements (SWMS)
 Induction and pre-qualifications
 Applicable safety checklists
 Applicable safety reports
 Hazard identification forms
 Pre-starts and toolbox talk forms
QUALITY DOCUMENTS
Defect management documents
Punch lists (or snag lists)
Lot management sheets
Hold points and witness points
Corrective action reports
Test requests
Quality checklists and reports
RFI's (Requests for information)
ITP's (Inspection and test plans)
ENVIRONMENTAL DOCUMENTS
Applicable environmental permits
Environmental monitoring forms (noise and vibration monitoring)
Environmental checklists and reports
FINANCE DOCUMENTS
Timesheets
Dockets
Purchase requests
Project costing forms
Planned vs. actual costing sheets
COMMERCIAL DOCUMENTS
Site diaries
Delay and change management forms
Contractor pre-qualifications
Variation management documents
Meeting minutes sheets
Site instructions
Claims forms
Extension of time forms
PRODUCTION DOCUMENTS
Shift reports
Materials ordering and inspections
Quantity planned vs. actuals
Waste tracking
Budgeting and forecasting
Daily reporting
Managing all of this information using an information management system made up of folder structures, word docs, spreadsheets and PDFs can be a hassle, and extremely time-consuming.
One way to remove much of this effort and to largely automate the organisation and deployment of documents across projects is to use an integrated management system like Dashpivot.
A flexible IMS like this can help you digitise and streamline any or all of your site documents, from daily reports all the way to safety talks.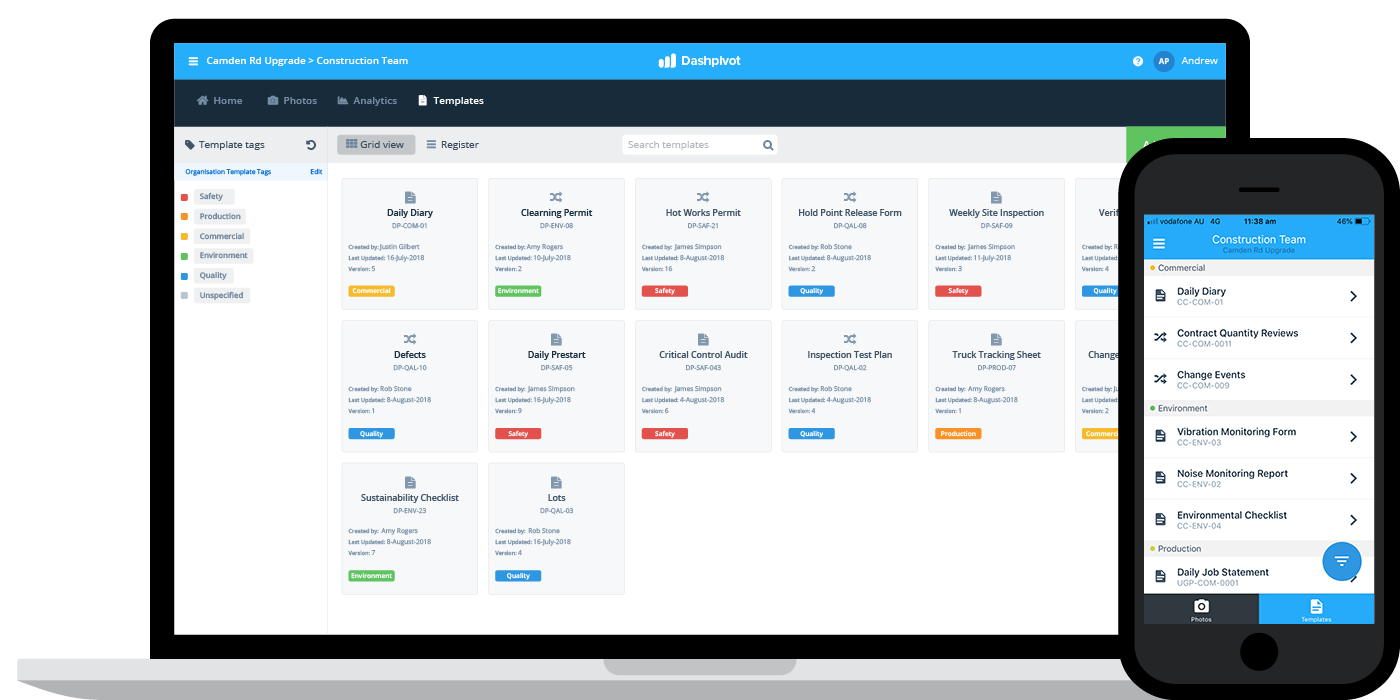 The project documentation checklist
The site documentation checklist is critical to keeping your projects well documented and on track. The 'project document checklist' is really important to keeping all of your policies and procedures above board - and for ensuring that your plans and other planning documents are in-line and audit proof.
The construction document checklist below covers most of this documentation which will be required or provided on most construction projects in some form.
ADMINISTRATION DOCUMENTS
 Submittal documents
 Information on construction documents
 Means of egress
 Exterior wall envelope
 Threshold limits
 Site plan
 Sewage disposal
 Approval of construction documents
 Amended construction documents
FIRE PROTECTION SYSTEMS
Fire alarm and detection systems
Smoke control system
STRUCTURAL DESIGN
Construction documents showing all structural members
Design loads clearly indicated for all parts of the building or structure
Wind design data
Earthquake design data
Flood hazard documentation
SOILS AND FOUNDATIONS
Soil reports
CONCRETE, MASONRY AND WOOD
Construction documents for structural concrete, masonry, truss drawings
SPECIAL CONSTRUCTION
Membrane structures
Temporary structures
SAFEGUARDS DURING CONSTRUCTION
Demolition
This is of course not an exhaustive list of construction documents, nor an exhaustive construction document checklist, but you can modify and adjust it to suit your needs.
Your construction document checklist should be comprehensive and thorough and leave no obvious or non-obvious document unturned.
The difference between a checklist item and a big dispute or legal issue is not checking that you have a specific document.
Documents are the lifeblood of your construction projects
Construction documents have changed over the years, and moved from paper, folders and files to largely software and cloud-based.
But the importance of documents has not changed, and it has potentially increased.
There is more scrutiny over how projects and construction companies conduct their operations than ever before, so it really does pay to capture, organise and track all of your documentation extremely closely.
Having a reliable construction document checklist is one of the easiest checks and balances you can place on your documents in order to safeguard yourself and your business.
People in 80+ countries use this project management software to manage their documents more effectively.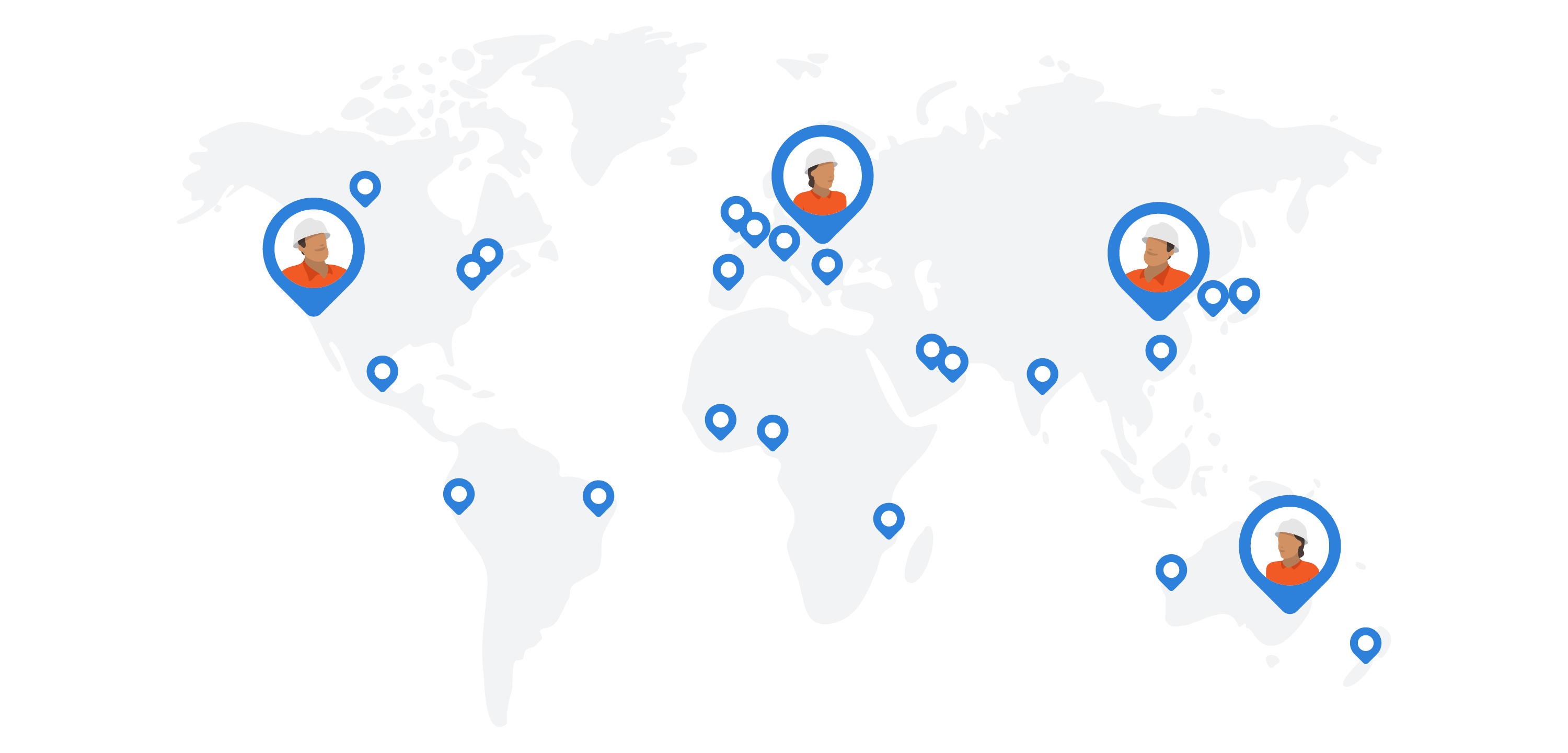 See how you can easily streamline your systems and processes with Sitemate today
About Lance Hodgson
Lance is VP of Marketing at Sitemate. His aim is to bring awareness to a brighter future for the Built World where industrial workers and companies work smarter.