The best timesheet app for construction and field-based companies
Make it quick and easy to document, organise, track and approve timesheets with one easy-to-use timesheet app and software system.
Streamlining companies, projects and teams of every size
Streamline and automate your timesheets with a smart timesheet app and software system
Use standardised timesheets which ensure every timesheet is accurate and reliable
Create your own timesheet form with a powerful drag-and-drop form builder, get started with our free timesheet template straight away, or convert your existing Word, PDF or excel template into the digital format.
Every timesheet is entirely flexible and editable, so you can add custom cost code dropdowns, photo and video references, labour hour table, digital signatures and more.
Access and complete timesheets on the app or computer quickly and easily
Enable workers and employees to fill in and share their timesheets on any device - computer, mobile or tablet.
The timesheet app makes filling in timesheets fast and easy, with pre-loaded cost code lists, automatic table calculations and digital sign off.
Every timesheet submitted is sent to the cloud in real-time, so there is never a missing timesheet or delay.
A good timesheet app is smart and time saving, with automatic calculations and other smarts
Doing daily, weekly and monthly calculations on paper, word and excel can take hours away from productive work for field and office workers.
When using a timesheet app, workers can enter their simple numbers and the software instantly calculates the results.
Create custom tables so you can calculate exactly what you want including break times, travel time and other inputs.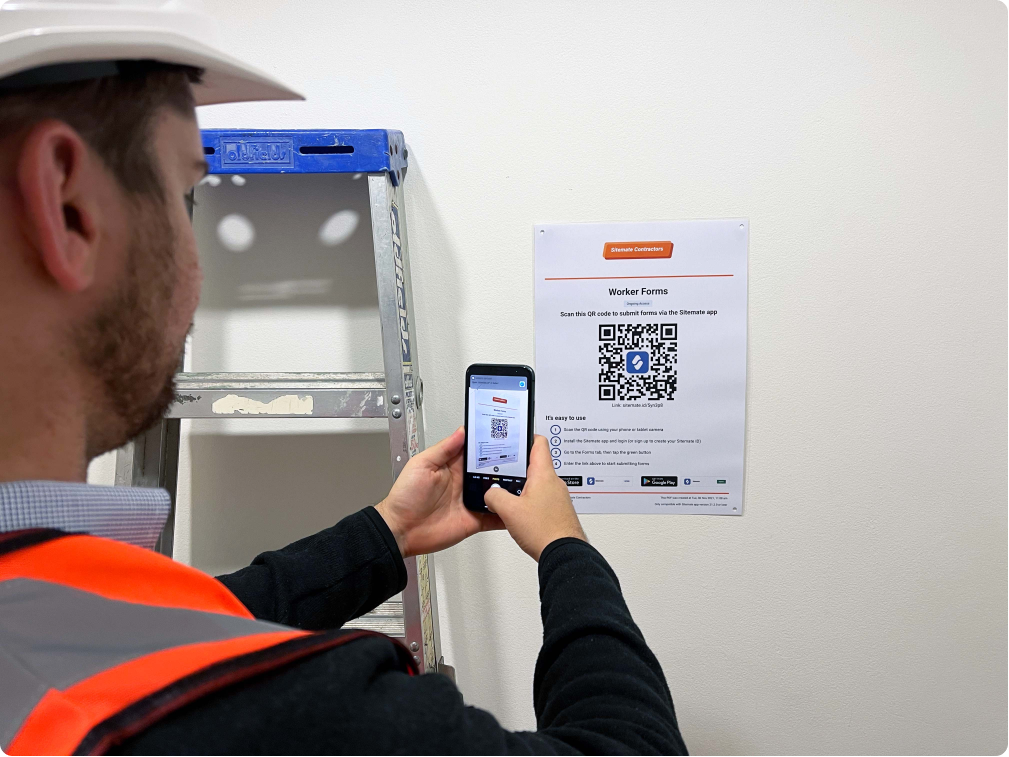 The most professional and affordable timesheet app
Digitise how all of your workforce do their timesheets easily and affordably.
Send your timesheet template to workers via a weblink, or have them scan QR code posters via the timesheet app.
Setup single submission timesheets which are free for all users, or provide ongoing access for internal workforce as a low cost user type, making digital timesheets a no brainer.
Setup an automated timesheet approval process in minutes
Chasing timesheets and hours worked can be time-consuming and headache inducing. Using the timesheet app, you can setup automated workflows which enable supervisors, office administrators or other workers to receive instant notifications and sign off when a timesheet is ready for approval or payment.
This way, you can always see which timesheets are waiting for approval and which ones are already dealt with.
Find any timesheet record quickly and easily
Timeline view
The timesheet software automatically stores all of the submitted timesheets into chronological order so everything stays organised and easy to look back on.
Register view
Instantly convert your timesheet records into a register to filter and find specific records. It's just like your excel timesheet register, but without any manual data entry.
Download timesheet records into CSV in one click for your accounting system, or integrate with your accounting and finance software
Get a better view of your construction timesheet data and company costings in real-time
The construction timesheet software automatically aggregates all of the data being submitted via system so that you can display it in graphs and charts.
Create a timesheet dashboard with multiple charts showing you how many hours have been worked, which cost codes have been used the most, and which people are working the most hours.
All of these charts and dashboards update automatically as data is being filled out every day.
Share timesheet records from the app in a single click
All of the timesheets created and submitted from the app or software can also be downloaded, printed and sent as PDF or CSV documents.
Each document also features your company logo and colours to keep it looking neat and professional.
Try this smart timesheet app for yourself for free