The risk assessment app for industrial companies
This risk assessment app enables industrial companies to digitise and simplify how they capture, manage and track risk assessments to save time, improve compliance and improve safety outcomes.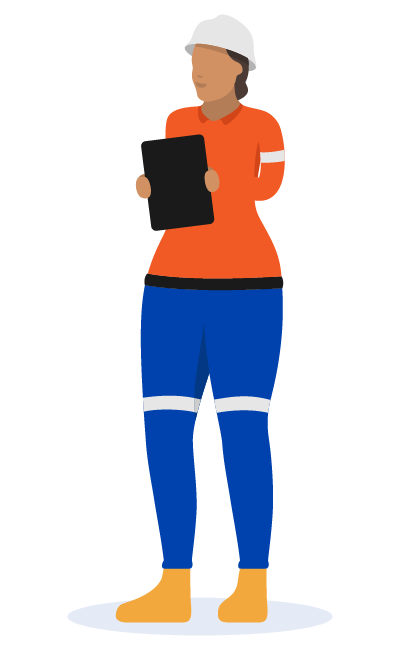 Helping better manage risks at projects and companies of every size
One flexible risk assessment app which can easily handle all of your risk assessment needs
One standardised solution for all of your risk assessments
Create your own custom risk assessment templates with simple drag-and-drop functionality, select from our free library of proven risk assessment templates, or upload your current forms from Word, Excel or PDF.
Deploy digital templates to the field and make it easier for everyone filling them in on site with dropdowns and tables, photos and video upload buttons, checkboxes, sketches and digital signatures.
Increase risk assessment completion by making it quick and easy for people to use the risk assessment app
Access and complete risk assessments on the risk assessment app, which is designed for all of your mobile and tablet devices.
The iOS and Android apps were designed to make completing and signing off on forms fast, accurate and easy. And if they need to, everyone can access and edit the forms on laptop or computer as well.
Real-time data and analytics about your risk assessments and safety peformance
Dashpivot automatically aggregates all of the data from the digital forms your people are completing in the field so that you can display it in safety dashboards and custom charts.
Understand what's happening with your risk assessments like how many risk assessments have been completed and by which person so that you can make informed decisions about how and what to improve.
Get all of the information you need for your records
Take photos and videos inside the Dashpivot app on mobile or tablet on site. Photos come attached with GPS location and coordinates, comments, timestamps and tags for easy searchability - giving you bulletproof records.
Become more safe and more compliant by keeping forensic like records
All of your photos and videos captured inside of risk assessment forms and for general safety and progress are automatically stored into team and project libraries, organised by date, and easily filterable by person, tag and dates - making your records easy to manage and impossible to lose.
Once forms and photos are captured with the app, eliminate double-handling with one-click automations
Timeline view
View and find your risk assessments in chronological order with supporting information and tight version control for safe record keeping.
Register view
Instantly convert your risk assessments into register fotmat. It's just like your trusted excel spreadsheet, but without the time-consuming data entry and formatting.
Need to get a risk assessment record out of the app or software?
Just print, download or share any risk assessment entry as a perfectly formatted CSV or PDF document which looks professional with your logo and brand colours.
You can also send risk assessments from the field using the mobile app in one-click.
More than a risk assessment app, if you want it to be
You can also easily digitise and streamline other processes including checklist, reports and permits across safety and other functions.
Focus on streamline your risk assessments, or use the app to make more of your processes more efficient.
Try this risk assessment app for yourself for free now