Streamline your SAT process to make sure equipment is functioning properly and is compliant with the project specifications.
Streamlining companies, projects and teams of every size
Build and share Site acceptance tests quickly
Save time by reducing back and forth, reduce errors and avoid missed information by using Dashpivot to organise your site acceptance test processes.
Make sure the right data is captured by creating a standardised template that you can share to the whole team to use. Add required checklists to make sure every task is done.
Add required fields to your Site acceptance tests
Avoid delays due to missing information or incomplete tests holding up projects.
Any standard tasks as part of your site acceptance test process can be made mandatory and it won't be marked as complete until they're done. Defects, punch list items or anything else that needs to be captured can be accompanied by photos and videos to document.
Use attachments to properly document your site acceptance tests
Avoid spending time finding the supporting documentation for any site acceptance tests or having to chase up missing photos, videos or PDFs.
Attach photos, videos or PDFs directly to the tests so all of the necessary data is in one place.
Use photo markup to give better context to your SATs
Better documentation will save time by giving clearer context as to what the tester is referring to.
All photos and videos taken on-site have timetamps and geotagging, but you can also add markup to photos and PDFs to highlight important details that you can reference.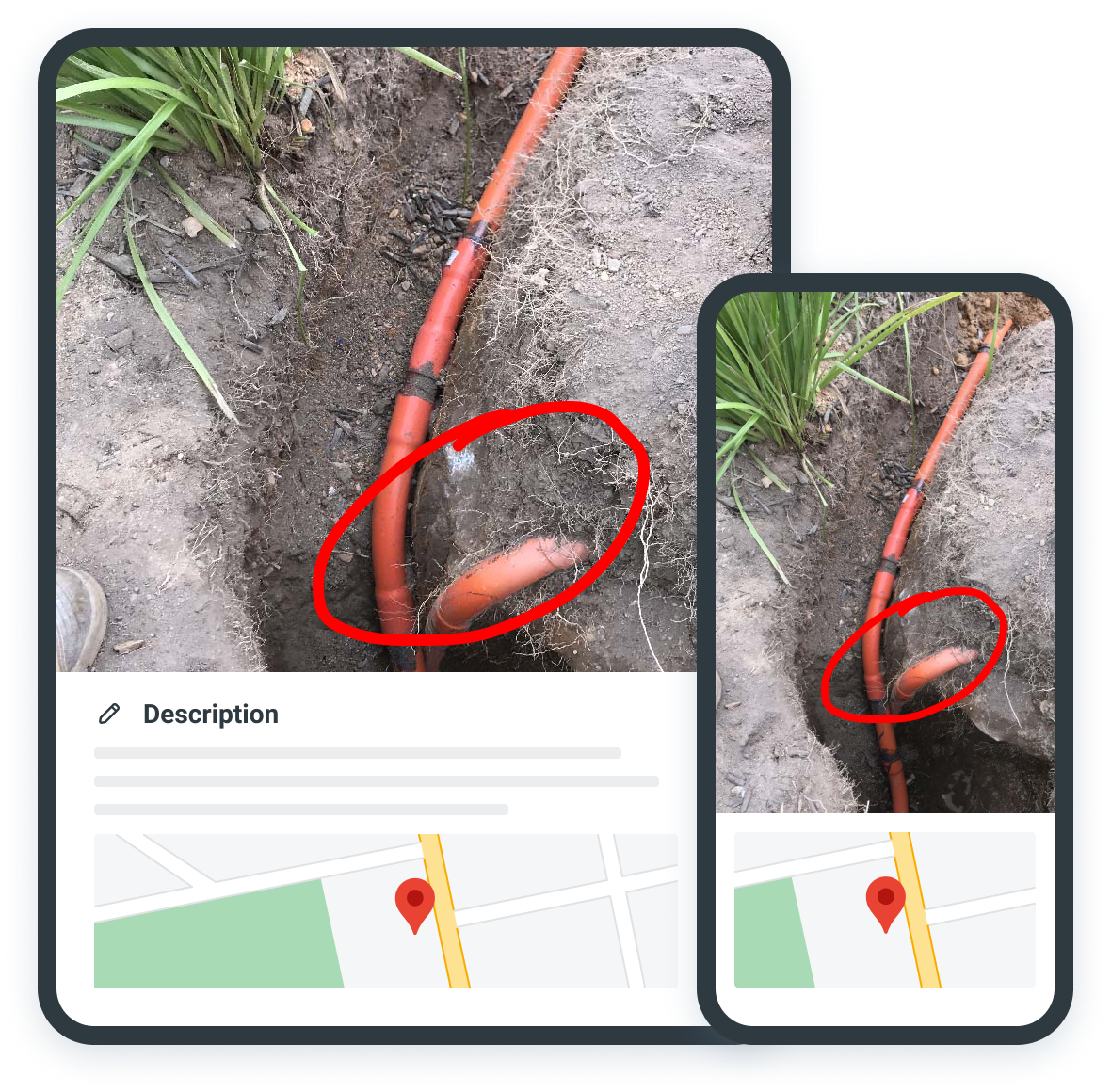 Create your own automated processes and workflows for SATs
Automate the manual process and avoid the delays of chasing up sign-off approval once a site acceptance test is submitted.
Build workflows for when a form is submitted, it moves to a waiting for approval status and notifies the approver that they have a test they need to review.
Share site acceptance tests as a PDF or CSV
Instantly print, download or send any of your site inspection tests as perfectly formatted CSV or PDF documents directly from the field or in the office.
Every factory acceptance test has your logo and company colours, so everything stays standardised and professional.
Get actionable insights on SATs from the Analytics Dashboard
Understand your site acceptance test behaviours to build efficiency in your processes.
View all submitted SATs and use filtering to understand how frequently they're being submitted and then approved, how many are outstanding.
Use breakdowns to understand how different locations or inspectors are submitting forms and how often.
More than 'just' a site acceptance test app - if you want it to be
Tired of chasing all of your documents, photos, spreadsheets across multiple platforms?
Dashpivot is a flexible app which works for quality use cases like hold point inspections, ITPs, and for other site activities and processes including daily reporting, site instructions, toolbox talks and more.
Use Dashpivot to take care of just your SATs or consolidate all your processes and workflows into a single easy to use app.
Try the site acceptance test app and software for yourself for free