Enable any worker or site visitor to sign and submit forms digitally
The Sitemate app enables your internal workforce and external parties to create free digital ID cards they can use to signoff and submit forms electronically
Streamlining companies, projects and teams of every size
The Sitemate app replaces manual paperwork with streamlined and professional processes
Free and secure digital ID card always one click away
Any internal or external worker can download the free Sitemate app onto their iOS or Android device in a couple of minutes, with no email address or detailed logins required.
Once downloaded, each worker has a unique and secure digital ID card they can use on any of your sites at any time.
Contactless signatures to save time and improve compliance
Paper sign in sheets and manual signatures are slow and messy.
Using contactless scan and sign, a worker can have their ID instantly scanned by the default camera of another device to stamp their name, company, signature and location onto a form.
You then have a perfectly legible and detailed log of all people who acknowledged and signed off on that document.
Instant electronic form submissions
Eliminate paperwork and admin for internal workers, site visitors and your office teams with completely paperless form submissions.
Anyone can receive and submit forms via the Sitemate app, with smart form fields including checklists, text fields, tables, photos and digital signatures.
All app users also receive a log of their form submission history for easy traceability.
Single submission form usage is completely free for internal and external workers, while the more convenient ongoing access to a form or group of forms is a low cost paid user type making digitising your whole workforce easy and affordable.
Create and setup professional processes in seconds
Sitemate forms can be shared with Sitemate app users via QR code posters or one-click generated weblinks.
Setup QR code posters at any location which anyone can walk up to and scan with their camera. Each QR code can enable access to a single form or group of forms.
Or simply send a weblink, which a person can just click on to access, open and then submit the form.
You maintain complete control over the forms and process, with the ability to archive old and redundant QR codes or links as you go.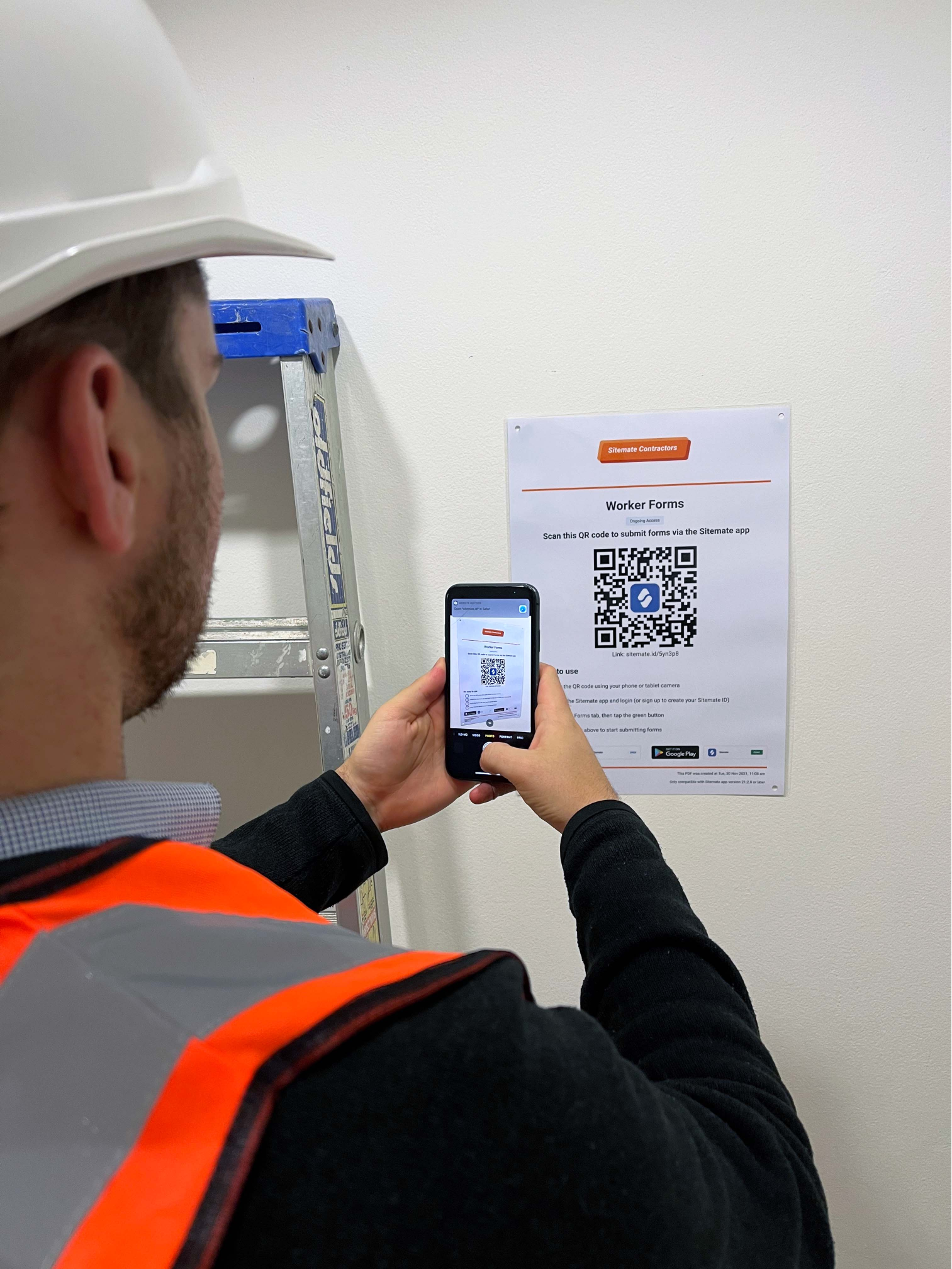 Send and receive forms from anywhere
Work smarter and not harder and say goodbye to manual scanning, emailing back and forth and trying to collect paper forms.
Sit back and watch as the form submissions come right into your database and perfectly organised in real-time.
The Sitemate app is used in conjuction with the Dashpivot platform
Dashpivot is the software platform which enables you to generate QR code posters and sitemate form links, and is the digital database which stores all of these form submissions and digital signatures being executed.
Dashpivot users are typically office and admin workers, supervisors, foreman, project managers and company managers who track progress and paperwork across the business.
Any worker can access and use the Sitemate app, but you or a company you work with will need a Dashpivot account to send, receive and manage all of that information.
Works like a dream for some of your most important documentation, and can be used for a number of other use cases too
Streamline how people sign in and out of your sites and locations
Bulk sign off on group pre starts quickly and easily, or submit plant pre starts
Have workers easily sign off on method statements (SWMS / RAMS)
Have everyone signoff and acknowledge toolbox talks in seconds, from anywhere
Easy electronic timesheets for workers, and bulletproof records for companies
Make inductions simple and compliant, before or after people arrive on site
Sign off on JSAs quickly and compliantly
Hazard & incident reports
Make safety reports easily accessible so people can engage in safe work
Signoff and/or submit any type of docket electronically
See how Dashpivot and the Sitemate app are being used by others like you
You want people from all skill levels to be able to use it and i think that we've definitely found that and having the apps on smartphones has meant that the guys on site and all of our subcontractors have easily been able to adapt to it.
Sophie Foss
Project Manager | Hunter Mason
Start easily streamlining your processes with the Sitemate app