The smart toolbox talk app
Easily document and automate toolbox talk sign offs directly from site, making your toolbox talks easy and compliant.
Streamlining companies, projects and teams of every size
Access and complete your toolbox talks from any device
Open the toolbox talk app directly on site. Add information and discussion topics as you go, and then have everyone quickly sign off on the discussion so you know who attended and when.
All of your created and completed toolbox talks are automatically stored and organised online, where you can easily find them, edit them or convert them into a professionally formatted PDF document.
Contactless scan and sign for lightning fast and compliant toolbox signatures
Perfect for toolbox talk sign offs and group signatures, contactless scan and sign enables people to sign off on documents using a secure and free digital ID card.
This saves time, reduces cross-person contact and also makes your records more reliable with better data attached to each signature including the persons name, the time and date of the signature and GPS location.
Send, submit and receive toolbox talks from anywhere
Distribute toolbox talks to workers and 3rd parties no matter where they are via weblinks.
Send a link to anyone you want to acknowledge the toolbox talk, and they can just click on that link, read the form, complete any form fields and then signoff.
Once signed and saved, all of the forms are instantly available for viewing and storing in the database, perfectly organised and compliant.
Make safety easy and compliant for everyone
Setup a QR code poster on site so that people can scan and open toolbox talks.
Add new toolbox talk forms and topics from the office as often as you want, and as workers sign the QR code each time it will open the latest version of the toolbox.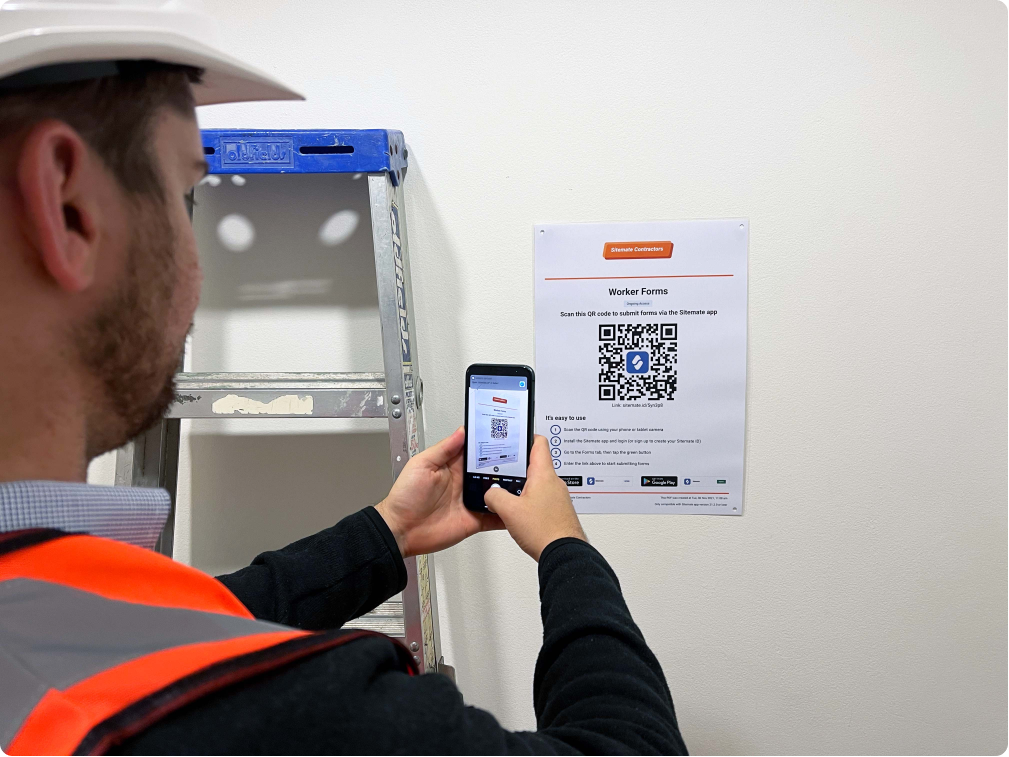 Digitise your toolbox talk form and records
Create a custom toolbox talk form with a powerful form builder, or use the free toolbox talk template in our template library to get started right away.
Build a smarter toolbox talk form with topic tables, date selectors, digital manual signatures or completely contactless signatures.
Keep all of your toolbox talks from the app organised and compliant, automatically
Timeline view
View all of your toolbox talks in timeline order, so you can see when each toolbox talk took place and easily trace any record.
Register view
Convert all of your toolbox talk records into a register in a single click. Filter and find what you are looking for, just like in excel.
Track your toolbox talks and safety practices more accurately over time
The toolbox talk app automatically 'counts' and aggregates all of your data so that you can get analytics and information about your toolbox talks and safety production, including things like how many toolbox talks were conducted on a specific site, team or subject
Download, print or share a specific toolbox talk record from the app
Any of your toolbox talks captured with the toolbox talk app or software can be instantly download, shared or printed in PDF or spreadsheet format - and comes attached with your company logo and colours to keep everything looking neat and professional.
A simple toolbox talk app, and a powerful safety system
You want people from all skill levels to be able to use it and i think that we've definitely found that, and having the apps on smartphones has meant that the guys on site and all of our subcontractors have easily been able to adapt to it.
Sophie Foss
Project Manager | Hunter Mason
Start easily streamlining your processes today