How to add timestamp to a photo

How to add datestamps and timestamps to a photo on iOS and Android devices
What are time and date stamps?
Time and date stamps on photos were very common in the eras of analog photos and cameras, as well as the first digital cameras which weren't mobile phones.
The may remember seeing the slightly orange lettering on your printed photos or digital photos, which was used to 'stamp' your photos with the time and date.
With the advent and mass adoption of the iPhone and Android devices, time and date stamps became less common, and are mostly used as a novelty for making new photos look old.
But while time and date stamps have fallen out of favour for casual photos, they still play an important role in official photos - and making a record of piece of evidence official.
For our purposes today, we are going to focus on a few industries who are still heavily focused on photos as records, documentation and compliance in general - and those are the field-based and industrial industries including construction and building, manufacturing, transport and logistics, and mining.
Why would you add time stamps, date stamps or any stamps to iPhone or Android photos?
Many companies and people still need to stamp their photos with critical metadata including the time, date, GPS location and more.
These metadata stamps serve as undeniable proof of the exact date and time a photo was taken, which is crucial for documentation and the sharing of records.
When sharing a photo as proof of something, it's much easier to get your point across and win your argument if the photo itself declares when it was taken, and potentially where as well.
A great example of an industry where time and date stamped photos are still very relevant is the construction industry, where workers document progress, defects and other issues on site. It's very helpful for workers to be able to share these records when they are time and date stamped, as they are often the 'proof' which with decisions and even claims are made.
How to add time stamps and date stamps to a photo...
Now that many photos on Android and iOS devices don't have time and date stamps by default, people have begin to search for how to add time stamps to a photo.
There are a number of ways in which you can add time and date stamps to your photos, and the best one for construction and field workers is to use a simple photo stamp app for your Android and iOS photos.
There are are a number of photo stamping tools out there for different use cases including making your photos look vintage and removing photo stamps from old photos, and more specialised or industry-specific apps like Dashpivot which were designed specifically for industrial style and field-based workers.
Adding time stamps, date stamps and other relevant to your stamps inside of Dashpivot is incredible easy.
You simply open the app, and update your settings. You can choose to apply or not apply stamps to your photo records, and customise the extent of your photo stamps including:
Time stamps
Date stamps
Exact GPS location stamps
Name of photo taker
Company name
Project name
Team name
You can also customise the time format, as well as the stamp colour and where the stamp appears on your photos.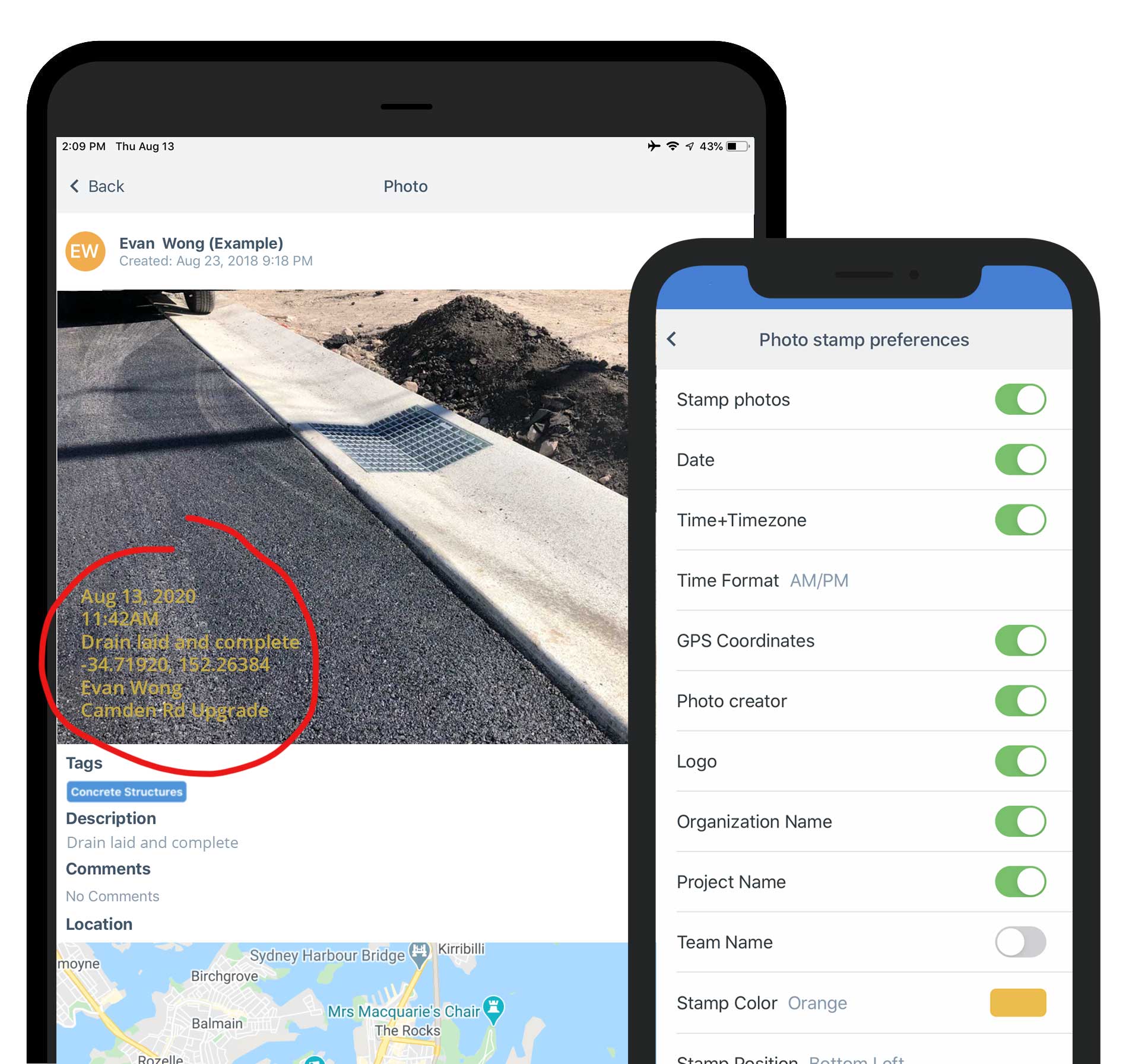 The great thing about using a tool like Dashpivot for your photo stamping is that you can actually capture all of your photos inside of the app, which will automatically be stamped with your chosen metadata.
You don't have to take the photos and then add the stamps later.
In addition, you can upload your field records and photos and have them instantly stamped as well.
On top of that, you can even store all of your stamped records inside of the app and database, so you have a secure and reliable place for all of your critical evidence which you can go back to and easily find your photos at any time.
How to add more than time stamps to a photo
The great thing about using software for your time and date stamps is that software can also do other smart things for your photos.
Other key metadata which can be crucial for photos as records and evidence include map locations, tags to organise and structure photos, comments from other people, and markups to draw attention to specific areas of a photo.
With the right app, you can achieve and add all of these metadata as you are taking your photos, so you build bulletproof records you can rely on.
Once again, the use case here is for field and construction workers, who spend their days documenting defects and updating project managers about specific supplies, safety issues and other happenings.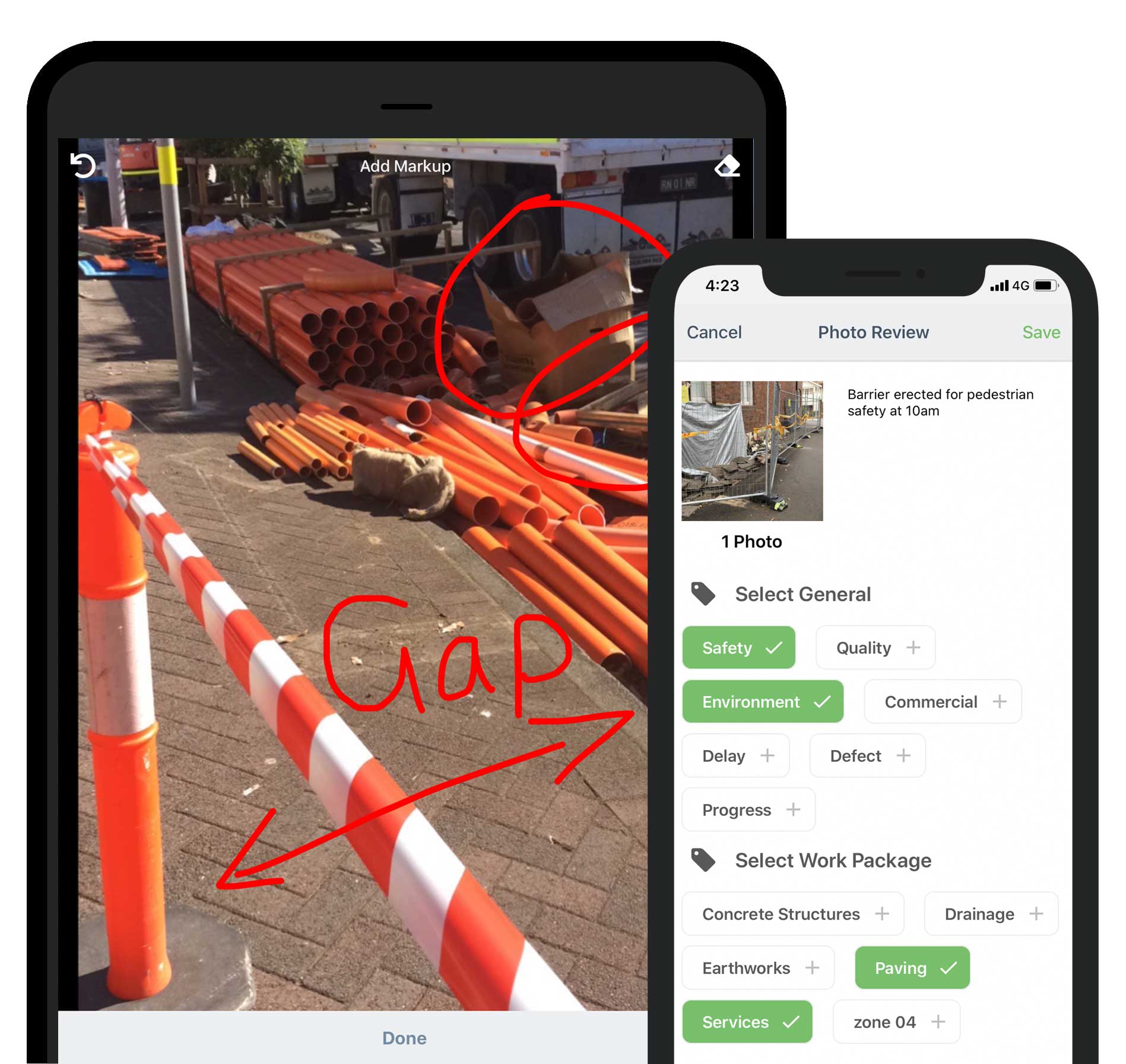 Upgrade all of your photo and field records with ease
As you can see from this article and examples, how to add time and date stamps to your iPhone and Android photos just srcapes the surface of what's possible in terms of turning your field or official records into bulletproof evidence.
Using the right tools and softwares, you can upgrade any or all of your records at the time of capture, or after.
For construction and field-based companies who rely on field records as well as detail like time and date stamps, having the right tools in place often does mean the difference between winning and losing thousands or even millions of dollars in claims.
You can try this photo stamping app for free here.
See how you can easily streamline your photos, systems and processes with Sitemate today
About Lance Hodgson
Lance is VP of Marketing at Sitemate. His aim is to bring awareness to a brighter future for the Built World where industrial workers and companies work smarter.