Company
Haldon Industries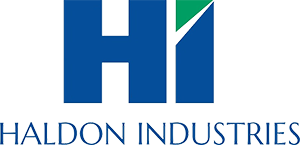 Industry
Water Treatment Solutions
Role
Subcontractor / General contractor
Haldon Industries provide bespoke environmental engineering solutions to the waste management remediation and construction industries. The company works on everything from the major construction and infrastructure projects down to small remediation jobs as well.
Haldon Industries services clients Australia wide and are currently developing a presence internationally. Haldon successfully delivers bespoke solutions to a wide range of public and private sector clients including small local companies, government agencies and international organisations. The main works Haldon engages in include:
Water treatment
Groundwater dewatering
Sludge management
Waste solutions
Haldon always delivers excellent quality service backed by a wealth of expertise.
How does Haldon use Dashpivot software?
Use cases
ISO accreditation, integrated management system
Functions
Environmental, quality, safety, commercial
Watch the case study video below to see the Haldon Partners talk about Dashpivot and their ISO accreditation, or read below to learn more
ISO certification
Gaining ISO accreditation is an important step for many industrial companies like Haldon Industries.
"One of the main reasons that we wanted to get ISO accreditation was that we wanted to open more doors for ourselves regarding being able to win and take on bigger jobs and move away from being always the subcontractor and be able to be the principal contractor on some of these projects." - Sean Halpin, Partner @ Haldon
Getting ISO certification for most companies involves two major pieces:
Ensuring that the company has the right processes and procedures in place to meet the ISO requirements
Ensuring that the company has the management system in place to document and record these processes and procedures
Many companies use these two pieces as a point in time to assess their current processes and procedures as well as their current management system.
For Haldon, moving towards ISO accreditation was a chance to adopt and implement a truly integrated management system like Dashpivot.
"As a business we definitely saw the benefit of rolling out an integrated management system in line with the ISO standards the main benefits are well on one side it's being able to go for larger and larger jobs as the business continues to grow, it's also about managing that growth and being able to stay on top of our environmental, health and safety and our quality compliance as the company gets bigger and bigger."
As a flexible IMS, Dashpivot enabled Haldon to move their current manual processes straight into a digital format. They could continue to build upon the good processes and procedures they had established but simply implement them in a way which was more efficient and more in-line with the ISO - which also reduced the friction and difficulty associated with managing change.
Key parts of ISO certification like demonstrating the IMS become extremely easy, with the ability to show exact procedures through the workflow feature, to view all records or a specific record in a couple of clicks, and to show all of the IMS in a single tool.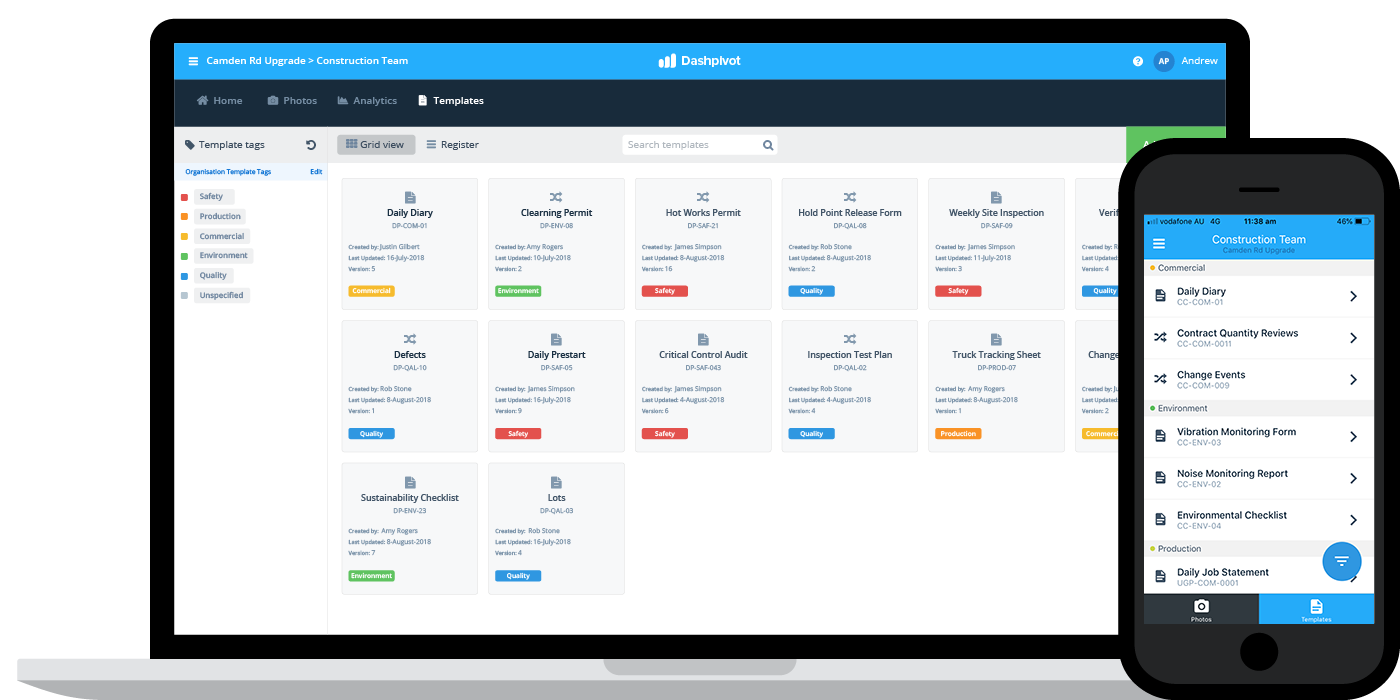 See the software for yourself.
Streamlined paperwork
Like many businesses, Haldon Industries doesn't want to trade upgrading their accreditations and becoming more compliant with wasting more time on paperwork.
"One of the risks that we wanted to manage was trying to move away from implementing a more traditional paper-based system which would have been clunky and labour-intensive and taken away from the business's productivity, we saw all these different platforms available and Dashpivot was the one that sung out to us that was going to meet all our needs and really become part of how we operate as a business."
The great thing about a tool like Dashpivot is that companies like Haldon can improve their compliance and paperwork while also saving time, saving money and streamlining their processes.
Smart features like form cloning, dropdowns, digital signatures, real-time syncing and automatic registers remove the admin associated with typical paperwork.
Project managers and other workers who were previously spending hours and hours on manually entering data, scanning and emailing that information and that reconciling that data later can eliminate the majority of this work almost instantly.
"With time savings come cost savings, so Dashpivot definitely pays for itself in the first day of each week let alone the next six." - Jake Reardon, Partner @ Haldon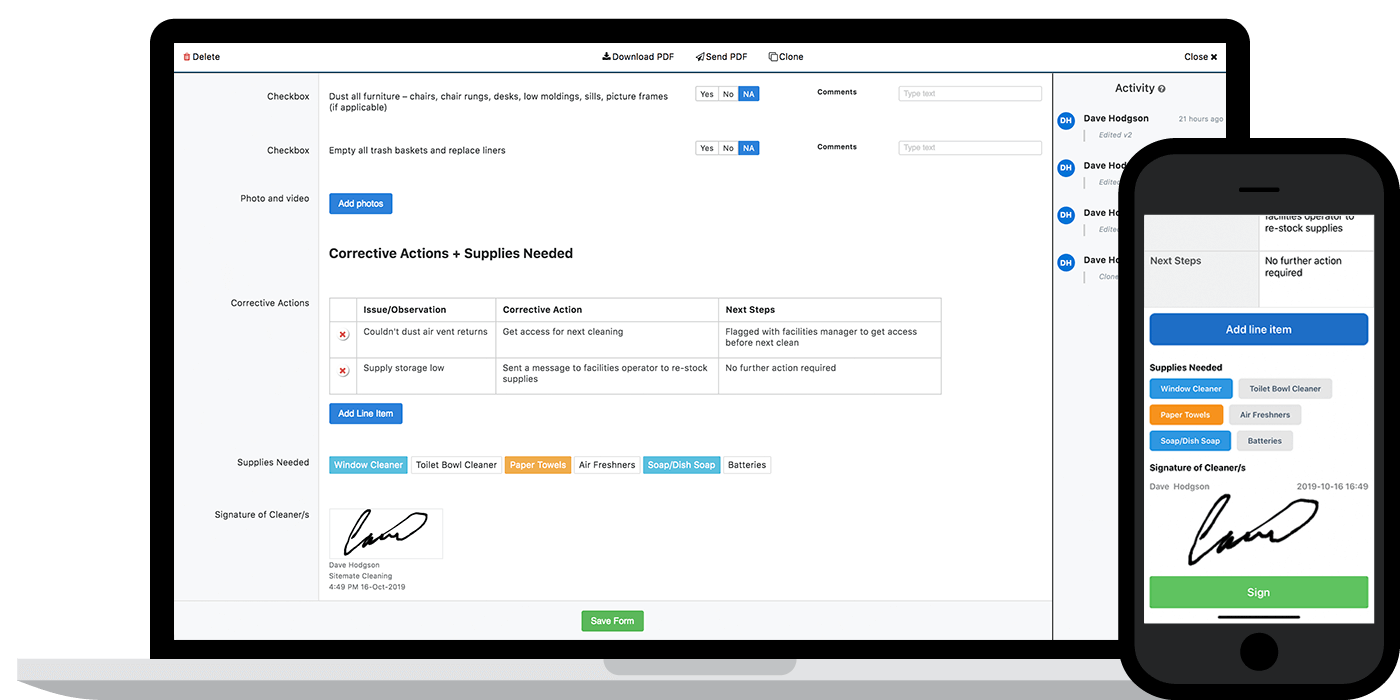 Summarising the impact of Dashpivot at Haldon Industries
Moving towards ISO accreditation and other certifications is a natural progress for many companies. These certifications enable companies to be more professional and legitimise their business, resulting in more work and/or bigger projects.
But ISO standards and other standards can be intimidating, with the prospects of more compliance and the risk associated with bigger projects also adding to the friction associated with accreditations.
Not to mention some of the preconceived notions around ISO documentation, such as it taking time away from the business and real work.
A good management system can alleviate most of the stresses associated with these transitions. The system takes care of all of the document control and record keeping for you; the system makes it easy to demonstrate your IMS at any time and find any record in a few seconds; and the system also streamlines the paperwork in a way which results in improved time managament and productivity of a workforce.
Sean Halpin from Haldon Industries summarised Dashpivot well when looking back at the impact it has had on its own ISO journey and the broader business:
"I'd recommend Dashpivot to anyone that was looking to obtain their ISO certification but I'd also recommended it to anyone that was looking to improve the way that they do business."
Looking at gaining ISO certification or streamlining your business? try the software for free or talk to our team.