Project management software for
Safety

teams
Dashpivot flexible safety management software enables safety teams to streamline their processes, forms and records to better track compliance and achieve their LTI, MTI and home safe goals.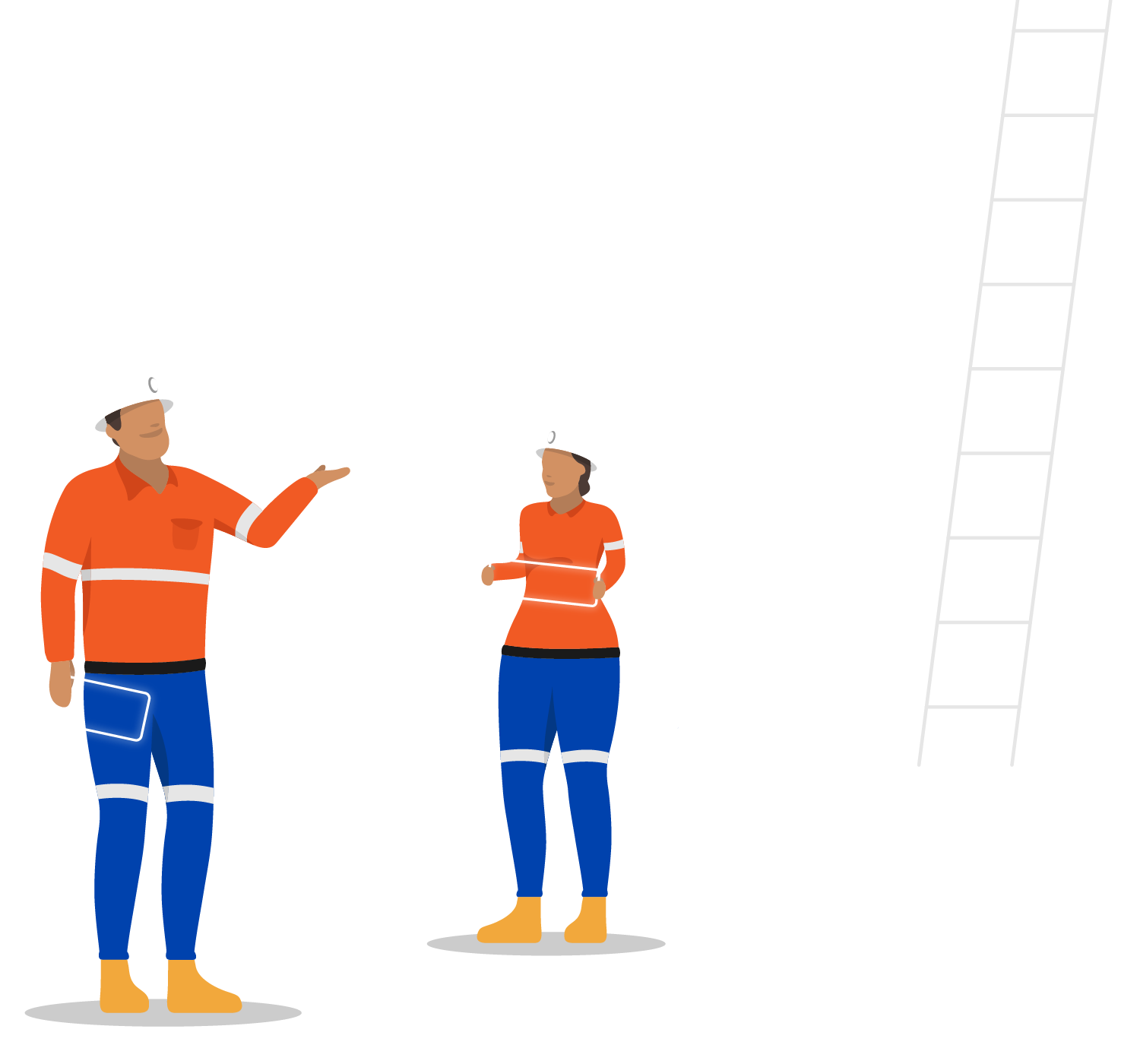 Used by the safest safety teams, managers and engineers on projects of all sizes.


Improve safety compliance and reduce site accidents and injuries by becoming more proactive about permit completion & management.
Streamline the documentation and approval process of those incredibly important safety processes so that everyone is doing the right thing; everyone is informed; and people get home safe.
Templates
Create & automate safety permit transfer and pending approval notification for real-time digital sign-off for internal and extrenal parties.
Photos
Take and attach safety inspection photos on site, which are tagged as 'safety' and feature time, date, and location stamps for easy access and traceability.
Analytics
Get accurate data and insights on safety performance with custom permit status and permit compliance dashboards.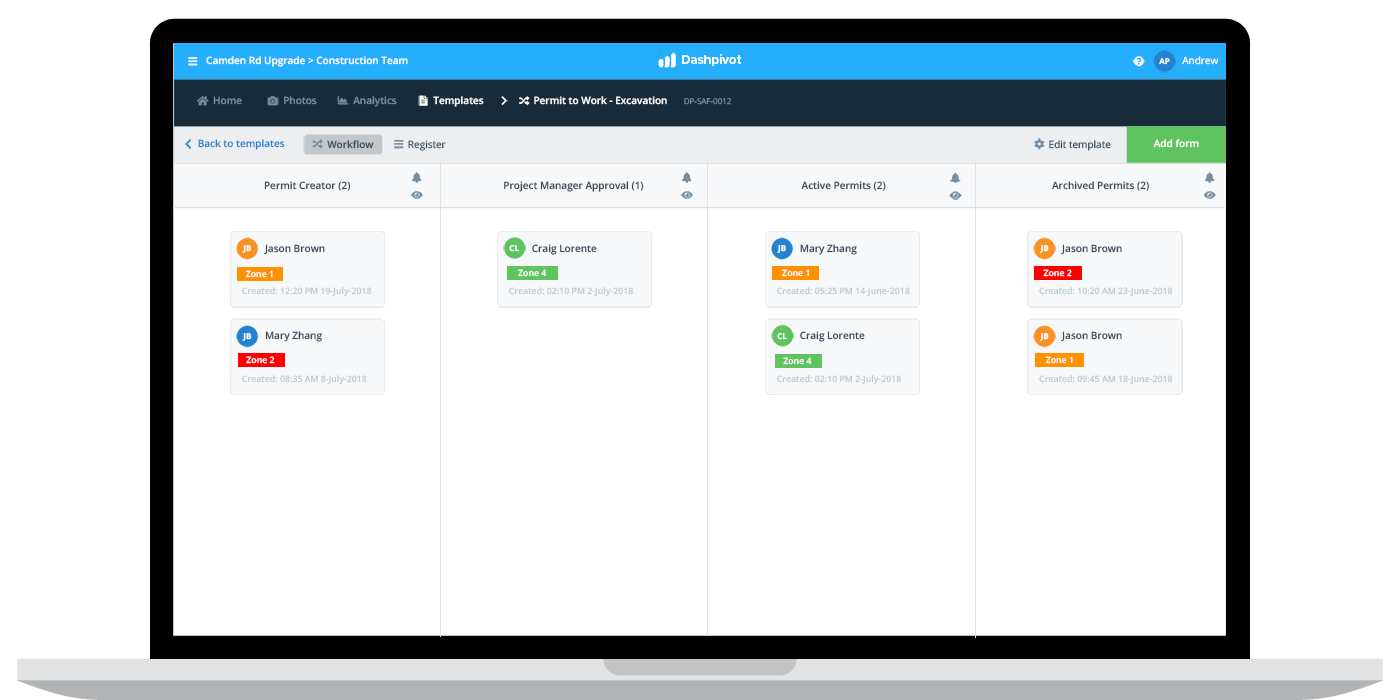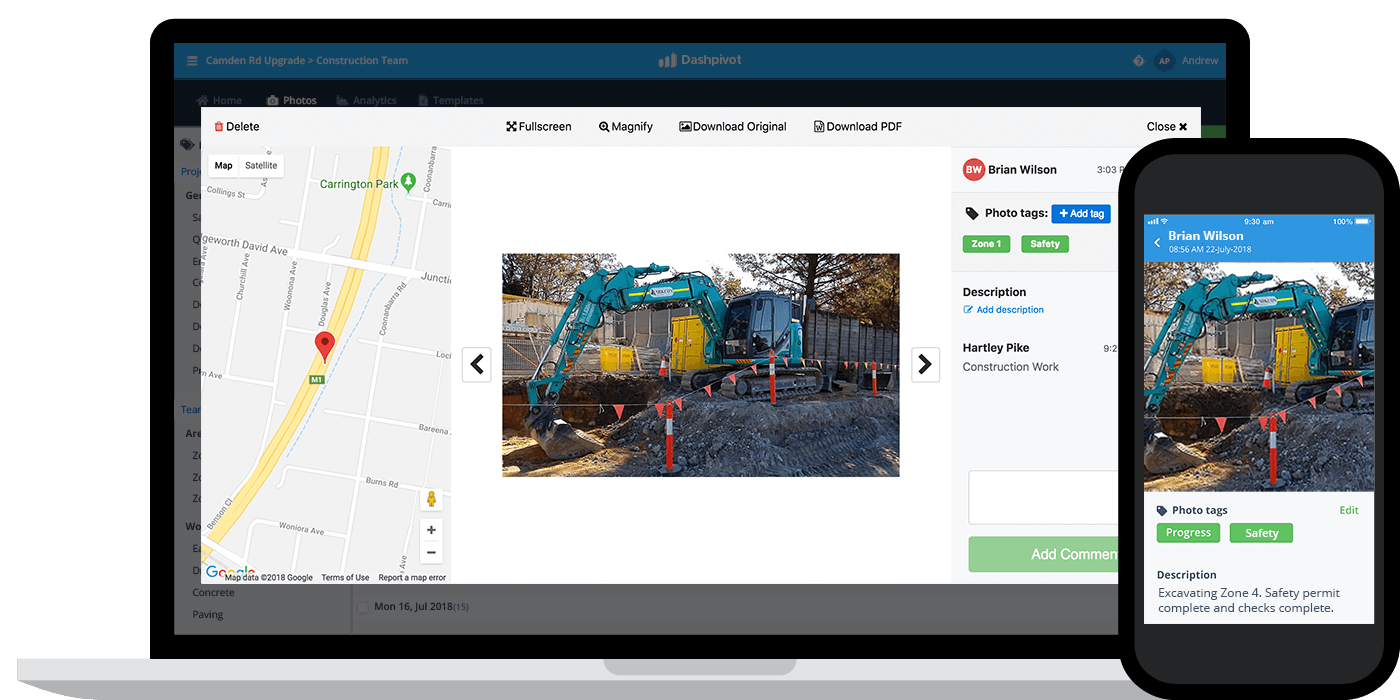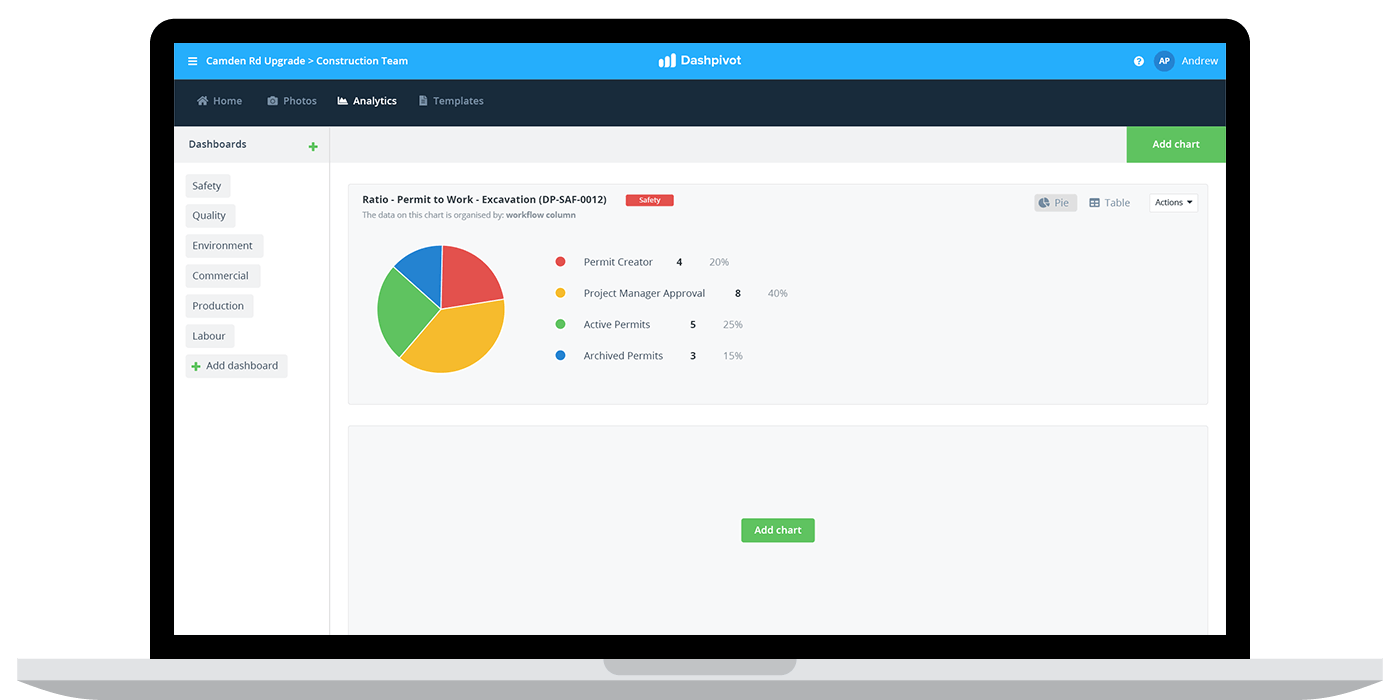 SWMS (SAFE WORK METHOD STATEMENT)
Make more informed decisions about your SWMS process - resulting in less incidents.
Streamline your project and team tasks through better SWMS completion and management - and improve your processes and overall safety record over time.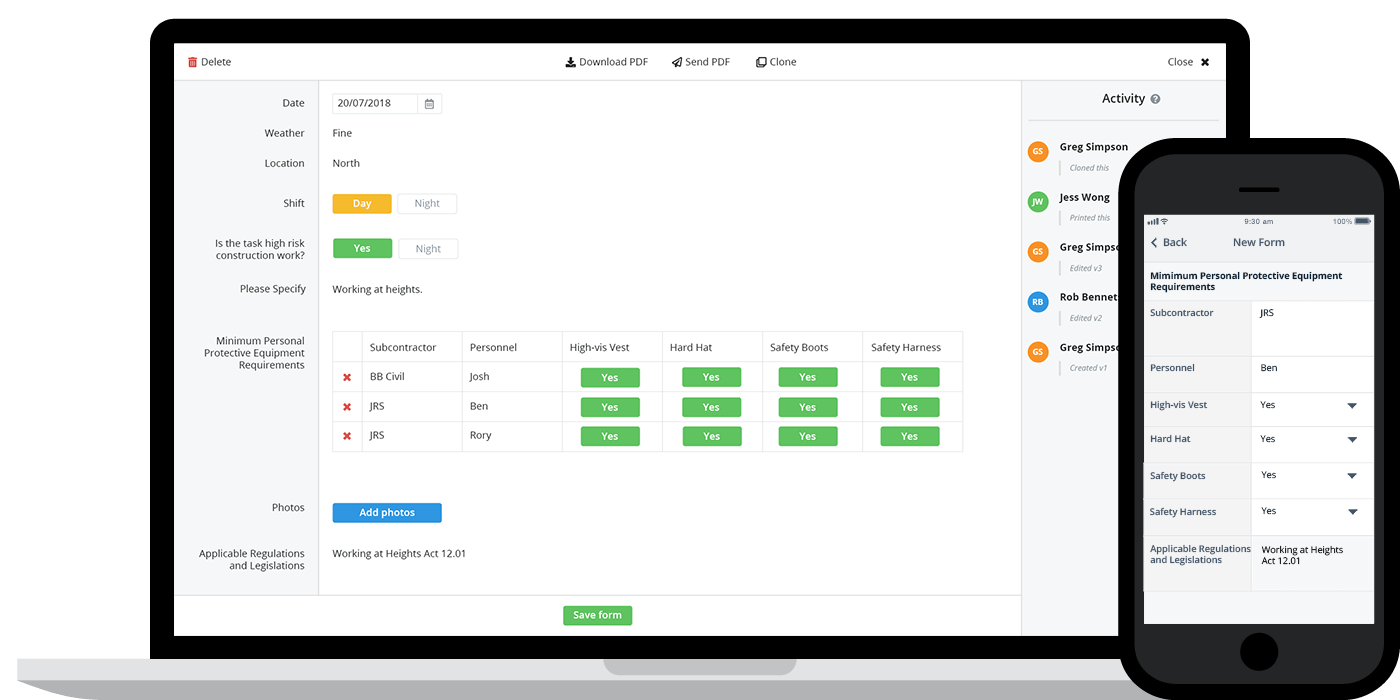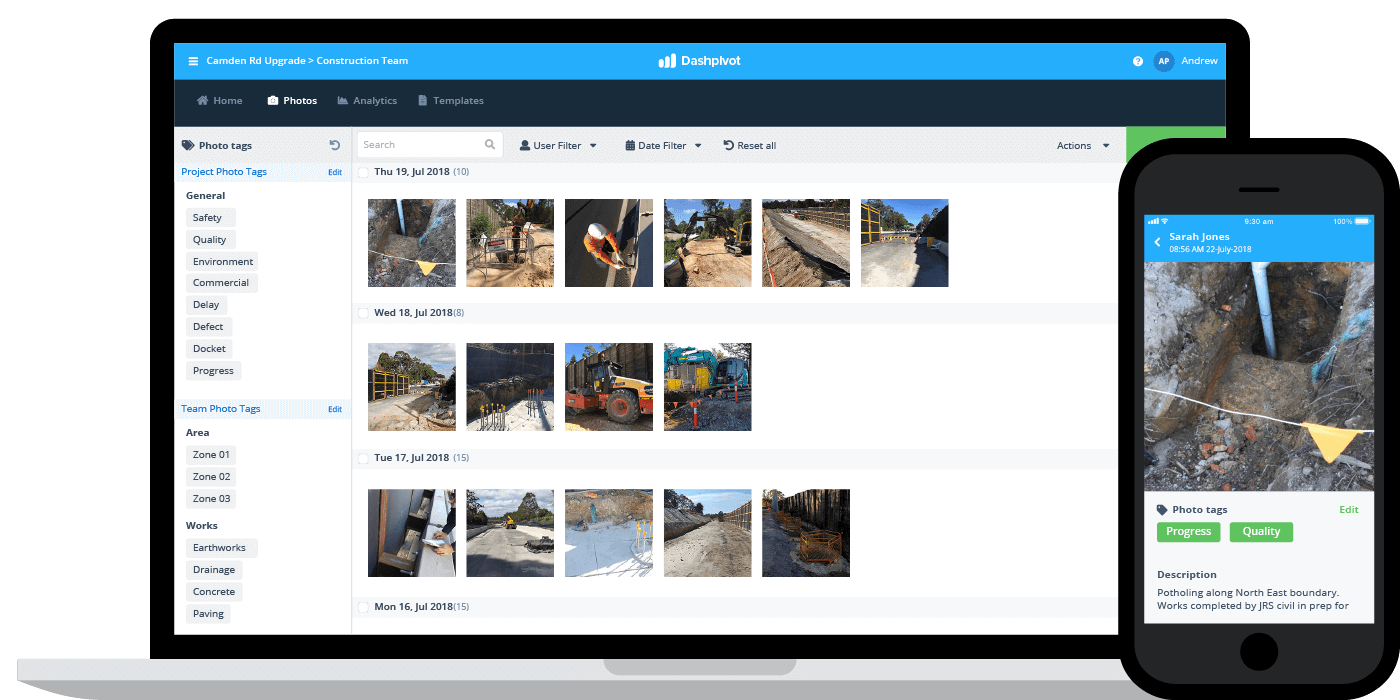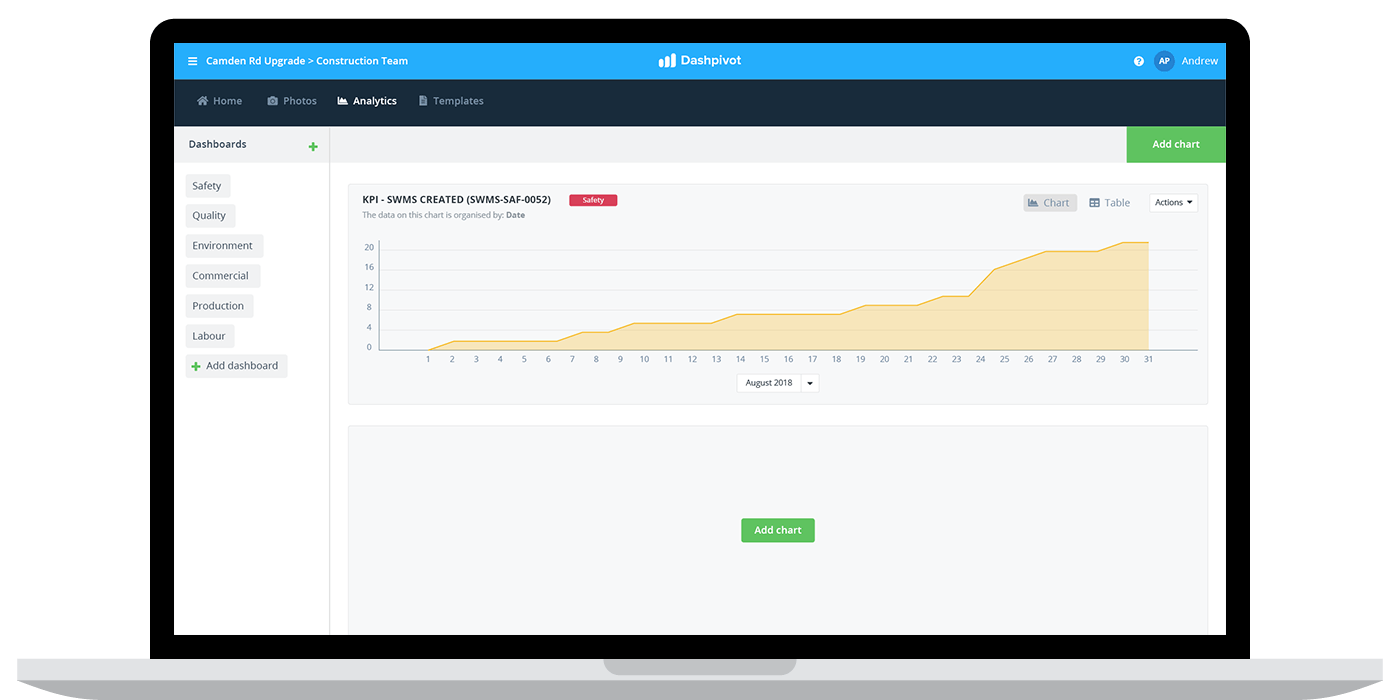 Templates
Create digital SWMS forms with ease using Dashpivot's simple drag-and-drop form builder.
Photos
Attach relevant photos at every step of the process required to complete a given task.
Analytics
See SWMS status dashboards and get insights which help you improve your processes over time.
SAFETY CHECKLIST SOFTWARE & APP
Ensure your safety checklists aren't being given the tick-and-flick by making them easy to fill in (properly) on site.
Create digital safety checklists at the organisation level which can then be deployed across projects and teams to standardise data collection and make sure everyone is maintaining the same high safety standards.
Templates
Build, edit and manage all of your checklists in the cloud. Dashpivot is a secure digital system of record which people actually like using every day.
Photos
Attach photos and other media directly to checklists so nothing is missed and it's easy to trace incidents or do further investigations.
Analytics
Automate a KPI dashboard which shows the number of inpsections completed at the team, project or organisation level.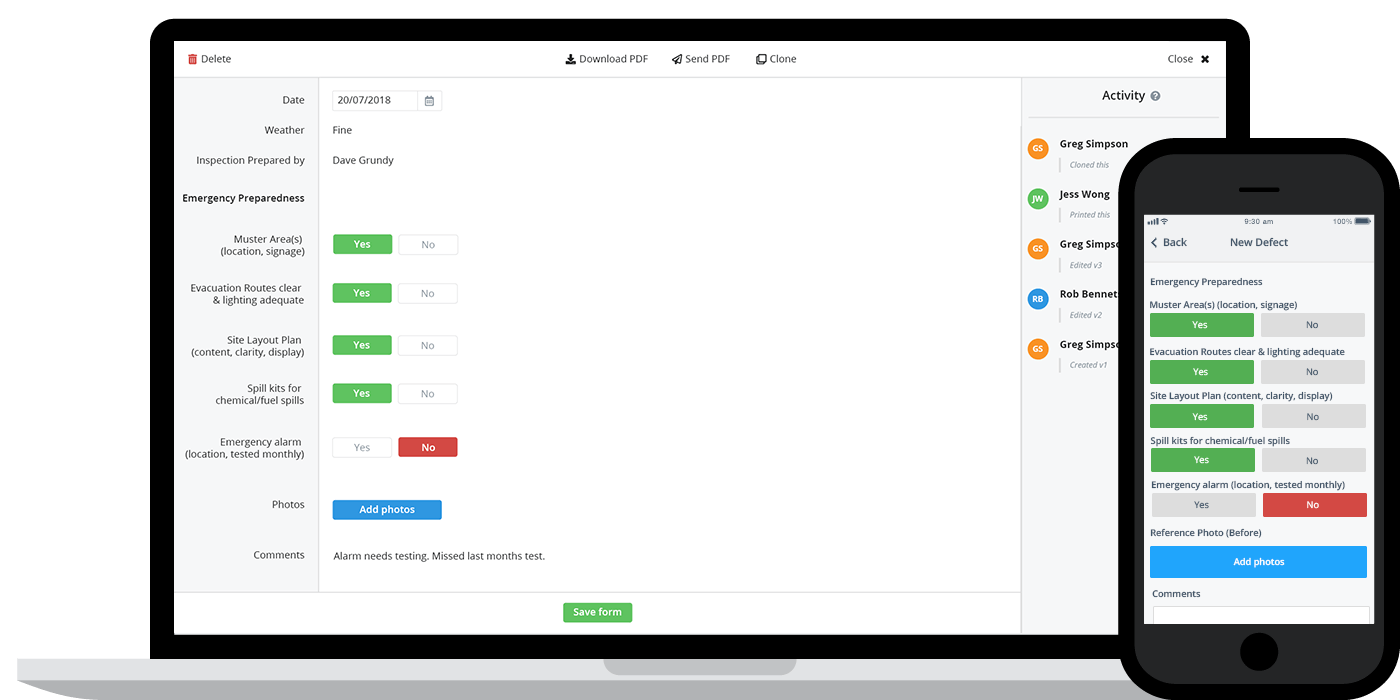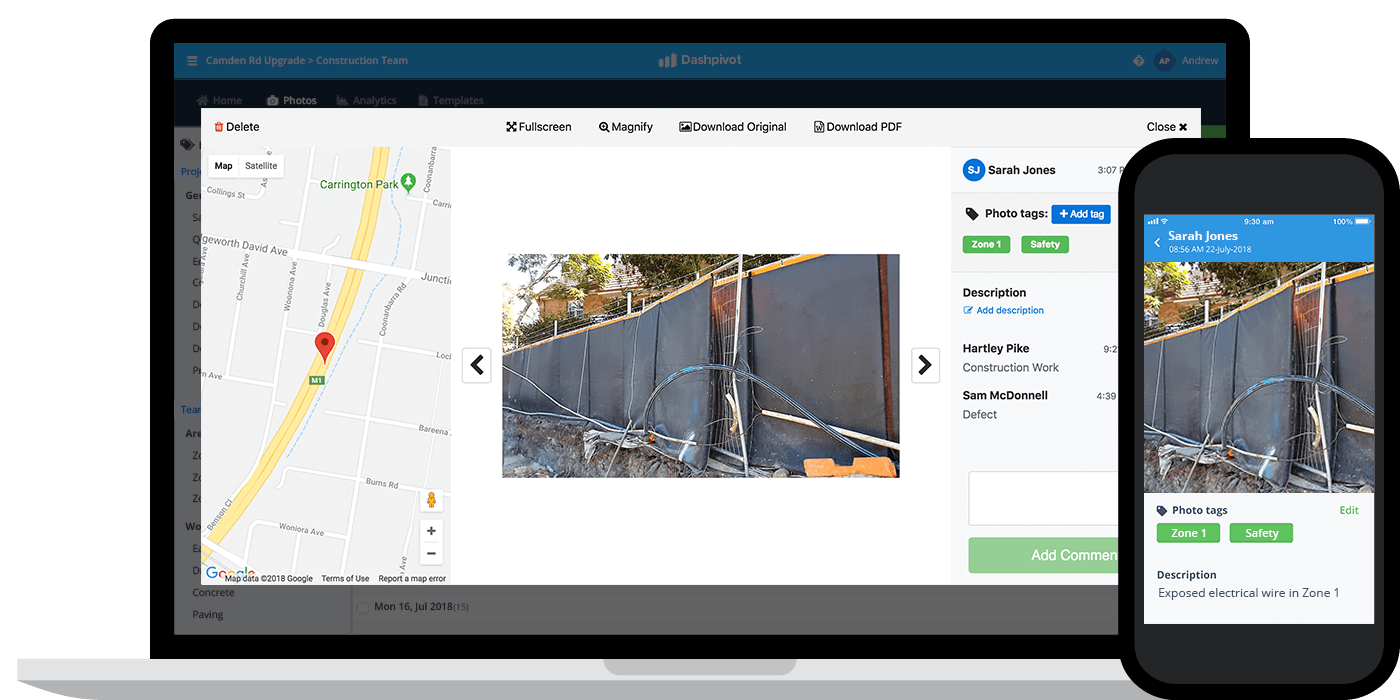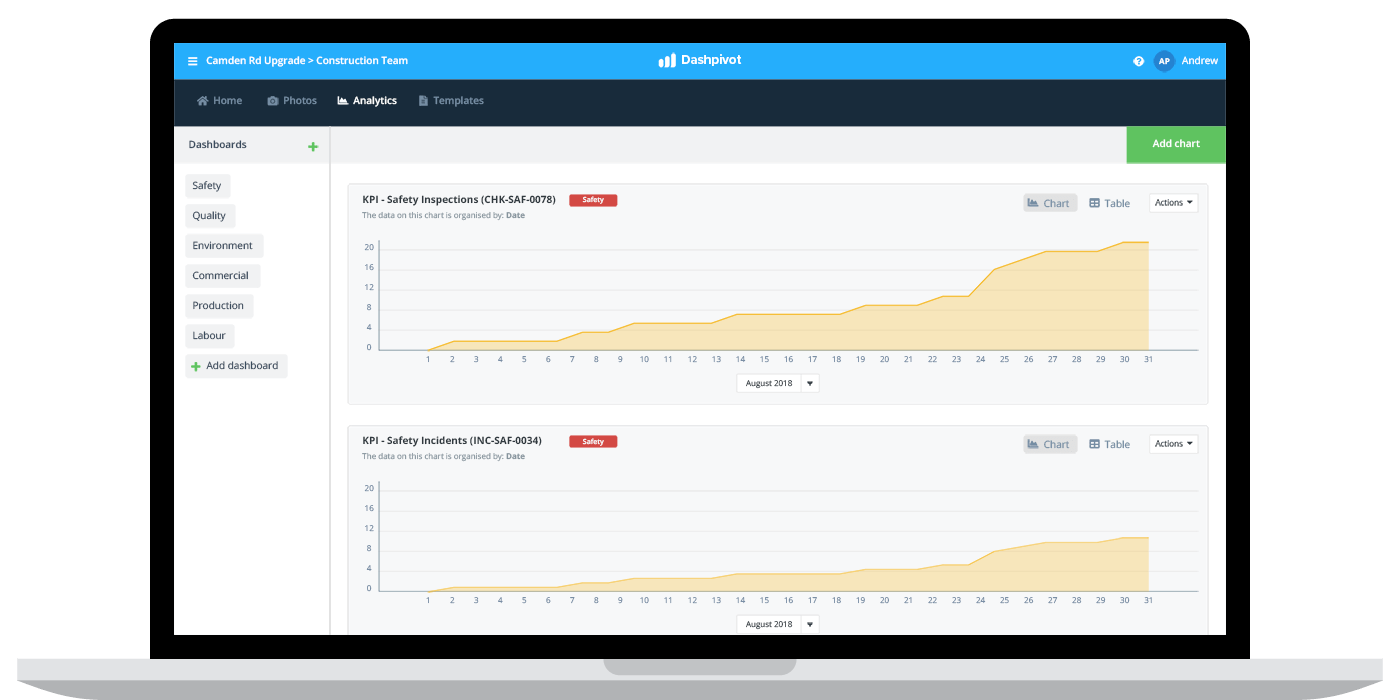 See what a complete safety management system can do for you.
Get a custom software demo with one of our experts to discuss your company's architecture and unique requirements in detail.
INDUCTION & PRE QUALIFICATION SOFTWARE
Site inductees are often at the most risk of injury. Make sure your pre qualification process is keeping everyone safe and your reputation clean.
Easily create, track, and manage all inductions and pre qualifications in one centralised platform which people can access, use, and sign from anywhere.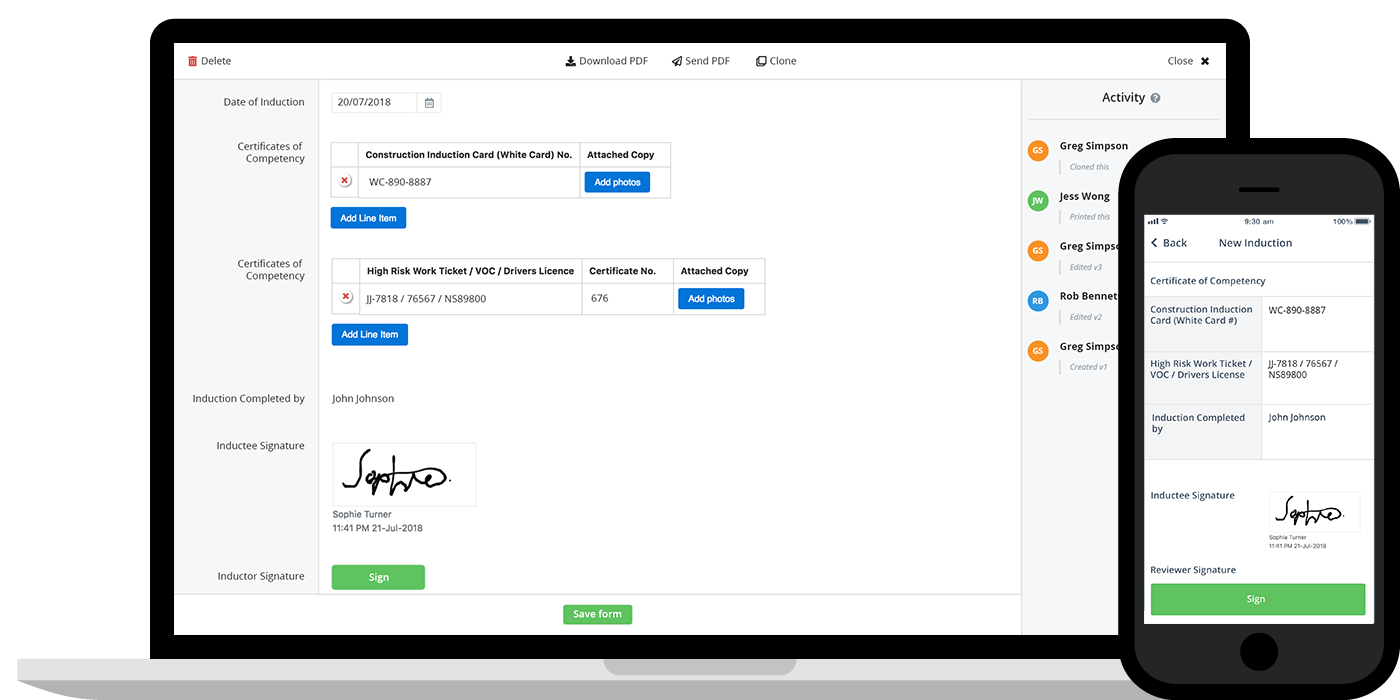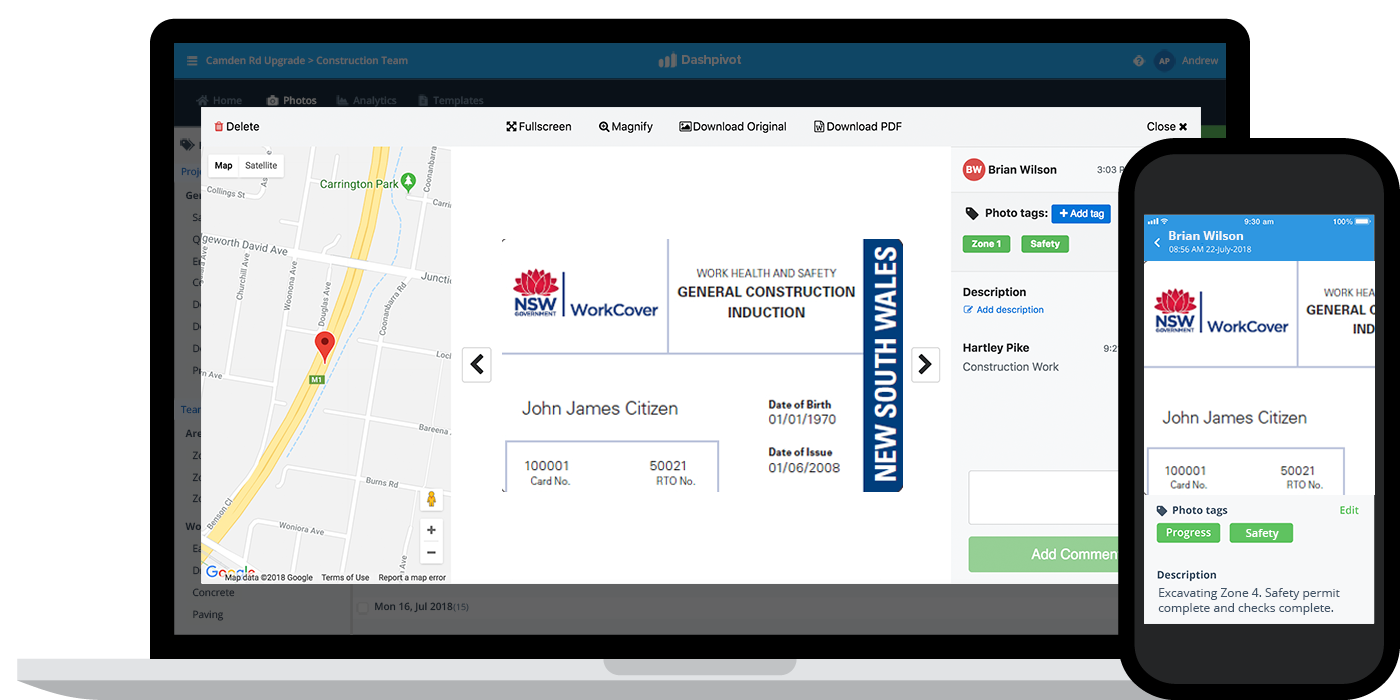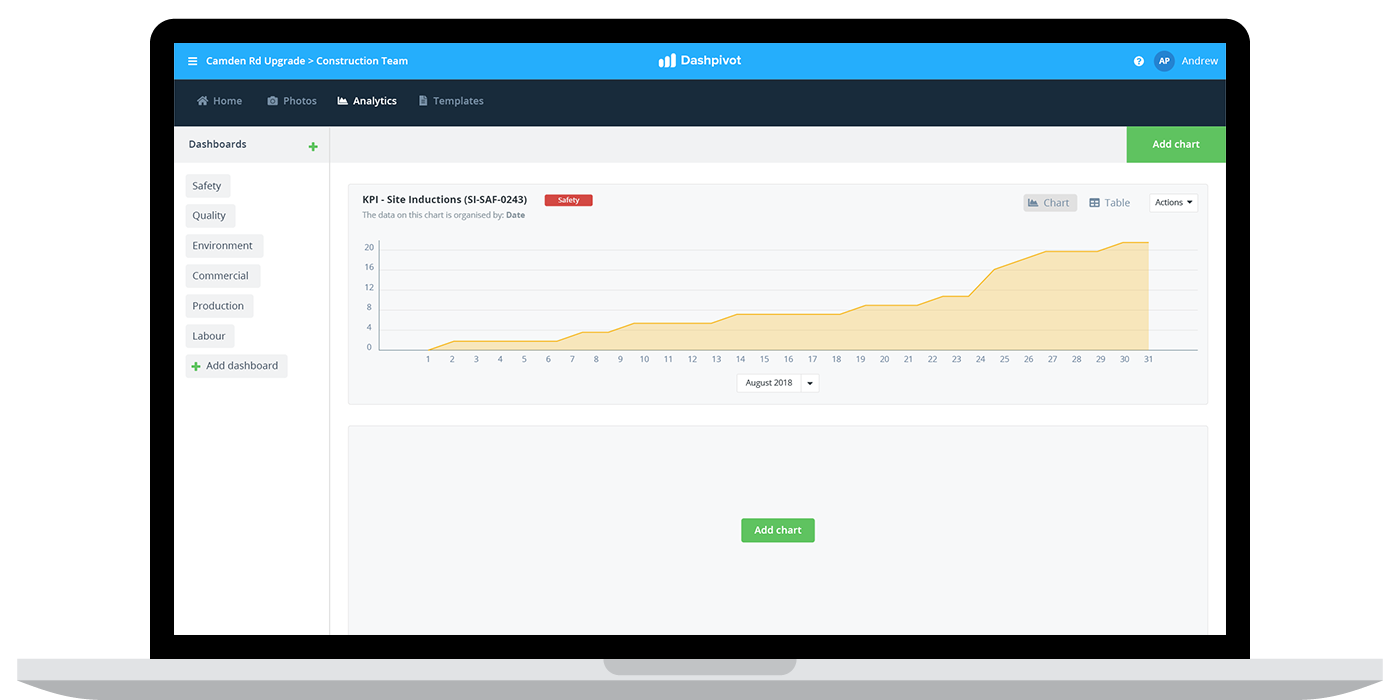 Templates
Create a streamlined, standardised digital checklist for inductions which can be completed without login or registration.
Photos
Take and attach photos of cards so that all of the records you need are kept and maintained together.
Analytics
See frequency reports of inductions completed per subcontractor - and get new insights on the quality and quantity of inductions.
Automate safety reporting processing and get easily understandable performance visualisations.
Manually collecting safety report data on LTI's (lost time injury), MTI's (Medical treatment injury), TRIFR's (Total recordable injury frequency rate), FAI's (First aid injury) and then manually aggregating all of this data is a massive resource drain.
Templates
Create digital incident reports which can be easily accessed and completed via mobile or tablet at the point of incident - on site.
Analytics
Get accurate insights on all of your incident reports so that you can make better safety decisions across projects, teams, and your entire organisation.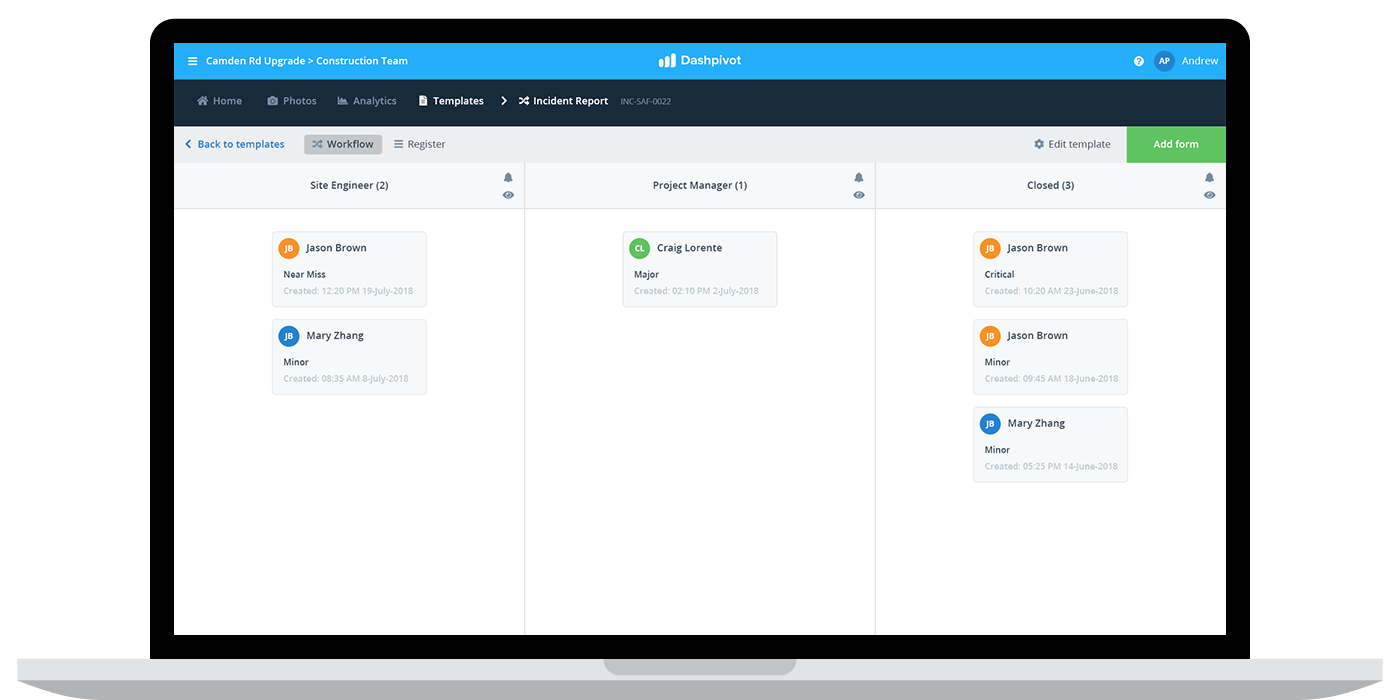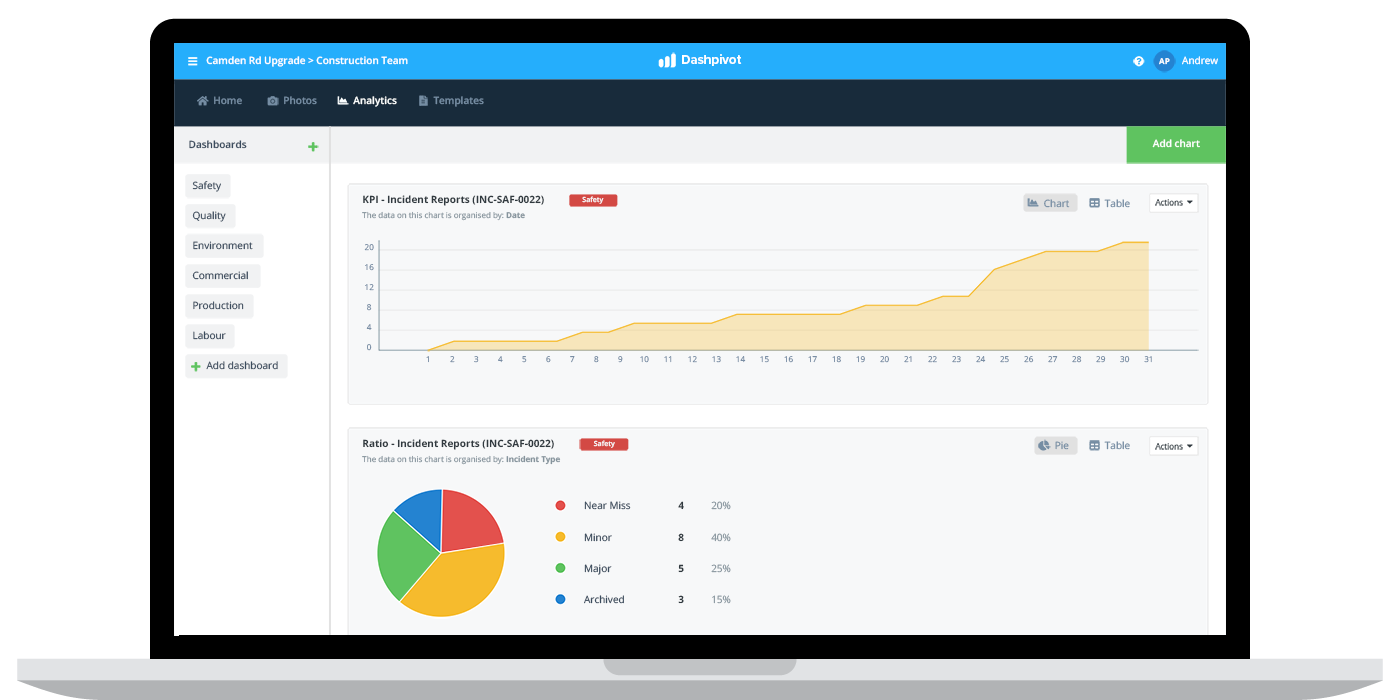 Dashpivot software is flexible enough to handle even more of your safety jobs. Book a demo to tell us about your use case or simply get started now.