Customer
Mack Civil Engineering

Industry
Civil Construction: Roads, footpaths, restoration
About Mack Civil Engineering
Established to provide a range of civil construction solutions for local councils and various government authorities, Mack Civil (see website) has been able to build a strong reputation within the industry over the past decade with the expertise & resources to undertake a diverse range of civil engineering and construction projects. Mack Civil Engineering clients range from Local government to some of Australia's leading private sector construction firms.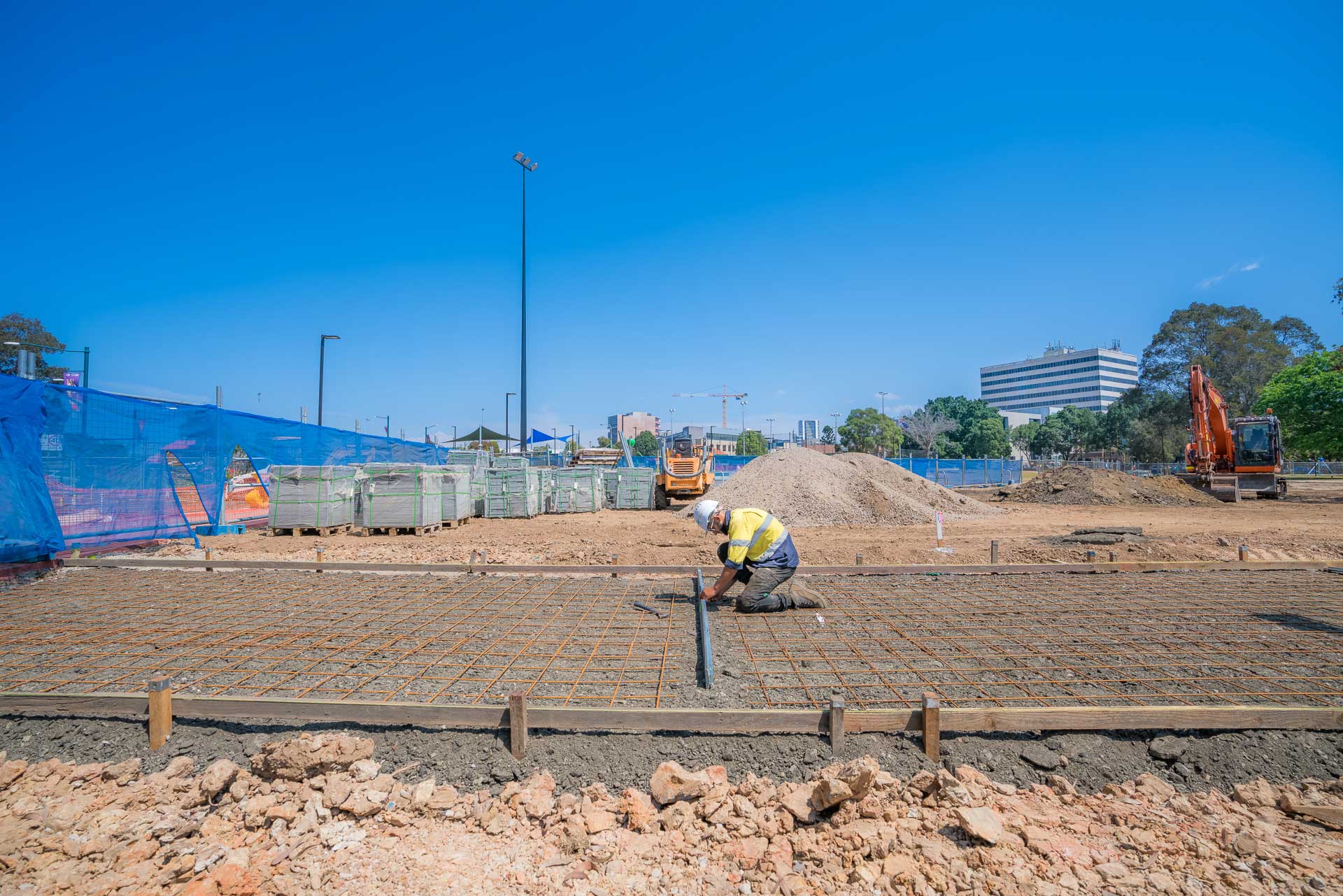 How did Mack Civil implement and use Dashpivot?
Use cases
Job folders, project information, inductions
Functions
Safety, quality, environmental and commercial
See what Mack Civil's owner and engineer think of the software.
How Mack Civil digitised and streamlined their job folders and activities with Dashpivot
Managing information across a high volume of jobs
Managing a single project with over 60 employees on the ground is a difficult operation, but managing all of these employees on multiple projects is even more difficult.
Many subcontractors like Mack Civil have a high volume and high frequency of jobs, and this makes information and resource efficiency critical to delivering on time, on budget and with high quality.
Mack Civil was looking for a solution to their information management headaches for a number of years before trying and adopting Dashpivot.
Digitising the 'job folder'
One of the most important parts of any job for Mack is assembling and deploying a job folder. In the past (before Dashpivot), the job folder was a physical folder with paper-based forms for:
Site inductions
SWMS
Site specific hazard checklists
Environmental checklists
In order to start any job, Mack Civil needed to get that physical folder to site so that the team and company could remain compliant and document work properly. If the folder didn't arrive on site or didn't get in the truck before workers headed to site - then the project couldn't start.
With Dashpivot, Mack has been able to swap the job folder for a cloud-based app.
With Dashpivot, Mack Civil simple creates and names their new project, places all of their digital documents in that project (a site induction template, SWMS template etc.), and everyone on site has constant and instant access to every document they need as well as plans and drawings which they can reference and markup.
Workers can then simply open their phone or tablet to open an induction or checklists, and complete it in real-time.
This relieves pressure on project managers and administrators, gives site workers the tool they need to do their jobs effectively, and ensures every project goes ahead as planned.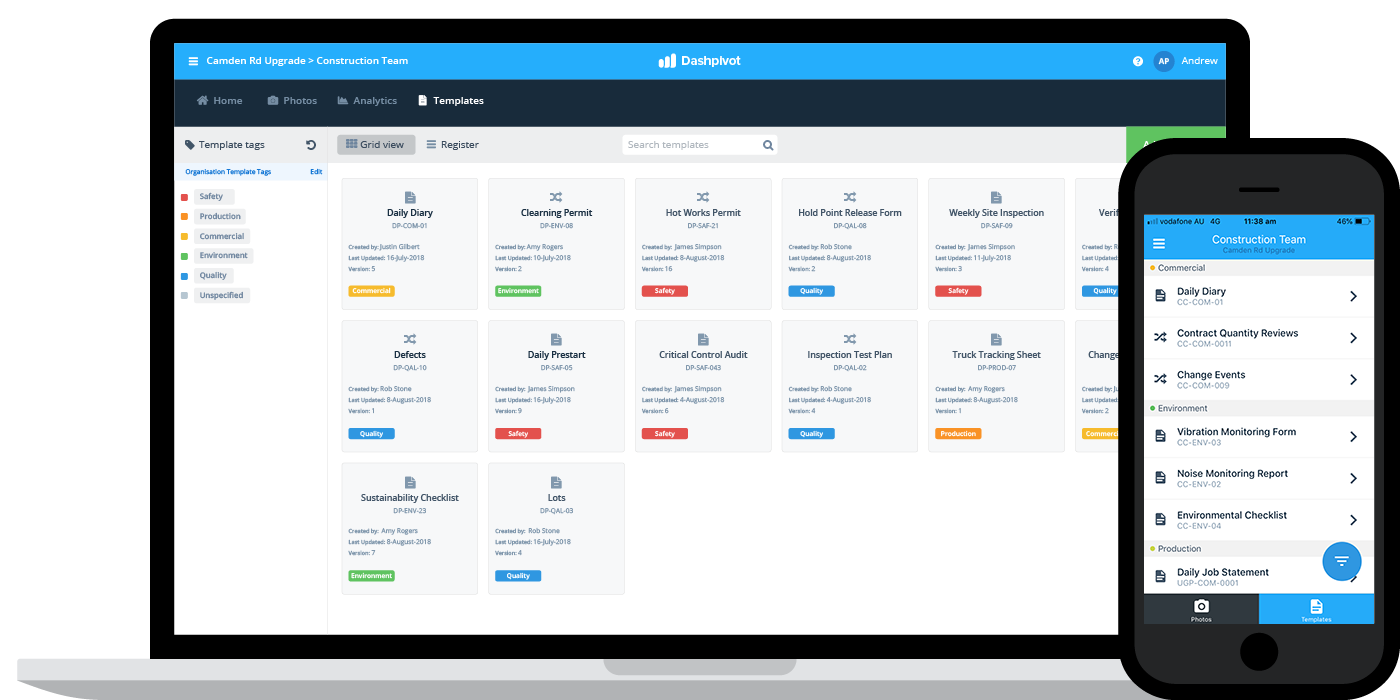 Inductions and dilapidation reports
Two of the activities which Dashpivot was immediately able to streamline were site inductions and dilapidation reports.
Site inductions were able to be moved away from physical sheets and to the cloud, so people could quickly and easily sign off on the induction form digitally.
"As soon as we do a site induction with our guys, we can forward that onto the client straightaway so they get everything in real-time, and I can login right now and check if all my guys have inducted."
Maintaining oversight of 10 crews without a consolidated solution is almost impossible, but it becomes easy when all of that information is automatically organised and available as it happens.
Similar progress was made with dilapidation reports, which have been simplified and consolidated. The old process involved filling out and documenting a physical sheet - while the new process involves taking a photo and then tagging that photo.
"Instead of us filling out a physical sheet, we can just take a photo"
A good dilapidation record can eliminate tens of thousands of dollars in unfair claims or expenses, so having bulletproof records which come attached with time-stamps, geolocation information and other important detail quickly pays off.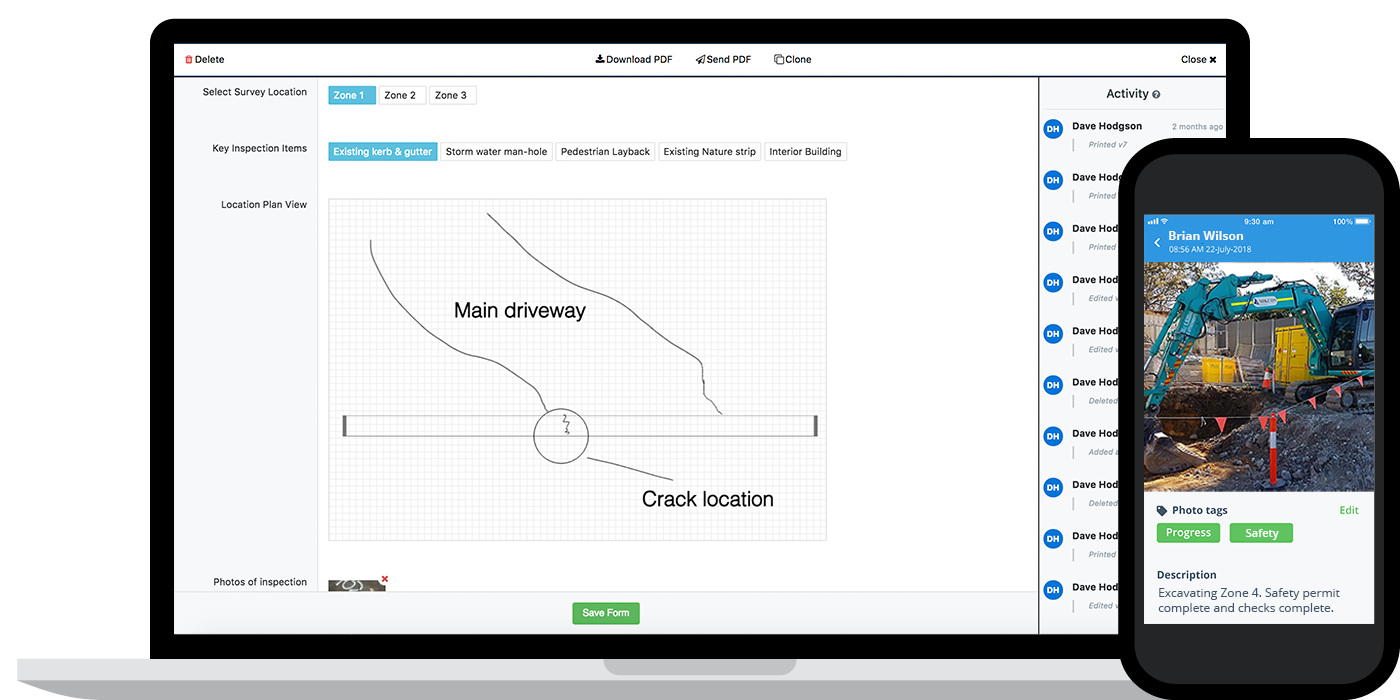 See the software for yourself.
"Everyone finds it really easy to use" at Mack Civil Engineering
Most construction and industrial companies want to digitise their operations and leverage technology to become more efficient. But for these companies, the biggest barrier to moving towards digital is often the friciton involved with transitioning to these processes, as well as the difficulty of using digital tools.
The owner of Mack Civil voices his concerns about ease-of-use and adoption in the video above, but his concerns were quickly alleviated when it was well received by site guys, team leaders, supervisors and project managers.
"Everyone finds it really easy to use. We've got about 10 crews, so we started with one and then eventually we rolled it out to all ten."
Dashpivot and other modern softwares are easy to pick up and easy to use for everyone, so the barrier to use today is very low.
No one likes doing paperwork and admin - and there is a viable solution today.
Mack Civil Engineering is a great example of how a fast moving and dynamic company was able to quickly adopt a flexible solution which aligned with the way it worked - and yet dramatically improved the company's processes and procedures.
The owner and contract manager at Mack Civil signed up for a free account of Dashpivot, tried it out, and then rolled it out across his business to save time and money - which is something that everyone can do.
See how Dashpivot can work for you too. Get a custom demo specific to your projects, teams and use case - or try the software for free.