Finance – Simple purchase requisition form sample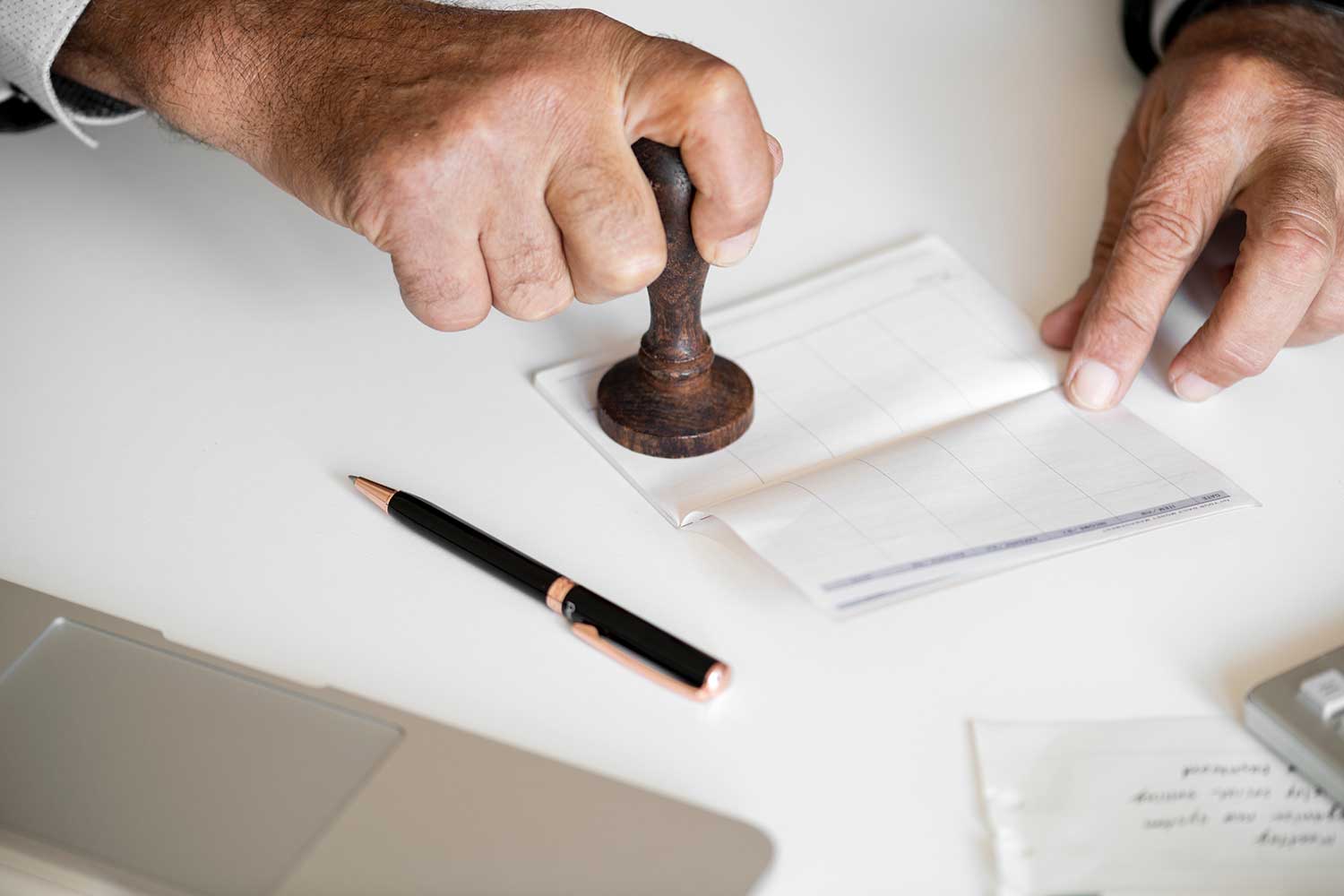 Simple purchase requisition form sample
What is a purchase requisition form?
A purchase requisition form is a form which is created and used when an employee is seeking the approval or 'thumbs' up from a project manager, finance team or higher up that they can go ahead and purchase a specific item, product or service.
Purchase requisition forms are an important tool for many small, medium and large construction and industrial companies, as they serve as a check and balance on the items which are being bought on projects and jobs.
Purchase requisitions help ensure that people are making smart and necessary purchases from the right vendors at the right price.
A purchase requisition form enables the site worker or employee to describe to the procurement officer or department what they need and why it is needed.
Companies which operate without purchase requisitions risk people making poor and impulsive purchasing decisions which have a negative impact on the finances of the company - and can quickly result in projects ballooning out of control and over budget, especially when variations and unexpected changes occur.
While most workers have good intentions for their purchasing decisions, purchase requisition approvers can often see a more detailed financial picture and need to have some control over what's going out - as well as what's coming in.
When companies and people use purchase requisitions responsibly, companies can cut expenses and almost guarantee responsible spending - which can have a huge impact on project and job costs.
Companies usually create smart purchase requisition form policies, whereby people can make small purchases e.g less than $100 without requiring a purchase requisition, while certain employees with seniority may be able to bypass this process as they are the purchase approvers - and so are deemed responsible for making good purchasing decisions.
Purchase order vs. purchase requisition
The difference between a purchase order and purchase requisition is that a purchase requisition is for seeking permission or approval, and a purchase order is for the actual purchase.
So the old saying that it's easier to ask for permission that forgiveness here is not true in this case.
So a purchase requisition comes before a purchase order - but not for every purchase. The two forms or documents are independent of each other, although often linked when an order follows a requisition.
For example, when someone creates and proposes a purchase requisition, they may create a purchase order number which will then be used moving forward if they purchase is approved and made. This ensures a stronger paper and financial trail which can be traced back if and when required.
A simple purchase requisition form sample
Purchase requisition forms usually follow a pretty simple format and framework which is showcased in the sample below.
There are a few key sections in a purchase requisition form, starting with some essential record keeping information.
Just like with other financial forms and processes, each purchase requisition form is going to have a unique purchase requisition number. Other important record keeping information which is required for internal and potentially external purposes include:
The proposed delivery data
The actual purchase requisition including obvious details like quantities, descriptions of the purchase, the unit price and the total price
The next section of the requisition is concerned with why the purchase is being made.
This section needs specification from the proposes as to the purpose of the purchase, and whether the purchase was a budgeted expenditure and whether there is funds available for it already. These details are important for understanding how many items are being purchases for variations and changes being made during the course of work, which can tell companies how well or how poorly they are planning and managing works.
The next section of this simple purchase requisition sample is for quotations and tenders. Most purchases which a company makes (especially large ones) should be 'bidded' on or bidded out to more than one vendor in order to get the best price (or best value).
In a purchase requisition form, a table works perfectly here as it allows the worker to input information about the vendor name, contact person, their specified price and any additional comments or remarks.
Because the worker has more domain knowledge and expertise than the financial team (the foremen likely knows more about concrete than the procurement manager), they can recommend a supplier or service provider which isn't the lowest cost available - but they must explain and rationalise that decision in writing - which improves transparency and trust between departments and workers.
And finally, every purchase requisition should be signed and dated by the proposer (the person who wants to make the purchase), as well as the approver, who should be looking to get to approval or denial as quickly as possible to avoid costly and frustrating delays.
This simple purchase requisition form sample is applicable across almost any industry and any purchase - and can be adjusted and edited as required using this purchase requisition form template.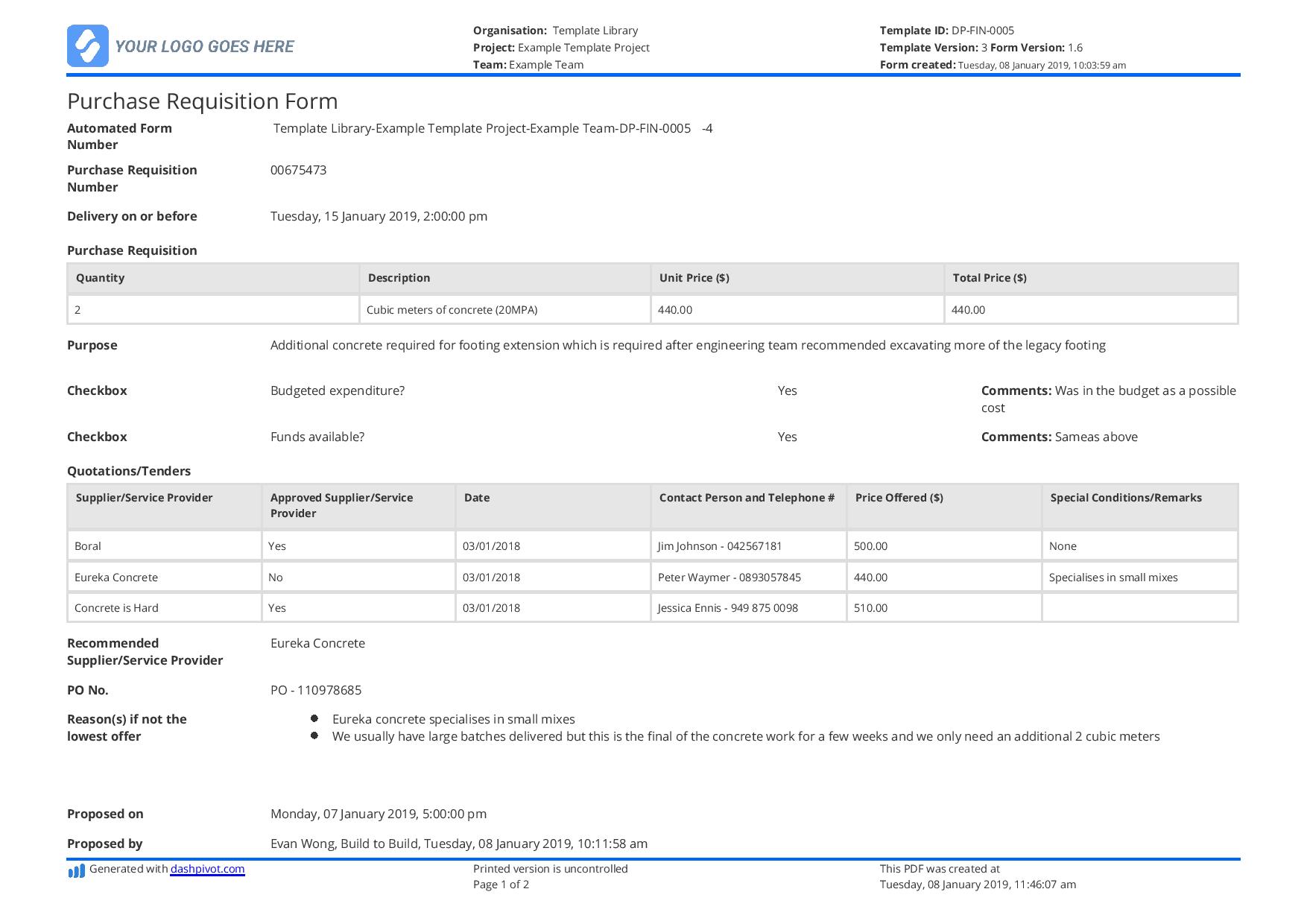 Use and customise this simple purchase requisition form for yourself.
Another purchase requisition form example
Here's a second purchase requisition form example which you can look at as well.
The above purchase requisition was for concreting, while this one is for brick pallets. You'll see that the framework doesn't change at all and that the form works the same way for different purchases.
Keeping your purchase requisition forms simple and standardised has many benefits for your workers and for your finances:
Workers find it easier to fill out and complete purchase requisitions
Everyone is working off the same document and expectation
The finance/procurement department has an easier time reconciling all of the purchase data because it is standardised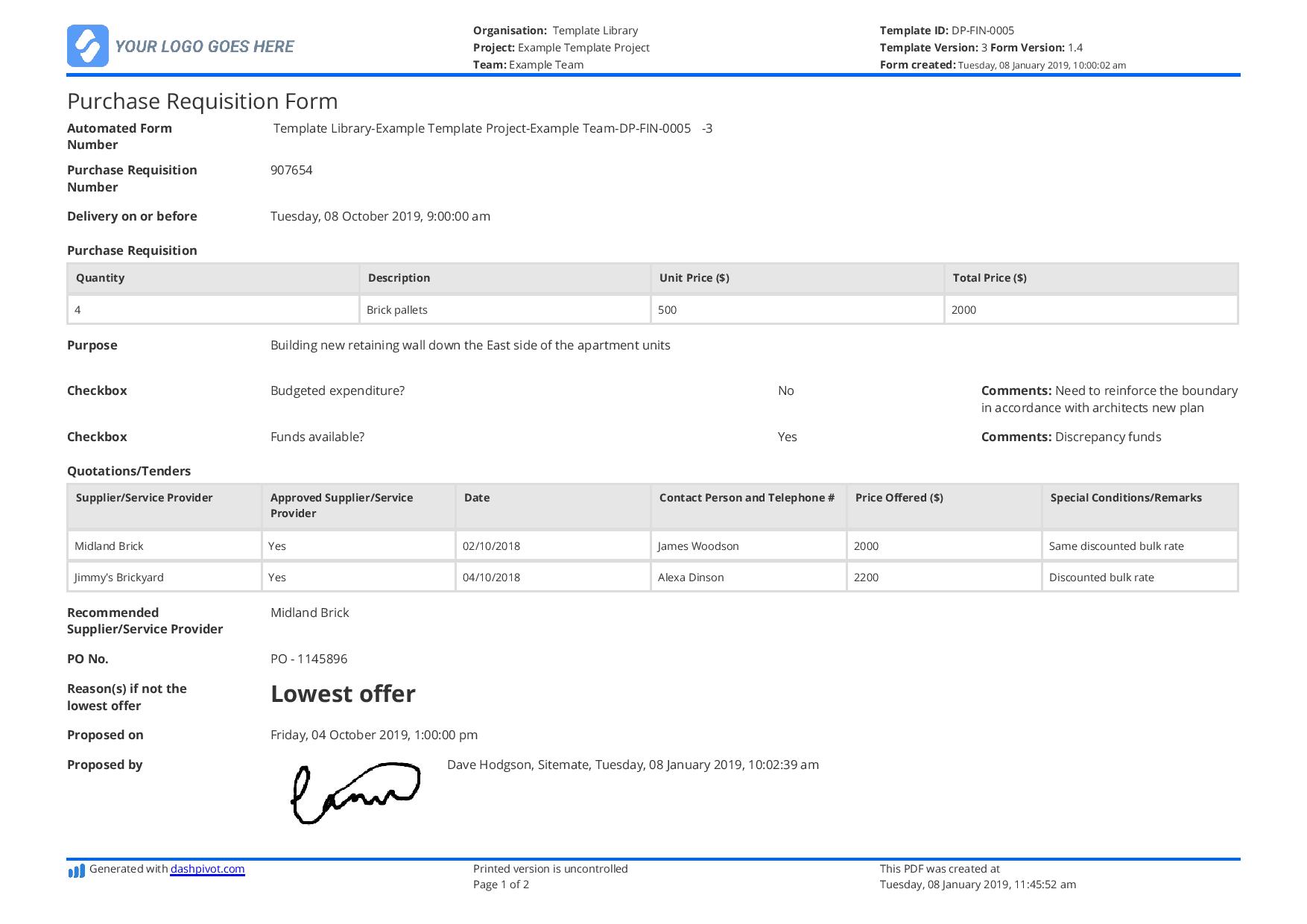 Use, download or print this purchase requisition form sample.
Streamlining and automating purchase requisition form workflows with software
Financial management is arguably the most important aspect of project management. If you can't get your costs and expenses under control, and if they don't align with what you had planned and scheduled for (and bidded on the project for) then you won't make money on your projects.
There's also the fact that all of this financial documentation, tracking and reconciliation takes valuable time away from engineers and project managers while adding head count in the admin departments.
In 2019, there are some smart ways to streamline these financial processes to save people time while also improving the quality and standard of data being pulled and pushed through the organisation.
One of these ways is through a system which takes care of the capturing, organising and automating of purchase requisition amongst other financial jobs.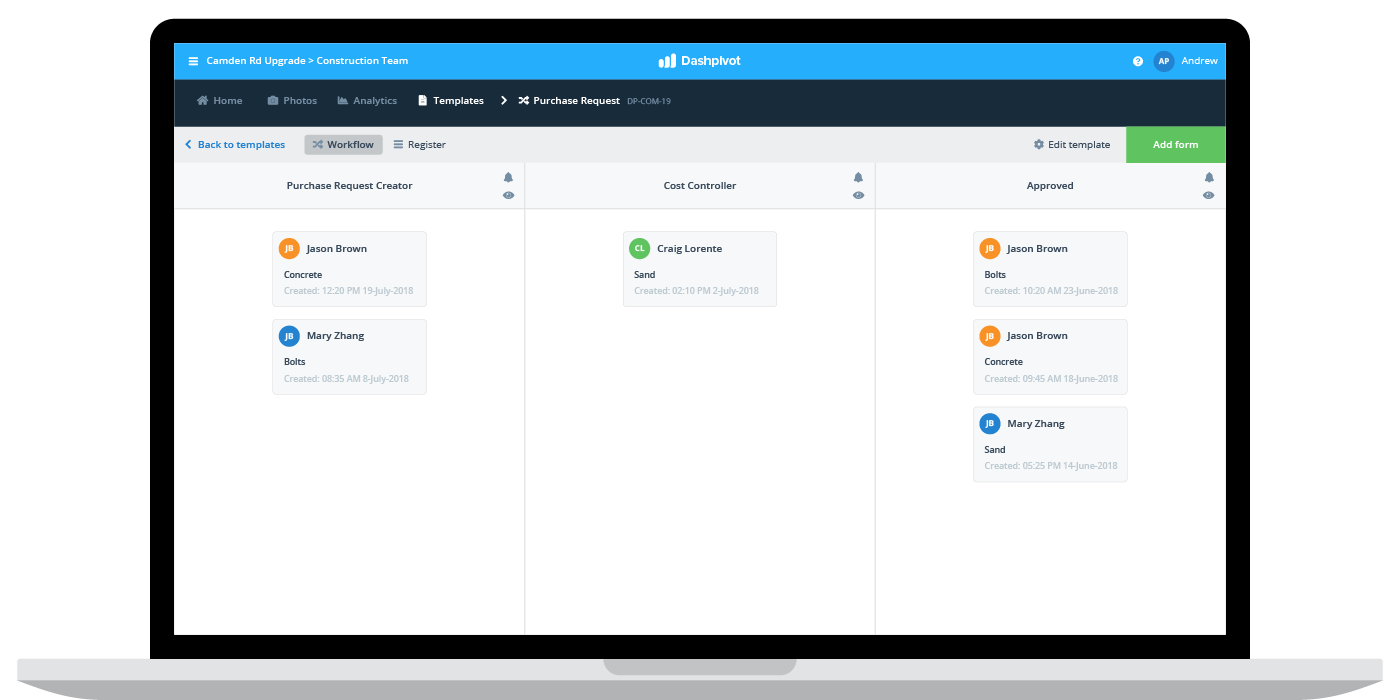 These systems enable workers to complete purchase requisition forms directly on site using mobile and tablet - where they can access your standardised requisition form.
But they also give you additional controls and powers over the requisition process.
Prior to automated workflows, a worker would complete a paper-based, excel, word or PDF requisition form. They would then get it onto their computer and send it via email to the finance department, who would open the email (when they have time), look through the document and then sign it off and send it back. The finance department would also need to store all of the purchase requisitions somewhere and keep track of all of the data in them by manually entering data into a spreadsheet.
With smart workflows, when a purchase requisition form is created and signed off on site or in the office, someone from the finance department (or whoever is elected to approve that persons requisitions) gets an instant notification that it's waiting for approval.
They can then sign it off inside the software - which notifies the initial proposer that it's been approved.
You can see how automating this process enables it to take place in one place, and how it helps mitigate the chance of avoidable delays stemming from people missing or forgetting things.
In addition, all of the purchase requisition forms which are piped through these workflows are stored and organised inside of the platform - so all of your important financial information is stored and searchable in one place. You can even track it using real-time financial analytics and tracking tools.
You can learn more about this financial software here - or get started with the simple purchase requisition form sample you saw earlier in the article to begin streamlining and improving your purchase requisition process today.
People in 80+ countries use this project management software to streamline, track and manage their project finances.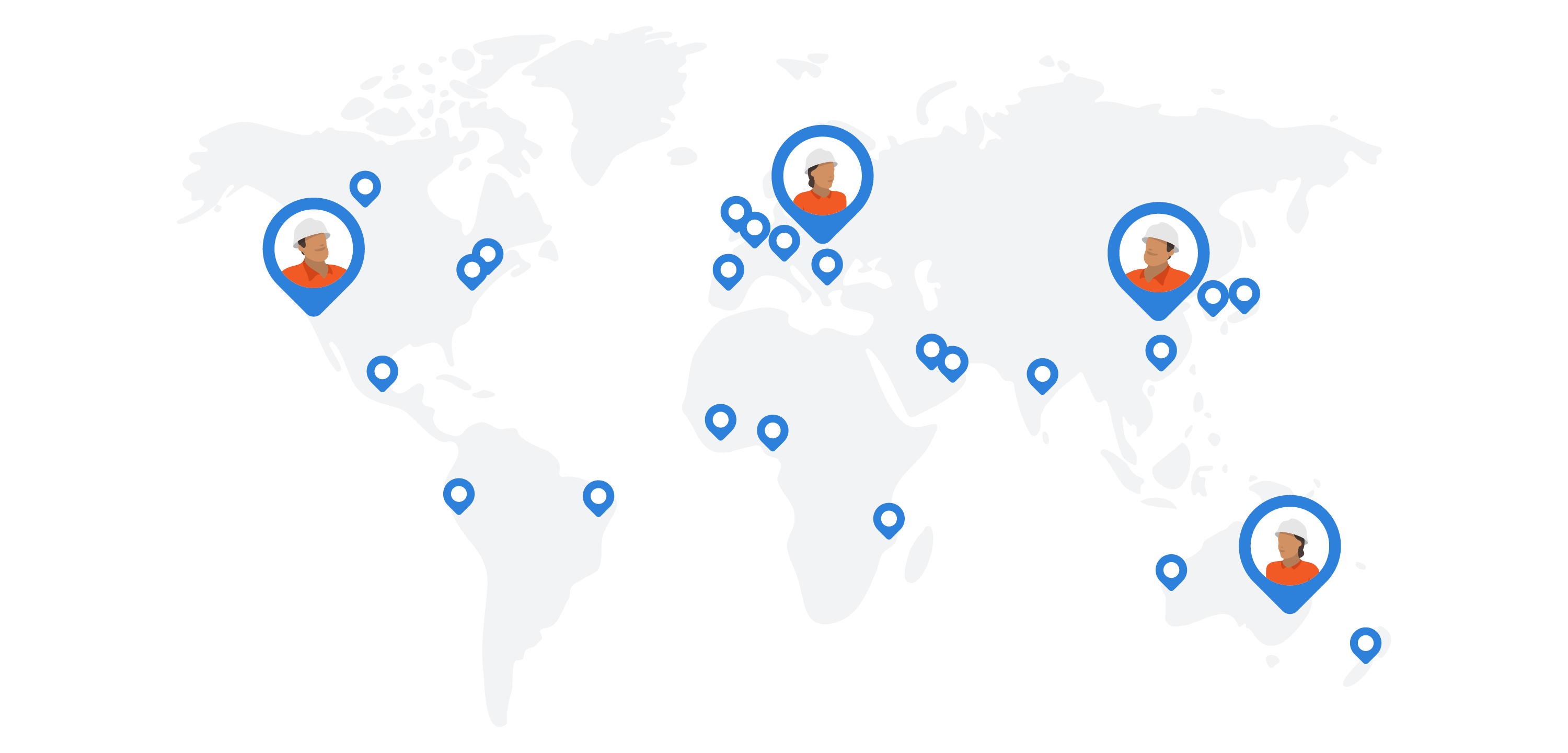 See how you can easily streamline your systems and processes with Sitemate today