Here's an example of change orders in construction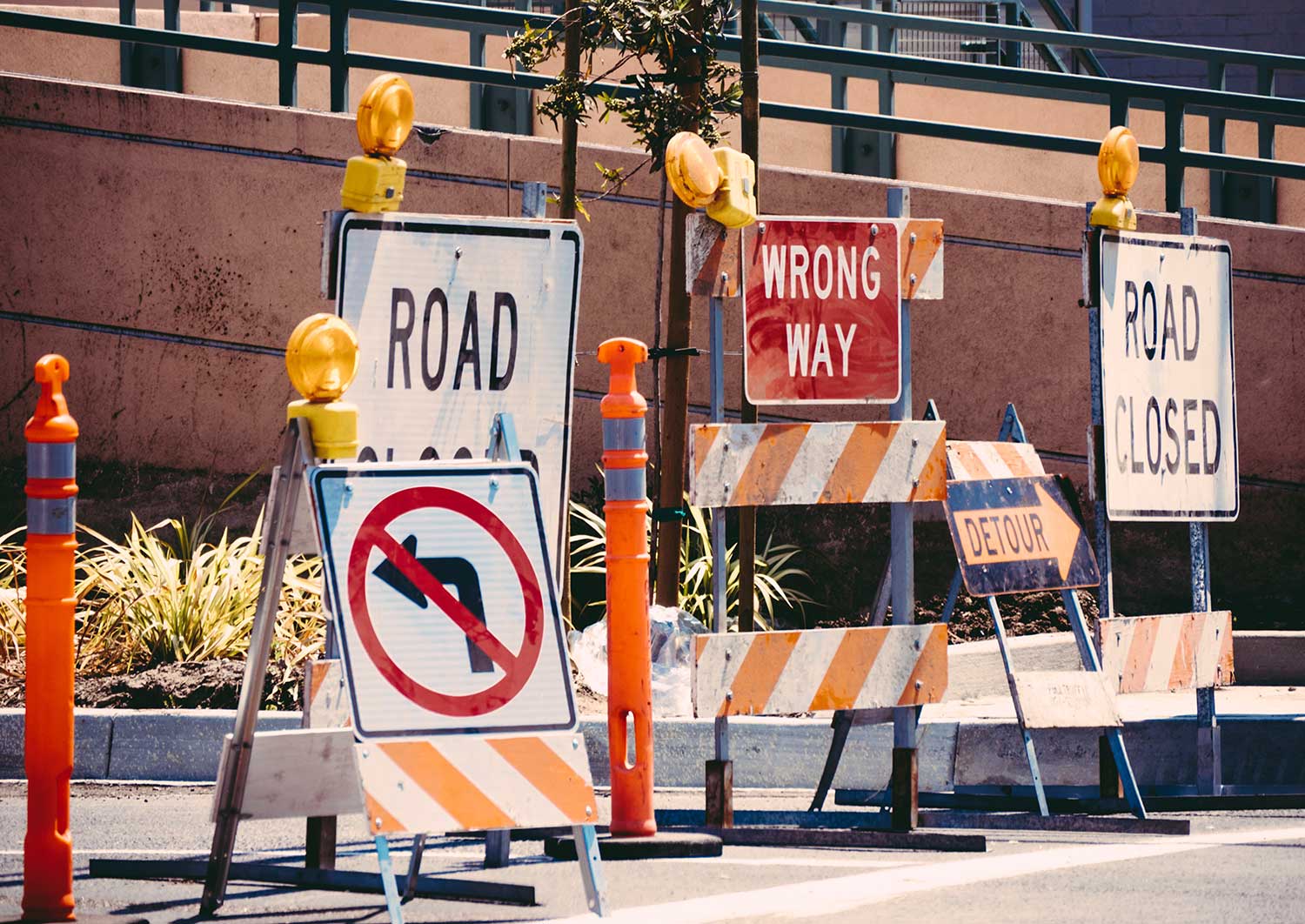 Construction change order example
What is a change order used for in construction?
The saying that contracts were made to be broken is never truer than when talking about construction contracts. Contract changes are inevitable and fairly frequent on all construction jobs - and especially on large scale projects.
Any construction project (large or small) with an original contract should use a change order to manage and handle work and project changes and additional or different work which falls outside the original contract scope.
Contract changes can arise for a number of reasons:
The client discovers obstacles or opportunities to deviate from the original plan
The project was simply incorrectly estimated and must be amended
During the course of the project, the client, architect or contractor propose new features or changes
While there usually isn't any maliciousness in declaring or proposing changes, it's important that contractors prepare and use change orders to ensure that they get paid fairly for their work. It's also important to address unexpected changes that put you at a loss - whether they were intended or not. You relied on a contract to organise your resources.
While many contractors and clients are highly trustworthy, it's much safer to use a change order because it's contractual proof that because of 'Y', we did 'X' - and everyone agreed to it and knew about it.
Your change order process and documents should be proper and reliable. A lacklustre change order process can be inadmissible and useless if it is created, sent, signed or recorded incorrectly.
Good change management processes can make you look prepared and professional - and ensure that you are paid fairly for all of your work; including those little and large changes outside of the original scope which you scheduled and budgeted for.
It's incredibly important that the client (or anyone paying you) understands that more work means more money. It's funny how often this is overlooked, swept under the rug, or completely forgotten about by all parties.
Here's a construction change order example
In our example below, the change order variation tracking form is used to track a change in the original schedule of concrete delivery. As you can see by the change order, an undelivered 50 tonne of concrete can change an entire days work; mess with a number of contractors and subcontractors who are relying on that concrete delivery directly; and cause indirect consequences as well.
Construction projects are a tightly connected web of dependent parties who rely on each other to fulfil contracts and promises to get their own work done.
In this scenario, the form describes what happened and which and how much other parties were impacted.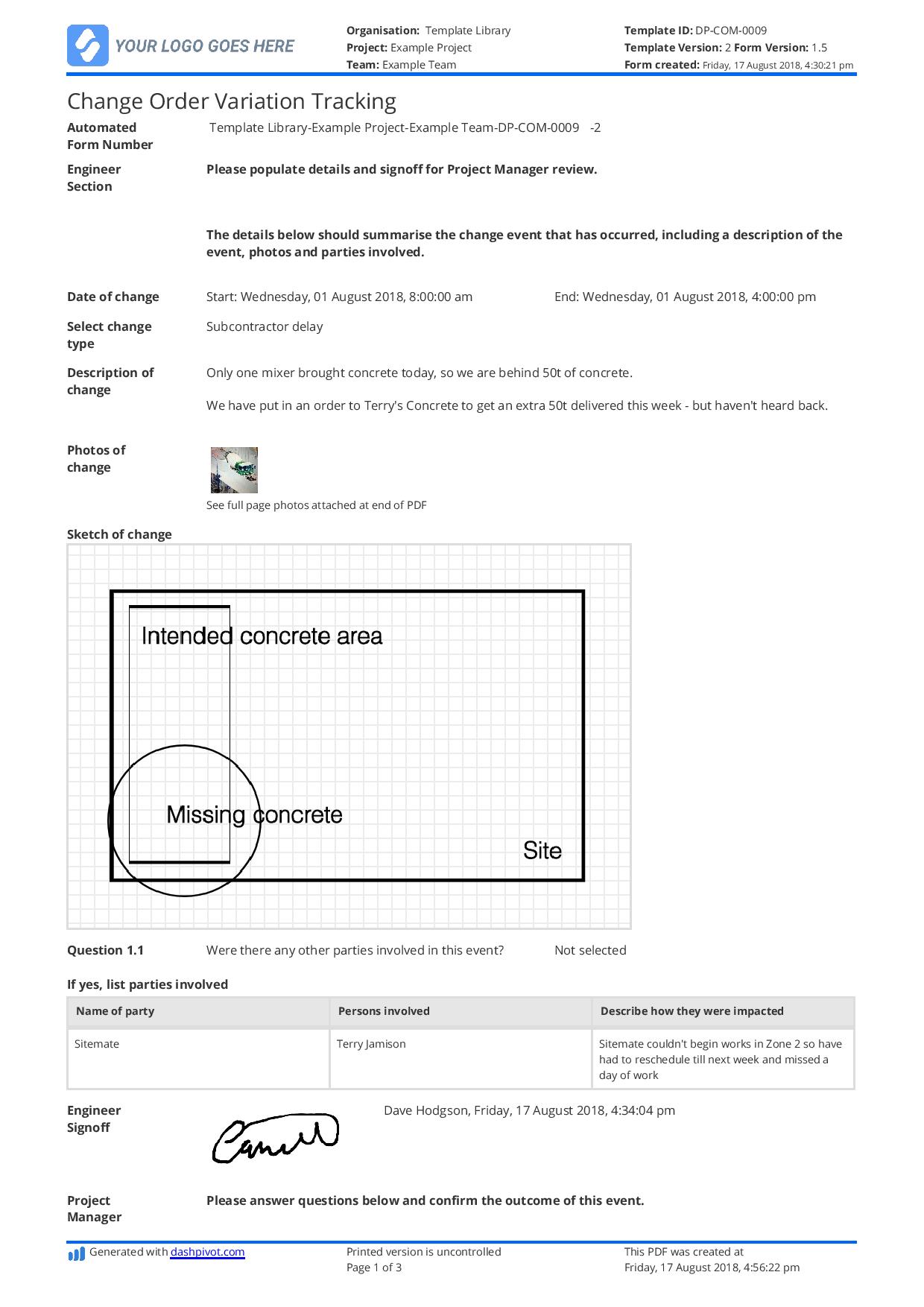 Use and customise this construction change order example template now.
So what needs to be in your change order?
What's in your change order should largely reflect the example you see above - or could resemble more closely the construction variation form template you see here. The most important things to include in any change order form are:
Specifics regarding the actual change or variation being discussed/shared/claimed
Photos and other media - nothing like photos for proof
Signatures - signatures are proof that stakeholders have seen the document and agreed to its contents.
Stakeholders effected - Make sure to not only document the event, but to document the outcomes of the event e.g the concrete delivery above wasn't about the concrete not being delivered. It was about the impact that it not being delivered had on the companies, workers and teams who had agreed that it would be there that day
Many change orders also outline the price which needs to be paid for the new work - and the contingency that was built into the original contract
Where possible, settle on a standardised version of your change order form so that it is easy to fill out, reliable, and gets better and more refined over time. If you change your change order form every time a change occurs, you risk not having a proper claim or document and not being able to stand behind your processes to clients and other contractors (it also looks unprofessional).
The most important part of your change order process is that you do it whenever it is required (be on the safe side and create change orders whenever you think it could help. This will create good practice and set a good precedent with the companies you work with - who will understand the reason behind insuring your own work).
Your change order is a document of first record for you and your projects - and it is the reference point for any contract changes or variations.
But completing, managing and organising change orders is a nightmare...
We agree with you. Using paper, excel docs, word docs and legacy software to complete and manage the change order process is time-consuming, difficult and unsecure.
If you are looking for a smarter and easier way to create change orders and automate the notification and approval process of these change orders - take a look at Dashpivot commercial management software. Dashpivot is a document assembly, automation and analytics platform powered by Sitemate.
It enables you to create digital change orders; complete them on any device; download change orders as perfectly formatted PDF documents; and get automated analytics about your change orders and commercial processes.
Learn more about change order software here - or get started with a digital template below for free.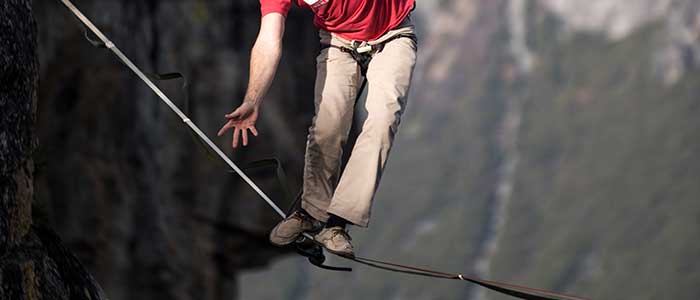 Construction Change Order template
Manage change order completion and approval automation with this smart template.
See the template →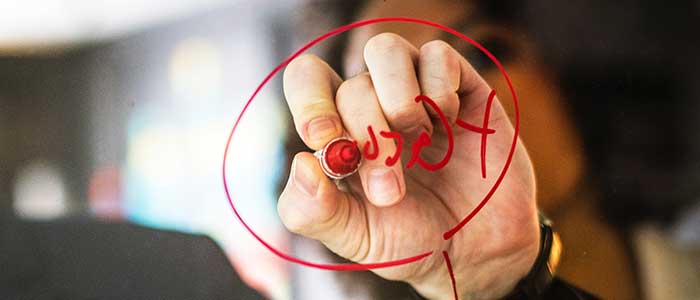 Construction Variation Form template
Manage those inevitable construction variations more reliably for all parties involved in variations.
See the template →
See how you can easily streamline your systems and processes with Sitemate today