Safety – Proven methods of hazard identification and risk assessment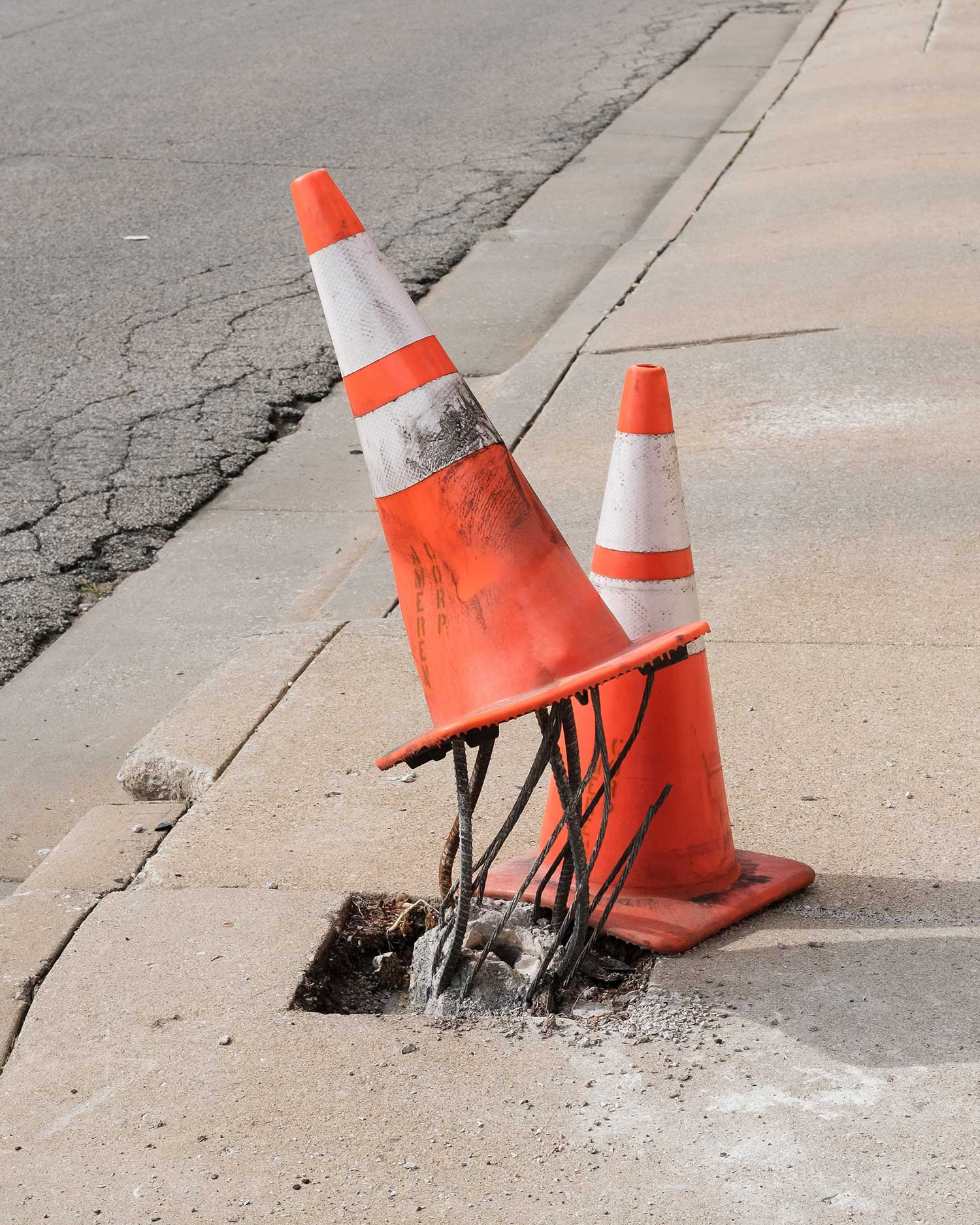 10 Proven methods for hazard identification and risk assessment
What role do hazard identification and risk assessment play in project management?
Hazard identification and risk assessments form the basis of proactive project safety and prevention. The two safety jobs combine to mitigate and prevent the chances that incidents occur - and ensure that assets, equipment and people are kept as safe as possible.
Hazard identification and risk assessments are the first line of defence (and hopefully the only line needed) to prevent project incidents, and are followed by hazard reports, incident reports and incident investigations when and where required.
6 proven methods for hazard identification
Hazard identification takes place when a situation, substance, activity, event or environment which could cause injury, ill health or the death of a worker is identified and documented.
There are a number of methods for hazard identification, some more proactive than others, but all help to create the more frequent and systematic identification process which results in a reduction in hazards and incidents.
Here are 8 of the methods you can use to identify hazards on your projects or in your workplace:
1. Create a hazard identification checklist which can be easily filled out when an incident is identified
A good and easy-to-fill-out hazard identification checklist can go a long way to encouraging and normalising the process of identifying hazards as they appear.
A good hazard identification checklist will be comprehensive enough to ensure the person filling out the form is doing the necessary checks, but also lean and short enough to encourage them to do it without doing too much admin.
The example hazard identification form below is extremely comprehensive and covers general site identification. You can shorten your form to be more specific to the job or jobs at hand - and customise accordingly.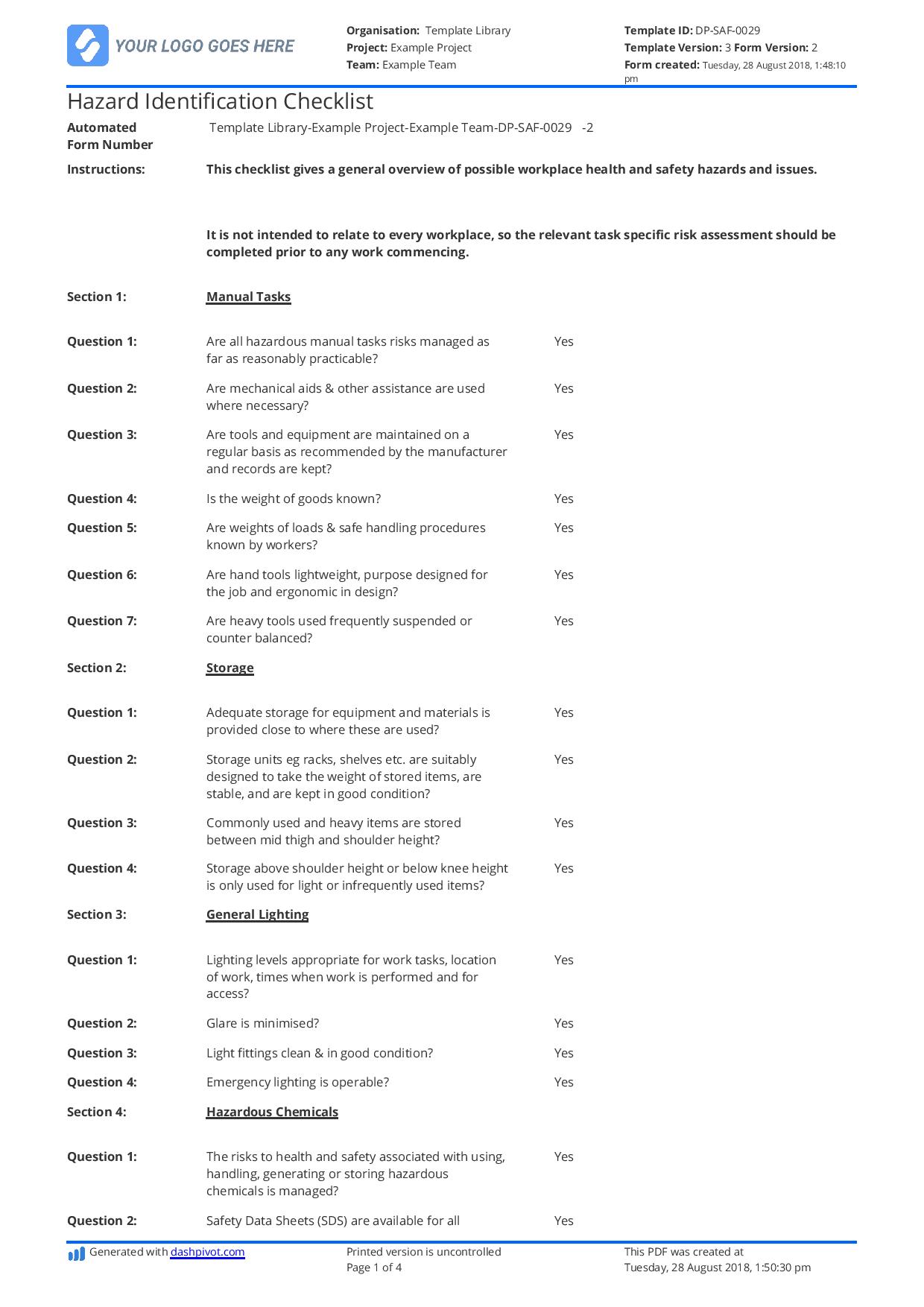 Add this method to your hazard identification process using this checklist template.
2. Conduct pre-start discussions on the work to be carried out
At the end of the day, the smartest and easiest way to reduce incidents in the workplace is to make people more conscious and aware of what they are doing.
Conducting pre-start discussions allows everyone to talk about what might go right or wrong, what other people have encountered when working on this before (together people have seen and identified more hazards) and to bring awareness to the job being done today.
3. Encouraging and incentivising workers to recognise hazards in the workplace
Sometimes people need a little nudge to do what you want them to do - and ultimately what is good for them and you.
Often making an effort to encourage people to recognise hazards helps, especially in an open forum. Sometimes people feel as though they are being dramatic or that they are wasting people's time by identifying and reporting hazards.
A great way to ensure this attitude doesn't propagate throughout your organisation is to openly encourage your organisation to be as proactive as possible, and that identifying a hazard is never a waste of time.
If encouragement doesn't work, then you can also test incentivising and gamifying some of your safety processes. For example, give a prize, award or recognition to the person who identifies the most hazards.
4. Carrying out regular safety inspections and audits of your workplace
Doing regular safety inspections and audits helps you take notice of the environment. When you walk around and actively look for problems and hazards, they often arise.
There's no need to do full audits once a week, but having a regular cadence for your safety inspections and audits ensures you are picking up all of the obvious hazards in your workplace.
5. Monitoring, measuring and testing the work environment
Not all incidents can be easily seen or heard . In fact, some hazards need more specific and detailed monitoring.
Noise monitoring, vibration monitoring and other environmental and safety monitoring activities bring to light not easily visible hazards which are often overlooked and ignored.
Setting up regular testing periods ensures you are always tracking the more easily ignored hazards which can be slower, but just as damaging.
6. Looking back at past incidents and reports
If you are lucky enough to get to the point where you are getting a regular flow of hazard incident reports and forms, then it is important to action them in order to prevent future occurrence.
The act of identifying a hazard isn't enough; someone needs to take action (when required).
It is good practice to sit down and go through past hazards and hazard identification forms to make sure you didn't miss anything and look for patterns in the reporting.
4 proven methods for risk assessment
1. Create a reliable and easily referenced risk register
A risk register outlines the risks associated with a particular project before and during the life of a project - and lists the accompanying details of those risks, including how likely it is that that risk will occur and the impact if/when it does.
Your risk register will be the single source of truth and reference point for project risk, and forms a core part of your overall risk assessment.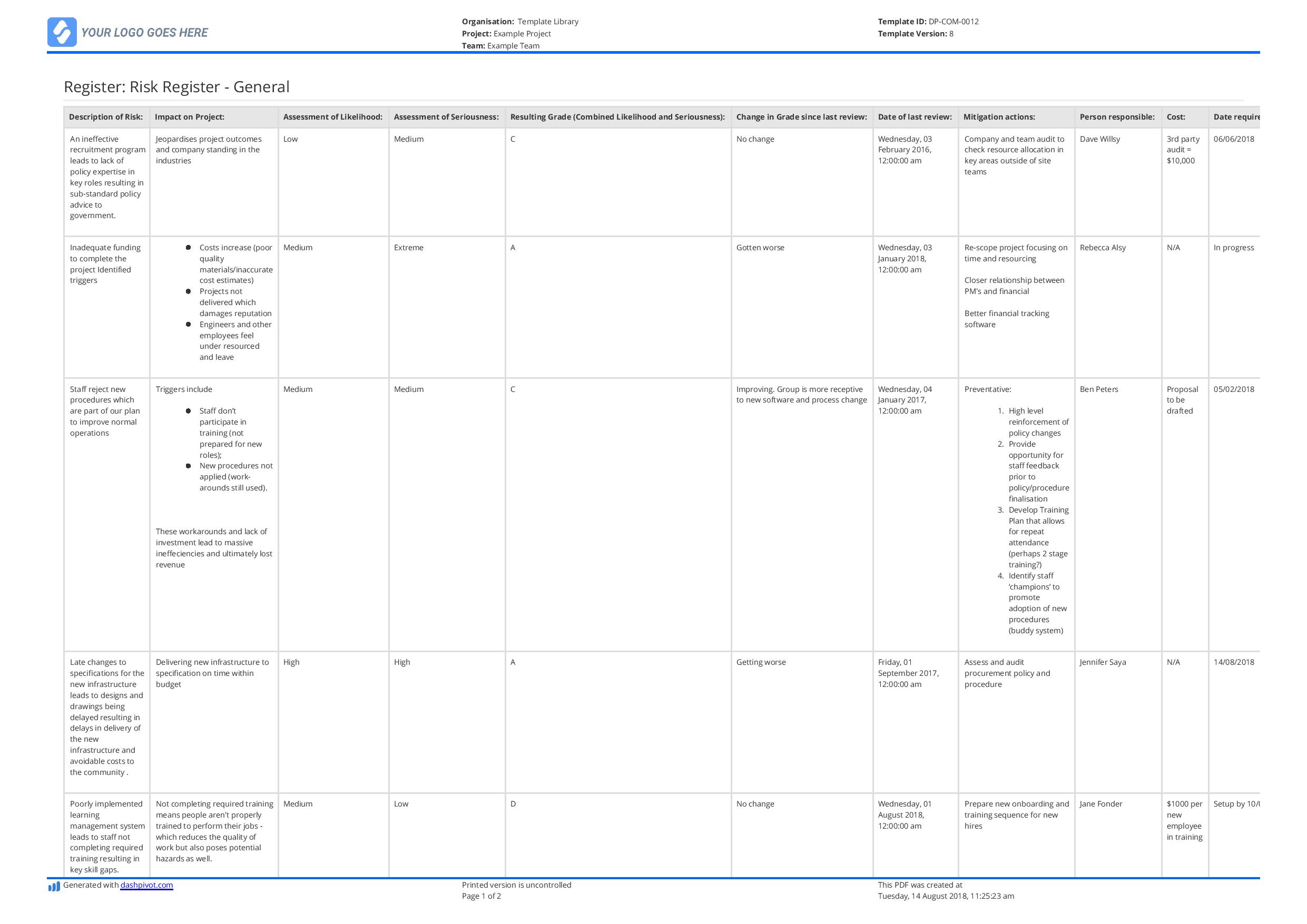 2. Do a what-if analysis
Sometimes a what-if analysis is included in a risk assessment, but it's also useful as a standalone practice.
Doing what-if analyses enables your company, teams and individuals to ask what could go wrong and about what the reaction or response would be if it did go wrong.
This type of analysis is great brainstorming and a great forcing function for being more cognisant of the types of incidents surrounding specific areas, operations and processes.
3. Use a hazard and operability study (HAZOP)
Hazard and operability hazards is a more thorough method of risk assessment. It can be time-consuming and costly, so is usually conducted when leadership dictates a change in safety process or when there has been some poor safety performance in the past.
It's one of the more reactive proactive measures.
4. Do a fault tree analysis (FTA)
A fault tree analysis is great for identifying offshoots of specific hazards, and taking notice of the interconnectedness of hazards and how ignoring or forgetting one or two hazards can result in a number of follow-on effects which together can create some serious consequences.
More methods of risk assessment and hazard identification
This list of hazard identification and risk assessment methods is by no means exhaustive. There are a number of other methods you can get stuck into to improve your safety processes and outcomes.
If you are looking to improve your hazard identification and risk assessment processes, then take a look at the smart templates below. They will give you a great start.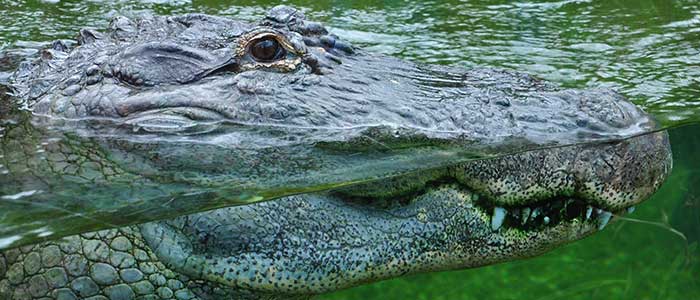 Hazard Identification Checklist
Make identifying hazards a more integral part of your processes.
See the template →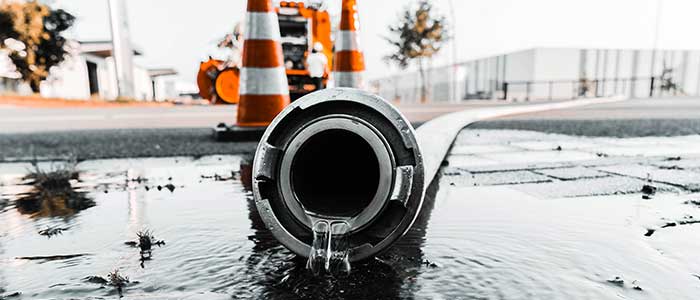 Hazard Register template
Summarise all project risks in this register to prevent and mitigate future occurence.
See the template →
See how you can easily streamline your systems and processes with Sitemate today