Safety – Risk monitoring and control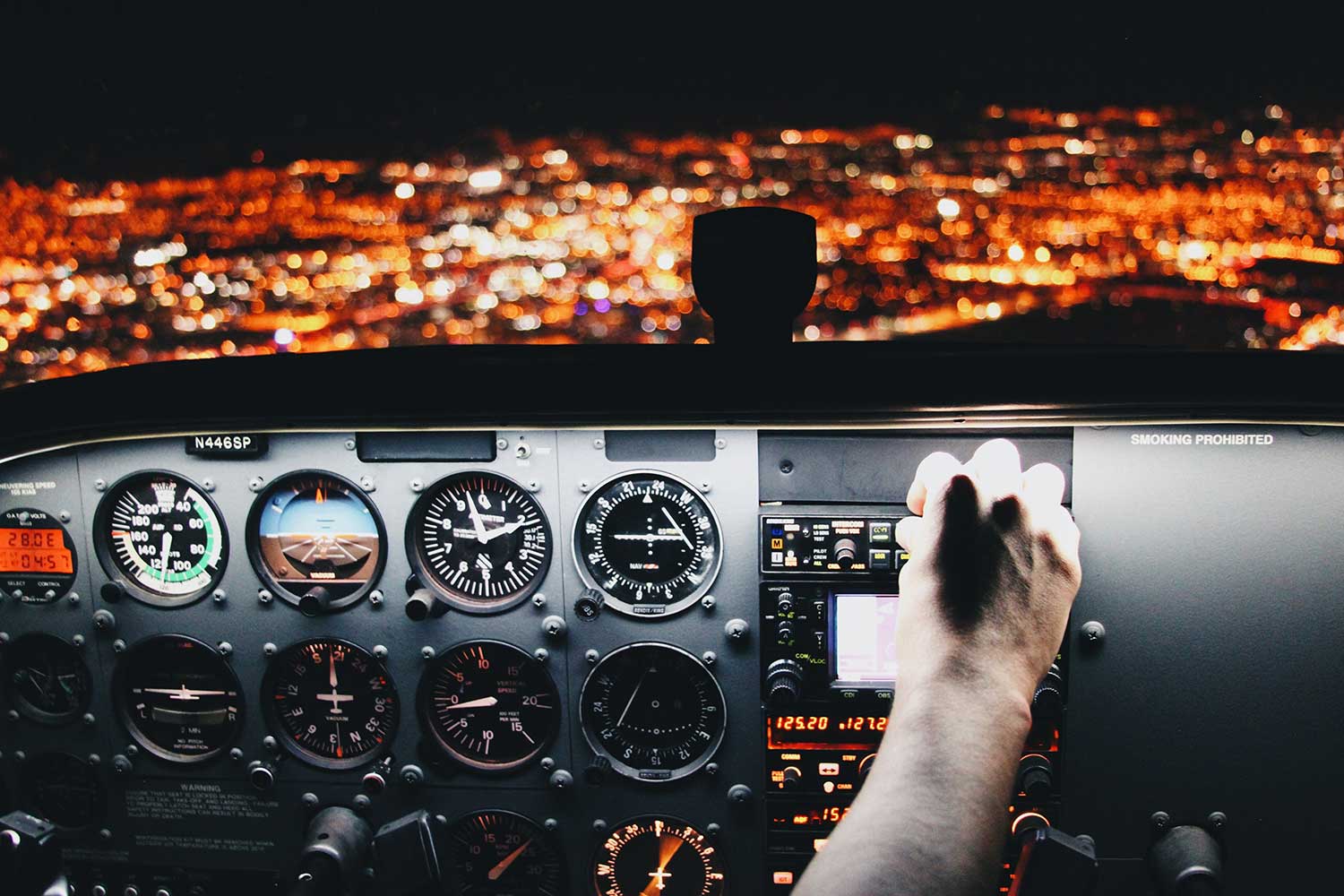 Risk monitoring and control: How to make yours better and safer
Risk monitoring and control definition
Risk monitoring and control refers to the process of continuously identifying risks and establishing the best methods of dealing with those risks.
Risk monitoring and control begins at the start of projects when all potential and known risks are identified, and then just as importantly, continues throughout a project as those initial risks are continuously tracked while new risks are also identified as work continues, changes and progress.
For all companies and on all projects, risk monitoring and control is a constant battle and endeavour, and one which can always be improved.
Risk monitoring and control is a really important project management activity, because it enables companies to manage one of the most powerful forces in project management: risk.
The overarching purpose of risk monitoring and control is to mitigate and eliminate the risks which could de-rail a project or impact a company, and within these broader goals there are some more specific purposes:
To make sure that the right and appropriate risk responses have and are being implemented as planned
To determine the validity of the assumptions which were made prior to projects and will likely be made again
To ensure risk responses actions are effective
To identify risk triggers for now and in the future
To track and ensure that proper risk management and risk control procedures are followed
To analyse trends and patterns in risk
Without proper risk monitoring and control, a company is powerless to understand how their initial risk plans are going, as well as to respond quickly to the inevitable risks which arise during the course of projects.
The risk monitoring and control process
As mentioned, the risk monitoring and control process continues throughout the life of a project, but there are some distinct stages of the risk monitoring and control process which are generally aligned with the phase of a project.
Risk management plan
The risk management plan is often the first stage of risk control on any project. A risk management plan is a document that a project manager and company prepare and use to foresee risks on the project.
The goal of the plan is to outline potential risks, and also create some controls around mitigating those risks. The priority and level of these controls is usually dictated by assessing the likelihood and impact of each risk.
Risk register
The risk register is the single source of truth when it comes to tracking risks on a project, as it stores every risk associated with the project as well as some additional detail on those risks.
These risk registers are usually created at the start of the project, and then updated with new risks as they are identified on site using a risk assessment app like this or hazard or risk identification sheets.
Variations, change orders and change requests
Risks can be updated at any time during the course of a project, but there is usually a conscious and deliberate effort to assess the risks associated with any specific changes to the project.
These can be general scope changes, whereby the project plan changes due to some force, or they can be specific variations or change orders which require a change in work, which can create new risks.
Project information and communications
The other force which always makes its way into the risk monitoring and control process is new project information and communications.
Throughout the course of every project, especially if it is running for a prolonged period of time, a project manager and company are going to learn, see and hear new information.
Basic communications between site and the office create new hazard and risk information which should be used to implement new controls and measures.
Assessment
The last and one of the most important aspects of risk monitoring and control is properly tracking and then assessing the success of your risk management efforts.
At the end of a phase of works or project, the same people who create the risk management plan should be able to sit down and assess what went right and what went wrong, how accurate the initial plan was, and what changes can be made for the next project so that risks can be further reduced.
Risk monitoring and control tools
When people talk about risk monitoring and control tools, they are usually talking about one of two things:
The theoretical 'tools' which can be implemented manually
The technology tools which automate large parts of the tooling processes above
In terms of the theoretical tools which can be used for risk monitoring and control, we have:
Risk audits
Status and safety meetings
Risk reassessments
Variance and trend analysis
While some companies manage these processes manually, other companies streamline these processes using smart risk monitoring and control tools.
For example, many construction and industrial companies who need to monitor and manage risk on site in an open and always changing environment use dedicated safety software.
These softwares enable workers to conduct risk audits using mobile phones and tablets, with that information being synced to the risk register and safety database in real-time.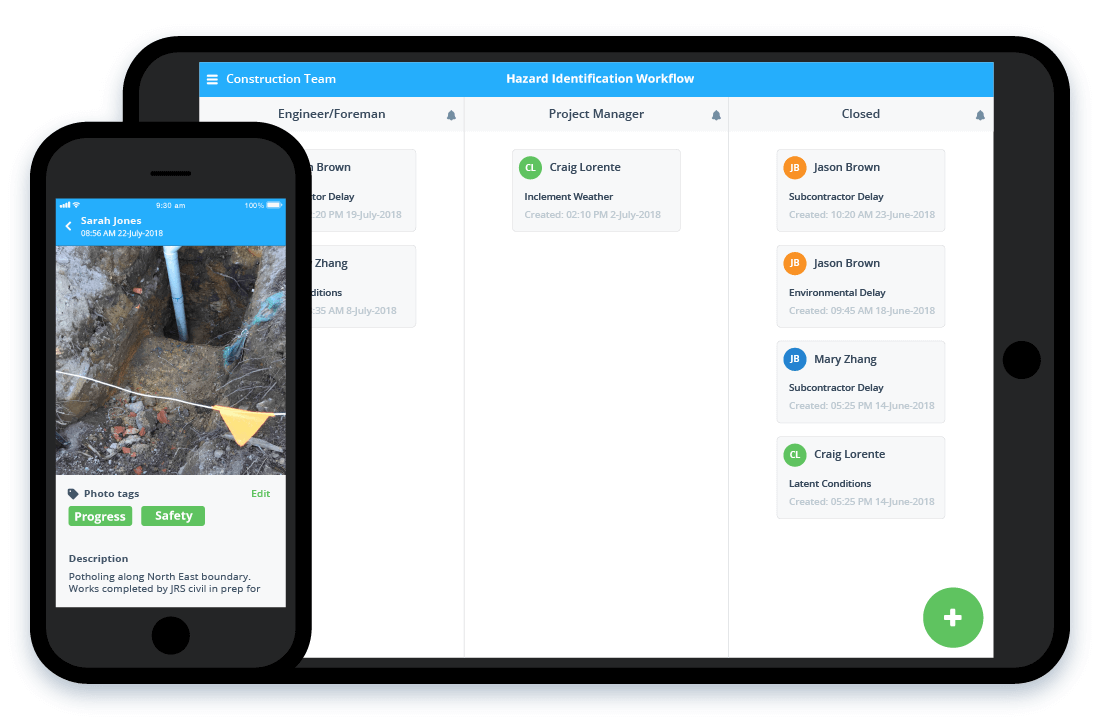 The same tool can also be used to conduct and document status and safety meetings, so that all of that critical information is stored and accessed in one consolidated place.
In addition, variance and trend analysis can also be performed with these risk monitoring and control tools.
All of the information being collected out on site can be displayed and tracked real-time analytics and dashboards. This means that project managers and other stakeholders can see progress and risk updates on an aggregate basis, as well as properly assess risk at the end of the project knowing that the data is up-to-date and accurate.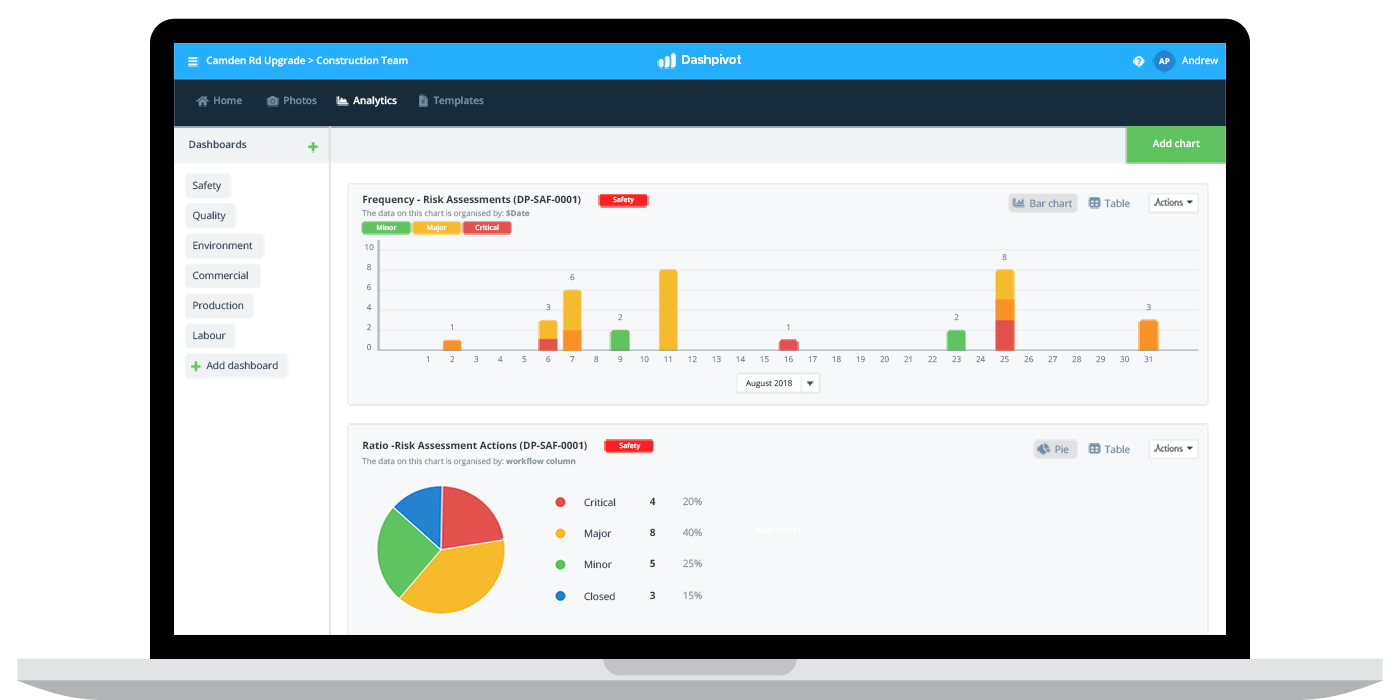 Risk monitoring and control templates
All these risk monitoring and control tools do is digitise the documents and processes behind a company's risk monitoring and control procedures.
Most of these procedures are grounded in risk management templates.
These templates provide frameworks for the people in the office and the people on site to document, organise and track risk information.
A company may have 20, 50 or 100 different templates for the different elements of risk monitoring and control. One such example might be the working at heights risk assessment template you see below (which is an exported version), and a company will likely have individual templates and frameworks for all of the individual components of risk management - which combine to form the entire safety management system.
Dashpivot has a bunch of digital templates and procedures pre-built for companies looking to improve how they and their workers manage and complete processes, and you can edit and customise them to fit your needs.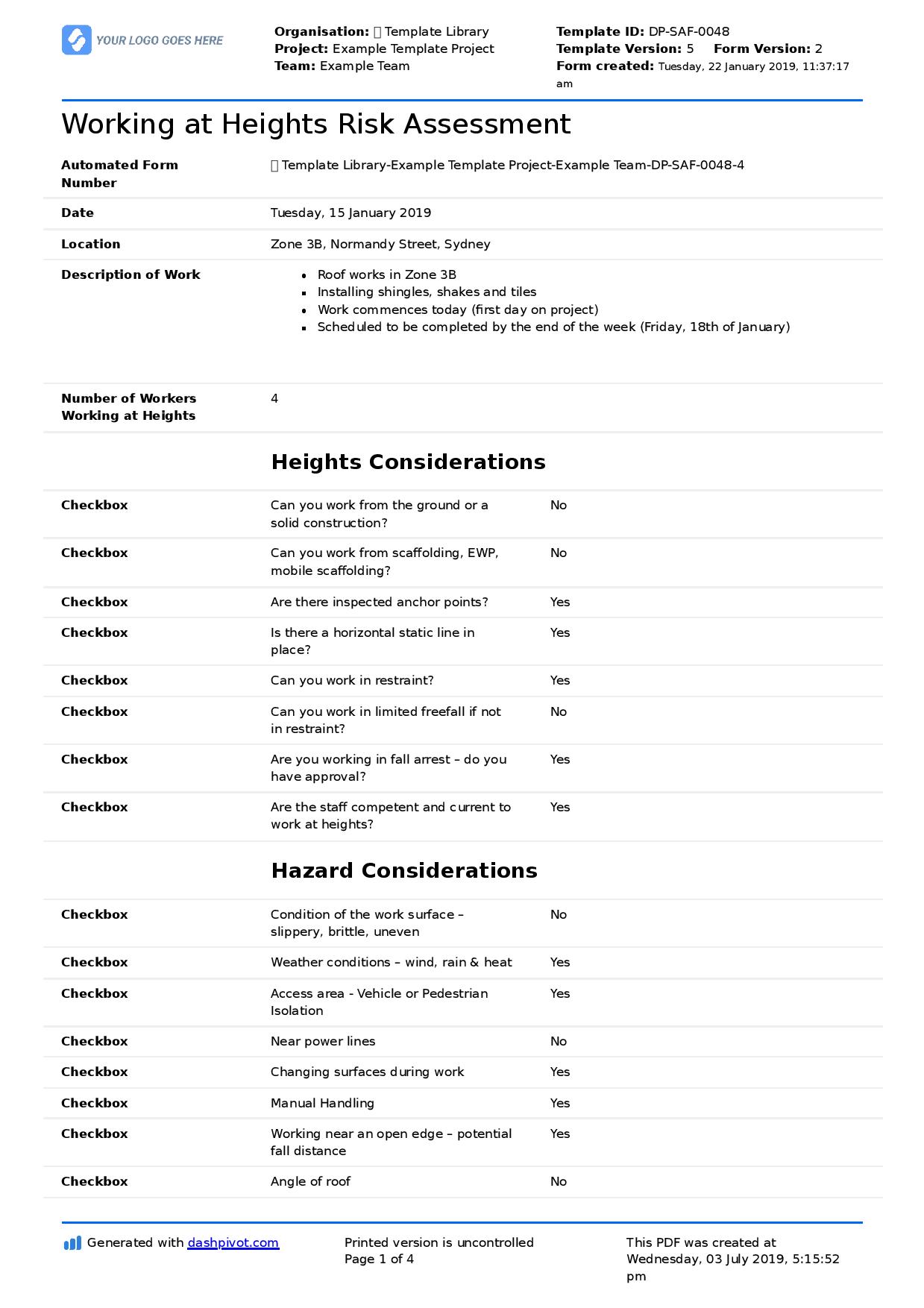 Try some of these risk monitoring and control templates.
Risk monitoring and control examples
To summarise all of the different elements of risk monitoring and control which have been outlined above, it's helpful to look at a real-world example of what risk monitoring and control looks like.
Let's take the example of a construction company who has had an equipment failure.
This construction company assessed the risk associated with a number of aspects of the project with the assumption that they would have two excavators available. They now have one excavator available, and there is a 4-week turnaround to getting a new one in.
Because of this, the company needs to assess the new risks associated with only having one excavator available - and assess whether the risks associated with only having one excavator are high enough to warrant getting an interim solution.
The company may monitor how one excavator is performing, and then put in place a new control (a new excavator) to manage the additional risks associated with only having one excavator.
Another simple risk monitoring and control example would be if there has been some unexpected weather forecast. Companies always monitor powerful external forces like these, and a slate of bad weather may require them to put in some additional controls around work and production rates, as well as workplace safety.
These type of events or unforeseen circumstances happen hundreds of times on most projects, and good risk monitoring and control can ensure that you are reacting with appropriate corrective actions and control measures which will keep your projects on track and on budget.
People in 80+ countries use this safety management system to monitor and manage risks more effectively.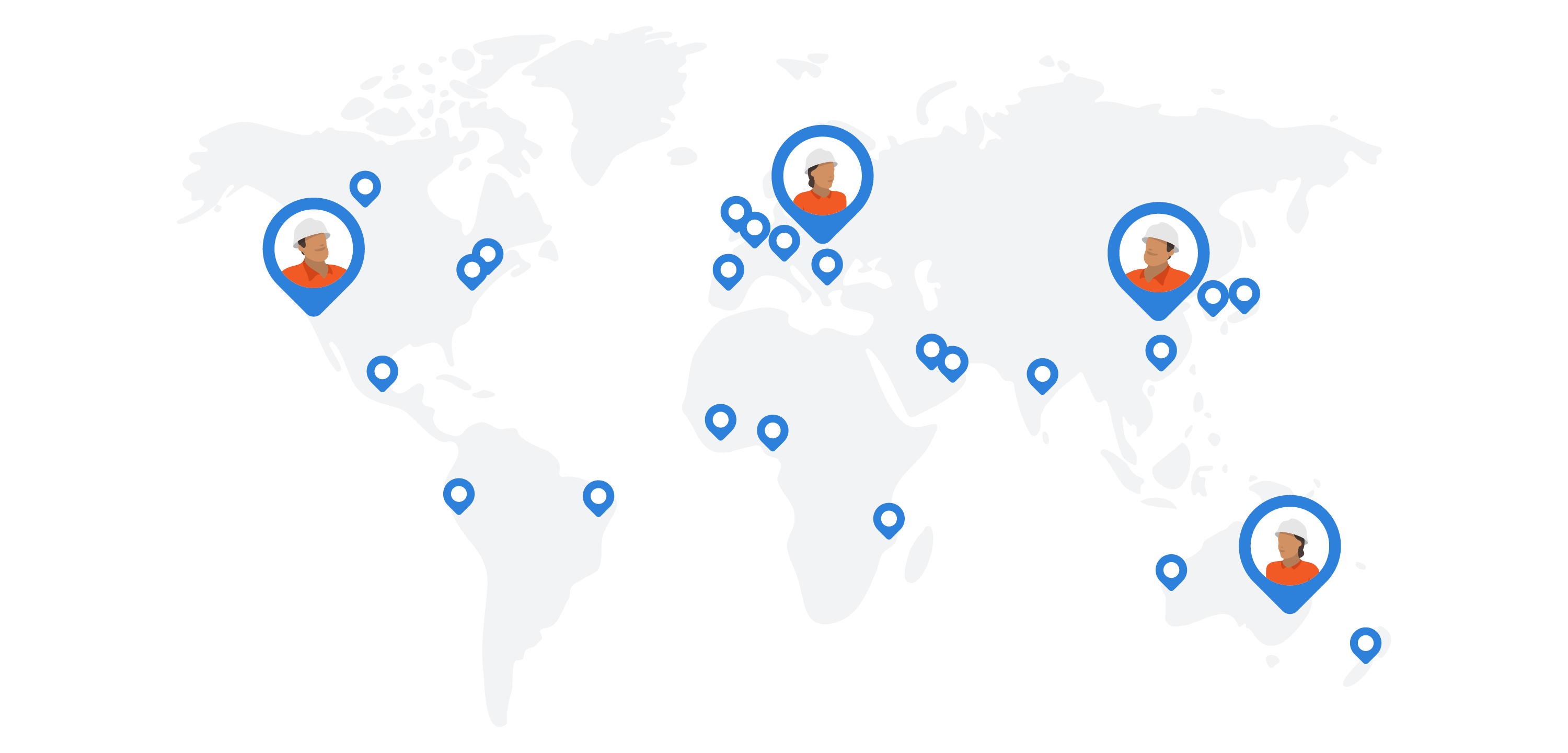 Sitemate is flexible project managament software which enables companies in the industries to streamline their projects, teams and processes - their way.