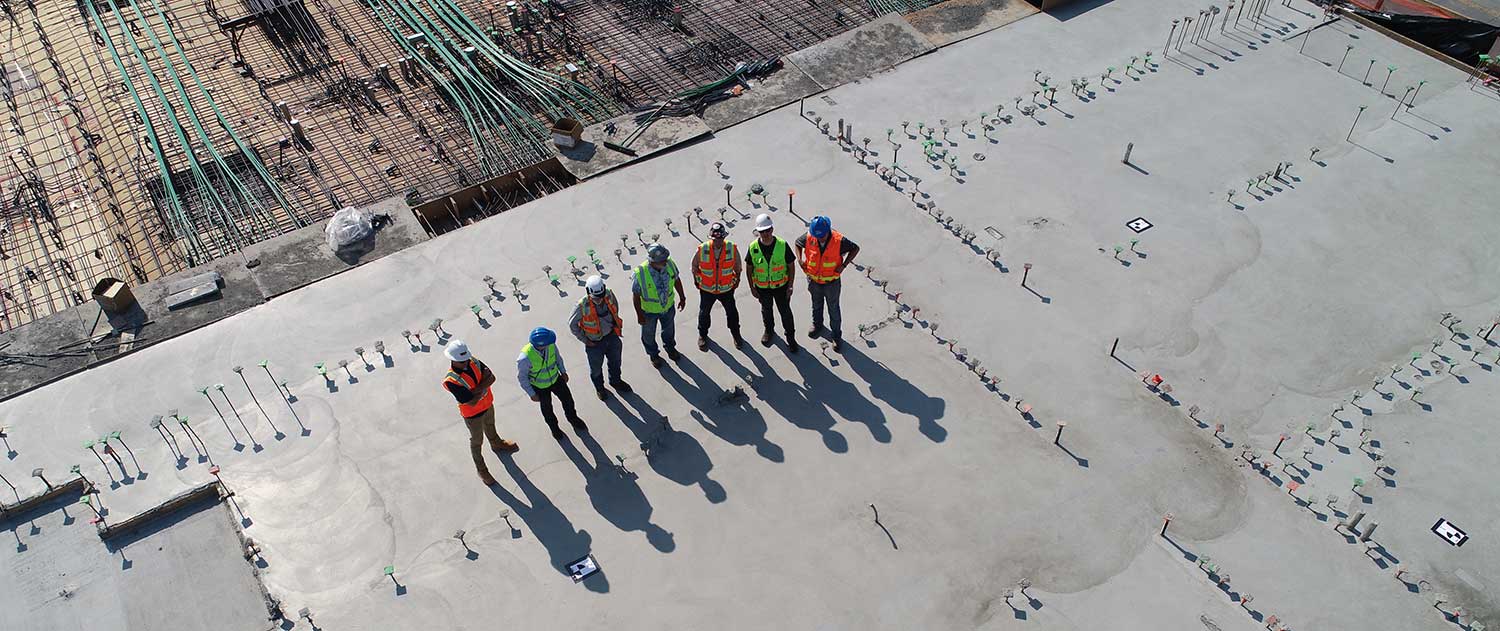 Site induction: What to know about site inductions
Site induction meaning
A site induction is a process or activity which involves 'inducting' workers and visitors onto site by informing them of their requirements and responsibilities as well as arming them with site specific health and safety information they need to enter, work and be on site safely.
The main purpose of a site induction is to ensure everyone entering site can do so safely, and that the company (contractor, client etc.) has all of the details they need about the inductee for increased safety and also compliance.
Why are site inductions important?
Site inductions are one of the most important safety processes, because they set the tone for your safety approach, and create an understanding amongst new site workers and visitors that this site sees safety as a priority.
If a person enters site to a poor induction, it is highly unlikely that they are going to be motivated to report on hazards and follow strict permitting procedures - knowing that the company or contractor itself has not committed to strong induction procedures.
Site inductions are also important because the two main types of people being inducted can both benefit massively from a good induction:
Workers who are familiar with these types of projects and sites - Workers who are familiar with construction sites or other work sites can become complacent about the dangers of every site. Providing them with a good and also digestible induction is a great way of refreshing their sense of safety and keeping safety top of mind. Also, every site is a little different; sites have different assembly areas, different emergency protocols and different activities taking place. Workers need to be across this specific site.
Site visitors who do not have much experience on site - For people unfamiliar with sites, a site induction can really impact their level of safety. Covering key issues and contextualising the type of work taking place gives visitors a much keener sense of how to move around site and engage with their surroundings safely.
While the word and term 'induction' often has some negative connotations, it's critical that inductions are never seen as a waste of time nor ticked and flicked.
A lacklustre site induction process or missed induction can be the difference between a hazard and an incident. Inductions should be a priority on every site.
Site induction example
As we highlighted above, each project or site should have a site specific induction template. This obviously means that there is some variation in what a site induction looks like.
The length and detail of your site induction will also depend on the type of person or people being inducted. If you are inducting a temporary visitor who will only be on site for a short inspection or walk-around and who will be escorted the whole time, then you can likely have a quicker and shorter site induction.
If the person or people will be unescorted and performing some more engaging activities on site, then a deeper and more comprehensive site induction is more suitable.
Companies who perform other safety processes extremely regularly like toolbox talks or tailgate meetings may be able to shift the burden of some information to these other gatherings, while more specific safety processes like SWMS might also alleviate some of the more specific details which need to be covered in the site induction.
The term site induction is also a relatively broad and encompassing term, so some people refer to a number of orientation steps and site entering processes as inductions, while others are talking more about inducting people into their specific roles and activities which can include things like excavations and demolitions.
What should a site induction include?
So with all of the above information about making inductions site specific and tailored to your sites and projects, what should a site induction include?
Site inductions should always include details about the person or people being inducted including names and contact information. These records are crucial in the event of a safety incident or emergency.
Include certificates and work permits, especially when high risk activities are involved.
General site rules, layouts and work zones
Fire safety and emergency procedures
Location of first aid and other key safety equipment and areas
Standard of behaviour expected
Restricted areas
Some form of signature or acknowledgment on behalf of the inductor or inductee to prove that the induction was completed and understood
Some site inductions will be more concise than the above, with the site induction example below focusing on worker competency - but all good document management systems will enable you to create the perfect induction process to suit your sites and projects.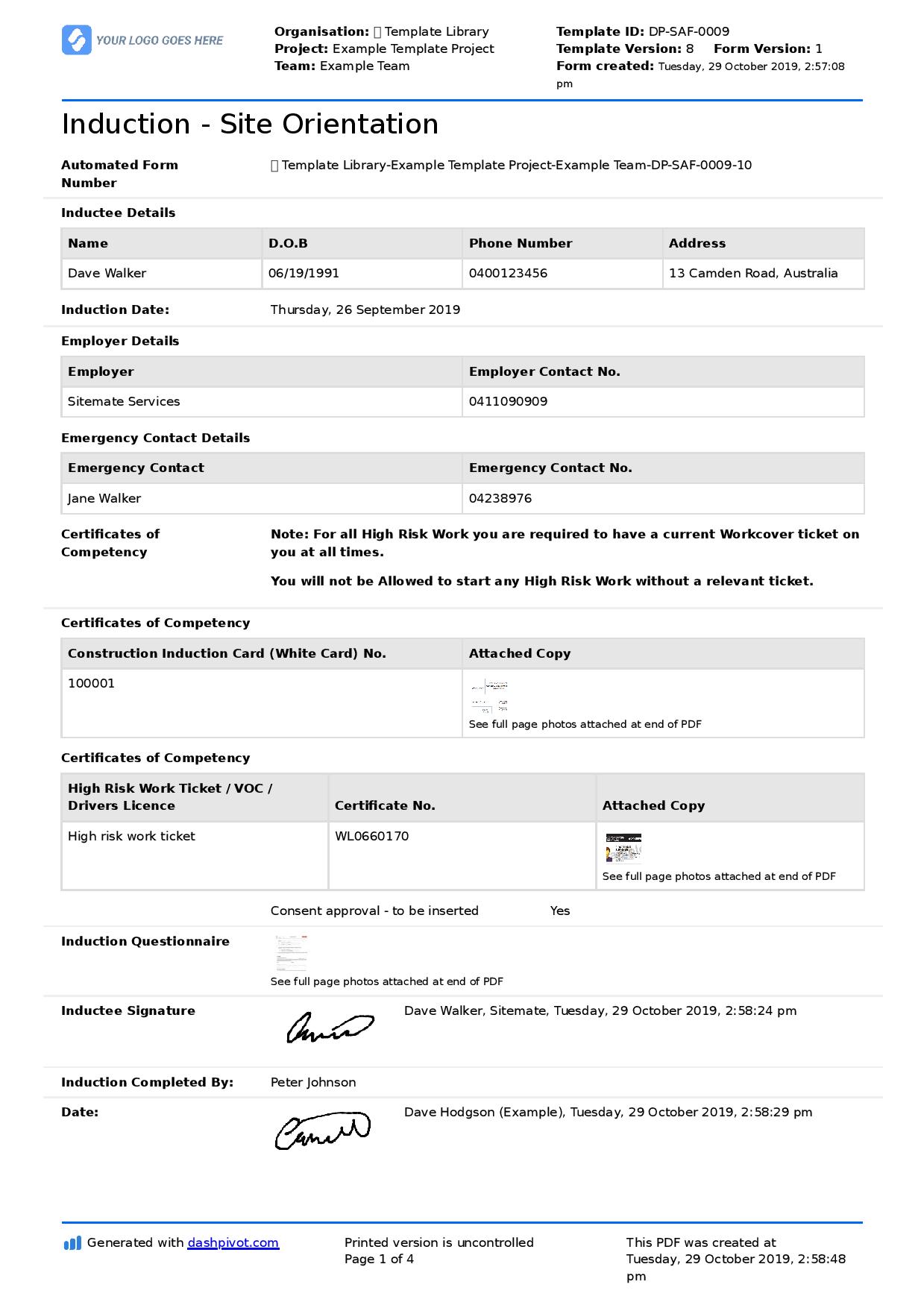 See or use this site induction framework.
Improving your site induction process
As you have probably gathered from all of the previous information, site inductions are important - but what makes up a site induction?
A site induction isn't simply the site induction meeting or induction form - it's the entire site induction process.
Improving your site induction process can have a huge impact on the quality and consistency of your inductions as well as the quality and reliability of your site induction records.
Many companies still run their site induction process using very tired and time-consuming documents and workflows based in word, PDF, excel and even paper forms - and this type of process creates many problems.
Firstly, filling out and completing site inductions can be difficult. Scrambling to find the right induction template (which many times people don't) and manually entering information onto a paper or PDF form takes time and doesn't look professional.
Secondly, those records are often lost or left on site where they can be misplaced or ruined. This renders the site induction pointless from a documentation and compliance viewpoint.
And lastly, in the event of an incident, emergency or even an audit, people often can't find and access the site induction records which are stored on hard drives, attached to emails or lost completely.
Because of all of these issues - and the frequency with which these issues and site inductions occur - some companies have found the easiest way of instantly improving and streamlining their site induction process: with a site induction app or digital system.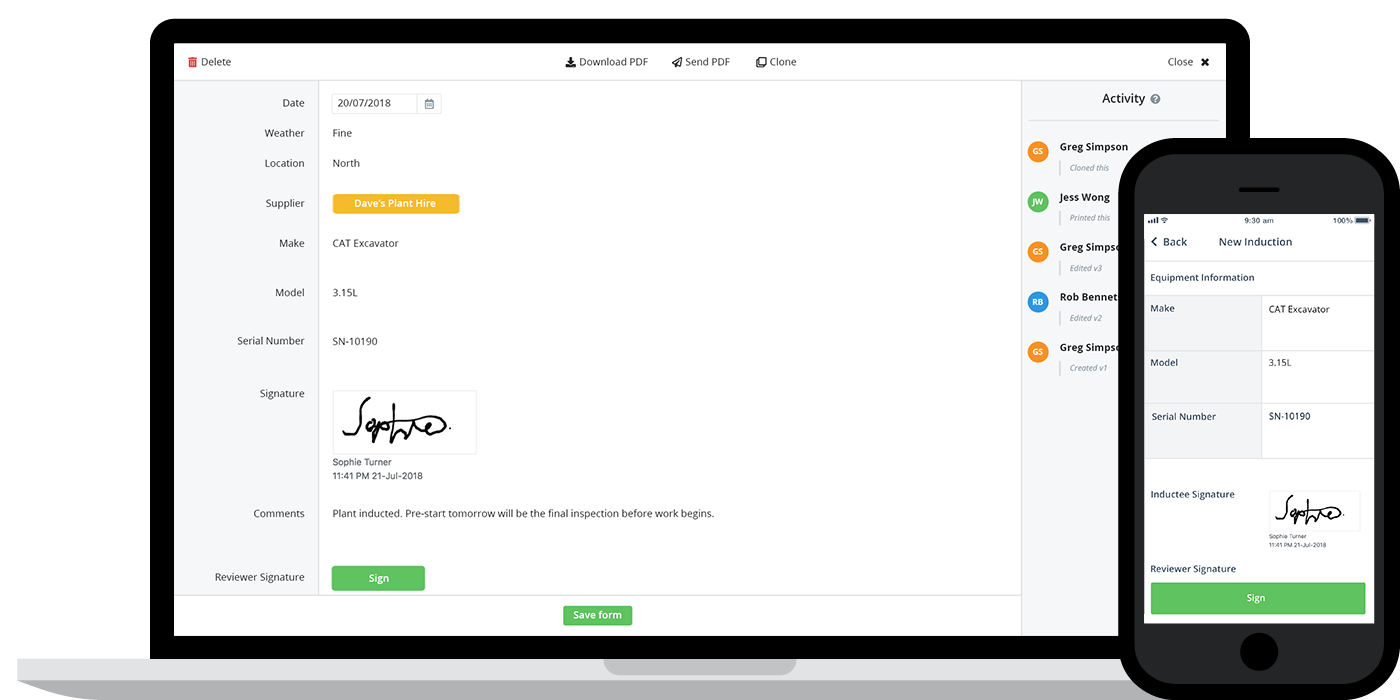 By replacing manual and time-consuming site induction processes with digital and largely automated induction systems, companies can instantly rectify many of the issues associated with the old school process:
Supervisors, managers, workers and visitors can all access and complete digital site inductions on mobile, tablets or computers. This enables them to easily capture all of the necessary information, take and attach photos and certificates, and sign off digitally.
All of the records completed using the digital tool are instantly and automatically synced to one place, where they are organised into their proper projects and teams, are always quick to search for and find, and can be exported as professionally formatted documents in one click.
Using a digital solution, companies can get more insights about their inductions and other safety KPI's through real-time analytics and dashboards - so they can continue to improve their inductions and safety outcomes
There are even more benefits to transitioning to a dedicated induction system including automated workflows and strict document controls, but the benefits are obvious.
Many companies spend massive amounts of time and effort in thinking about, planning and implementing better site inductions - but they fail to upgrade the systems behind these implementations.
There are plenty of ways to improve your site inductions, from improving the meetings and inductions themselves, to making your induction management more streamlined and professional.
See how you can easily streamline your systems and processes with Sitemate today