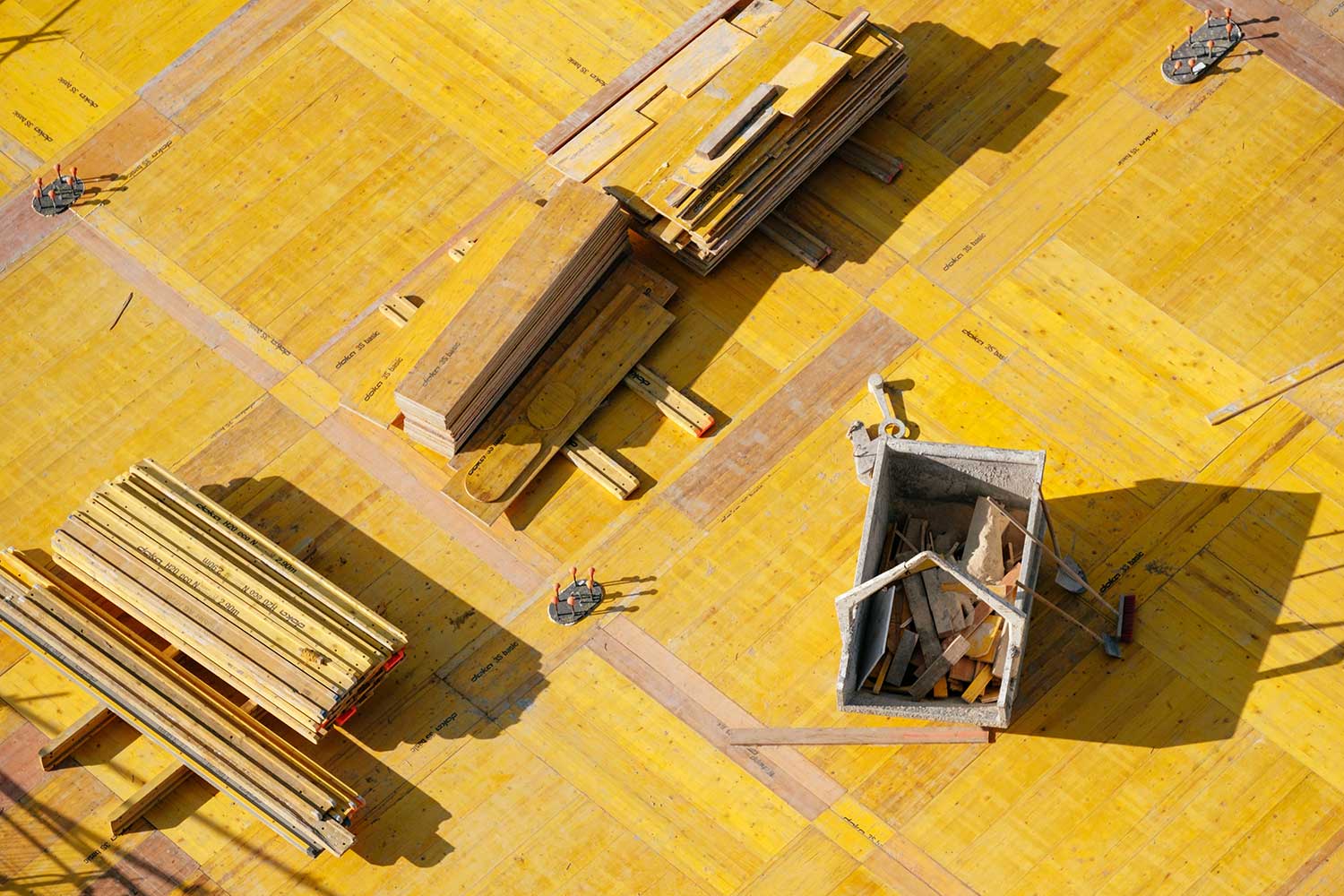 Delivery docket: What to know and how to manage these dockets
Delivery docket definition
A delivery docket is the formal document which accompanies a shipment or delivery of goods. The delivery docket describes what is being delivered and received, and how much of that thing (quantity) is included in this delivery.
A delivery docket enables the seller or deliverer to share exactly what's 'in the box' for the buyer to agree to and accept.
A delivery docket serves as proof of delivery for the buyer and/or seller. This is critical for reducing delivery issues and disputes about when and what was delivered.
Without delivery dockets, it's the buyer or receivers word against the person delivering the goods, and this never works out particularly well. To ensure that each party has acknowledged the exact contents and nature of the delivery, it is crucial that any delivery docket is properly signed by participating parties.
While this seems like a no-brainer, managing delivery dockets and coordinating signatures can be difficult, especially on large scale construction and industrial projects where there are hundreds or thousands of deliveries and many concurrent deliveries.
We'll take a look at how to make your delivery docket process more efficient after we take a look at exactly what a delivery docket looks like.
What does a delivery docket look like?
A delivery docket is a crucial yet relatively simple document.
The main sections which all delivery dockets should include are:
Automated form/docket number - Each delivery that a company makes and receives is unique, and it's absolutely critical that every delivery docket has a unique code too.
Document management softwares and systems ensure these details are generated automatically through strict version controls, so if you are managing these dockets manually, then you need to have a system in place for ensuring each document is uniquely identified.
Delivered to and from - For obvious reasons, documenting who made the delivery (which might be the creator of the goods and the deliverer or both etc.) and who is receiving the delivery is very important.
On large scale sites and delivery locations, it's relatively easy for a delivery van or truck to try quickly move goods or materials off their vehicles. It's crucial that the person signing off on the delivery knows exactly who the delivery is for and where it is going.
Delivery details - Different delivery docket samples and frameworks may use slightly different formatting and wording for specific tables, but the delivery details in this case outline the PO#, order date, delivery date and telephone number associated with the delivery.
The contents of the delivery - Arguably the most important part of any delivery docket is the contents of the delivery. A table is usually the best format for this section of a delivery docket, with crucial elements of any table being:
Item code
Description of item/goods
Quantity ordered
Quantity shipped/delivered
Having both the quantity ordered and the quantity delivered highlights any discrepancy, with room for comments and notes for additional context about why there was a discrepancy.
A company orders goods for a specific date usually because they need them, so it's crucial that these numbers get to the right people quickly so that new or additional materials can be ordered and the project can continue.
Comments about the delivery - Tables are great for numbers, but you should always have room on your delivery docket for written comments, which can feature information about the contents of the delivery, where things were delivered, specifics about difficulties with the delivery and more.
Photo/video evidence of the delivery - One of the most important and underrated parts of any good delivery docket is proof of delivery. A photo or video serves as undeniable proof of a delivery, defect or other issue - so it's crucial to add this evidence to the document wherever possible - which can be easily done when using a delivery docket app.
Date received and who it was received by - The date of delivery is important for obvious reasons, and it should be clearly marked with both the day and time of delivery - the more detail the better here. It's also crucial that the person who receives the delivery is documented too - and that person then signs off on the document. Clearly documenting these facts of the delivery reduces confusion and potentially costly disputes later down the track.
This delivery docket sample was generated by Dashpivot, which enables industrial companies to document their delivery dockets in a digital format, and then export them into PDF documents when required.
You can expand the sample below by hovering over the delivery docket.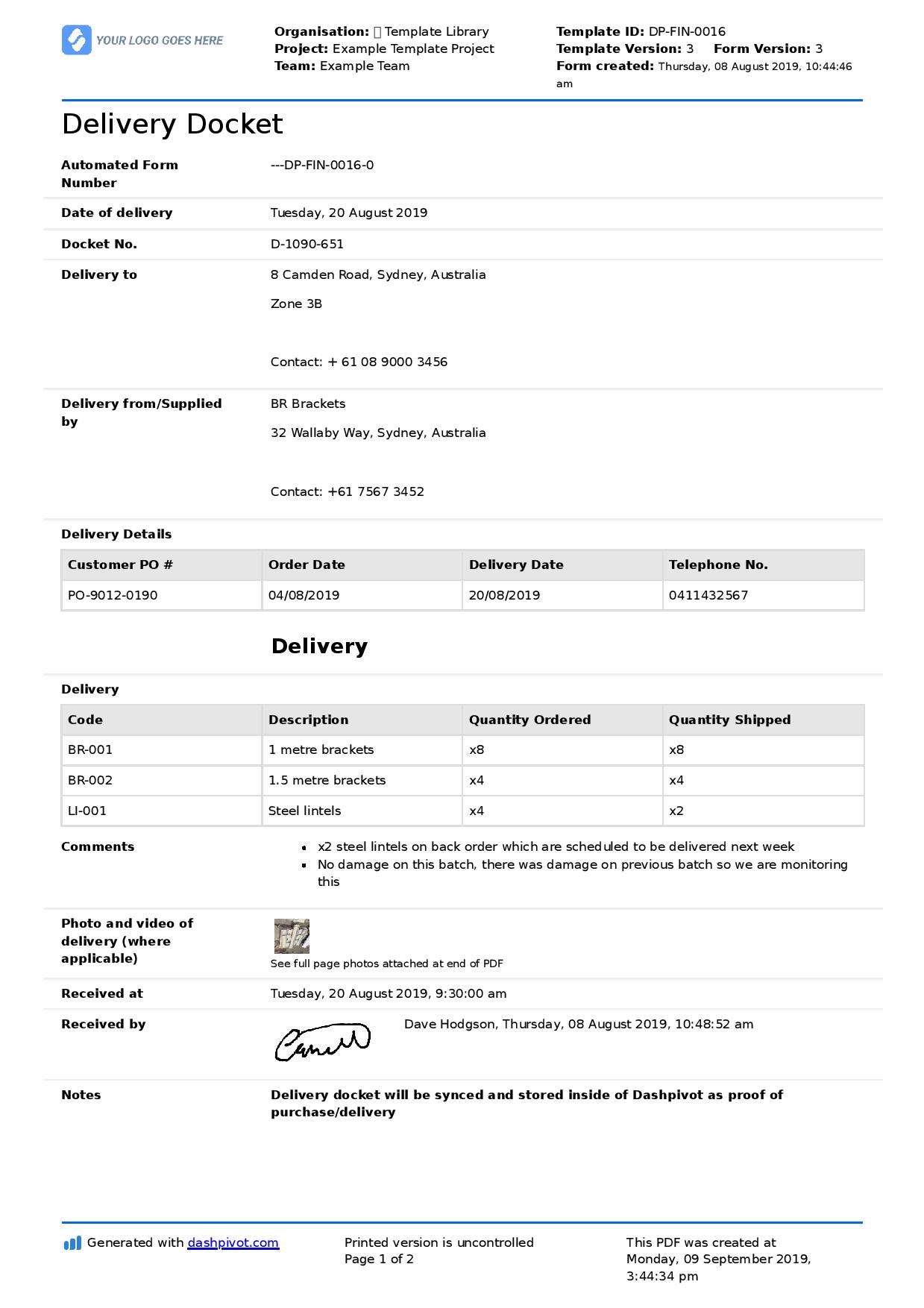 Use and edit this delivery docket framework for free.
Delivery docket tracking
Delivery dockets are a crucial part of any delivery, and form an integral part of the delivery process for the seller or deliverer, as well as the buyer.
But although important, the process or procedure which many companies rely on to manage these crucial documents is often very inefficient and ineffective.
A single lost delivery docket can cost a party thousands of dollars and a very unwelcome amount of time disputing or investigating a specific issue. And if each delivery docket takes a few extra minutes than required because of a poor process, this can equate to thousands of dollars over the course of a project.
So what does a traditional (and inefficient) delivery docket tracking system look like?
Many companies don't quite use a 'system', and instead still rely on paper delivery dockets, word documents and excel spreadsheets. Using these systems to manage delivery tracking falls short in a number of areas. The major one is in efficiency.
Using a paper-based delivery docket, a site or field-based worker needs to fill out a paper form and then sign it off. They then need to put in somewhere while still on site, before later scanning it and emailing it to an administrator. If the docket doesn't get lost or misplaced through this series of events, then an administrator will typically reconcile that docket into a tracking spreadsheet or other system - which then requires more time. A system like this takes a lot of time, costs a lot of money, and also introduces a lot of margin for error.
Luckily today we have better ways of delivery docket tracking, like delivery docket apps and tools.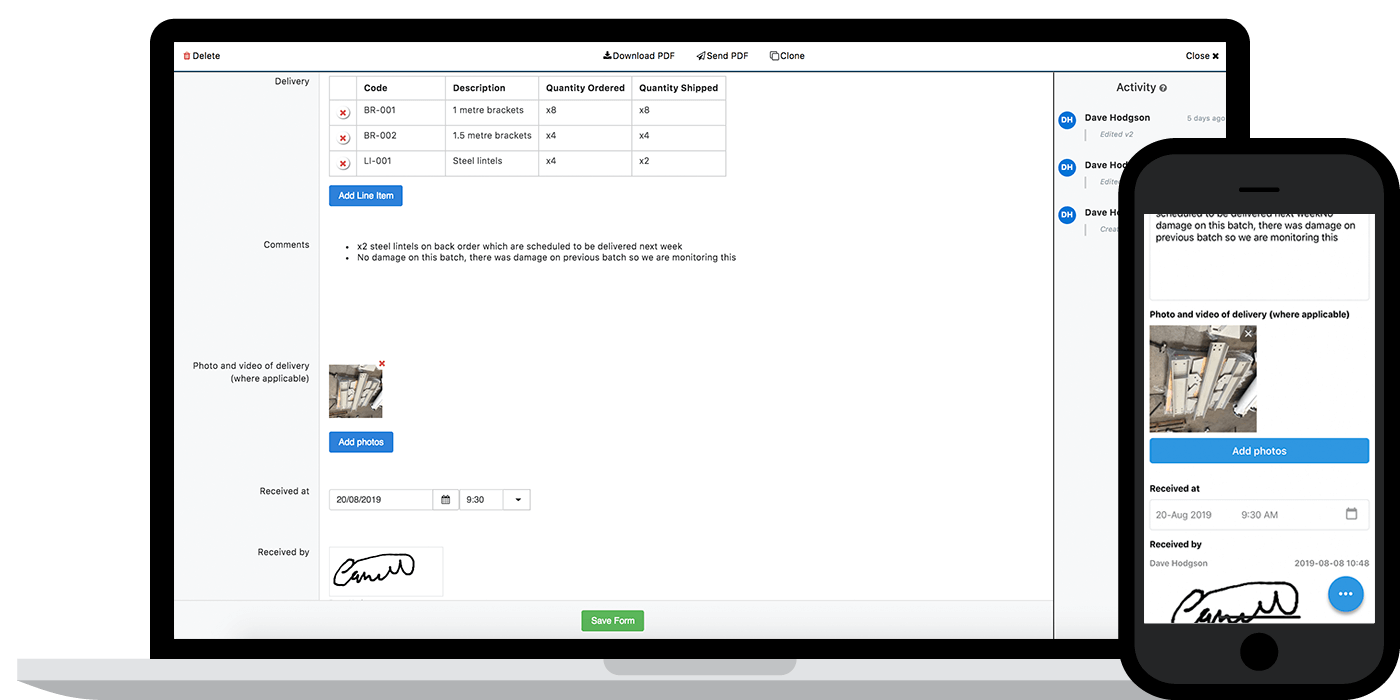 A proper delivery docket system enables us to capture and track delivery dockets from start to finish using a single digital system.
What does this process actually look like?
The deliverer or the receiver (or both) would simply open their phone or tablet on delivery and open the correct delivery docket template, which would be standardised by their company or companies. They would fill out all of the details directly on site, take a couple of photos inside of the app, and then sign it off digitally.
The instant this record is created, it is automatically synced to the system and piped into the correct site or project 'folder' inside the system. The administrator can then get a notification that the docket has been completed, convert those records into a register view, and send or download the docket in their favoured format.
This way, the delivery docket is filled in once, and all of that information is passed through the information chain in real-time, which obviously saves huge amounts of time as well as eliminates the possibility of errors, illegible writing and other silly issues.
You can even start to get insights and analytics about your delivery dockets, which makes delivery docket tracking easier and more insightful for everyone.
Digitising how you manage your delivery docket is the easiest way to improve how you manage delivery dockets and deliveries in general. Goods and materials are crucial to every business, and your process should reflect that.
People in 80+ countries use this financial software to better capture, organise and track project finances.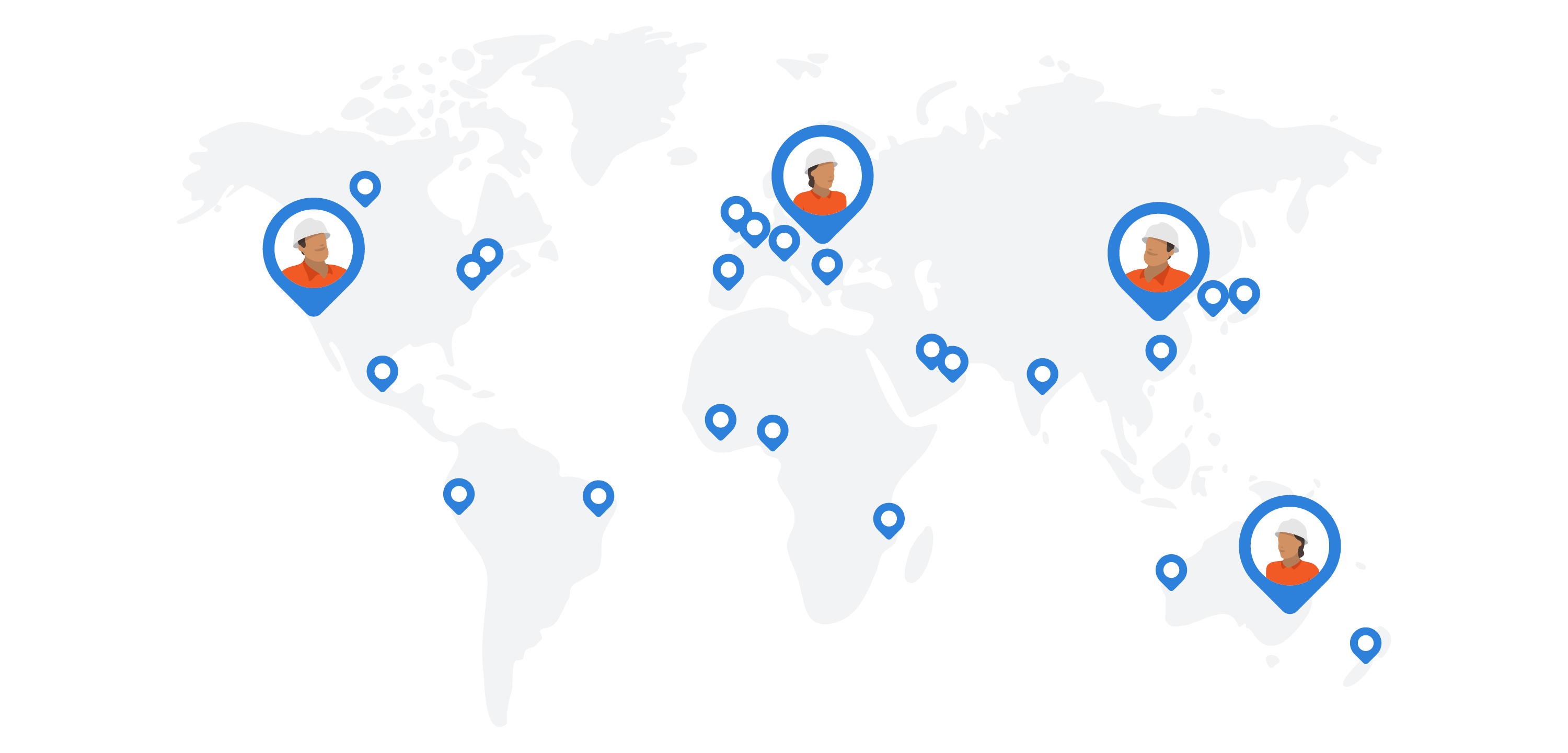 Sitemate is flexible project managament software which enables companies in the industries to streamline their projects, teams and processes - their way.