Systems – Document management system features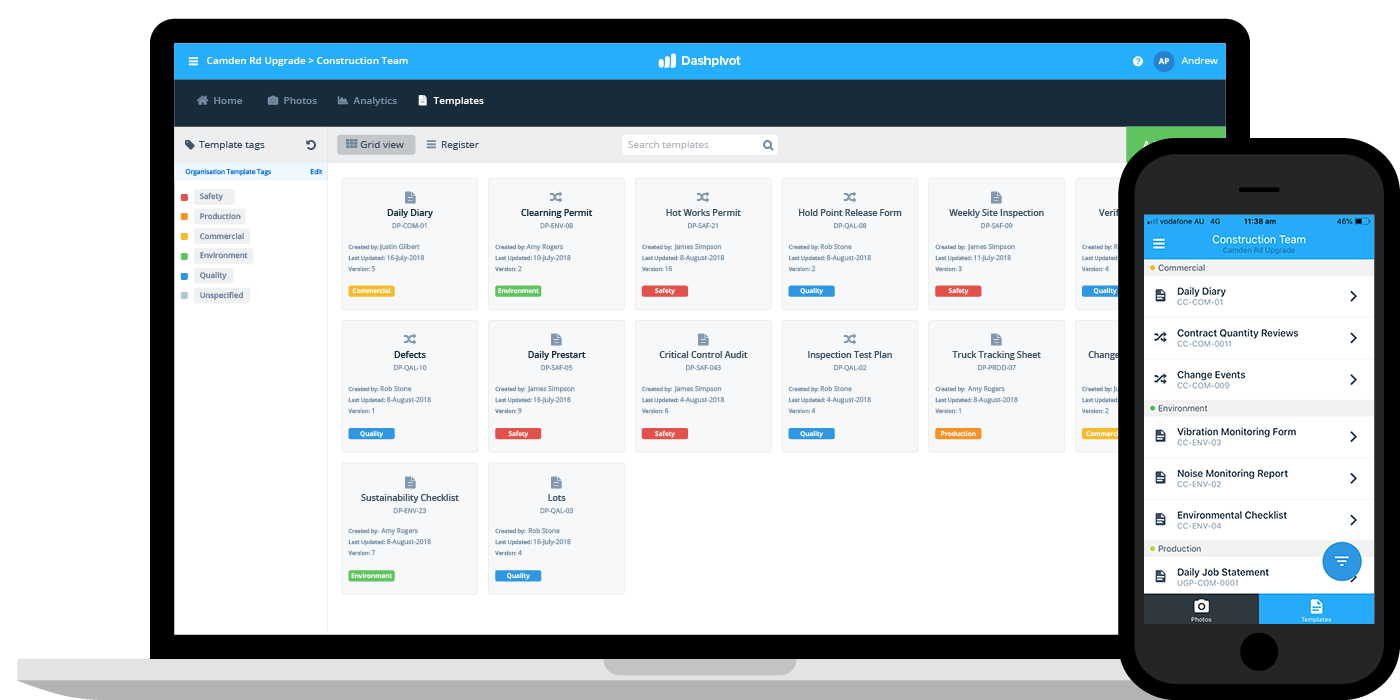 Document management system features
The most important document management system features for you
Document management systems have become more and more sophisticated since the first electronic document management system was designed and implemented.
Today, document management system 'feature' a lot of different features, which are designed to give DMS users with better and easier ways to manage their documents.
The most important document management system features for you will depend on the nature of your company and industry, as well as the current level of document management you have - and the other document tools you use.
Some companies and people are looking for simple and easy-to-use DMS's so they can just spend less time storing and accessing information, while other companies are looking for deep integration and smart features which improve document collaboration and other important functions of a business.
No matter what you are looking for, these document management system features are features which most people do look for - and features which you should definitely be aware of.
Document management software features
Document management software is pretty much synonymous with the term document management system today. Almost all document management systems are electronic and software-based today, and all of them will be in the future.
This 'software' can manifest itself in a couple of different types of document management, but they all serve to provide an interface for people and companies to use, store and access their documents.
So let's dive into the features of document management systems.
Document capture
In order for a document management system to serve its purpose, you need to be able to get documents in there or 'capture' them.
There are two main dimensions to the capture of documents:
Converting your existing documents into the EDMS
Creating new digital documents in the DMS in the future
The capturing or converting of existing documents can often be done using scanning, or a person or people may be responsible for converting documents into a digital format manually.
One of the best document management system features for companies looking to move a lot of documents across to this new format is an automatic document converter. This feature enables a company to upload their word docs, PDFs and other formats, and automatically convert them into the desired format of the DMS.
Once this initial converting is done, most document management systems have features and functionality around being able to create new documents. This feature is often a drag-and-drop form creator, which enables anyone to build a new document from scratch.
Once the template for the document is created, people can access the framework and fill it in, capturing and storing the new data.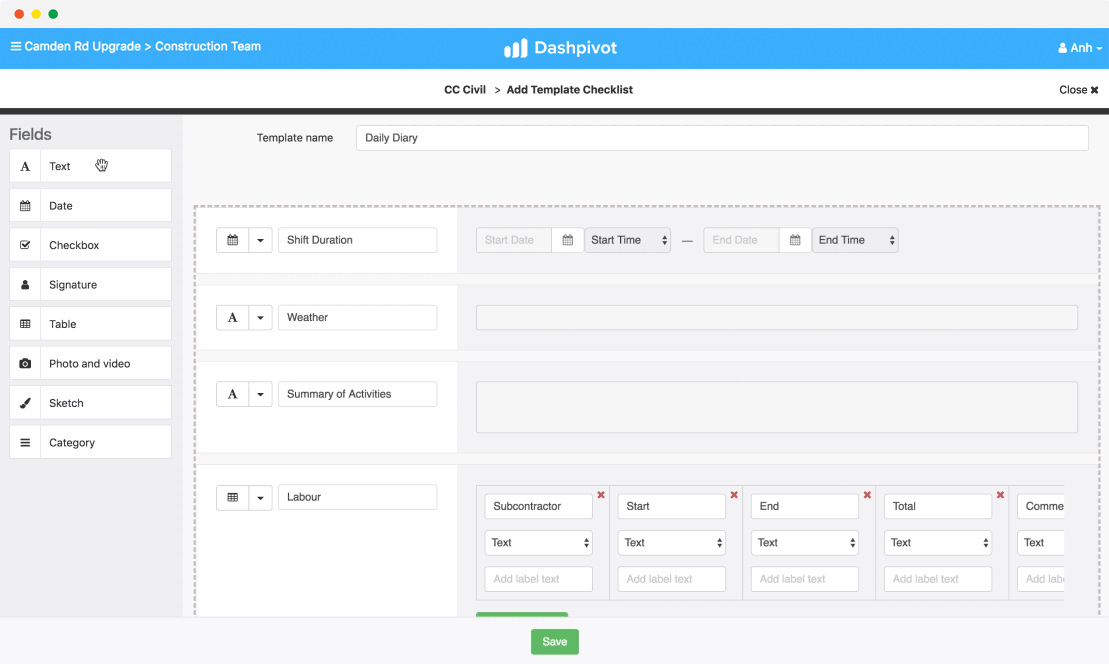 Document storage
One of the most important document management system features is of course storage. But storage isn't sexy and is a feature which is just expected to work. Storage is best when it works seamlessly in the background and only shows its sophistication when you are looking for a specific document.
Good document storage can be achieved in a number of ways, starting with the architecture of the system. For example, for construction companies and other project-based companies, it pays massive dividends to have storage based on projects and teams. This is because it ensures that when information is captured or accessed, it is done so in the right project from the outset.
When a person completes a new document, it will be automatically stored in the right place, rather than someone having to manually move it to a different folder.
On top of this, information should be able to be sorted with tags or other grouping mechanisms. Tags (especially when they are customisable) enable you to sort information according to your business. You may want to group 'contracts' or 'safety procedures', and you'll need a tagging feature to do this.
And no matter how well organised your document management system is, you will always want (and need) powerful search functionality. You'll want to be able to search for and filter for specific document and specific records. Maybe there is an audit, or a question, or you just need to look back.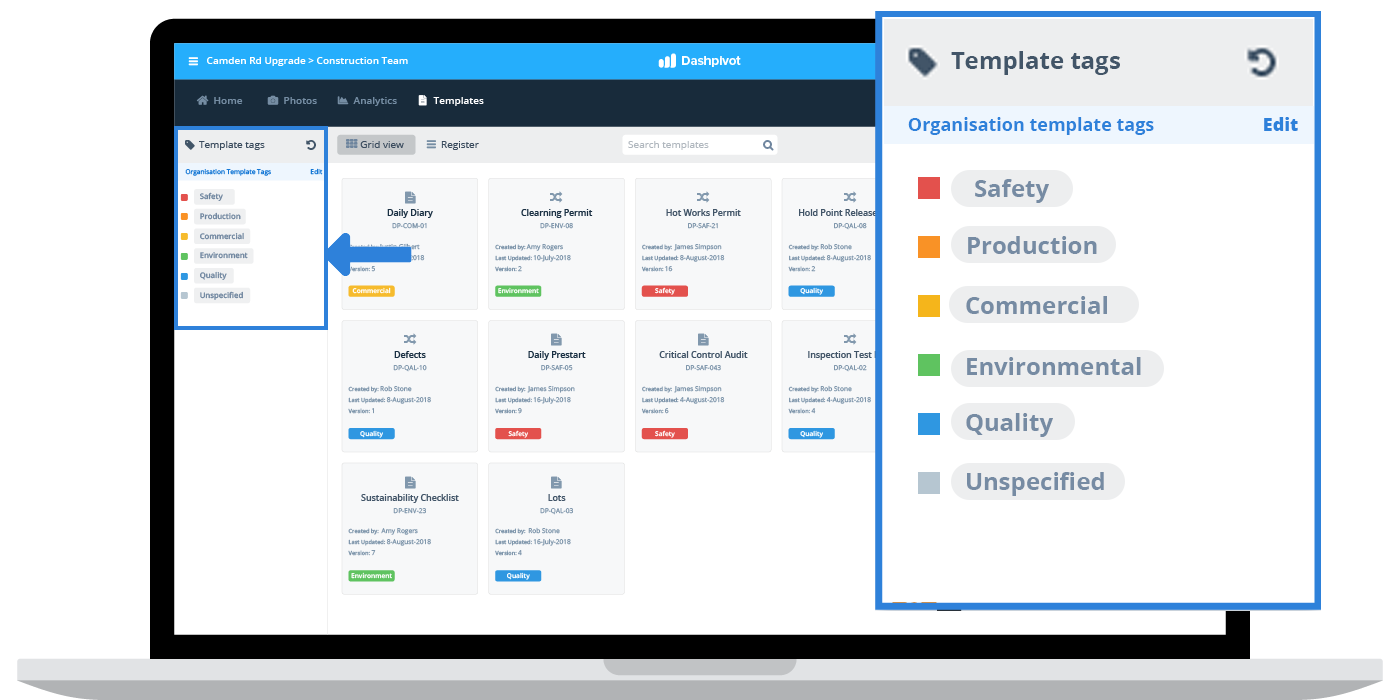 Workflow automation
One of the DMS features which has become increasingly popular in recent systems and softwares is workflow automation, because it saves massive amounts of time and ensures compliance.
Workflow automations enable companies and workers to set up rules and logic which dictate the flow of information for certain documents or document types.
For example, a construction company which uses hot works permits may know the procedure and desired flow of information for all of these safety permits. They may know that worker on site will create the permit, which then needs to be signed off and closed by a project manager.
If this is the case, then rather than create and send a new safety permit by email each time a permit is opened, the company would want to setup automated workflows which ensure documents always follow this procedure.
On top of this core document management system feature, you will want to have some customisation around the workflows so that notifications and workflows can be adapted to different internal and external use cases.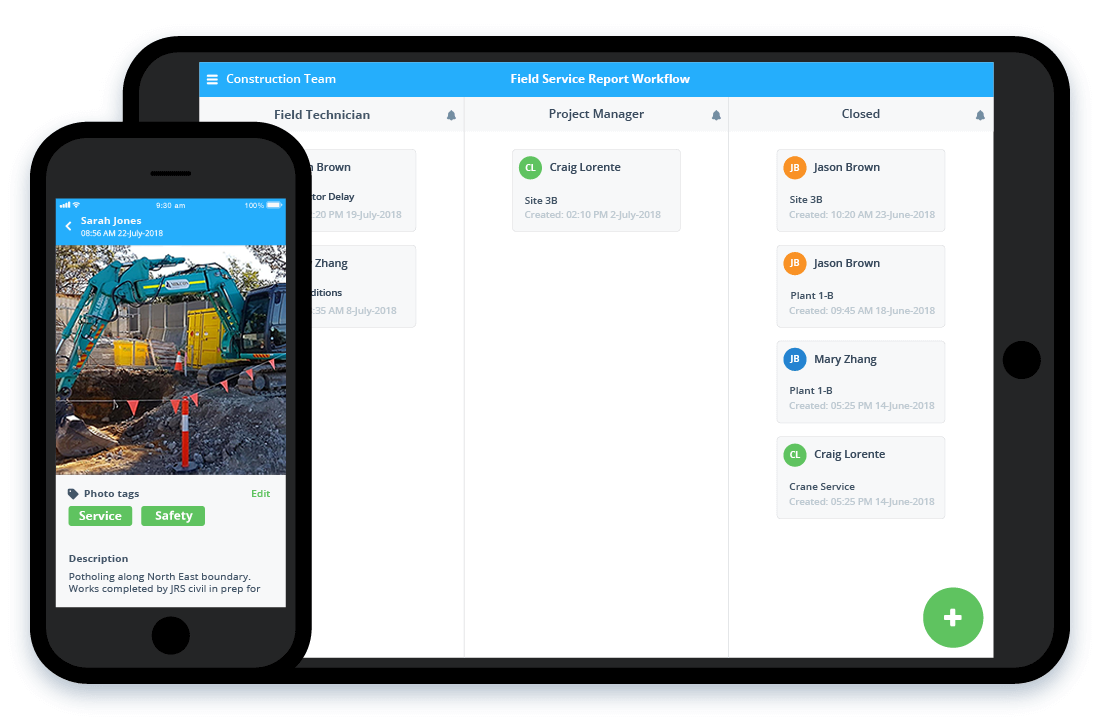 Document distribution
Distribution is a sometimes overlooked but deeply important document management system feature. Almost all companies need to be able to deploy and distribute documents to different projects, teams and workers, and you want your DMS to be able to cater to this - rather than having to rely on emailing different people different documents all day.
The architecture of the system is once again important here, because you will want to be able to group projects, people and teams so that individual documents can be deployed to them.
What does this actually look like?
An oil and gas company with 10 different remote sites in different parts of Australia might have two different sets of requirements based on the state or region of the site. In this case, they would want to be able to deploy one set of documents or 'templates' to 5 of those sites, and the other set of templates to the other 5.
The project director or administrator would want to be able to deploy those documents in a single action, giving access to the right documents to the right teams so that everyone is always filling out the right information.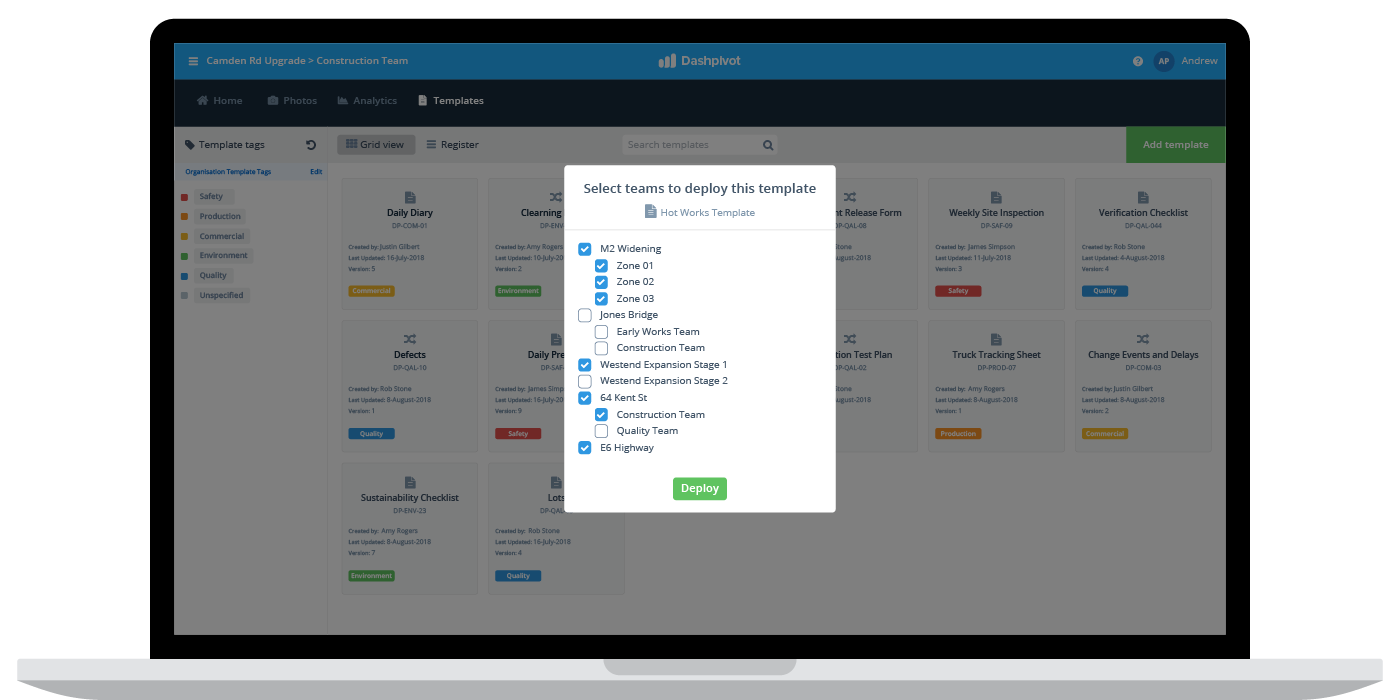 Hard copy reproduction
Digital documents are the future of documentation and document management, but hard copy documents will always have a place.
All document management systems will have the capability of converting your digital document into some hard copy format. This format is usually a PDF document or CSV.
The major things to assess when looking at this critical feature is how ell the outputted documents look and feel, as well as how customisable the structure and layout is.
Being able to place your logo and colours on the exported documents is a great addition to this feature as it ensures all of your documents look professional.
In general, this exporting functionality is usually very powerful, because it standardises the look and feel of all hard-copy documents coming from a company - rather than leaving formatting in the hands of different people who make their own edits and changes and end up butchering important documents.
Versioning and document governance
One of the most obvious value propositions of document management systems over manual methods is document control and governance. Having humans manage document governance is risky business, because we make basic mistakes and forget to do things.
Electronic systems don't forget to do things, and their logic doesn't make mistakes.
A core feature of every document management system is document control.
This feature set usually includes governance mechanisms like:
Document audit trails
Automated versioning
Traceability
The great thing about electronic systems is that they can do all of this critical document management in the background.
Workers and companies can focus on the contents of the documents, while the system takes care of ensuring every document is compliant and audit proof.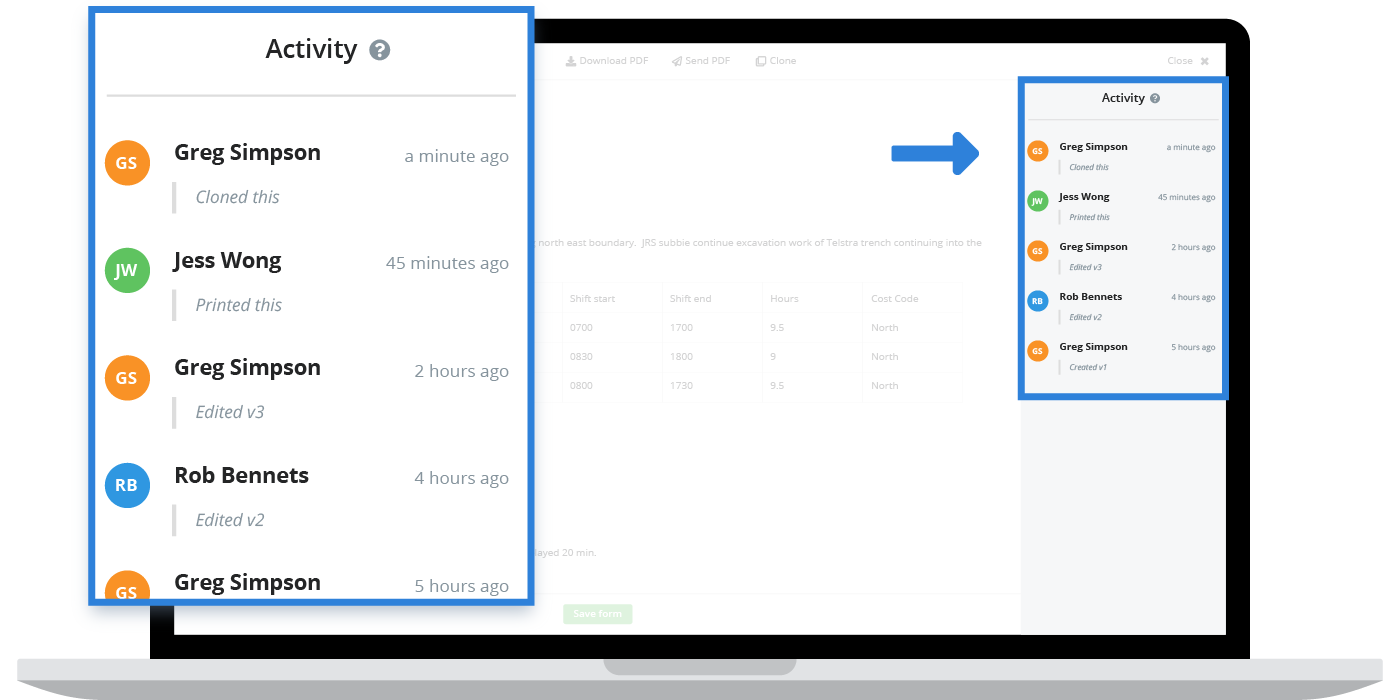 Learn more about this document management system.
Mobile accessibility
Since the introduction and rapid adoption of mobile technology (mobile phones and tablets), document management systems have been scrambling to bring as many features and functions as possible to mobile and tablet 'apps'.
Today, most industries and almost all workers expect to be able to do work on the go using mobile technology - and documents are one of the main things which need to be constantly accessible.
Whether it's signing off on a proposal or completing a site induction, being able to access, complete and edit documents using mobile is increasingly important for efficiency and collaboration.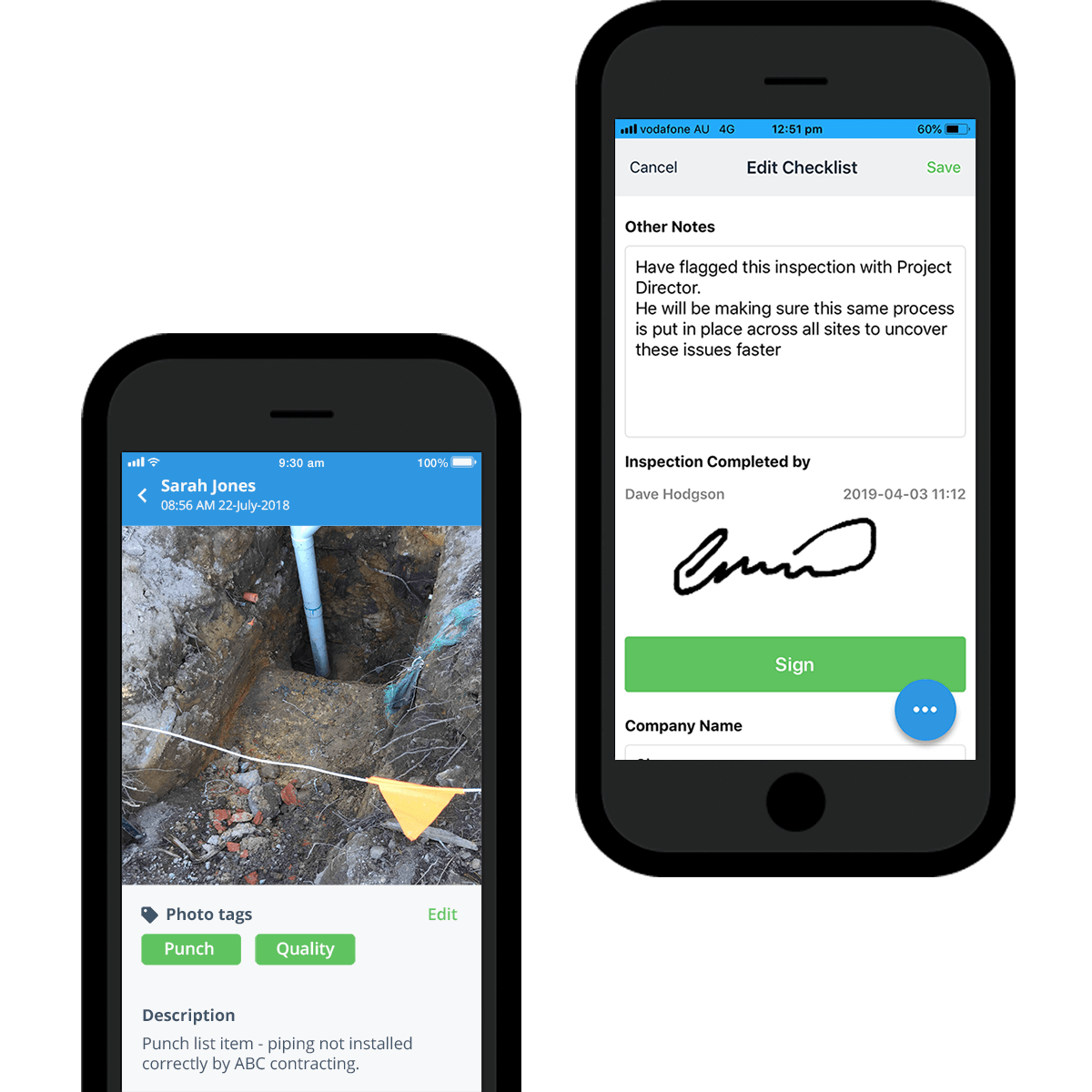 Document permissions
One of the difficulties associated with managing any type of important information is giving access to the right people. Some information needs to be accessible to all people, some information needs to be accessible to internal people only, and other information should only be accessible to a couple of people.
These constraints can be for privacy reasons, security reasons and also simply to make things more simple. Most employees don't need access to all documents because it is a distraction from their core job.
The document management system feature of 'permissions' can be called different things by different solutions and have different levels of sophistication, but the end goal is always the same: to provide users with the controls they need to give the right access to the right people.
For some companies this is simple, while for others it's incredibly complex. In an increasingly connected and collaborative world, this also extends to external parties now too - with things like visitor access for external parties becoming critical.
Make sure the DMS you use or choose has the permission structure and flexibility you need to control who sees what and why.
Integrations
Integrations aren't so much a document management system feature, because they aren't exactly a feature of the system.
Instead, integrations and the ease-of-integration of a tool enables a document management system and its operators to tap into the features of other systems.
Most document management systems don't specialise in financial controls and accounting, but they can integrate with these tools to provide more power to both the document management and accounting tool - whilst also saving major admin and information transfer time.
The ease at which system integrations can be made becomes easier every day. Today, many tools offer plug-and-play integrations, which is great for companies looking to build the best document management suite possible.
Integrations can really maximise the power and benefit of all of your document management system features.
Other critical DMS 'features'
On top of all of these 'fun' DMS features, companies are always aware of and assessing how and where their data is stored, how much the document management system and its features will cost, and the overall security and integrity of the system.
These elements of a DMS can vary quite broadly from system to system (especially price), so make sure you are finding a system which makes sense for your business on all of these levels - as well as with all of the document management system features we have highlighted above.
People in 80+ countries use this software to better document, manage and track their documents.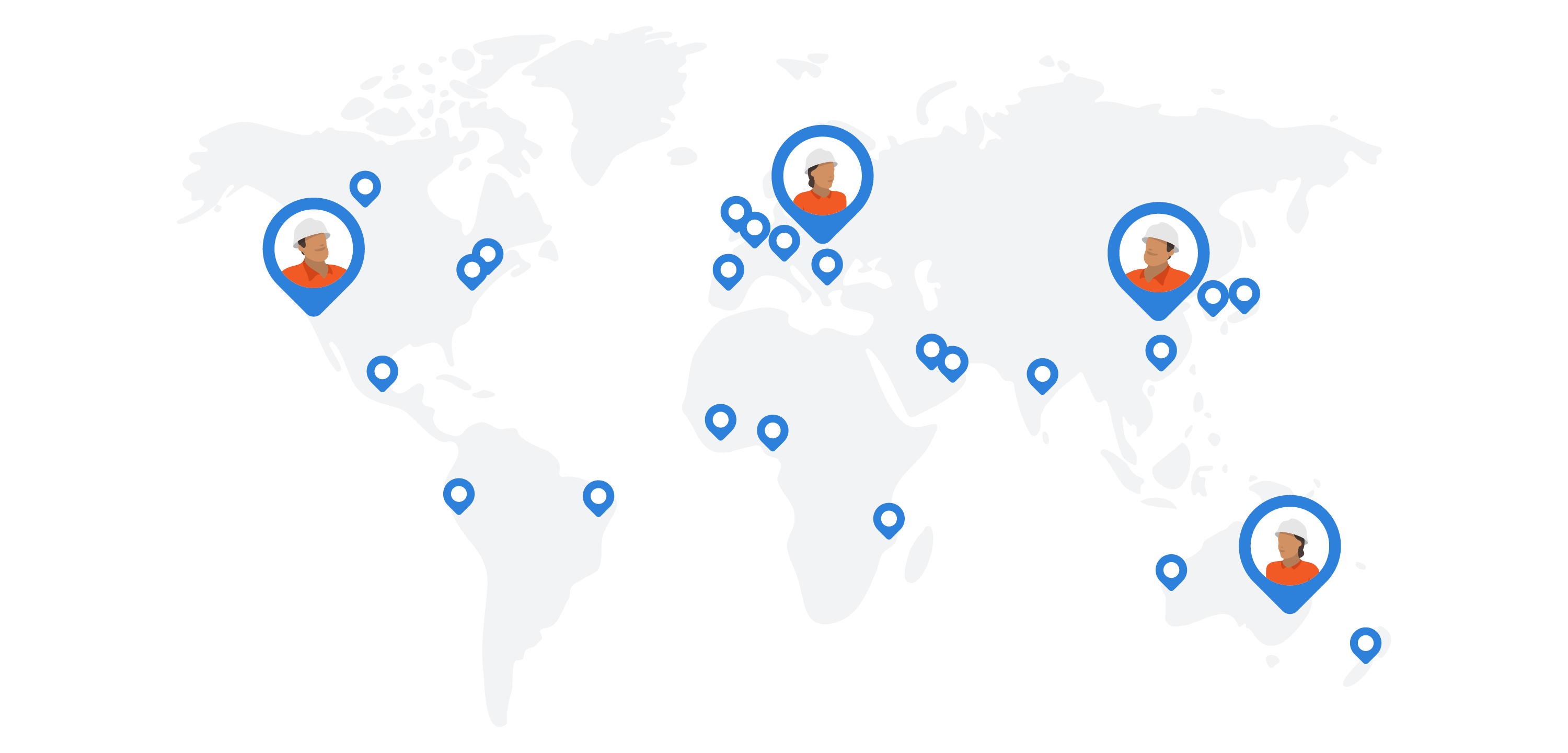 See how you can easily streamline your systems and processes with Sitemate today